Victoria's Secret Angel Adriana Lima Talks About the Show
Victoria's Secret Show Opener Adriana Lima Chats Angels, Babies, and Chocolate!
The Victoria's Secret fashion show is just around the corner on Wednesday, and last week I got to peek behind-the-scenes to watch Adriana Lima's fitting. The supermodel will be the show's opener, and I was able to see all three of her costumes — she'll start with a heart-shaped top and enormous wings, before changing into an athletic-inspired costume, and, of course, the $2 million bra. Once she changed back into her civilian clothes (black leggings and sweater, paired with ballet flats), Adriana and I chatted about her legendary workout regimen, sneaking candy into her diet, and how she plans to celebrate afterward. Hint: It will involve lots of chocolate.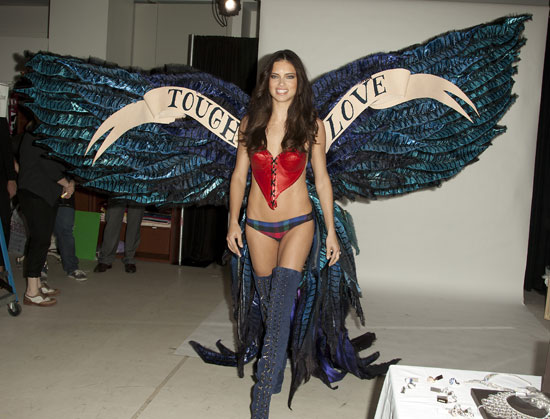 FabSugar: Is it fun working with so many of the same girls again?
Adriana Lima: It is a big family. I enjoy it very much — the girls are very cool. It's always fun, we travel, we've spent so much time together — so many trips! We always enjoy it. It's not like work. We love what we do. We try to hang out as much as we can, but it's not easy with our busy schedules. And me being a mom, it's not easy to find time. But they're all great, they all have different great personalities and we enjoy being together. We learn with each other very much.
FS: Has your 11-month-old daughter Valentina seen your wings?
AL: She already has a set of wings! A friend of mine sent it to me. I cannot believe, at the baby shower, she got hers. I was like, "It's so small! It's cute." But she hasn't seen mine, because she isn't going to understand. But someday.
To hear more from Adriana, and to see some more pics, read more.
FS: Does your husband, professional athlete Marko Jaric, share fitness tips as you prep for the show?
AL: Yes, he does. But our workout routine is so different. Honestly, I have no clue how he works out. How he gets ready for a basketball game, I have no idea. If you asked me do they lift weights, do they run? I don't know!
FS: What are your plans for post-show?
AL: It's not that I'm not eating after the show, but I'm definitely going to get together with my friends. I'm going to Mr Chow's. I'm gonna have some sesame chicken, some cod. I would love to have — oh, I want so many things. I want to have Pinkberry with chocolate and blueberries. And I want to have a coconut hot chocolate. . . I'm gonna tell you that it's going to have plenty of chocolate involved.
Photos courtesy Victoria's Secret