UPDATE: Kate Upton's return to Victoria's Secret may not be exactly what it seems. After Victoria's Secret Fashion Show casting agent and 10 Magazine editor Sophia Neophitou promised they'd never use her, the newest lingerie catalog does, in fact, feature Upton on the back cover. The snag? It appears to be an old photo of her from 2011. A Page Six source revealed that Upton is supposedly unhappy about the whole thing: "Kate's not currently contracted to work with Victoria's Secret, and they didn't contact her before they used these images."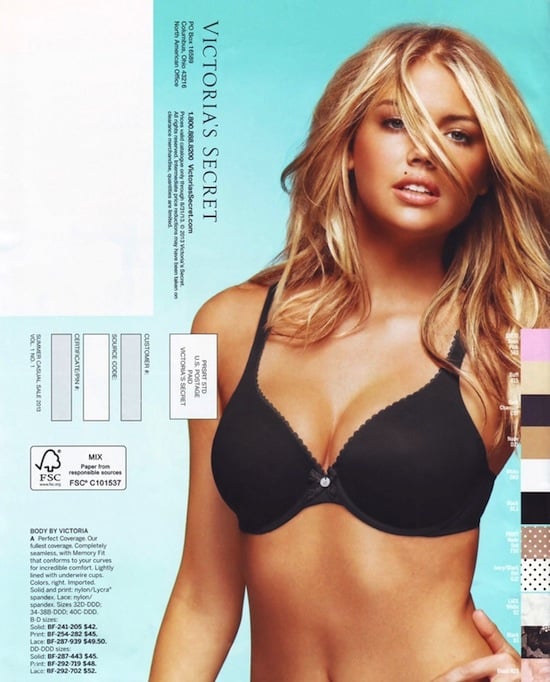 Before this latest Kate Upton vs. Victoria's Secret controversy, it seemed Upton was having the last laugh. The blond bombshell — currently on the June cover of Vogue — resurfaced on the back of the lingerie brand's latest catalog, even after Neophitou's pronouncement.
In February 2012, Neophitou, who also helps to cast the annual Victoria's Secret Fashion Show lineup, infamously declared they "would never use" Upton in the show because she was "too obvious." But Neophitou didn't stop there. She also said, "She's like a Page 3 girl," referring to the scantily clad women featured in the London tabloid The Sun. "She's like a footballer's wife, with the too-blond hair and that kind of face that anyone with enough money can go out and buy."
While Upton made her Victoria's Secret catalog debut in 2011, she hasn't worked with them since. Instead, she has made a name for herself as the face of Sam Edelman, Guess, and of course, as Sports Illustrated's Rookie of the Year in 2011, and then as the Swimsuit Issue's cover model in both 2012 and 2013.