Victoria's Secret Responds to Kylie Bisutti Claims
Victoria's Secret: Kylie Bissuti "Has Made Numerous Fabrications"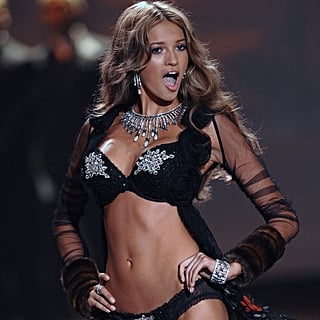 Victoria's Secret has responded to the claims of Kylie Bisutti, a former model who said working with the brand made her quit the industry, by saying she "has repeatedly fabricated her work experience."
Bisutti is currently promoting her new book, I'm No Angel: From Victoria's Secret Model to Role Model, which details her version of working with the lingerie label. This week she told The New York Post that after winning a walk-on role in the 2009 Victoria's Secret Fashion Show, she was exposed to the darker side of modeling. Bisutti says that, among other things, she was asked to downplay her marriage and "get together with" a male celebrity who saw her at the show's afterparty. She later gave up modeling and said she turned to God, tweeting, "I quit being a VS model to be a Proverbs 31 wife."
But in a statement to People on Thursday, the brand said "Bisutti has made numerous fabrications and misstatements of fact regarding her brief association with Victoria's Secret." After appearing in that year's Victoria's Secret Fashion Show, she also worked on a swimsuit photo shoot.
"That was the extent of Ms. Bisutti's involvement with Victoria's Secret," the statement continues. "She was never a Victoria's Secret 'Angel' as defined by the terms of our Angel model contract. And contrary to Ms. Bisutti's claims, she was never offered any subsequent modeling contracts or opportunities with Victoria's Secret despite her multiple appeals for further work. She has repeatedly fabricated her work experience with Victoria's Secret — including a relationship that simply did not exist."
So far, Bisutti hasn't made a rebuttal, but she has been tweeting to followers about her story. She tweeted on Friday, "I used to be so insecure, blinded a World lover, an attention seeker, i was a Lingerie model -selfish, lost, & lonely," and added, "But now I've found HOPE, Confidence, security, purpose, I no longer desire fame or attention. I'm finally happy!"