Vintage T-Shirts: Where to Find the Best Tees
Better Aged: Why We Love the Vintage Tee
There's a special place in our closets for our t-shirt collection, right next to our favorite Louboutins and vintage Chanel finds. Holding sentimental and style value, our vintage tees get better with age, and they fit perfectly. Did you throw yours out during Spring cleaning? We've got the tips — and a few picks — to help you find the one.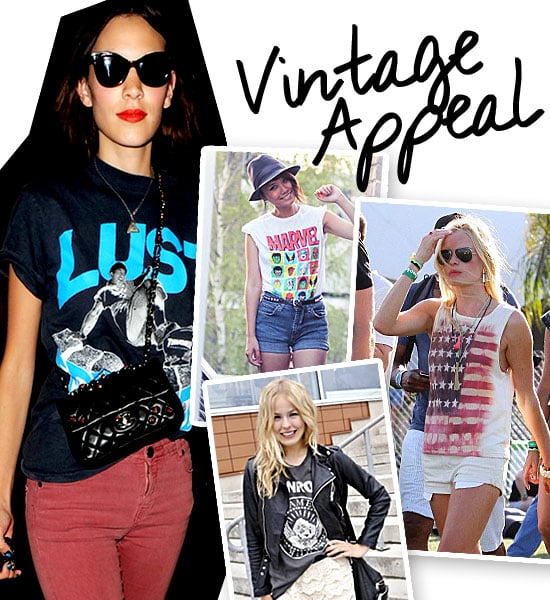 Don't underestimate your go-to stores like Urban Outfitters and American Apparel. These retail chain stores also carry their own one-of-a-kind vintage lines.
Do try your local Goodwill, and be sure to hit the kids' and mens' sections. You'll have to do some digging, but the results could be huge pay off at a super low cost.
Do hunt for the perfect tee on eBay. eBay's loaded with authentic, vintage t-shirts, with rare tees going for premium prices. eBay stores like WyCo Vintage and Stormcrow-Vintage are stocked with an impressive variety of amazing band tees for around $50 and up.
Other great sites to check out: Wolfgang's Vault has a selection of vintage and retro tees shoppable by artist; while Slingshot Shirts carries a budget-friendly selection of new tees with vintage prints.
Street style
Image Source: Lookbook.nu