Warm Puffer Coats For Winter 2011
Wear Your Comforter to Work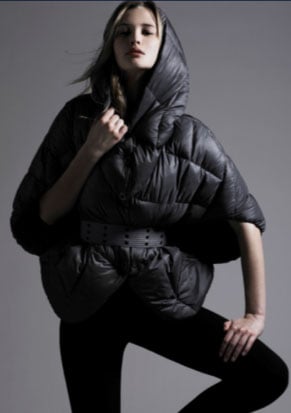 Lucky magazine is one of our favorite sources for great shopping tips. We're thrilled to share this fabulous story on an awesome Winter coat find from our friends at Lucky!
Ahh, the curse of the puffer jacket: the sporty topper can brave any blizzard, but not any sartorial situation. Weekend errands? Sure. Après ski? Of course. But an occasion more fancy than sporty? Not so much.
And that's why we're so thrilled by this Nau down jacket, which is both voluminous and waist defining. The surprising shape renders it sort of artful, like something we'd see on the Comme de Garçons runway instead of Mariah Carey at Sundance. With skinny pants and some ultrapretty, bad-weather boots, it just might make sleeping-bag dressing office friendly. (Or at the very least, "drinks at a snooty new bar" friendly.)
As an added bonus, the jacket rolls up into a ball the size of grapefruit, so it can be stashed in your satchel for added warmth on the go. Which, really, is a Winter provision worth its weight in gold. So, shall we add one more to our list of investment-worthy coats?
For more fashion and style from Lucky, here are more Lucky stories.
Related links:
Jessica Simpson's Shiny Hair Secret: Don't Wash It
What Kim Kardashian Should Wear for Her First Post-Divorce Appearance