Mary-Kate Olsen [1] is engaged to longtime boyfriend Olivier Sarkozy [2], making the former child-star-turned-fashion-mogul's news the fourth celebrity engagement in just about a week's time. If you need a refresher, she joins the ranks of other soon-to-be brides Allison Williams, Pretty Little Liars' Troian Bellissario, and Mila Kunis [3]. Now, we can't help but daydream about the dresses they'll wear down the aisle, so so we're getting a head start on the wedding [4] planning, starting with the all-important gowns.
And with other betrothed beauties like Olivia Palermo and Hilary Rhoda getting ready to wed, we figured we'd also help them get a jump on the planning by suggesting some gorgeous gowns that fit their personal styles. See our picks for each blushing bride-to-be when you scroll through the slideshow.
Sources: Getty [5] and IMAXTREE [6]
Mary-Kate Olsen + Olivier Sarkozy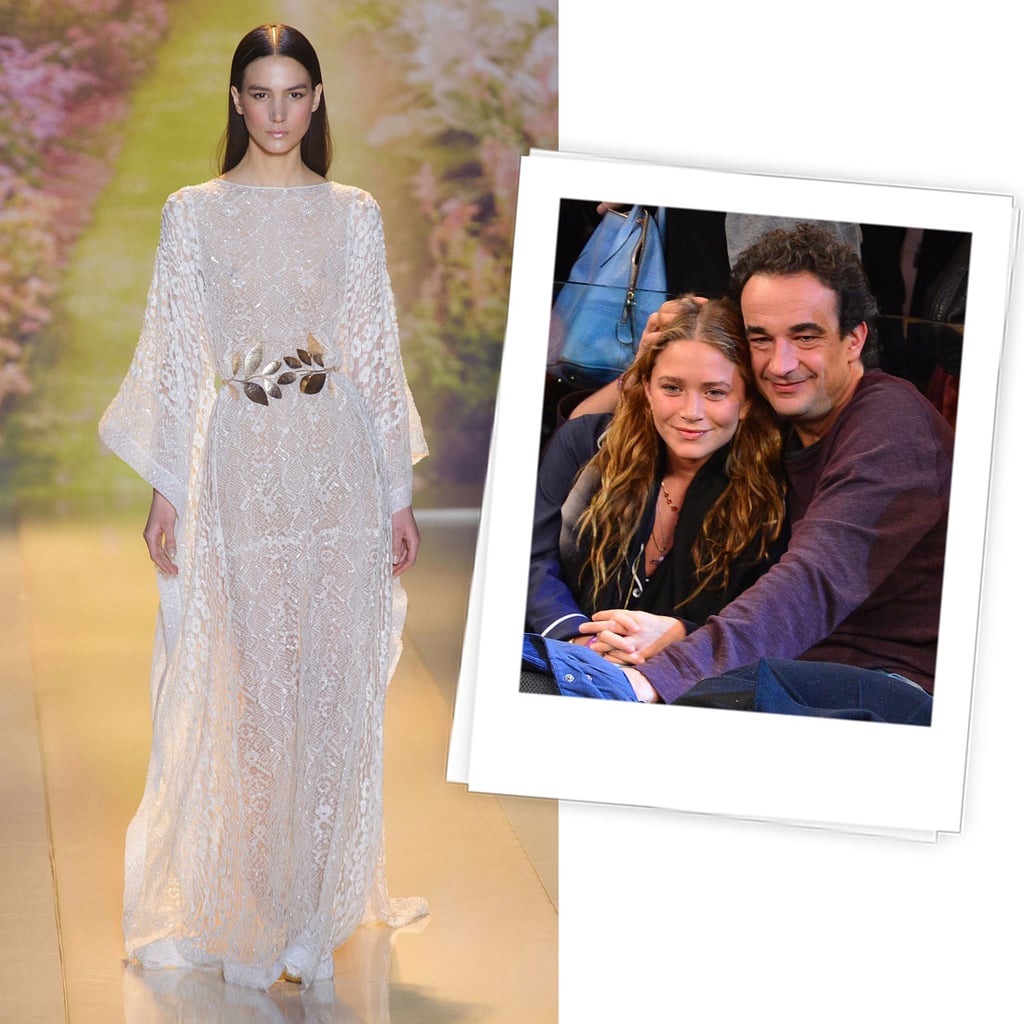 We could never envision The Row and Elizabeth and James designer/fashion mogul going for the traditional white gown, so something like this Zuhair Murad Couture gown from the Spring '14 [7] lineup seemed much more fitting for the bohemian Olsen sister. Still, it's probably more likely that we'll see Mary-Kate in a custom gown, maybe from the likes of Chanel?
Mila Kunis + Ashton Kutcher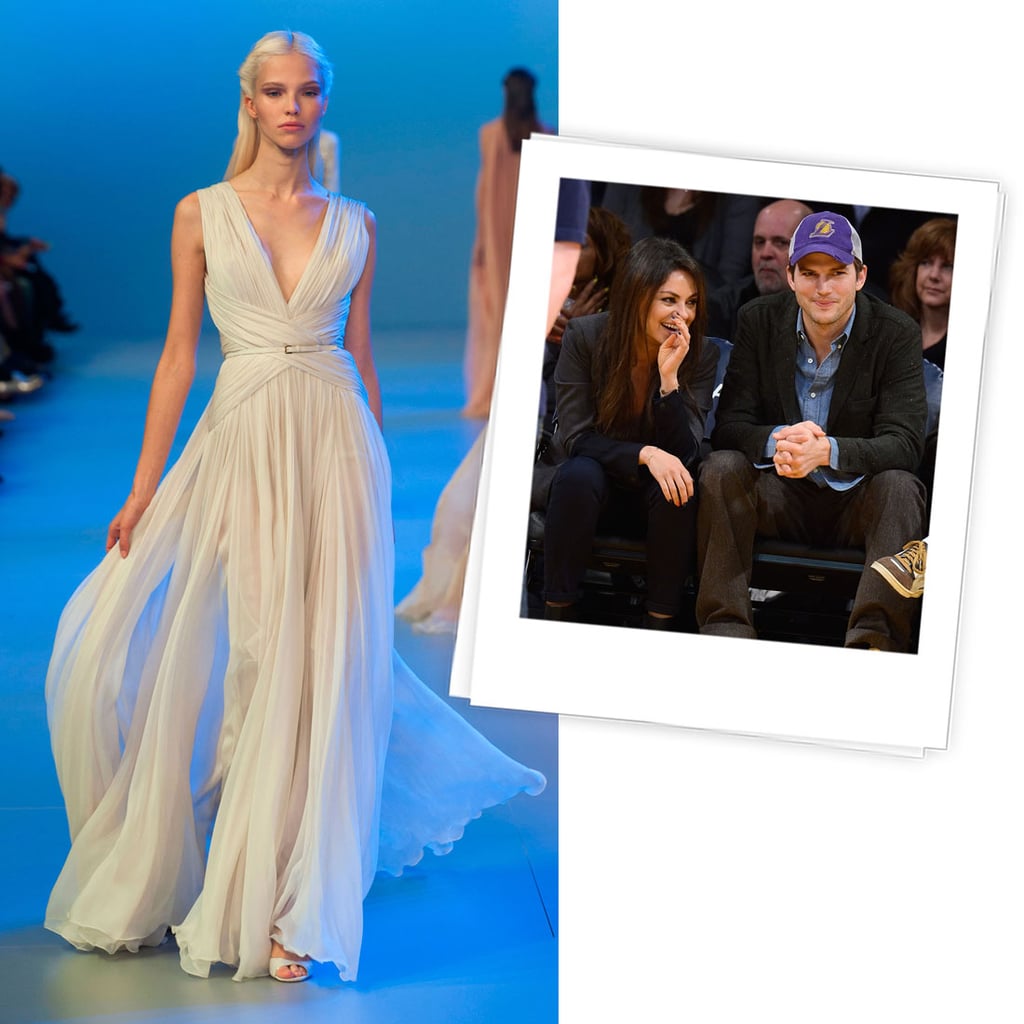 For us, one of Mila Kunis [8]'s most stunning red carpet moments is still that Elie Saab gown at the 2011 Oscars [9]. So, for her nuptials, we're hoping she'll take a piece straight from the Elie Saab Spring '14 Couture show [10] — it's the perfect gown to show off her figure and still has a decidedly bridal feel.
Troian Bellisario + Patrick J. Adams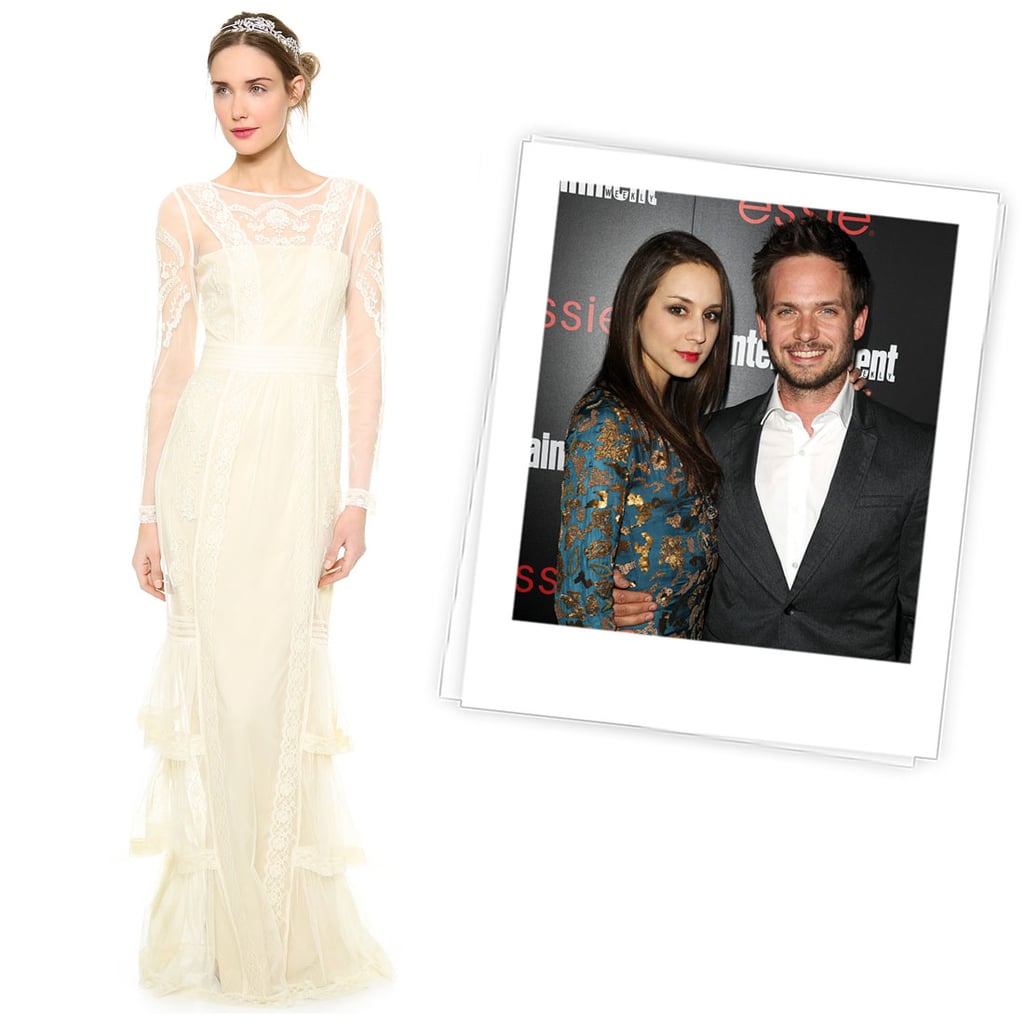 We love that Pretty Little Liars' Troian has her brand of style. She's feminine, but can carry off more alternative styles, too. For her walk down the aisle, we'd love to see her in something a bit vintage-inspired, like this Alice by Temperley gown [11] to really speak to her unique sense of style.
Allison Williams + Ricky Van Veen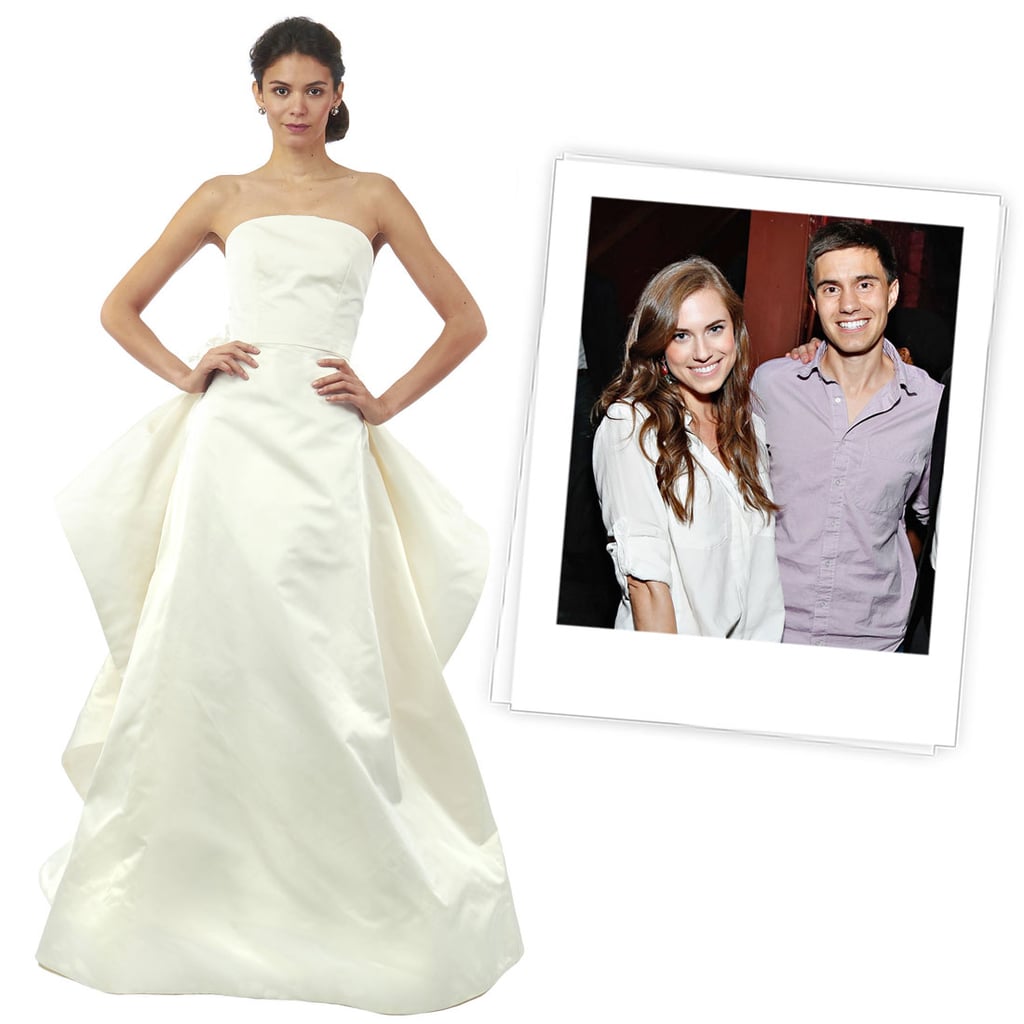 For a classic beauty like Allison Williams, we vote for a classic Oscar de la Renta gown. This one from the Fall '14 bridal lineup [12] is elegant and timeless — just like the bride.
Jamie Chung + Brian Greenberg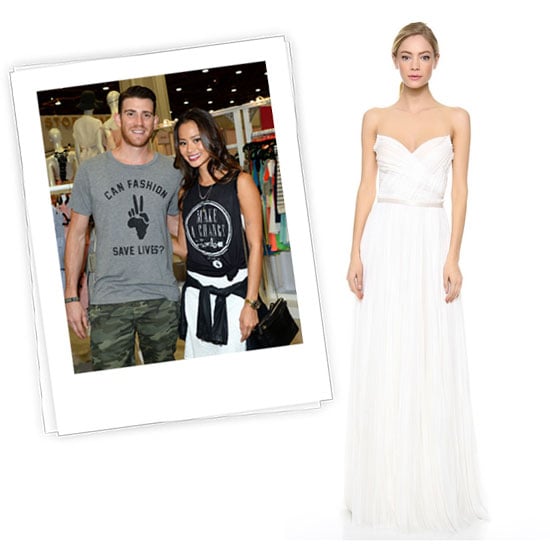 For an easygoing style setter like Jamie Chung, we love the idea of something romantic, carefree, and just a bit sexy, like this J. Mendel Isadora Hand Pleated Gown [13] ($4,800).
Ashlee Simpson + Evan Ross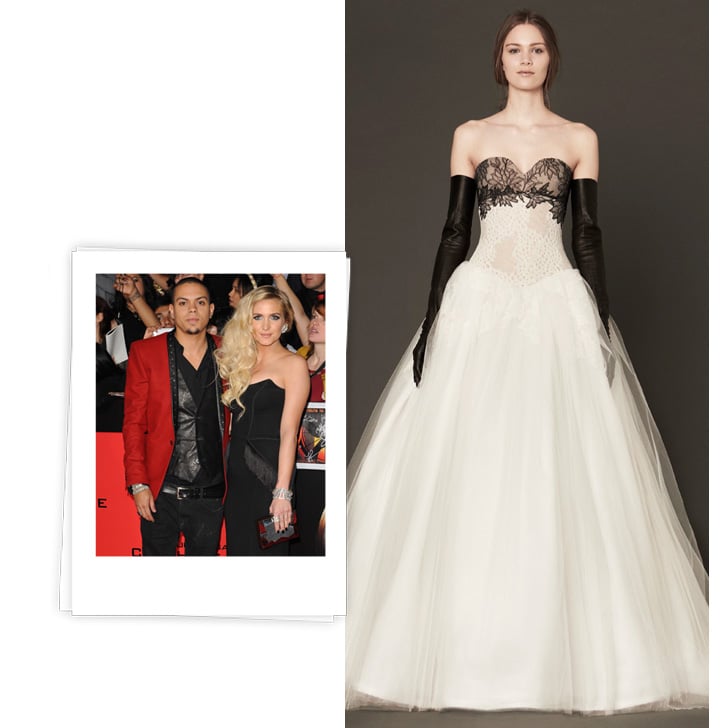 Edgy Ashlee is no stranger to a black gown, why should her wedding [14] day be any exception? We just hope if this rocking bride wears Vera Wang's dark gown, she opts to accompany it with the designer's dramatic gloves.
Olivia Palermo + Johannes Huebl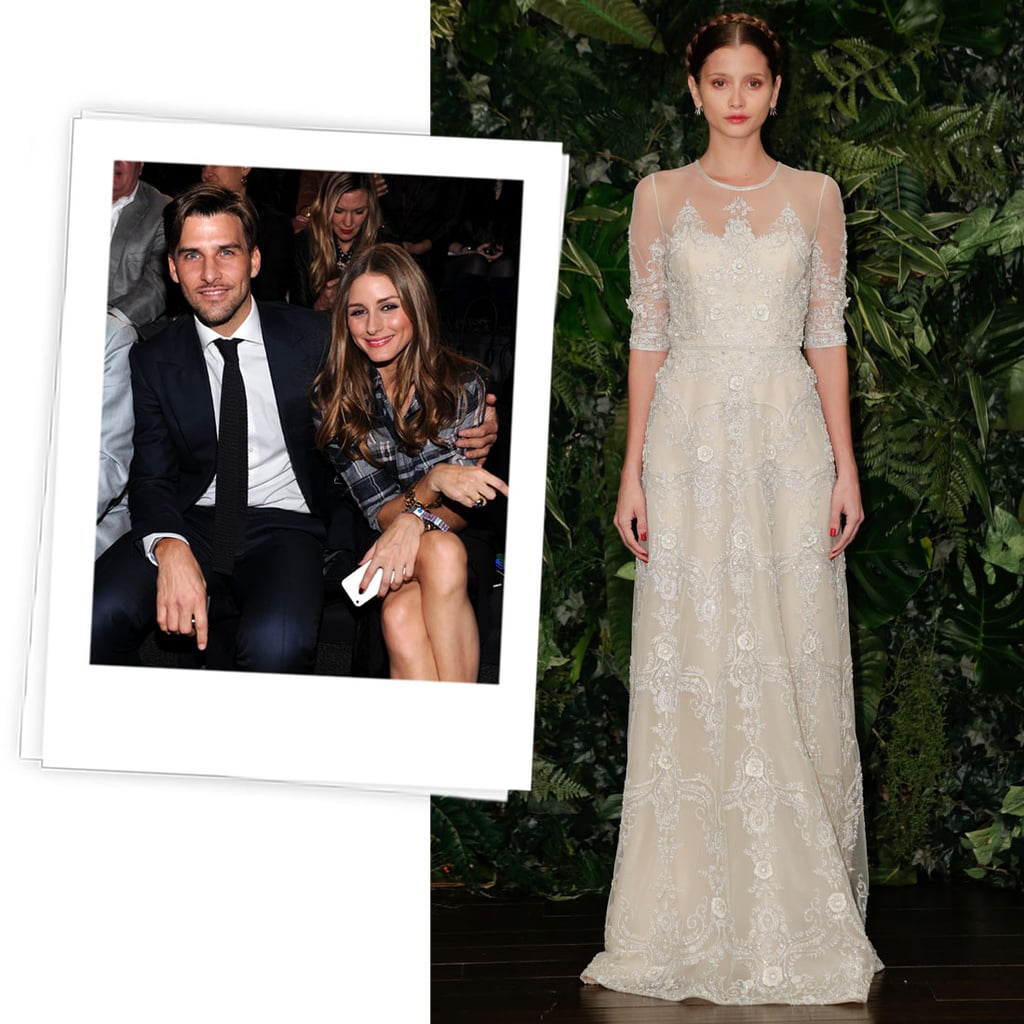 Olivia could wear anything and look amazing, so it's not exactly easy to nail down the dress for one of our favorite fashion darlings. If it were up to us, though, we could easily see the lovely Miss Palermo choosing something ladylike, romantic, and just a bit unexpected. She'd be stunning in this Naeem Khan gown.
Emma Roberts + Peter Evans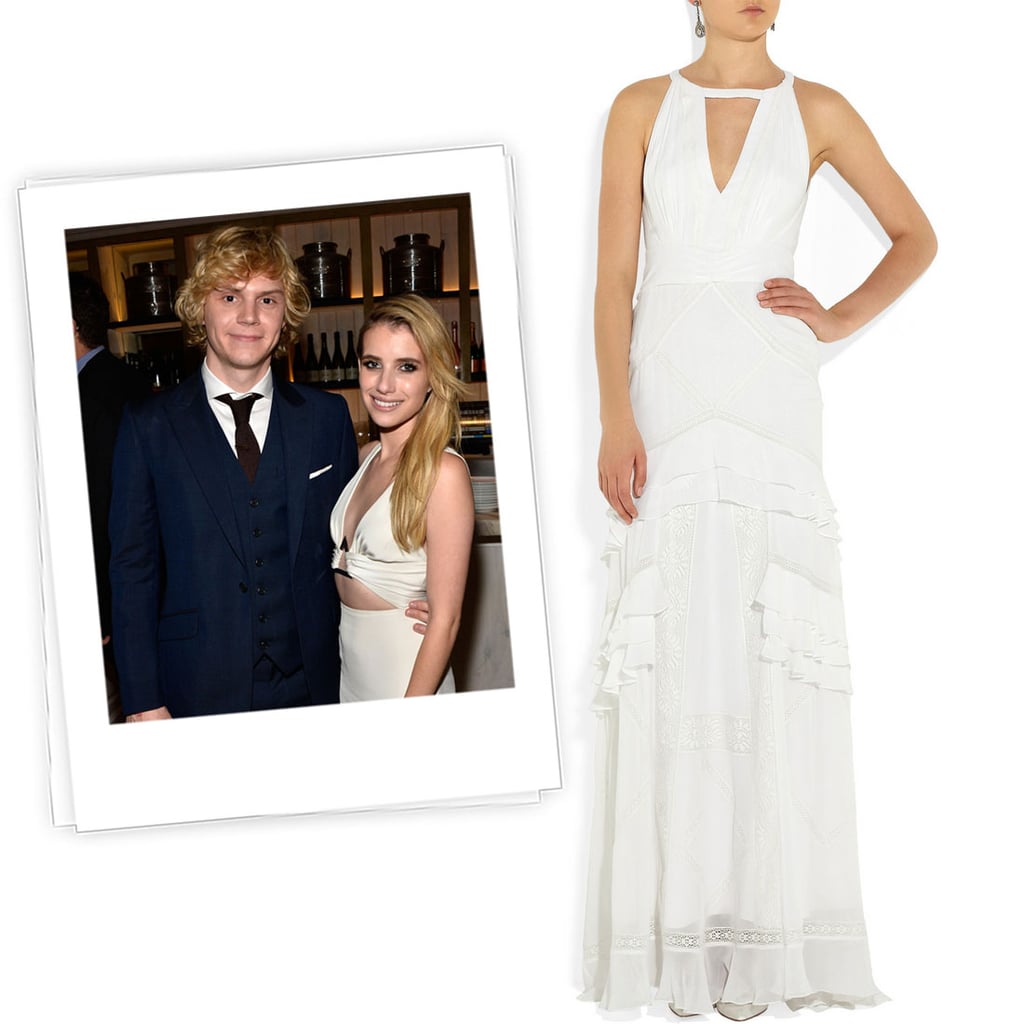 She's a bit of a fashion risk-taker, so rather than a classic wedding [15] gown, we see Emma Roberts reaching for something a little less conventional, like this Temperley Marguerite gown [16] ($3,515).
Whitney Port + Tim Rosenman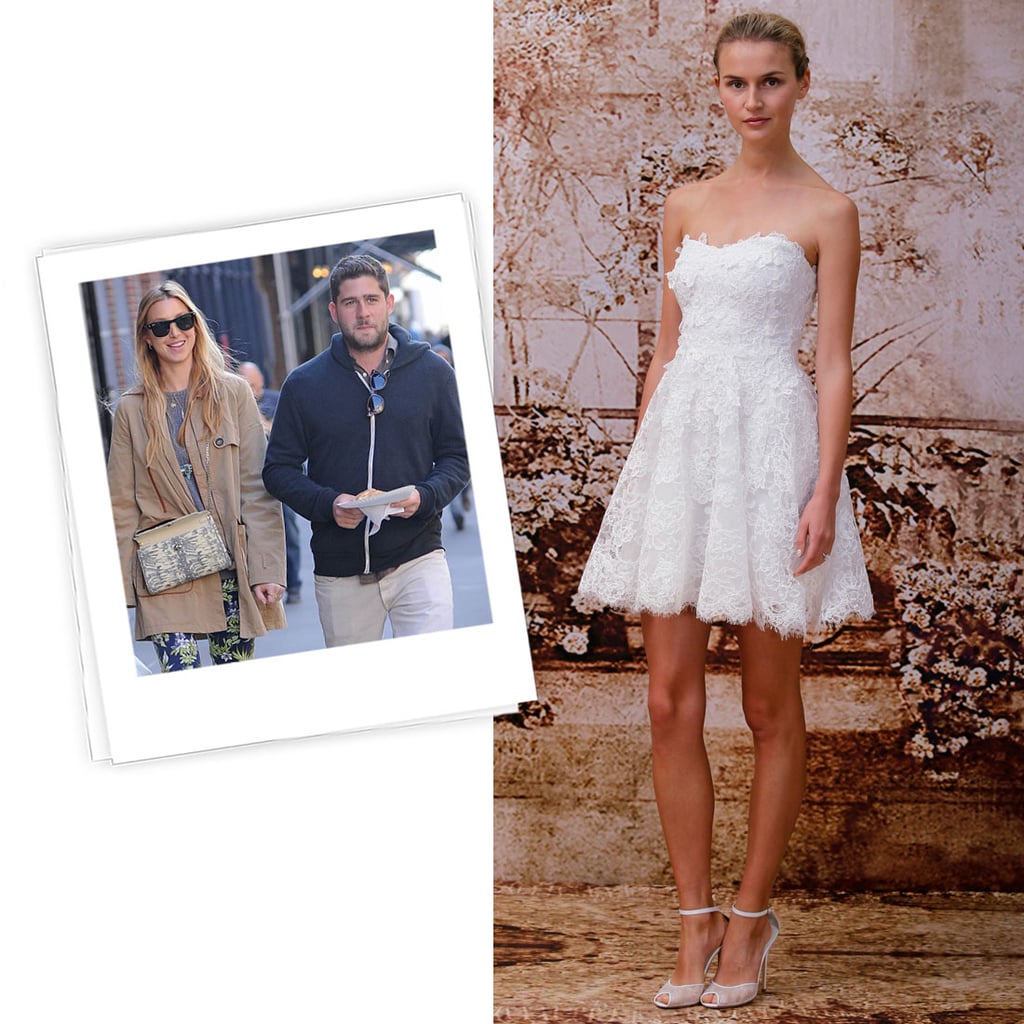 We could totally see the fun-loving California girl slipping into something sweet and sexy, like this Monique Lhuillier Bridal Fall 2014 dress — all the better to show off her mile-long stems, right?
Hilary Rhoda + Sean Avery
The supermodel would look stunning even if she decided to wear a potato sack and call it a day, but we suspect she might opt for something a little more exciting than that. We're hoping that to show off her figure, Hilary Rhoda opts for something like this mermaid-style gown from the Marchesa Fall 2014 bridal collection [17].
Kim Kardashian + Kanye West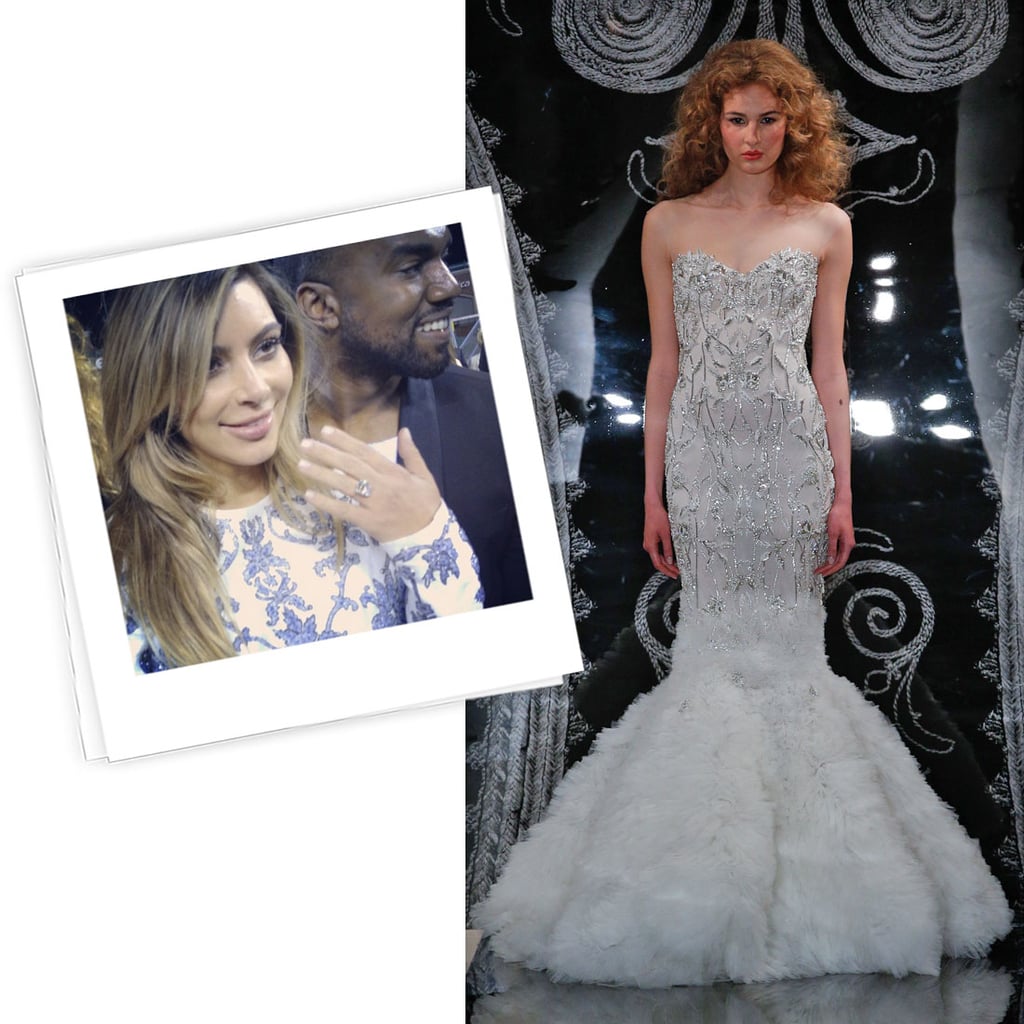 With Kim and Kanye's penchant for high fashion, we're guessing their looks will be custom, but the Spring '14 runways also delivered a dress that would be perfect for the glamorous bride. This Reem Acra confection would be just the right silhouette to show off Kim's famous curves — and the gorgeous embellishment and dramatic fishtail hemline are the stuff of wedding [18] dress fantasies. If we know one thing about Kim, it's that she won't short on the wow-factor.
Source: Instagram user clydehairgod [19]
Lauren Conrad + William Tell
We've watched Lauren Conrad [20] grow up on camera, but her penchant for feminine looks and silhouettes has never changed. This Sophia Kokosalaki gown [21] ($4,520) is elegant but wouldn't feel out of place in pictures taken seaside in her native Laguna Beach, CA.
Scarlett Johansson + Romain Dauriac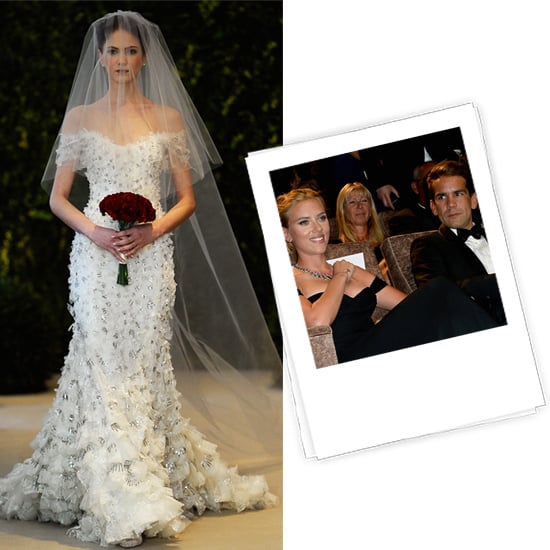 This embellished, off-the-shoulder Carolina Herrera bridal gown from the designer's Spring 2014 collection is just begging to be worn by the newly engaged Scarlett Johansson [22]. It's reminiscent of her 2012 Met Gala creation by Dolce & Gabbana [23], and it will highlight her gorgeous décolletage beautifully.
Behati Prinsloo + Adam Levine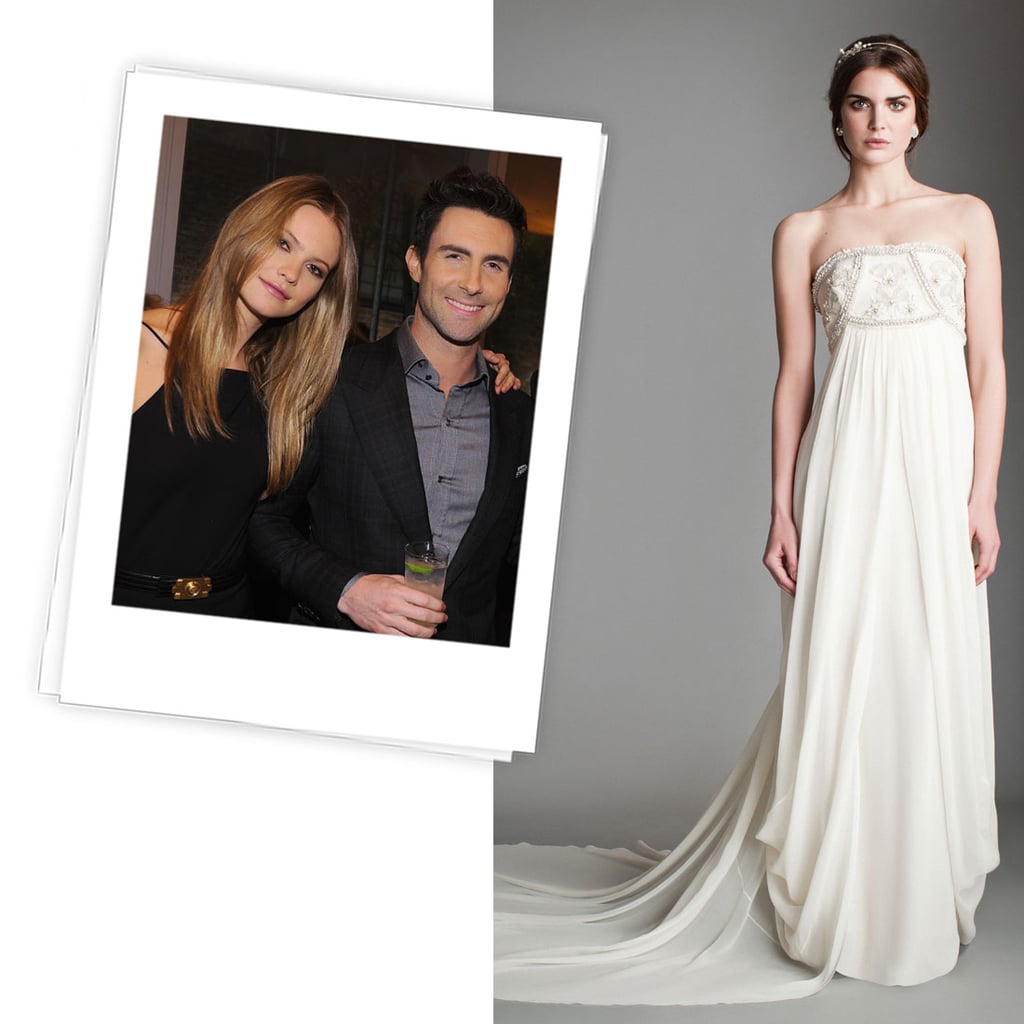 Let's be honest: this Victoria's Secret Angel could wear just about anything, but with Behati's easy, bohemian vibe, we'd love to see her in this dreamy Temperley Bridal Titania Collection gown [24] for her walk down the isle.
Olivia Wilde + Jason Sudeikis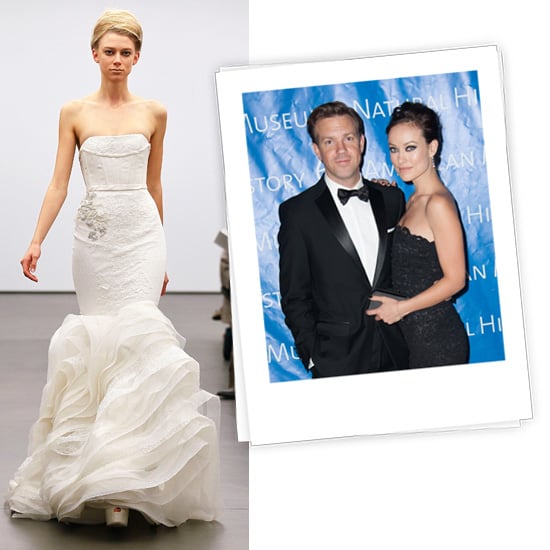 Olivia Wilde [25]'s red carpet history includes some gorgeous gowns — she doesn't shy away from showing off her curves, and we love that. For her nuptials, we envision a dress made to highlight her figure with a strapless neckline and mermaid silhouette. This Vera Wang confection from the designer's Fall '13 bridal collection is the perfect balance of classic femininity and statement-making details that seem practically made for the gorgeous actress.
Poppy Delevingne + James Cook
Poppy looks great in everything from Chanel to Mulberry to Matthew Williamson, and something tells us she may tap one of her British designer friends to create her wedding [26] gown. We think the divine Delevingne would look gorgeous in this Temperley London Embellished Silk-Crepe Gown [27] ($4,945) — the crystal-adorned cap sleeves are delicate and ladylike, but the sweeping silk train adds drama. It will definitely suit this London stunner on her big day.
Jennifer Aniston + Justin Theroux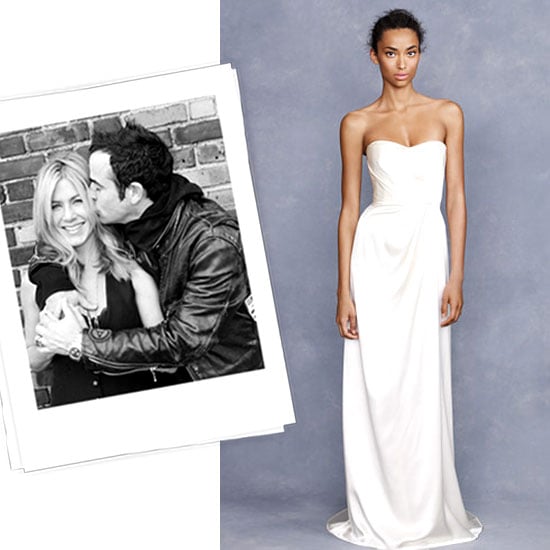 Jennifer tends to keep things simple and opts for slim-fitting silhouettes that showcase her best assets: perfectly toned arms and legs. While we wouldn't be surprised if Jen went short and sweet for her reception, we think she will stick to a classic strapless style like the J.Crew Lorabelle Gown [28] ($1,600) for her walk down the aisle — the sweetheart bodice will show off Jen's décolletage, and the elegant draping will hug her curves in all the right places.
Angelina Jolie + Brad Pitt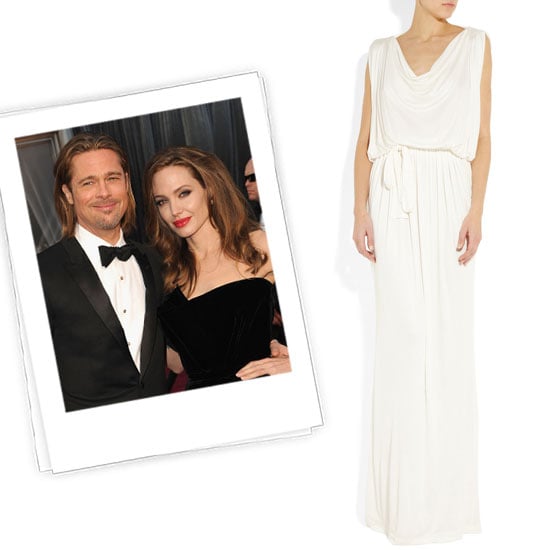 Hollywood's glamorous power couple is tying the knot, and while we're so happy for the Jolie-Pitt clan, we can't stop thinking about what Angelina should wear. We chose the chic, draped-front Vionnet Yavme Stretch Silk-Blend Gown [29] ($1,980), because she opts for this silhouette quite often; plus, we have a feeling that this wedding [30] is going to be more than laid-back than ultraformal.
Sienna Miller + Tom Sturridge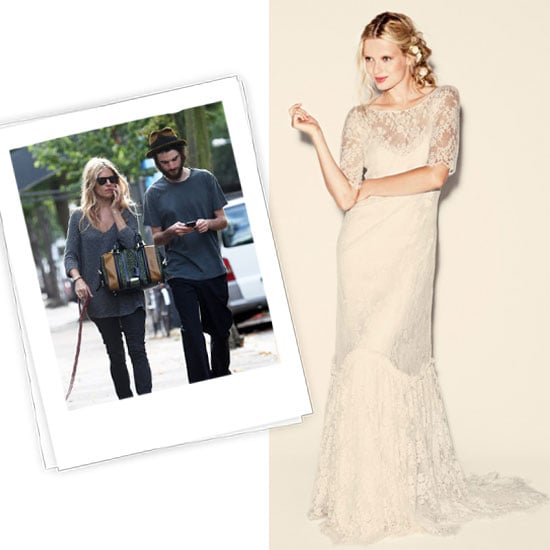 Sienna Miller [31] defines undone glamour and romance, so we couldn't resist a lace overdress in her honor. A smaller train paired with a dainty clutch-cum-shoulder bag and ivory sling-backs will complete the look with this Delphine Manivet Raphaelo dress [32] (price upon request).
Kate Hudson + Matt Bellamy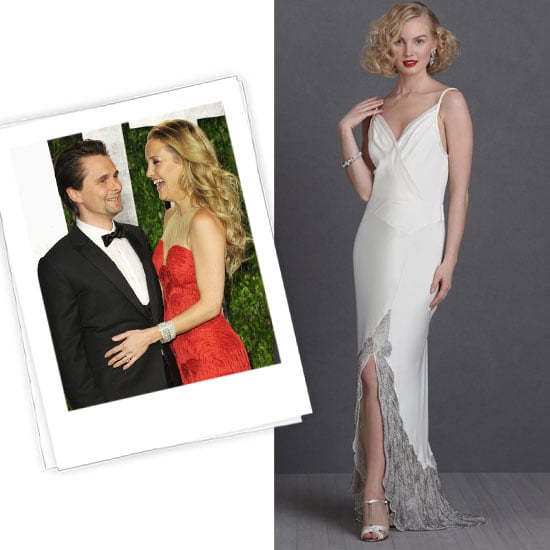 The body-skimming BHLDN Swirling Platinum Gown [33] ($1,800) is sleek and sexy, and to add to its allure, the metallic beaded train reminds us of a mermaid. Who else could wear this gown but Kate Hudson [34]?
Jessica Simpson + Eric Johnson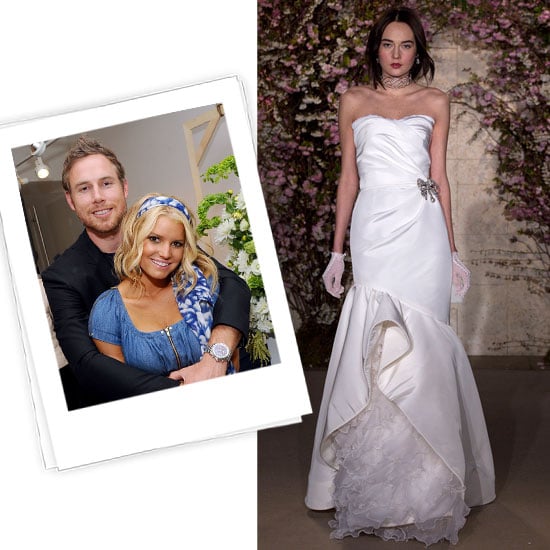 This dress strikes us as really romantic without committing to any one wedding [35] dress style. Jessica Simpson [36] would look lovely in the slight sweetheart shape and flared hem of Oscar de la Renta Spring '12 Runway Look #28 [37] (price upon request).
Alessandra Ambrosio + Jamie Mazur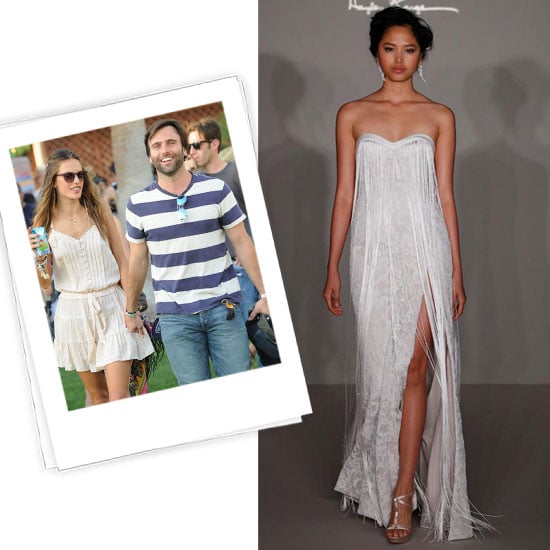 Alessandra Ambrosio prescribes to a beautiful bohemian style all year round, so we love this fringe-ridden — but totally gorgeous — Hayley Paige Bridal gown [38] (price upon request) just for her.
---
Links:
[1] https://www.popsugar.com/Mary-Kate-Olsen
[2] http://www.popsugar.com/Mary-Kate-Olsen-Engagement-Ring-Pictures-34247260
[3] https://www.popsugar.com/Mila-Kunis
[4] https://www.popsugar.com/Wedding
[5] http://www.gettyimages.com/
[6] http://www.imaxtree.com
[7] http://www.fabsugar.com/photo-gallery/33720906/Zuhair-Murad-Haute-Couture-Spring-2014
[8] https://www.popsugar.com/Mila-Kunis
[9] http://www.fabsugar.com/Mila-Kunis-2011-Oscars-Dress-14538815
[10] http://www.fabsugar.com/Elie-Saab-Haute-Couture-Fashion-Week-Spring-2014-33670170
[11] http://www.shopstyle.com/p/alice-by-temperley-long-sleeve-botanical-dress/444057777
[12] http://www.fabsugar.com/Oscar-de-la-Renta-Bridal-Fall-2014-Pictures-32195148
[13] http://www.shopstyle.com/p/j.-mendel-j-mendel-isadora-hand-pleated-gown/439107196
[14] https://www.popsugar.com/Wedding
[15] https://www.popsugar.com/Wedding
[16] http://www.shopstyle.com/p/temperley-london-marguerite-lacetrimmed-silkchiffon-gown/430169843
[17] http://www.fabsugar.com/Bridal-Fashion-Week-Wedding-Dress-Trends-Fall-2014-32172588
[18] https://www.popsugar.com/Wedding
[19] http://instagram.com/clydehairgod
[20] https://www.popsugar.com/Lauren-Conrad
[21] http://www.shopstyle.com/item/sophia-kokosalaki-netaporter-evening-dresses-harmonia-matelasse-silkblend-gown/389550728
[22] http://www.popsugar.com/Scarlett-Johansson-Engaged-Romain-Dauriac-31565707
[23] http://www.fabsugar.com/Scarlett-Johansson-Met-Gala-2012-22992838
[24] http://www.fabsugar.com/Bridal-Fashion-Week-Shows-Spring-2014-29633176?slide=164&image_nid=29633192
[25] https://www.popsugar.com/Olivia-Wilde
[26] https://www.popsugar.com/Wedding
[27] http://www.shopstyle.com/item/temperley-london-netaporter-bridal-gowns-embellished-crepesilk-wedding-gown/134742974
[28] http://www.shopstyle.com/action/loadRetailerProductPage?id=265714993&sbid=1694243
[29] http://www.shopstyle.com/action/loadRetailerProductPage?id=332912080
[30] https://www.popsugar.com/Wedding
[31] https://www.popsugar.com/Sienna-Miller
[32] http://www.delphinemanivet.com/en/media/1/77/2012-spring-summer-collection/
[33] https://api.shopstyle.com/action/apiVisitRetailer?url=http%3A%2F%2Fwww.bhldn.com%2Fshop_the-bride_wedding-dresses%2Fswirling-platinum-gown&pid=popsugar&pdata=843476
[34] https://www.popsugar.com/Kate-Hudson
[35] https://www.popsugar.com/Wedding
[36] https://www.popsugar.com/Jessica-Simpson
[37] https://api.shopstyle.com/action/apiVisitRetailer?url=http%3A%2F%2Fwww.oscardelarenta.com%2F%3FfolderId%3D%2Fcollections%2Fbridal%2Fspring2012%23lookId%3D19%26&pid=popsugar&pdata=843476
[38] http://www.jlmcouture.com/Hayley-Paige/Bridal

---