What to Pack For Fashion Week
What We'll Be Wearing This Fashion Week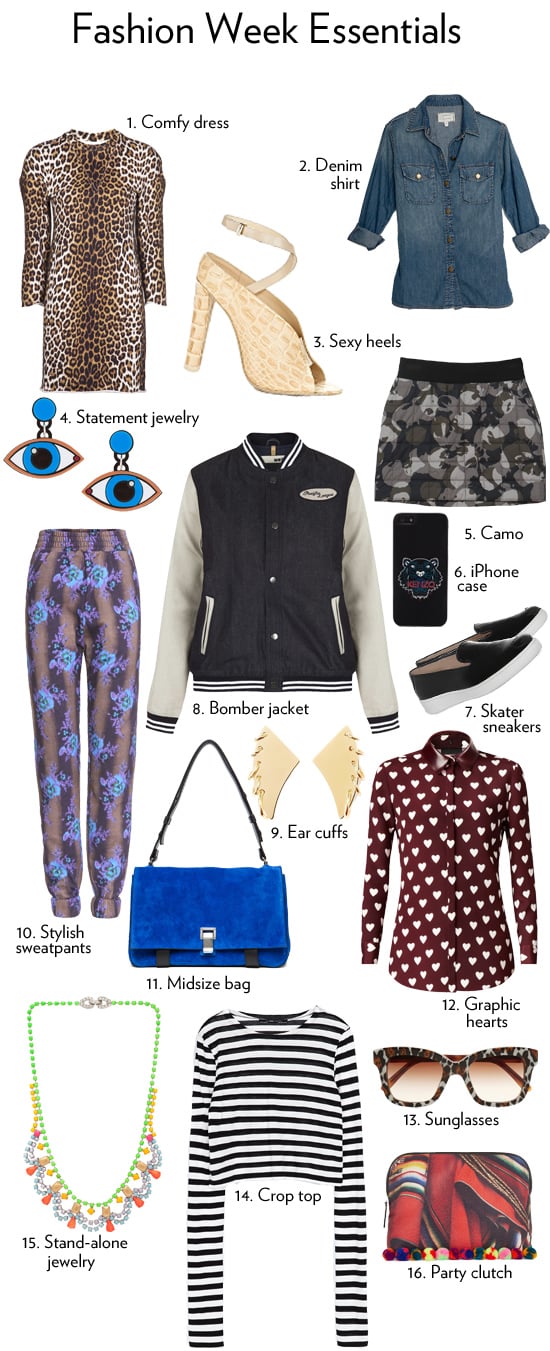 Don't fool yourself into thinking the impeccably turned-out street-style stars just woke up in the morning and threw something on — serious planning goes into getting together the greatest possible outfit. To prep, we outlined the pieces we fashion editors would like to have handy come Sept. 5.
Why are we craving all of the above in prep for NYFW?
1. We've been waiting to shop the leopard from 3.1 Phillip Lim Pre-Fall since we first saw it. Here's hoping it won't be too steamy to wear this sweatshirt-like dress ($495).
2. Consider the trusty denim shirt ($198) your closet's pinch hitter. Wear it with anything, and throw it on when you're particularly style-brain-dead at the end of the week.
3. There's nothing like a new pair of shoes to celebrate a fresh Fashion Week. We're especially loving Alexander Wang's cream croc-embossed pair ($595).
4. Pop art jewelry from Yazbukey ($145) made a splash when it was available in Paris. Now, finally, we can shop it locally!
5. Camo's been on an upward trend for a bit now. We'll be celebrating its zenith with a quilted MSGM mini ($185).
6. You'll eat, sleep, and dream with your iPhone during NYFW . . . it might as well get a chic new case update ($45) with the help of Kenzo.
7. Because you can't wear heels the entire week: slip on skater sneakers ($445) for a cool downtown look.
8. The bomber jacket's ($90) set to be big for Fall, and when it comes to shopping, the early bird gets the worm!
9. Ear cuffs are the latest jewelry trend to obsess editors. This gold pair by Maria Francesca Pepe ($117) is ready and willing to add some serious shine.
10. Fashion Week's a whirlwind, and by the end, we know we'll be craving comfort. Christopher Kane's cool florals ($475) translate easily to sweats (thank goodness!).
11. For a full day of shows, it's imperative to find a bag that's not too big and not too small. The Proenza Schouler Courier ($1,285) is perfect, and a fresh change from the PS1 domination.
12. Burberry's Fall 2013 show had us all feeling romantic with heart prints aplenty. Rocking the bold print ($795) will cement favor with the street-style photographers.
13. Dashing to and from shows is easier with a strong pair of shades ($190). They'll hide tired eyes, too, if sleep is a luxury you can't seem to find.
14. The crop top ($17) hasn't disappeared yet! We're planning on flashing a slice of stomach with wide-leg pants or high-waisted skirts.
15. A bold piece of jewelry can make the plainest dress feel like something special. We'll be relying on special pieces like this bright Tom Binns stunner ($572) to make it through the week.
16. A single show or bout of afterparties allows you to leave the big bag at home. Lighten the load with a clutch like this Mario Testino for Mate find ($150).