What to Wear to a Black Tie Event: Weddings, Galas, and More
What to Wear to a Black-Tie Wedding
Black-tie events — like a wedding or gala — are the most formal kind of event, usually taking place in the evening, requiring men to wear tuxedos (hence the black tie) and women to don gowns. Today, the terms are looser, and many events will be "black-tie optional," which means you have a bit of leeway (think cocktail dresses in addition to gowns). Keep reading for our tips for dressing for black tie, and our shopping widget is full of perfect dresses, statement jewelry, and even some dressy jackets in case you want to add a layer.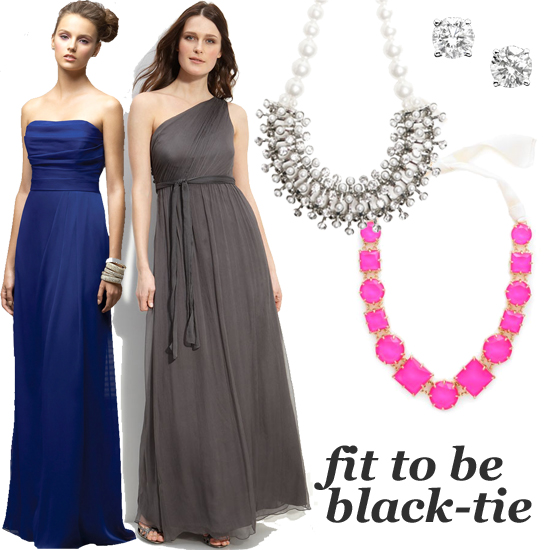 To see our tips, just keep reading.
Do Go Long: You don't want to be underdressed for a black-tie event, and a long dress instantly catapults you into best-dressed potential. We rarely get opportunities to dress up, so enjoy the drama of a floor-length dress!
Balance Out Your Sexiness and Bling: You can have cutouts, a thigh-high slit, crystal embellishment, and jewelry, but you have to balance it out so you don't look like a bad prom project. If your dress has cutouts, keep jewelry to a minimum. If your dress has a thigh-high slit, don't go for a cleavage-busting bodice and a huge diamond necklace. If your dress has crystal embellishment or sequins, keep jewelry super minimal. On the flip side, if your dress is basic, dress it up with big jewelry.
Do Mix Bold Color: Try a navy gown with a jade necklace, or a gray dress with a pink necklace, or a violet dress with a deep purple sash. Playing with color can make you stand out, especially if your dress is more basic.
Belt It: If you feel your dress needs a little something, go for a bold colored or beaded belt or sash. Don't do this with empire waist or superfitted dresses, but it will work on something with a defined waist.
Do Consider Investment: If you only plan on attending three black-tie events in your life, invest in a quality, classic black or navy dress that won't get old with time. Silhouettes like column dresses never go out of style, and because it's simple, you can update it with contemporary jewelry.
If in Doubt, Basic Is Best: You love that sequin one-shoulder dress, but you're not sure about how conservative or formal the event is. Play it safe and stick to a subtle, clean silhouette, and jazz it up with accessories — be it a beaded jacket, shawl, or jewelry. That way, you control how dramatic, subtle, or elegant you want to look.
Black-Tie Optional or Creative Black Tie: You can wear a shorter dress if you want, but try to avoid a minidress. We selected a few great cocktail dresses as examples. You can add a jacket — we like beaded versions or tux jackets — to dress it up.