What to Wear to Bonnaroo Music Festival
A Fashionable Girl's Guide to Braving Bonnaroo
We're thrilled to present our favorite Lucky story here on Fab!
The annual Bonnaroo music festival is right around the corner, taking place on June 9-12 in Manchester, Tennessee. And the lineup is stellar—some of our favorite acts include School of Seven Bells, Ratatat, Lil Wayne, Sleigh Bells and Best Coast. So if you're going, you'll need to master that really dressed-down, but-still-look-cute look. Of course you want to look festive for the festival, BUT I recommend avoiding these extremes: all-out grungy hippie, or wearing an outfit that is the sartorial equivalent of a sign on your head that says, "I'm a hipster." Think of this as Coachella-lite, in terms of taking the fashion down a notch. Check it:
First and foremost, use protection, people!
Grab a hat and some fancy sunblock. Lucky beauty editor (and my roomie) Simone Kitchens won't let me leave home without them—thanks, Mom! Go with a Stevie Nicks-ish floppy because it provides the most shade (side note: I've implemented a ban on the fedora).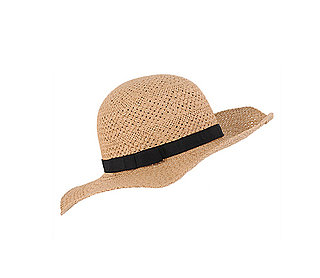 Forever 21 floppy straw hat, $11.50, forever21.com
For more Lucky picks, read more.
Sunscreen-wise, my favorite is by Josie Maran with an SPF of 40. I know that people are really into SPF150 right now, but if I want to look pasty, I'll just wear a mask over my face and stand under a tree. Come on, it's summer, and it's a festival. Live a little (but not too much, because then you'll be all wrinkly).

Josie Maran Argan Oil Infused SPF 40 To Go, $14, sephora.com
What to wear?
This bird-print crop top with a Peter Pan collar (can't resist) is so '70s songstress. And it's under $40, so if you spill beer on yourself it's not the end of the world. Let's not be too fancy, okay?

Asos Bird Print Shirt, $36.93, asos.com

Another must: a new pair of denim shorts, of the longer variety. The tomboy element throws off the sexiness of the top.
For the rest of the story — and the outfit! — visit Lucky.