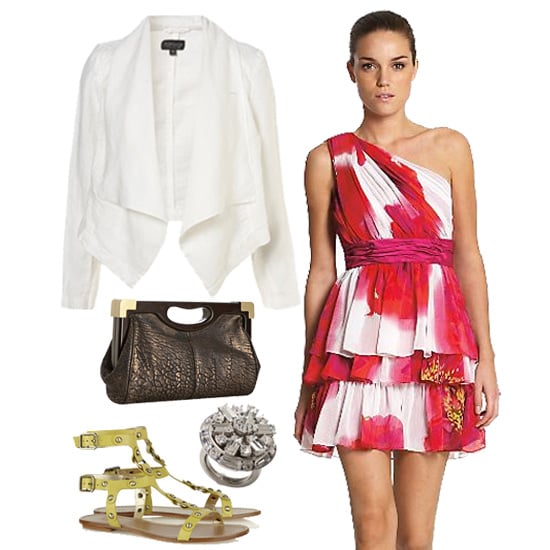 Going to weddings can be a blast, and that goes double for outdoor ceremonies. Not only do you get to take advantage of the gorgeous weather, but you're also able to get away with bright colors, lightweight fabrics, and comfy, chic flats — which ensure that you'll be a force to be reckoned with on the dance floor. If you're slated to attend an alfresco wedding this season and are in need of outfit ideas, look no further. We've put together the ultimate outdoor wedding pieces and hooked you up with some sartorial dos and don'ts. See it all when you keep reading.
Do bring your best brights (and your prints charming). It's Spring! The sun is shining! You're outside! Now is the time to break out your boldest brights and prettiest prints and go to town. Pick a dress with a fresh graphic or floral pattern to assure that you stand out in the crowd.
Don't confuse outdoor with casual. An outdoor wedding may be a bit more laid-back than, say, an extravagant church ceremony, but it's still a "no shirt, no shoes, no service" type of thing. Unless the invitation explicitly says that shorts and sneakers are OK, I'd err on the side of daytime dressy.
Do keep it light. Put away your heavy jacquards and velvets; opt for easy-breezy jersey, silk, cotton, or chiffon. You'll be totally luxe, without overheating. Details like ruffles, lace, and pleats add lofty charm.
Like your mother said; don't forget a sweater. Always plan for things to get chilly once the sun goes down — you don't want to be the one person shivering in your chair while vows are being taken. Bring along an oversize scarf, lightweight trench coat, or chic kimono jacket to throw over your shoulders.
Do choose understated accessories. I love statement jewels as much as the next girl, but in a hot, humid climate, the last thing you need is a band of giant jewels sticking to your skin. Instead, go for dainty gold chains, a stack of thin bangles, or a sophisticated cocktail ring.
Don't wear heels. You likely want to avoid sinking into grass, mud, or sand whenever possible. Opt for a pretty pair of flat gladiator sandals, or this season's standout shoe, the flatform.