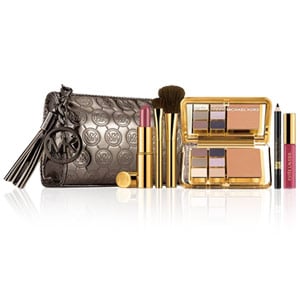 Macy's has always been your go-to store for all merriment, miracles, and holiday shopping, and this year is no different! Don't miss this: the Estée Lauder Michael Kors Collection, an exclusive cosmetic bag filled with makeup favorites. How do you get this fabulous must have? It's yours for $39.50 with any Estée Lauder fragrance purchase.
Now when fashion and beauty collide, you KNOW it's going to be amazing. And this collection delivers! The signature Michael Kors metallic cosmetic bag is filled with the season's best colors and more. Enjoy six eye shadows and bronzer in a golden compact and lipstick, gloss, brushes, and more.
Get yourself to Macy's today (or visit macys.com) to purchase your new holiday fragrance and snag the limited-edition Estée Lauder Michael Kors Collection before it's gone for good.