Who Designs For the Brand Irfe?
Maison Irfé: Paris Fashion Week's Comeback Story
Ever heard of Maison Irfé? Well, if you hadn't, that's about to change. After an 80-year absence, one of France's oldest couture houses has returned to Paris Fashion Week and aims to leave an impression on Spring 2014 and beyond.
Here's a quick history lesson: the label was founded in Paris in 1924 by a well-aligned Russian couple, Prince Felix Yusupov and his wife, Princess Irina Romanov (they may have very well coined the couple nickname phenomenon when they combined the first letters of their names to form Irfé). After quick success, including new branches across Europe and a line of perfumes, the original atelier closed its doors in the early 1930s.
Fast-forward to 2008, when model-turned-designer Olga Sorokina took the reigns and got to work reviving the brand. And on Thursday, her first Maison Irfé runway show took place at Paris's Place Vendome, the same location that the fashion house was inaugurated back in the '20s.
After the show, which featured a roster of high-end models like Hanne Gaby Odiele and Lindsey Wixson, we talked to Olga about making what's old new again.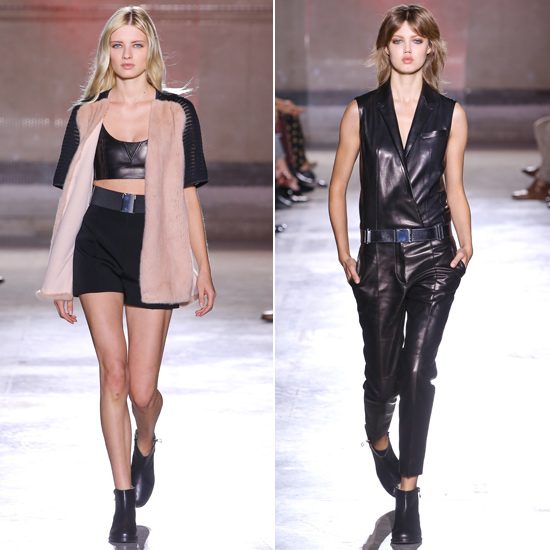 POPSUGAR: Congratulations! As creative director, how does it feel to be behind this relaunched fashion house?
Olga Sorokina: It's just so overwhelming! We do it because this year, it's the 400th anniversary of the House of Romanov [the last dynasty to rule over Russia]. The founders, they were the last owners of that house. That's why it's important.
PS: This may be one of the most important collections you direct. What was your inspiration?
OS: The idea of renovation, and to do modernity — to be modern. If it's an old-fashioned house, everybody thinks it's going to be something old, something very 1924. But my idea was to do something as if the house never closed.
PS: Was there anything you wanted to change?
OS: We changed everything, but we don't change the idea. We aren't looking back but moving forward. Now with our collection, it's way more for the fashionista.
PS: Any favorite pieces?
OS: The silicone. It's a new technology and fabric that we're using on different pieces now.
PS: We couldn't help but notice that Harry Brant walked in the show!
OS: Harry looks like Felix, the original owner of the brand. And absolutely because Felix had done it all before with makeup and wearing dresses for women. But we do modernity. Harry tried the suit where normally Felix tried the dress.
PS: Have you started thinking about the next collection yet?
OS: Yes. We started to work. It's nice to think about the exhibition and to create. It's all about feeling.
PS: And how are you feeling right about now?
OS: Ahhhhhhh!