Who Is The Five-Year Engagement's Costume Designer?
Get to Know The Five-Year Engagement's Costume Designer!
You may not know The Five-Year Engagement's costume designer Leesa Evans (pictured top right) by name, but you definitely know her fabulous stylings. Not only did she work on this new Emily Blunt and Jason Segel flick, which comes out today, but she's also worked on everything from Bridesmaids to I Love You, Man, and Get Him to the Greek to Forgetting Sarah Marshall. Quite impressive, right? After you've seen The Five-Year Engagement's onscreen fashions but before you catch the movie, get to know its talented wardrobe guru, who spills everything from her start to Emily's onscreen style to how to get the character's look!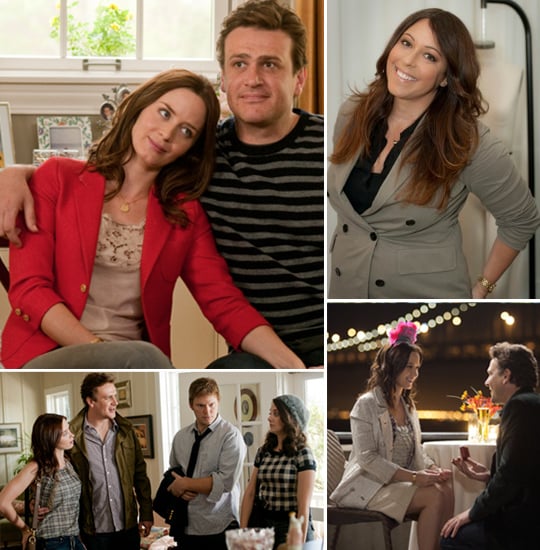 CelebStyle: How did you get involved with The Five-Year Engagement?
Leesa Evans: I have worked with Nick Stoller, Judd Apatow, and Jason Segel on quite a few films now and I love being part of their creative team, so when The Five-Year Engagement came up, I was 100 percent on board.
CS: When did you get into costume designing and what was it about it that drew you in?
LE: I have always loved and been involved in fashion, but the first time I had opportunity to see a costume house, I was hooked on costume design. With the floor-to-ceiling racks of period costumes the size of a football field, I felt the possibilities were endless.
To hear more, including all about Emily Blunt's onscreen style, read more
CS: How would you describe Emily's character's style in the movie?
LE: Emily's style is derived from classic pieces both vintage and modern with an off-beat twist stemming from her British heritage and her naturally good sense of style.
CS: How did you go about picking her looks for the movie?
LE: I have a vision of this timeless character, and Emily herself has such a classic look that it was all about creating long-lasting fashion that could be from any time, yet also very modern. I looked back to films such as Love Story and Animal House, and to designers like Chloé and Valentino.
CS: What stores did you hit up for her looks?
LE: I love everything from Barneys to Neiman Marcus to vintage stores and Net-a-Porter.
CS: For those who want to re-create Emily's character's look, what are essential pieces you would recommend?
LE: I think a great coat and blazer are essential. I'm a big fan of basic pieces that look great, then you can mix and match all day.