Who Is Hart of Dixie's Wardrobe Stylist?
Hart of Dixie Returns — Get to Know the Show's Talented Costume Designer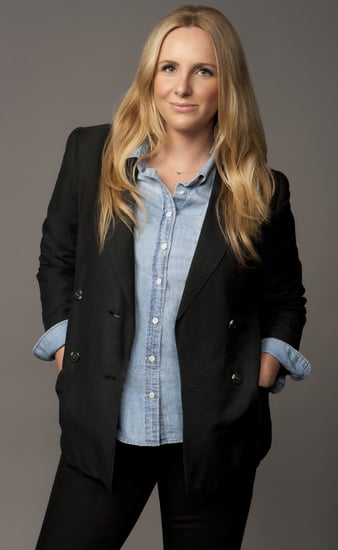 Hart of Dixie, returning with more episodes on April 9, is one of the most fashionable shows on TV right now. Between Rachel Bilson's character's fab designer duds and Jaime King's prim and proper frocks, it's one to draw major inspiration from. So who's behind all of those insanely adorable onscreen clothes? Costume designer Meredith Markworth Pollack, who's also worked on Gossip Girl. We got a chance to chat with the talented stylist all about her start, how she got involved with the show, what she does on set, and the characters' styles.
CelebStyle: When did you start styling and what inspired you about the profession?
Meredith Markworth Pollack: I was introduced to the world of costume design when I moved to New York in 2003. The first film I worked on was in the wardrobe department of The Notorious Bettie Page. I knew right away that I wanted to pursue a career in designing for film and TV. I loved the history, the research, and the character study that went into each look. It was a great combination of my love and intrigue for both film and fashion. I then went on to assist Eric Daman and ended up working on Gossip Girl with him, which then led me to Hart of Dixie.
CS: How did you get involved with Hart of Dixie?
MMP: I designed a couple pilots for Fake Empire, Josh Schwartz and Stephanie Savage's production company, that didn't get picked up. When Hart of Dixie got the green light, they asked me to design it. I was thrilled. I loved the premise, and of course, was a fan of Rachel.
CS: Is there a funny anecdote you can share about your styling experience on the show?
MMP: I'd say the look on Rachel's face when she came in to the fitting room and saw the red Southern Belle dress that she had to wear for Hell's Belle's was pretty priceless. She hadn't read the script yet and there was a definite WTF? moment. I got a good laugh out of that one.
To hear more from Hart of Dixie's costume designer, read more.
CS: What's a typical day on set like for you and Rachel in terms of wardrobe?
MMP: A typical day on set usually starts around 7 a.m. (much earlier for Rachel though, as she has to go through hair and makeup). I check on her in her trailer when she's changing and make sure everything is working and we agree on jewelry, etc. I go to set with her to make sure there aren't any last-minute changes from the director or producers and once she's up and running, so to speak, I leave her in the hands of our amazing wardrobe team and I go back to my office.
CS: How would you describe Zoe Hart's style?
MMP: From the beginning it was very important to myself and Leila Gerstein, the creator of the show, to keep Zoe's New York-chic wardrobe while in Bluebell. She adapts slowly and subtly to life in Alabama, but doesn't lose or sacrifice her aesthetic, which is smart and structured work looks mixed with bold, classically sexy silhouettes. She, up to this point, has had a privileged life and therefore has a fantastic closet filled with high-end pieces, which she brings with her. We use quite a bit of blazers and fitted jackets, trousers and high-waisted shorts, bold colors like tomato red, prints, stripes, and lots of leather. I admire the determination in Zoe; she knows what she wants, but she doesn't have to change herself to achieve it.
CS: How do you go about picking pieces for Rachel's character?
MMP: After we get the script, we do a breakdown to determine what Zoe will be wearing for each scene. Do we need multiples because she gets wet? Does she have a stunt double? Can she be wearing shorts or will she be too cold? Jacket versus sweater? We have to consider every little detail before we begin to shop. What is Lemon wearing? What will George and Wade be wearing? Is it a moment for Zoe to wear something outrageous for Bluebell or does the scene call for something more subtle? After we have our breakdown, we go shopping and do pulls at showrooms, and then fit Rachel for the next two upcoming episodes.
CS: Which online and brick-and-mortar stores do you like to visit for Zoe Hart's pieces?
MMP: Barneys is always a must, especially since that's where Zoe most likely had been shopping in NY prior to Alabama. We do quite a bit of online purchasing as well: Net-a-Porter is my favorite. We're on a budget too and so I also like to scout out a good deal. I have some secret places around LA for that but online I love TheOutnet and also Shopstyle just to track down exactly what you're looking for.
Zara, Club Monaco, and Madewell have also become great go-to stores for the show to find well-priced and great-looking staple pieces like silky trousers, printed blouses, oversized sweaters, and even hats and handbags. I'm counting down the days until we get Topshop here in LA; no doubt about it I will be there shopping for the show.
CS: What are some of Zoe's go-to designers?
MMP: We use quite a bit of A.L.C., Alexander Wang, IRO, Phillip Lim, Helmut Lang, and accessories from Chanel and Chloe on Zoe. She's also had some great looks from L'Agence and Yigal Azrouel. There's been quite a bit of Current/Elliot jeans and leggings as well as Vince sweaters. For jewelry, Zoe wears lots of Low Luv rings and cuffs, Gemma Redux earrings, and her signature Helen Ficalora necklace.
CS: If someone wants to re-create Zoe Hart's look, what pieces should they start with?
MMP: To create Zoe's look at home I'd start with a striped sweater, some element of bright red, maybe a jacket or pair of trousers, and of course leather. High-waisted shorts are a great Zoe go-to. I'd add either a signature necklace or pair of earrings and finish the look off with a pair of lace-up booties or wedges.