Whose Met Gala Dress Cost the Most?
Lucky magazine is one of our favorite sources for great shopping tips. We're thrilled to share this fabulous story from our friends at Lucky!
Last night's Met Gala red carpet was an undeniable parade of punk pretty, from Sarah Jessica Parker's awesome and on-theme Philip Treacy mohawk headpiece to Sienna Miller's off-the-chain studded moto jacket. Such ensembles obviously don't come cheap — especially when they're custom-created for their wearers, as most Met Gala looks tend to be. But whose look last night cost the most?
To find out, we turned to Moda Operandi, where a selection of last night's dresses are already available to preorder — including a good handful of our favorites. Fancy getting your hands on Kate Bosworth's sparkly Balmain mini? Prepare to shell out $26,000. How about Elettra Wiedemann's bright and bold Prabal Gurung? That'll be $27,690—$12,495 for the gown, $15,195 for the cape.
But the most expensive dress on offer? That'd be Constance Jablonski's stunning harnessed Wes Gordon creation, priced at $35,610 — more than some luxury automobiles, for those of you keeping score. But remember — Moda only requires that shoppers pay half their bill upfront, so really, you'd only be shelling out $17,805 for the time being. What a bargain!
Would you pay nearly $36,000 to dress like your favorite punked-out celeb? Let us know!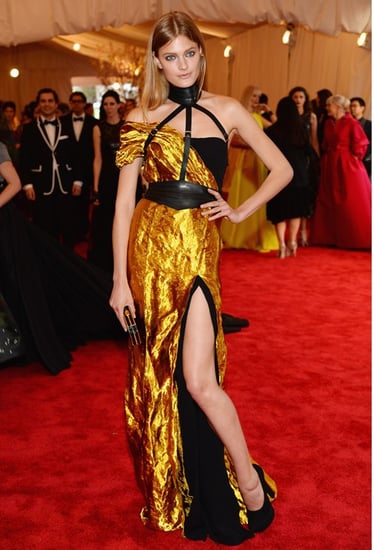 For more fashion and style from Lucky, here are more Lucky stories.
The Cartoon Met Ball Returns
Meet a Stunning British Singer Who Mixes McQueen With High Street Finds