Wildlife by Heidi Klum For QVC Spring Collection
Heidi Klum's Style: She Chats Statement Pieces, Bright Colors, and More!
This Thursday, May 17, Heidi Klum will launch a whole new slew of baubles as part of her Wildlife by Heidi Klum for QVC line. "Since these pieces are part of my Spring collection, I wanted to make them bright and playful," Heidi — pictured wearing her sport watch and Duchess ring below — told us. "I used great corals, blues, and pinks, and even tied in nature as a theme with a few butterfly-inspired pieces." But before you go off and shop Heidi's new jewels, let's hear from her about her favorite pieces, design inspiration, personal style, and jewelry personality. Read our chat below, then check out Heidi's page on QVC on Thursday to shop her brand-new Spring collection.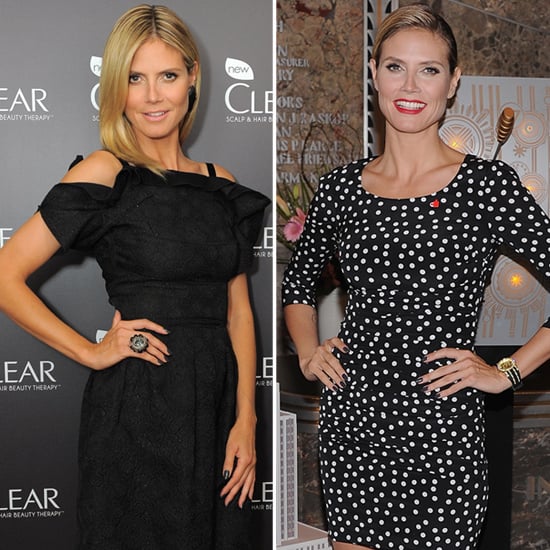 CelebStyle: Which are your favorite pieces from the Spring line?
Heidi Klum: The Wildlife by Heidi Klum neon rubber sport watch is one of my favorites. Neon is a huge trend in fashion right now, whether it's a cool pair of jeans, sky-high pumps, or fun accessories, vibrant colors are everywhere. These watches are great dressed up or down and an instant pop to any outfit. I also love all of the butterfly pieces. I have a necklace, earrings, and a wrap bracelet coming out. I've always loved butterflies and am really inspired by the intricate detail in their wings and how graceful they are.
CS: What inspires your designs?
HK: Everything. I collect inspiration for my designs from so many places: magazines, flea markets, fabric swatches, my travels, and even vintage jewelry. I like to take pictures of everything and collect all of my inspiration so I can look back at them to be inspired by the shapes, colors, and textures.
To hear more from Heidi, including how she describes her personal style, read more.
CS: What type of jewelry do you tend to gravitate toward?
HK: Statement pieces! I love a big cocktail ring or a dramatic necklace. I'm a big fan of piling jewelry on top of each other. I always say more is more. When you're wearing great jewelry that stands out, people will comment on the jewelry more than the clothing. I also love vintage pieces. Shopping at flea markets is one of my favorite things to do. You can find jewelry from all over the world that have really unique design elements. One-of-a-kind pieces are my favorite.
CS: How would you describe your personal style?
HK: Bold! I always tell my team "I'm not here to blend in" and I think that shows through my clothing and accessories. I like pieces that are unique and make a statement. I don't dress for everyone else, I dress for myself. I like to have fun with my style and pair things that wouldn't normally go together for an unexpected look. Being a mom of four, I'm also big on comfort. When I'm not at red-carpet events you can usually find me in jeans and a t-shirt or a great maxi dress.
CS: What are your favorite pieces to wear for Spring and Summer?
HK: Big, bright, and playful clothes in orange, green, yellow, blue — you name it, I wear it!