Woody Allen Movie Blue Jasmine Style
Cate Blanchett Reveals How to Get a Birkin on a Budget
When we originally screened the Blue Jasmine trailer, we asked, "Is this 2013's most fashionable film?" And that was before we read Cate Blanchett's interview in Harper's Bazaar UK. In her recent sit-down, the actress revealed how costume designer Suzy Benzinger wrangled a designer wardrobe within the film's $35,000 budget. "She pulled in a lot of favors," Cate revealed. One noteworthy favor? "The Hermès bag I was carrying was worth more than her whole budget, and there I was, throwing it on the sidewalk again and again. I felt her blood pressure go up every time it hit the pavement. . . . I think I borrowed the PR girl's bag, but I didn't find that out until I'd thrown it on the sidewalk for the seventh time."
That the film was so stylish in the first place, though, shouldn't really be a surprise, coming from the man who launched the Annie Hall aesthetic. Blue Jasmine's story is centered on a once-posh (read: designer-outfitted) leading lady who's had a recent fall from grace. Not only that, but also bolstering the flick's fashion credentials is the leading lady, certifiable designer darling Cate. So when she and Woody Allen teamed up for their latest movie, the results were nothing short of fashion-forward.
The first style nod came from Chanel. The brand announced that the jacket worn throughout the beginning of the film's trailer (above) is indeed the label's. Not only is it a Karl Lagerfeld design, but it's also created specially for the film and paired with costume jewelry from the house. Of the collaboration, costume designer Suzy Benzinger told Lucky that when she asked Lagerfeld to contribute, he simply said, "For Cate, I'd do anything."
And that's not the only label love: in a closer watch of the trailer, we spotted a monogrammed Louis Vuitton Speedy (at the 0:08 mark), a silver-buckled Hermès belt (0:30), and a tan Birkin (1:02). Scroll down to see which other notable designer made for stylish product placement.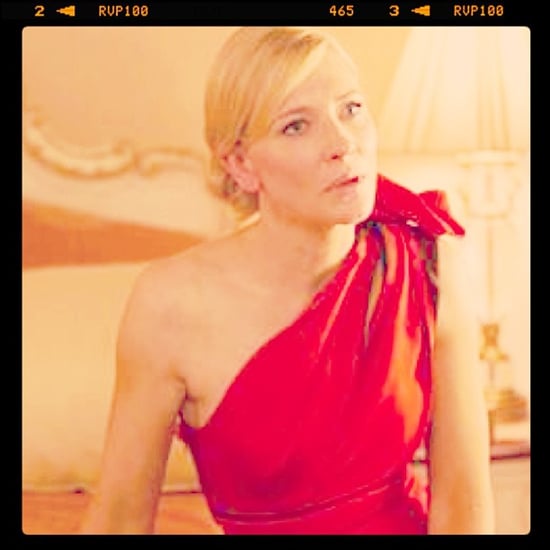 Carolina Herrera gets a starring role as well. The label proudly Instagrammed a gorgeous shot of Cate seated on a bed in the designer's vibrant one-shouldered gown.