Yigal Azrouel's Cut25 Contemporary Line
Yigal Azrouël's Cut25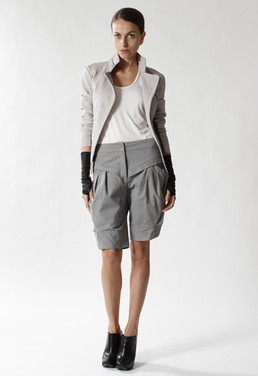 Yigal Azrouël is another designer reaching for mass appeal — rejoice! I have long coveted Yigal's urban femme clothes but have never been able to afford them.
Never say never. The designer is launching Cut25, a contemporary capsule collection. The Fall offerings will be available exclusively at Saks Fifth Avenue, Bergdorf Goodman, and Intermix in July, followed by a full launch — and expanded distribution — for Resort. The designer promises, "This is, for me, more young and hip — a downtown kind of girl. She's edgier, more fun and young."
Cut25 is way more wallet-friendly than his main collection — wholesale prices are $53 to $365 versus $145 to $900. We can expect a lineup of black, cool neutrals, and crisp white. Draping and cutouts, along with zipper details and body-con dresses, sound quintessential Yigal. Blazers with leather trims and patches, as well as allover sequined pants, pique interest. And convertible garments, like an oversize sweater that can be worn two ways, boast bestseller.
For those of us wondering where the sharp name came from: "I always use the word 'cut,'" Azrouël explained. "I loved the simplicity of it. And 25 is my lucky number."