Zac Posen Dress Collection Interview
Zac Posen Talks '90s Fashion, Love of Math, and His Perfect NYC Day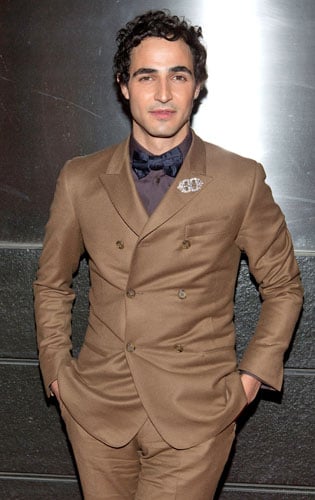 Last night we flocked to NYC's Lord & Taylor store for the launch of Zac Posen's exclusive Z Spoke dress line. Somewhere along the way talk turned from his new capsule collection to '90s fashion, favorite NYC spots, and where you might find Zac if he wasn't designing. Read on for five things you probably didn't know about the ever-charming Zac Posen.
Zac on the return of '90s fashion and his own '90s look: "There are a lot of designers who come to New York in search of a Patti Smith/Lou Reed moment in their life. For me it's so funny when I see designers romanticizing the '90s because it really never looked that cool, and now it's back in a big way. What I do think is relevant stylistically from the '90s is youth and social consciousness and now that's social media, which we didn't have then — that unity of voices. It's fun to have seen that and witnessed that and I definitely had my crazy '90s outfits. [When] I grew up my idea of designer clothing, or what was maybe accessible to me to purchase on a birthday, was Century 21. The best pieces from Gaultier at the time, amazing pieces of Jean Colonna, amazing early Tom Ford, amazing early McQueen pieces, and great Vivienne Westwood clothing. I definitely had this idea — part punk, part nymph. I wore leather vines in my hair and feathers pinned in [with] sailor pants, and I would beg to have a Daryl K jacket."
Zac breaks down his last greatest fashion find, perfect NYC day, and more when you keep reading.
Zac on his last great find: "I'm a jewelry fanatic, so I search online, I search in stores — I spend a lot of time at a store called Kentshire. Every show my partner and I find matching pins, and I found a beautiful matching pin that we'll get at the next collection."
On what he'd be if he wasn't a designer: "Probably a mathematician. It's very similar [to design], my pattern cutting and the way that I like draping. I think math was very intimidating but I later took a course in high school that abstracted mathematics for me completely, as the history of mathematics starting with Babylonian or Egyptian mathematics, and it totally made it visual for me and from there it clicked. I think it's abstract as dreaming or making clothing."
On his perfect NYC day: "Well, I think my day is perfect in NYC, where I walk to my office, stay in my office, and go to lunch maybe once and a while. My perfect NY day is being in my atelier, in my studio building my pieces. It's a big, large family — I adore them, all my sewers and my pattern makers. It's a big family and it takes nurturing. [On a day off] I would go to a museum, I would go to the movies; I love going to the Ziegfeld theater. I like En Brasserie, I would go there for brunch. There are so many great parts of New York, it depends what your fancy is. Just walking through the park can change your whole New York day."
On Summer travel plans: "I'm going to Singapore for a fashion show in a few weeks, so that will be my Summer trip. I'm pretty focused on the ideas that we're building right now for collection. I'm at the time in my life where what is really gratifying is building our creative process. At different parts in my life, I was traveling a lot and living this idea of a lifestyle and then at a certain point it just doesn't seem important."