Zac Posen Gold Dress Magnum Interview
Zac Posen Talks Instagram and Joe Manganiello ("He's a Warrior!")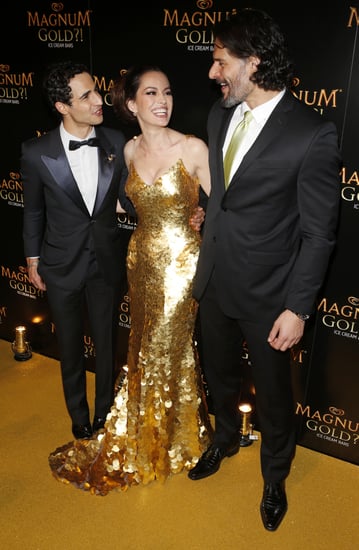 Designer Zac Posen flexed his creativity recently with the creation of a 24-karat gold dress, designed in cahoots with Magnum Ice Cream and debuted with a short film at the Tribeca Film Festival starring Caroline Correa and Joe Manganiello. Now, all that glitters is both gold and ready to be worn by you — a version of the original $1.5 million dress became available for rental on Rent the Runway this month and will be rentable until the end of August. In celebration, we chatted with Zac about celebrity dressing and who he's following on Instagram these days.
POPSUGAR: Which celebrities have you had the most fun dressing?
Zac Posen: Everybody, especially when they've been able to collaborate and come to the studio and have it become meaningful. Obviously working with good friends like Lena Dunham or Claire Danes or Martha Stewart has great meaning to me because they're people I admire and I've known for awhile. I try to think of the people I work with as creators rather than celebrities.
More from Posen, here.
PS: What do you see as the current status of red carpet dressing?
ZP: It's so individual. I think in general any woman wants to look beautiful, and beauty is something that's very subjective and personal. [For celebrities] it's also a business, and if you're going to have your photo taken you need something that's going to translate. To look your best, it has to be something that's going to give you confidence. There are some people who don't play it safe, like Tilda Swinton, and then I have a list of people who I think play it too safe. As a creator, it's important to make people question their comfort zone. That's the role of a creator in society — to make beauty and to make beautiful moments for that person.
PS: You've just crafted this incredible gold dress with Magnum. Have you considered who would be your ultimate woman to wear it?
ZP: It's such a good Angelina Jolie dress. I've dressed her once or twice in my career and she's an incredible person. I love her.
PS: You seem like you've really taken to social media — what do you find yourself always Instagramming?
ZP: I've tried to be a little focused with it . . . it's sort of my daily experiences. It's my process in the studio, it's the food that I cook. I think what's exciting about it is from the silly to the highbrow, people relate to each other through memories or moments.
I've had more research topics from when I've posted an image from a great movie, [like] The Boy Friend that Twiggy was in. I found people who said, "My mother did the costumes for it!" so I started researching that. Or I posted an image of Judy Garland and found someone who was her assistant. There is a third wall, hopefully, with a phone, but I love having that dialog, learning from other people what they're interested in. It's fun to share recipes, or gardening tips, or the process in which I share my work and collection. It's incredible market research . . . I can immediately see what people are going to be drawn to.
PS: Who are some of your favorite people to follow?
ZP: I like following Martha Stewart, National Geographic, Vogue . . . or more obscure things like different gardeners or English Cream Dachshund communities in Japan. You have to be careful because it can totally take up your time. You can't take it overly seriously. I have certain friends who will spend hours contemplating whether to post it or not to post.
PS: Are you into Vine?
ZP: I did some great ones last weekend with my stylist and my partners for our research books and inspiration. I'm just starting to get into it. You have a movement, you have an edit, and then I get more perfectionist about it and have to remind myself to be more impromptu.
I think all of these resources are great because it promotes people communicating through their creativity [in this] visceral, humanistic conversation, and I think it actually helps people get their endorphins by creating. Communication is going to create healthier people.
I wish I'd been into it earlier because I would've documented the Good as Gold [shoot], but I wasn't Vine-savvy enough. I did [some Instagrams] and it was a really funny way to document it. There were amazing shots of the gold dress, and at the party and the experience on set with Joe [Manganiello] and Caroline [Correa] and the whole team.
PS: How was Joe?
ZP: He's like a warrior. He's so tall, and he's so nice. He's a gentleman. I wasn't in any immediate scenes with him because he was sort of the heist of the film. I was in front of the safe and he was inside the safe.
PS: And the ice cream?
ZP: It's nice to work on a project where you love the product. It's delicious.
PS: Did you worry you were getting addicted?
ZP: Yes, I have to be controlled. It's an amazing indulgence — everyone should try it this Summer.