Zoe Saldana Interview
Zoe Saldana on Her Style Guru, Not Being a "Pink Girl", and More at the Cosmo Latinas Launch
With her supporting family in tow, Zoe Saldana celebrated her cover on the first issue of Cosmopolitan Latinas last night at the Press Lounge in NYC looking gorgeous in a frothy mauve Elie Saab Couture dress, Bottega Veneta clutch, Brian Atwood pumps, and Irit Design jewels. Between her infectious smile and down-to-earth personality, it was hard not to fall in love with the beautiful actress. At the event, the actress let us in on her style secrets, not being a "pink girl," and why she loves being in her 30s: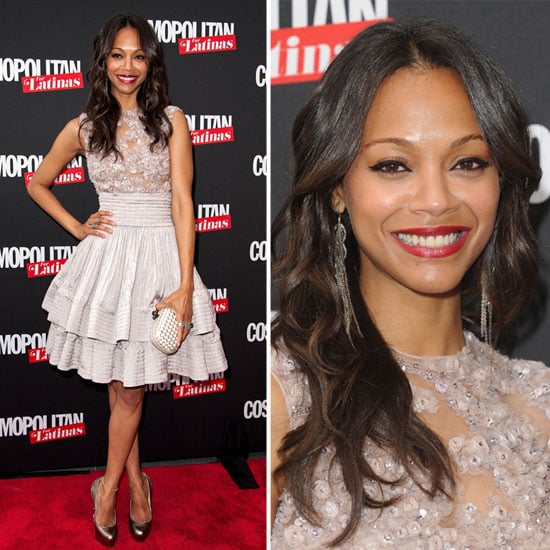 On where her style comes from: "My stylist Petra Flannery, she is my must have. I work so hard and I am nonstop that sometimes taking time to think about what I am going to wear is overwhelming. She is one of my closest friends and her taste is exquisite. I literally just show up at her door and if I have time, I love just staying with her one entire afternoon and see what I've been missing, like all of the collections in Paris, New York, or London. Petra Flannery is my go-to, my must."
On her organic style process: "I will say no to certain things; I am not a pink girl. This [dress] took years for Petra to get me to wear — feminine, pretty colors, and pastel. I always want things to be hard and poignant and sometimes, you need these things because they mellow you out, you know? They really help you feel so great."
On three words that describe her style: "Unexpected, emotional, and weather-oriented."

See pictures of Zoe Saldana on the cover of Cosmopolitan Latinas, plus read what she has to say about her Oscars dress debate, and why she loves being in her 30s.


On choosing the Givenchy dress for the 2010 Oscars: "For that Givenchy dress for the Oscars, everybody and their mommas told me and Petra that might be a little bit too much. We didn't choose that dress because we wanted to make a statement or turn heads; I don't even think about things. It was the deep purple, the sparkle, and what Avatar meant to me. Yes, it was a shocker for some and some people needed to be revived after they saw it on the red carpet. I don't give a sh**. I was happy and I felt like the most beautiful girl in the world that night — and that's all I care about."
On her body image: "I am not immune to all of the pressures of wanting to be this or that, and we all have a personal image on how we want to look. I have always been on the slender side, and I am the only one in my family! Trust me, they hate that I can eat! And I am not saying because I got it like that, but the older you get, you have to be more conscious about your body. Not the image things that might suffer, but it's internal — your heart with cholesterol and fats, or depriving your body of certain nutrients you need just because you want to look good."
On loving her 30s: "I am very happy now that in my early 30s, the pressure of wanting to please others dissipates more and more. And now, it's about being me. There have been a lot of changes in my life over the past year. But I am happy that through all that, the biggest gift I have been receiving every day is getting to know myself not through anybody else and not through another entity or another organization that tells me who I am, but me. And it feels kind of fu*king cool being in your 30s, I have to say."