Zoe Saldana Wearing Leather Pants
Zoe and Candice on the Art of Monochromatic Dressing
A color story doesn't need to be overtly bright or multifaceted to be a good one — case in point: Zoe Saldana and Candice Swanepoel both turned heads in just one head-to-toe hue. Their looks have more than a sleek monochromatic color scheme in common: both Zoe and Candice also relied on slim cropped trousers and easy long-sleeved tops. The effect? Simple, minimalist silhouettes made the tonal play of both outfits the main event. Your road map — and shopping guide — to channeling the same ultrachic monochrome styles is right here: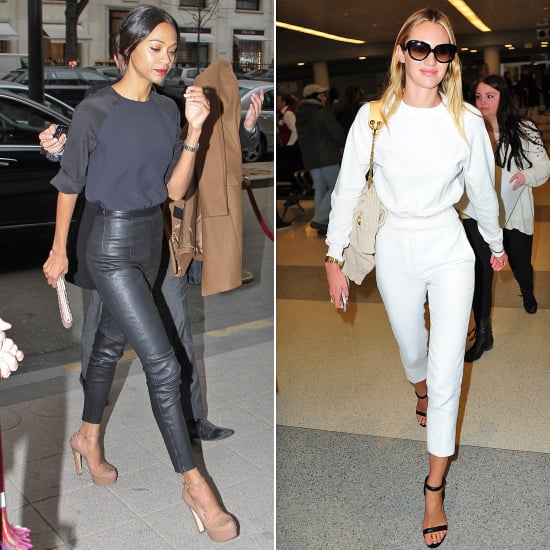 Choose the best tone for your body type. If you're curvier, stick to a darker palette, like Zoe's deep blue or even black and gray. A bright white palette is going to be the least forgiving. However, if you're long and lean, choosing all white or creamy pastel hues can help create curves in body-skimming cuts.
Look to texture to add interest. Both Zoe and Candice's ensembles are more elevated than pants and t-shirts in the same color family. That's because each looked to different fabrics to help create a more styled mix. Zoe relied on leather pants; Candice juxtaposed the polished feel of her high-waisted trousers with a knit sweatshirt. In both cases, the colors remained the same, but the addition of a sheer blouse, leather pants, or knit top can quickly change the feel of the whole outfit.
It's all about proportion. You don't have to choose trousers and tops, à la Candice and Zoe, but don't veer too much from their style-setting formula. The trick to making the monochromatic look feel deliberate and chic is in choosing pieces that skim the body and feel more dressed up than your basic jeans. Get the same effect with a fitted pencil skirt and slouchy sweater or sleeveless blouse and cropped pants — just be sure to steer clear of looser, wide-leg pants or overly baggy tops that won't speak to that same polished sensibility. And, whenever in doubt, opt for the same understated, sophisticated footwear like Candice's ankle-straps or Zoe's nude heels that won't upstage your outfit.