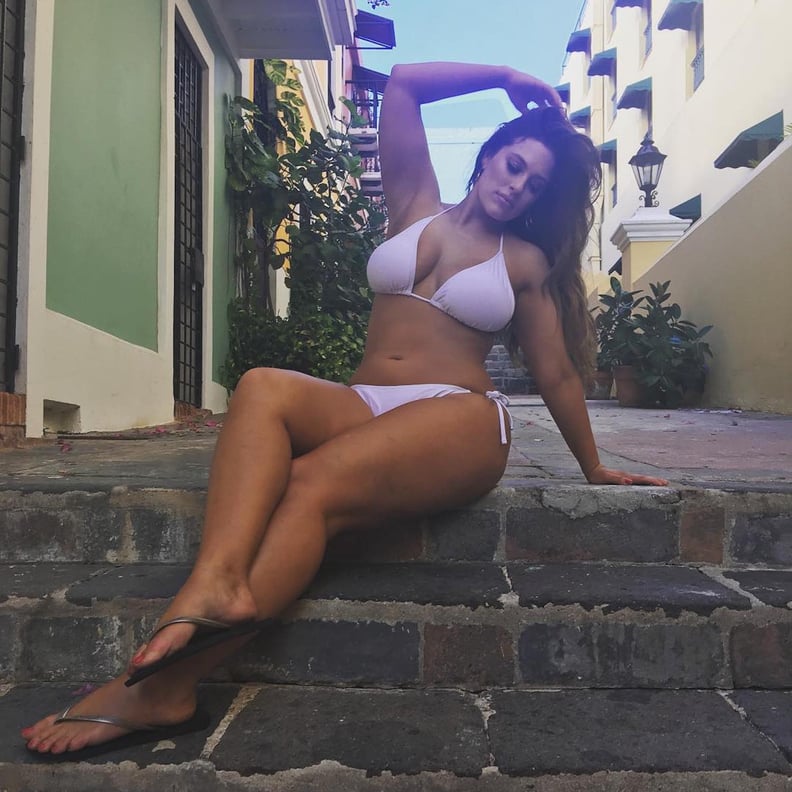 It's no secret that Ashley Graham can rock the hell out of, well . . . just about anything. Whether it's a skintight dress, a simple pair of leggings, or a leg-baring miniskirt, she's always down to put her curves on display, and the same holds true when she strips down in a swimsuit. The supermodel has a knack for finding the most flattering swimwear on the face of the planet, likely because many of the suits she wears are from her Swimsuits For All collection (which you should most definitely check out if you haven't).
Ashley has a dizzying number of swimsuits in her closet, but all of her two-pieces have one major thing in common: they flaunt and accentuate her curves rather than hide them, and gosh darn, we're so here for it! If you're in the mood for a dose of body positivity, scope out Ashley's hottest bikinigrams ahead and then admire her best one-piece looks right after. You may want to grab a squeegee and some Windex because these snaps are so sexy, they just might fog up your screen.
We're Living For the Sheer Paneling on Her High-Waisted Bottoms
The Strappy Detailing on This Two-Piece Is Undeniably Sexy
Ashley Knows How to Command Attention in a Red-Hot Swimsuit
And She's Got a Similar Knotted Top in Black!
An Itty-Bitty Design Can Make a Black Bikini Not So Basic
Ashley Makes a Strong Case For Stocking Up on White Swimsuits
Not All of Ashley's Swimsuits Are String Bikinis — Just Take This Criss-Cross Number, For Example
She Knows How to Accentuate Her Curves With Flattering Tops
"Animal-Print Bikinis Are Always a Good Idea" — Ashley, Probably
"I Repeat: Always!" — Ashley, Probably
Consider This Your Official Reminder to Mix and Match Your Suits
This Black Swimsuit Seems Simple at First . . .
. . . but the Straps Are Removable! Versatile Staples Like These Are a Must
The Tiny Metal Accents on This Blue Two-Piece Provide an Elevated Touch
Sometimes All It Takes Is a Little Textured Detail to Make a Bikini Stand Out
You Truly Can't Go Wrong With a Solid Black Two-Piece Like This One
But Sometimes Ashley Goes For an Unexpected Color, Like Purple!
BRB, Searching For a Bikini With Braided Straps Like This Sexy Number
You Need to Zoom ALL the Way in to Appreciate the Textured Pattern on Ashley's Top
The Floral Design on the Back of This String Bikini Is Beyond Cute
Looks Like Ashley Has Some Chic Scoop-Neck Tops in Her Swimsuit Drawer, Too