Call me plain, but I pretty much only wear sneakers and boots. Every year when Fall rolls around, I begin my hunt for the perfect ankle boot that I plan on exhausting through Spring. I prefer to find just one good pair that I can mix and match with all my outfits. I love wearing ankle boots with jeans, trousers, skirts, dresses, leather leggings . . . you get it — the options are endless. And my list of what makes them a dream pair is even longer.
My requirements: I won't be shy about my pickiness because if I'm going to drop a few hundred dollars, I want my splurge to be worth it. I'm not huge on heels (for obvious comfort reasons), but I'll go for something under three inches. I also need a rubber sole; having that extra support on the bottom of my footbed makes all the difference. Last but not least, I'm all about suede. Finding the ideal material that is actually nice but not too expensive isn't always easy.
By word of mouth over the past year, I've heard so many good things about M. Gemi. Its shoes are handmade in Italy with top-of-the-line leather. This photo-worthy brand has a wide variety of sneakers, flats, and boots, all known for high-quality craftsmanship and fair prices. I saw these Corsa Boots ($348) on my Instagram feed and immediately fell in love. The day I received them in the mail, I knew they were winners. The box even came with a cute personalized name-card.
As POPSUGAR editors, we independently select and write about stuff we love and think you'll like too. If you buy a product we have recommended, we may receive affiliate commission, which in turn supports our work.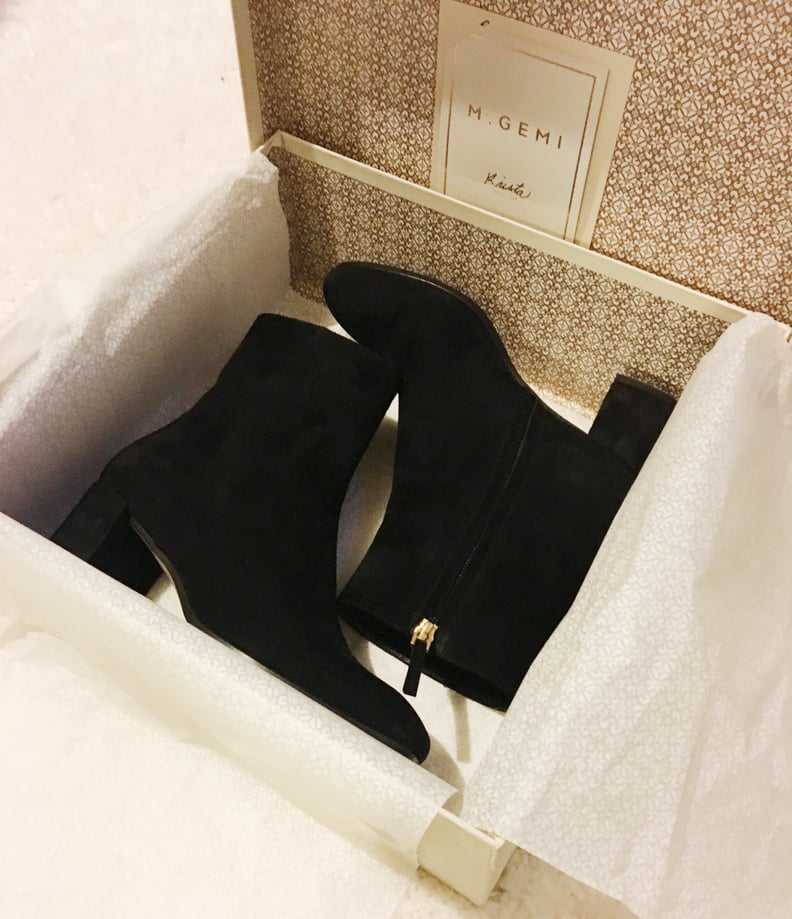 My final verdict: The heel is my ideal height. I've spent the last week walking around all day in them, and there was no period of breaking in; they instantly felt comfortable. The shaft height also hits the right place on my leg, looking good with everything from tights and skirts to cropped jeans. Overall, the biggest positive for me is the quality; the leather is soft and supple, and it doesn't cut into my skin when I walk. The zipper is no fuss and slides up smoothly for easy on-and-off wear. I feel like I'm getting designer-quality shoes for half the price.