12 Royal Engagement Rings That Will Make Your Eyes Pop
An engagement ring will usually be the most expensive and meaningful piece of jewelry a woman will ever own, so imagine then the additional historical significance and iconic status it comes with if you're a member of the British royal family! Over the years, grooms have dipped into family jewel boxes, added personal flourishes to the design process, and requested hidden meanings, all to ensure their love is beautifully spelled out in their choice of the most fabulous diamonds — and sapphires and rubies . . .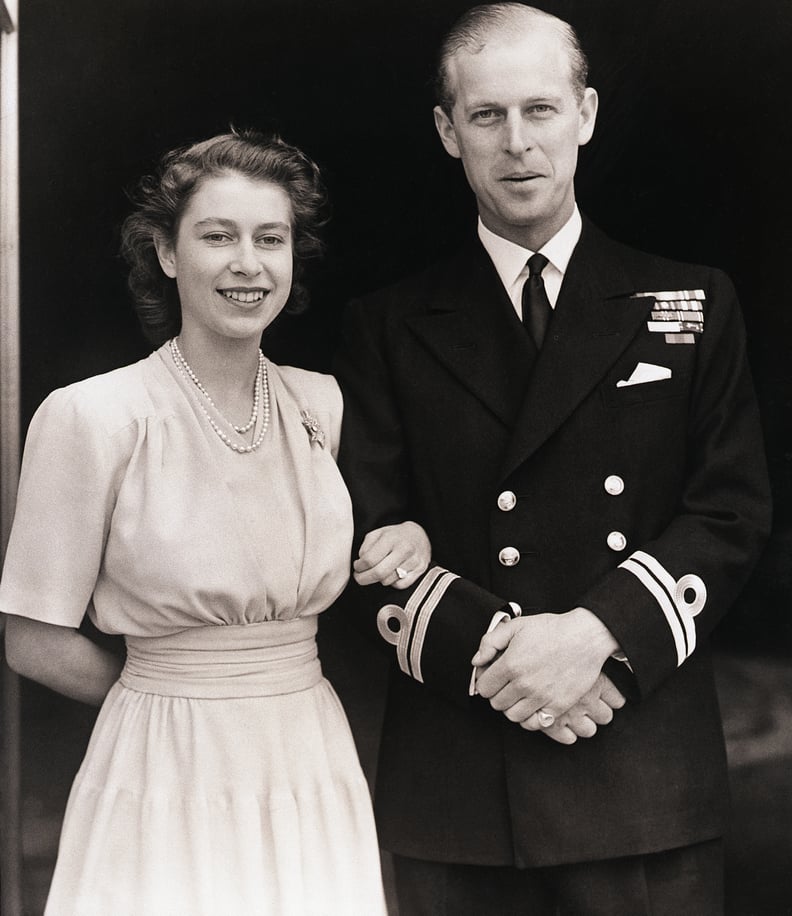 The Queen
The jewels for the queen's platinum and diamond engagement ring were taken from a tiara belonging to Prince Philip's mother. Philip also helped design the ring, which features a solitaire diamond flanked on each side by five smaller diamonds. The queen still wears her engagement ring every day!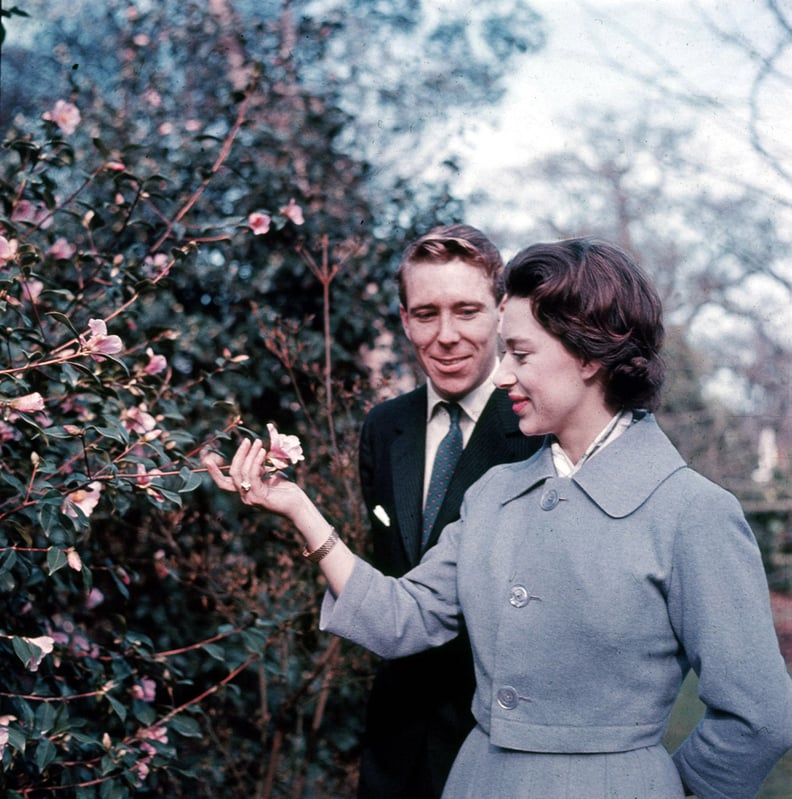 Princess Margaret
Princess Margaret's groom, Antony Armstrong-Jones, designed her ring himself and wanted it to look like a rose as a tribute to his bride's middle name. Subsequently, a large central ruby was surrounded by eight diamond-set "petals."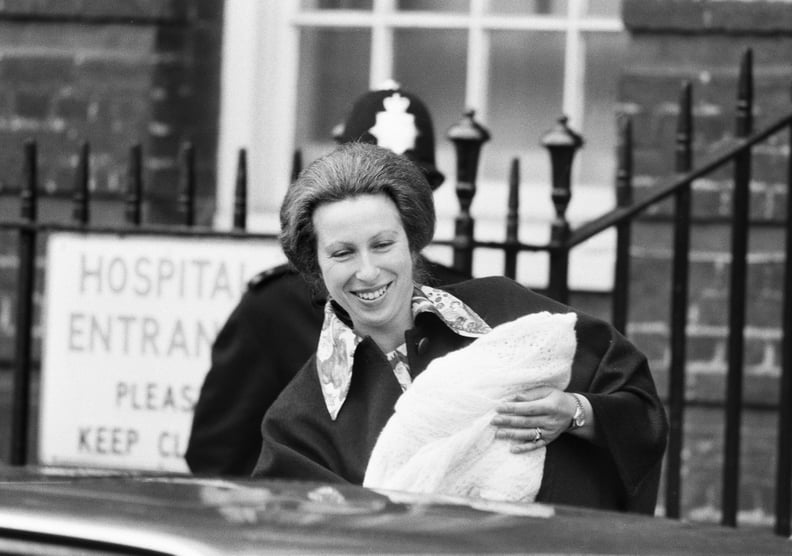 Princess Anne
Princess Anne's engagement ring from her first husband, Mark Phillips, featured a sapphire flanked by a solitaire diamond on either side. The queen's daughter is clearly a fan of the deep blue jewel, as her engagement ring from second husband Timothy Lawrence is also set with a sapphire. This one, however, features a less glitzy-looking, smooth cabochon sapphire set on either side with three small diamonds.
Lady Diana Spencer
After Prince Charles proposed to Diana, he presented her with a tray of rings by royal jeweler Garrard for her to choose from. The future princess selected the whopping 12-carat Ceylon sapphire surrounded by 14 diamonds and set in a white gold band. Diana loved the ring so much that she even wore it from time to time after she and Charles separated.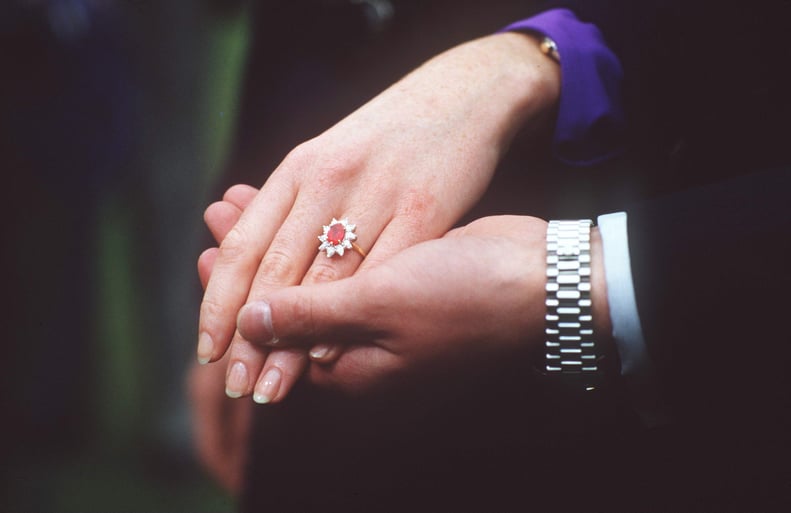 Sarah Ferguson
It's said that a ruby engagement ring was selected for Sarah Ferguson to complement her red hair. The Garrard ring features a large oval Burmese ruby surrounded by 10 diamonds and is set in white and yellow gold.
Sophie Rhys-Jones
Prince Edward also chose a Garrard ring to propose with and selected a traditional romantic touch in the two heart-shaped diamonds that sit on either side of the central two-carat solitaire diamond.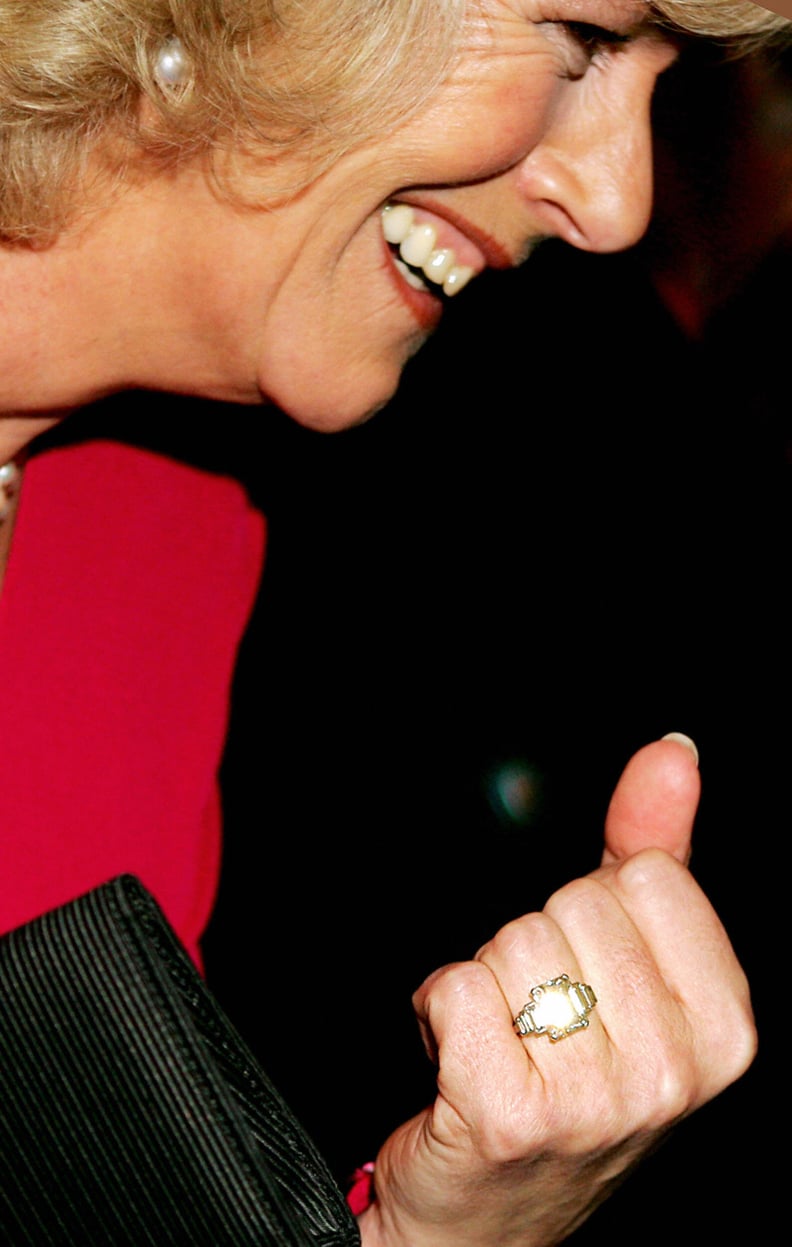 Camilla Parker Bowles
When the time finally came for Prince Charles to propose to his long-time partner Camilla, he dipped into the royal vaults and selected an art deco ring set with a huge emerald-cut diamond and three diamond baguettes on each side. The ring was packed with meaning as it had previously belonged to his beloved grandmother the queen mother. It's believed that the queen mother received the ring as a gift from her husband, George VI, after the birth of their first child, then-Princess Elizabeth.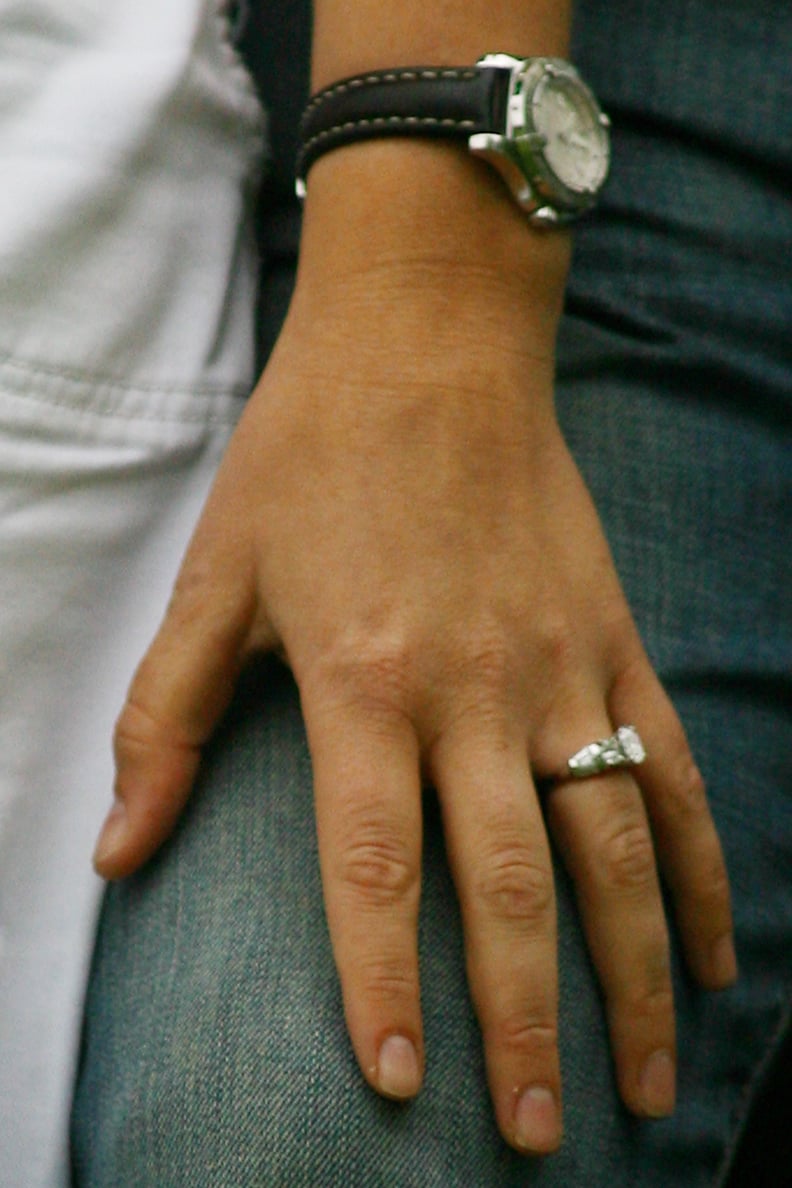 Autumn Kelly
The queen's eldest grandchild, Peter Phillips, went to such lengths in the buildup to his proposal that his future bride questioned his behavior! Peter later revealed in an interview, "Autumn became quite suspicious when I opened a separate email account to organize the ring." The ring itself features a large central oval diamond with a selection of smaller diamonds on either side.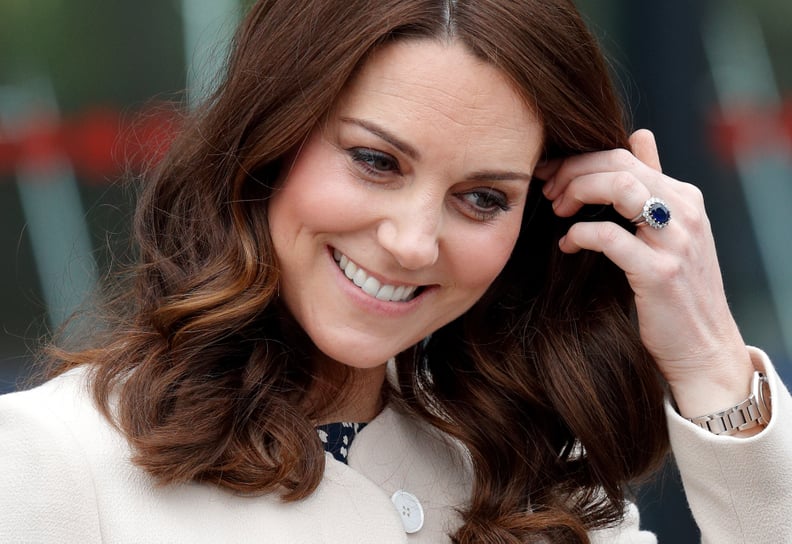 Kate Middleton
After the death of Diana, it's said that Harry chose his mother's iconic engagement ring to remember her by, but he gave it to his brother, William, when he decided to propose to long-term girlfriend Kate. It was reported that the ring was slightly too big for Kate, and tiny white gold bumps were added to the inside of the band.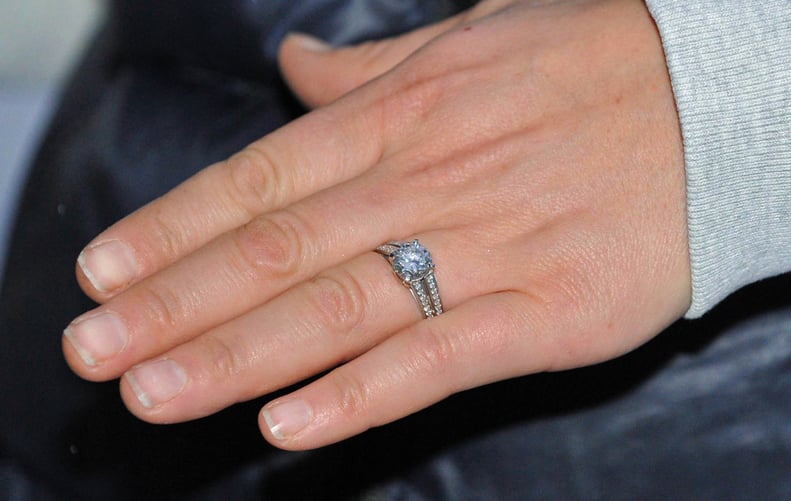 Zara Phillips
The queen's granddaughter revealed in a 2017 interview that she hadn't owned a ring until her partner, Mike Tindall, proposed, saying: "I never wore rings. My engagement ring was my first. Mike found it — I hinted what I liked, but he did it all himself." The result is a custom-made solitaire diamond on a double band set with diamonds.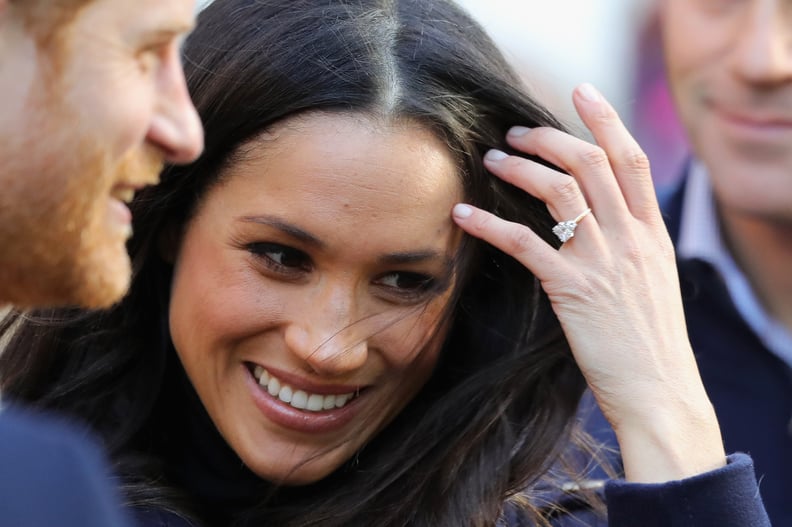 Meghan Markle
When Prince Harry set about choosing the perfect ring for his future wife, he decided to incorporate two very personal elements that are among the closest to his heart. Harry has loved the continent of Africa ever since his first visit at age 13 and has a special affiliation with Botswana, which he has visited many times, including twice with Meghan. On the prince's last visit there, he sourced the central diamond for his bride's ring, and he had a diamond added on either side that were from his mother Diana's personal collection.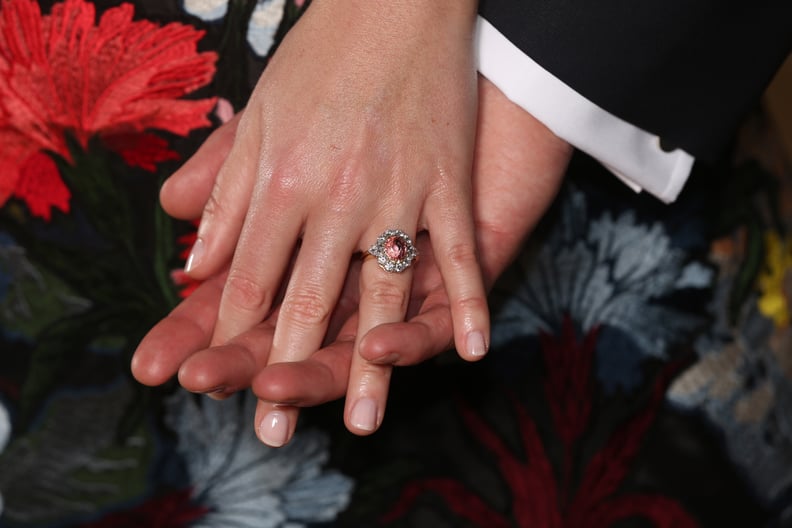 Princess Eugenie
The stone in Princess Eugenie's ring is the most unusual of the royal brides' — most of us were left thinking "padpa-what?" when it was revealed that the jewel is a peachy pink padparadscha sapphire. The Sri Lankan jewel is classed as a corundum, which most commonly means a red ruby or a blue sapphire, so the stone in Eugenie's ring is both incredibly rare and probably one of the most expensive of the royal brides'. Padparadscha is actually Sinhalese for the aquatic pink/orange lotus blossom, and the princess's jewel is set in 12 diamonds on a yellow gold band.