Chromat Shows Swimwear For Trans, Nonbinary, and Queer People on a Feel-Good Runway at the Beach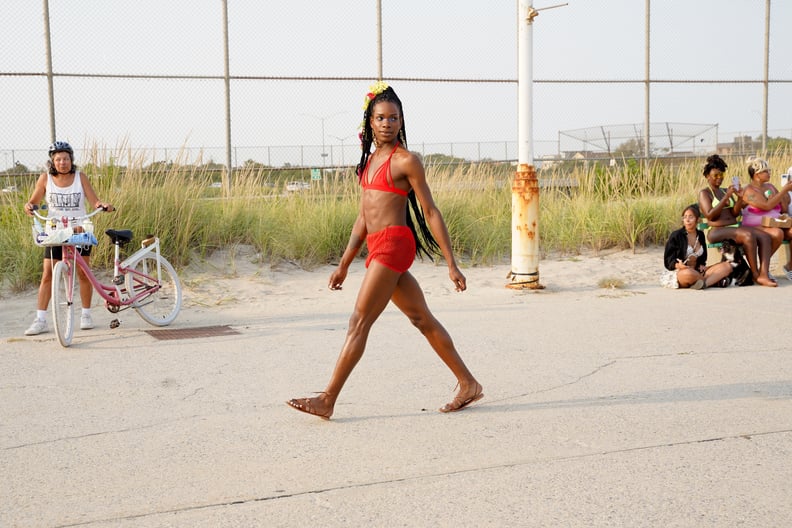 Chromat | Sean Zanni
Chromat | Sean Zanni
Bodywear label Chromat has been known for showcasing inclusivity on the runway for years. Designer Becca McCharen-Tran counts curve model Denise Bidot opening the brand's spring 2015 runway and a pregnant Mela Murder voguing down the spring 2017 catwalk as two particularly memorable milestones. But the genderless line of all-red swimwear designed for #ChromatBABES embracing Collective Opulence Celebrating Kindred has brought about an especially feel-good moment this Fashion Week season. Chromat teamed up with filmmaker and artist Tourmaline to codesign the collection and host a party at LGBTQ+ renowned The People's Beach at Jacob Riis Park in Queens, and what resulted was a day where all models and showgoers (fully vaccinated) could feel unapologetically like themselves.
"People have been looking for places to replenish with community, seeking solace and serenity at the beach."
The swimwear incorporates skirts, monokinis, shorts, and bottoms with soft package pouches and matching bikini tops for girls who don't tuck or want bust support, trans femmes, nonbinary people, and women and men everywhere. "Garments are inherently gender neutral, as they are just objects. Garments don't have a gender," Becca explained to POPSUGAR of her design approach. "It's important that people realize that no color or fabric or cut is gender exclusive," she said, confirming that the new Serenita monokini from the line is her favorite piece.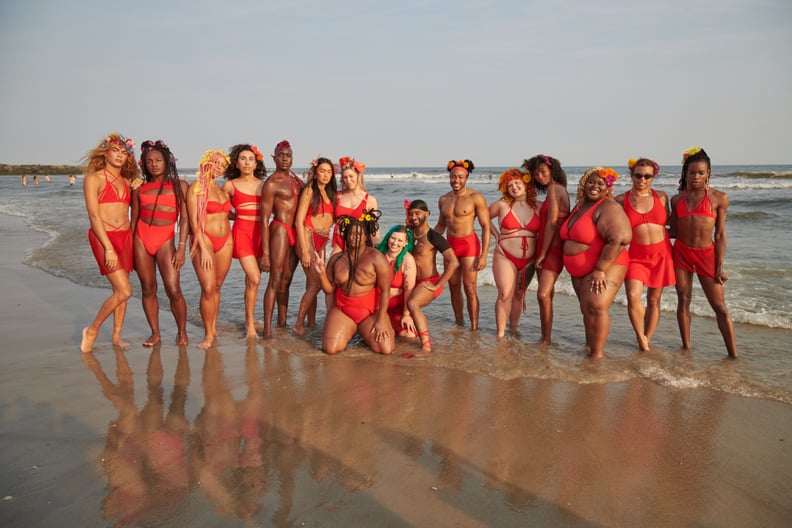 In order to carry out the event, Chromat proceeded with all model casting digitally and briefed everyone on the inspiration behind the collection in advance to ensure they were comfortable with not tucking before inviting them in for a fitting. The location was set at the beach for a reason that extends beyond the fact that they'd all be dressed in suits:
"We are all in a moment of huge upheaval and are looking for new ways of being. Throughout the pandemic, people have been looking for places to replenish with community, seeking solace and serenity at the beach, and finding joy in nature. Tourmaline and I recognize this offering as an invitation for our community to bring their full selves to a place where they can thrive, feel comfortable in their body, and enjoy the pleasure of water," Becca said. From the free-spirited photos you're about to admire ahead, it becomes clear that, sure enough, everyone feels at ease when they're wearing Chromat. Read on to see every fashion-forward, thoughtful, and versatile look.