7 Reasons Gigi Hadid Just Started a Model Revolution
What — you expected the fashion industry would just ignore Gigi Hadid's body-positive Instagram message? No way. Instead, top models, including some of Gigi's best friends like Kendall Jenner and Hailey Baldwin, sent her lots of love. They regrammed her enlightened quote and wrote captions professing their admiration for the on-the-rise It girl.
"Everyone from Victoria's Secret Angels to plus-size girls that texted me, thanking me and saying that they feel so much of that bullying. It's amazing, the spectrum that it affects. It doesn't matter if people are saying you're anorexic or too fat. It's just that people are bullies. I was just kind of hoping that it would spark conversation. At first I did it for myself, but I think that a lot of people are scared to comment on the industry that they're in and they feel like they're not allowed to have a voice. I think that that's not true," Gigi told The New York Times.
Read on to see seven people who showed Gigi support on their own social media pages, some of whom she's never even met, like Tyra Banks! One thing's for sure, the latest crop of model superstars are soul sisters who back each other 100 percent — regardless of shape, size, height, weight, or the runways they walk down.
01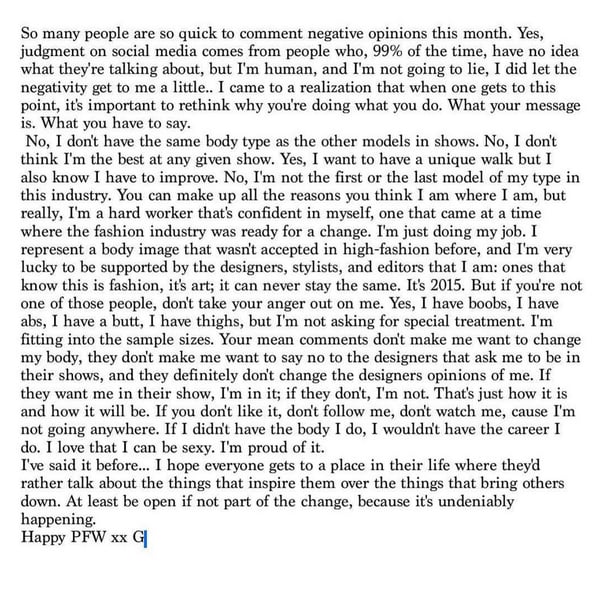 Gigi posted her original body-positive quote to Instagram and Twitter right before Paris Fashion Week kicked off.
02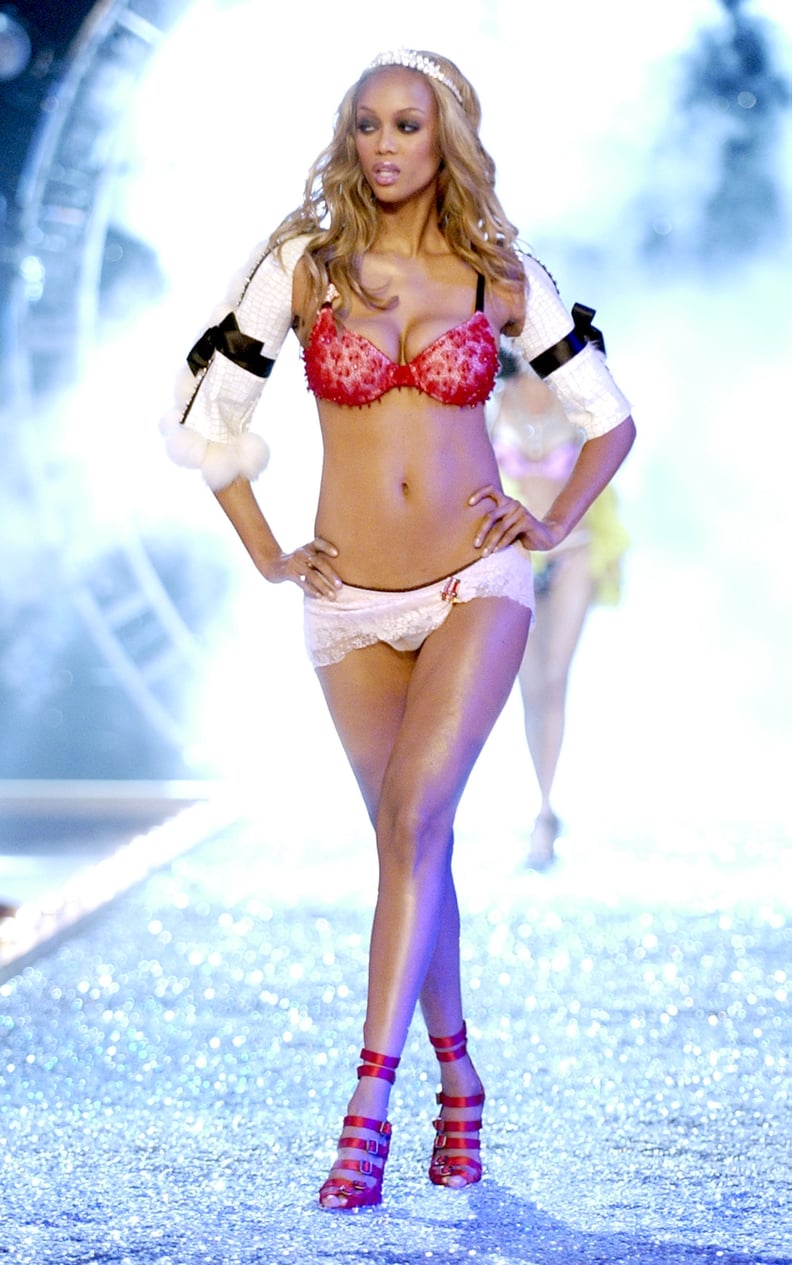 Tyra Banks
The model regrammed Gigi, writing, "I haven't met you yet @gigihadid but I FEEL you so much. Your words are powerful. Your words are necessary. Your words are vulnerable. Your words are real. Sending you love and hugs. From one model that had curves and a unique walk to another, Tyra."
03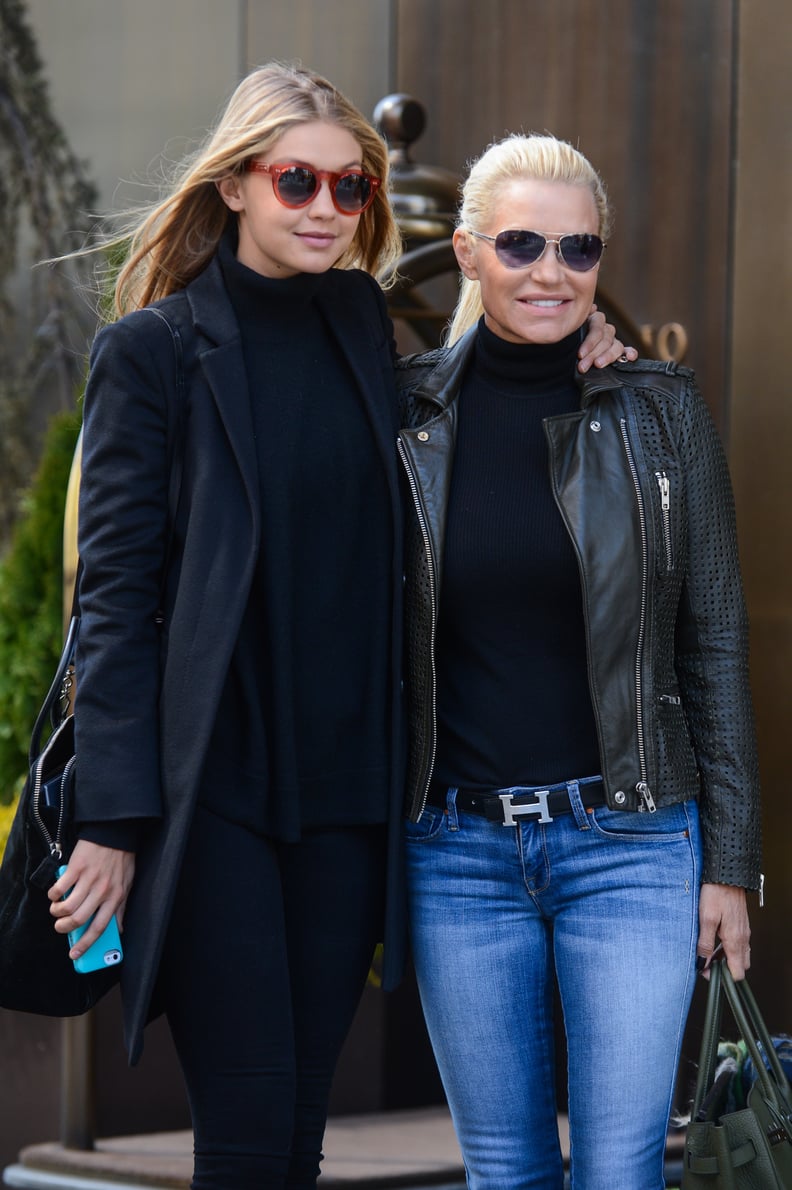 Yolanda Foster
Of course, the supermodel's model mama sent her love! She 'grammed a photo of Gigi walking the Versace runway and wrote, "Loving you just the way you are........... @versace_official #MFW #Authentic #ProudMommy @gigihadid."
04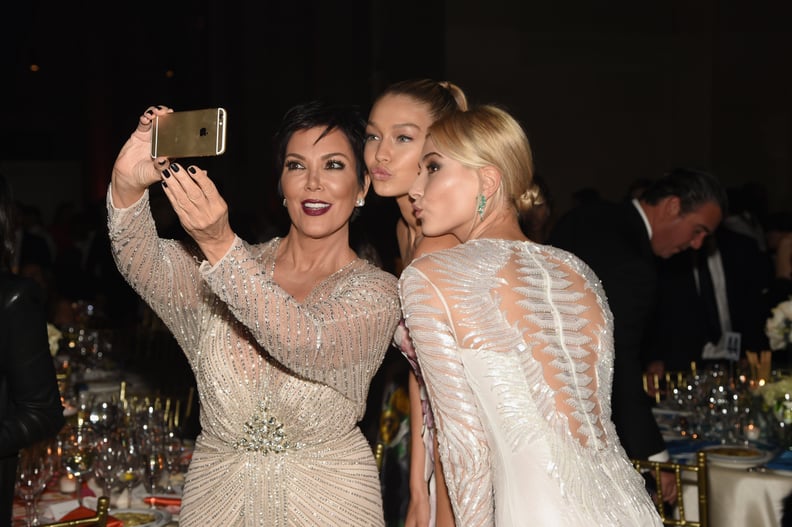 Kris Jenner
Kris Jenner regrammed Gigi's post and wrote a long note: "This is from one of the sweetest, smartest, and most beautiful girl inside and out, in the world. Why do people with no life, no purpose, who are angry and bitter and ignorant, or just plain nasty and mean, choose to bring everyone else down instead of finding the best in others? I will never understand the BULLYS that lurk on Instagram just to try and ruin someone else's spirit. If all of their horrible negative energy was focused on being positive and seeing good, imagine what a better more peaceful place this world would be. Spread love and joy everyone, not hate. It only reflects what kind of person you are. Something good might come of it...lift others up. Do unto others as you would like done to you....Love One Another. ❤ #Repost @gigihadid"
05
Hailey Baldwin
06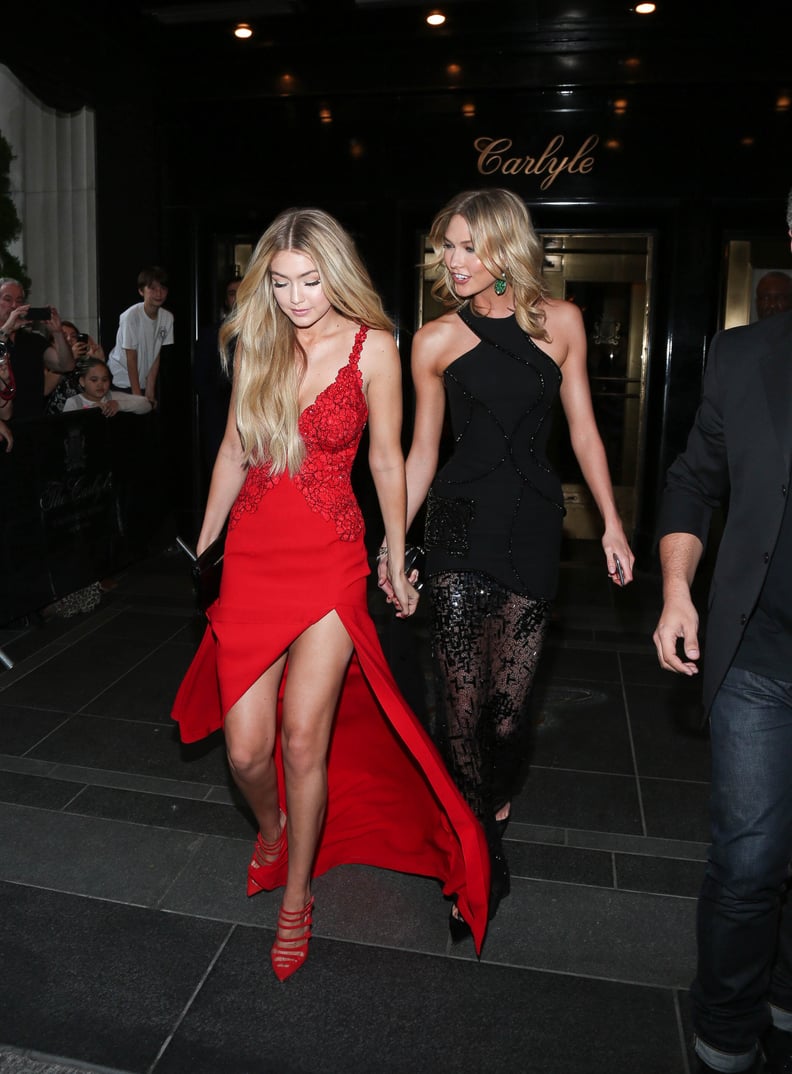 Karlie Kloss
Karlie Kloss also posted Gigi's quote to her page, writing, "Regram @gigihadid. couldn't agree more. proud to call you a friend #preachgirl"
07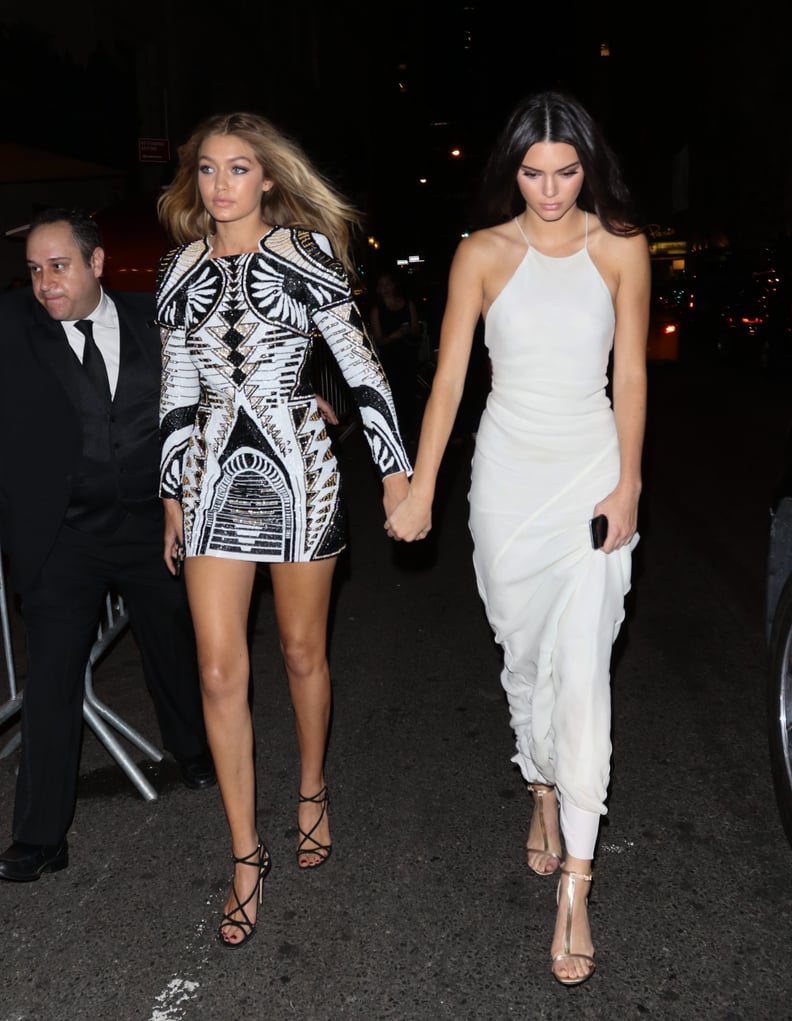 Kendall Jenner
Kendall is totally Gigi's model BFF, and she stands by her side through and through. Kendall retweeted Gigi's quote in support.
08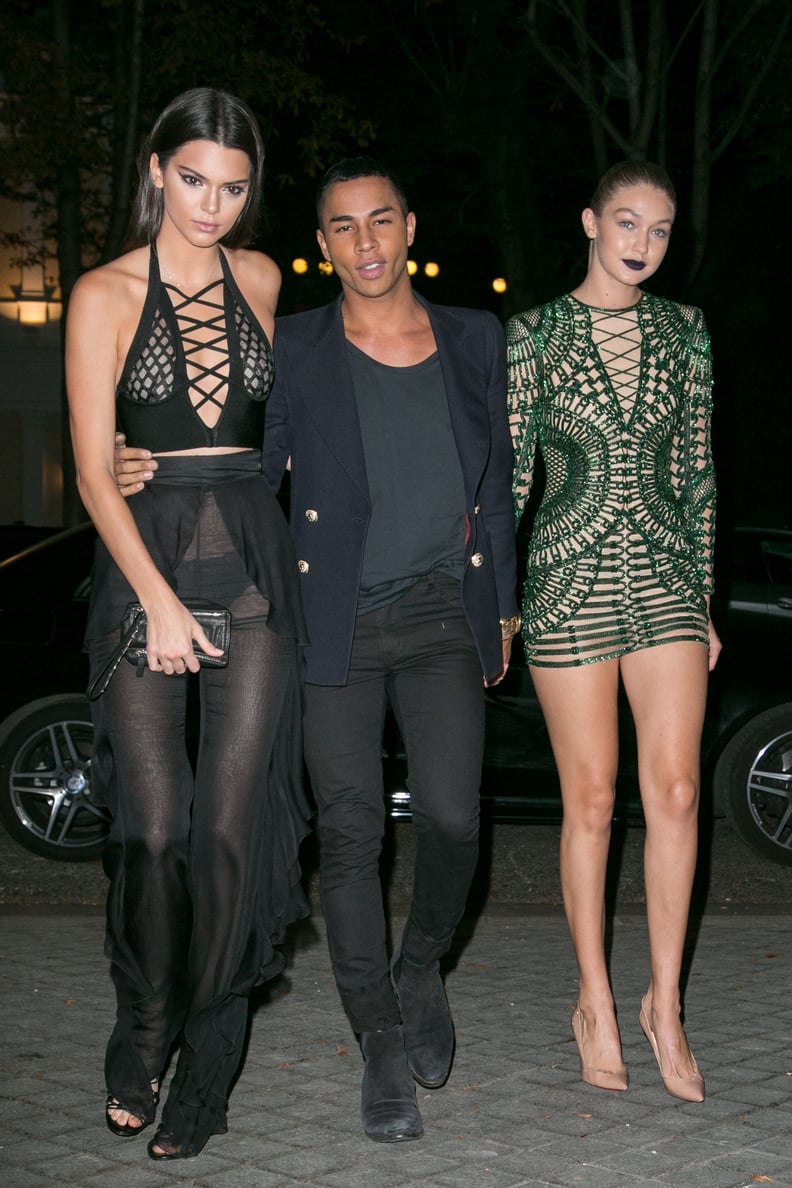 Olivier Rousteing
Gigi walked in Olivier Rousteing's Spring '16 Balmain show. The designer took her to his dinner during Paris Fashion Week and told The New York Times, "I love what she wrote . . . It's really, really interesting and it's really smart to write that now. We need more girls that actually have a real body. Gigi has the most insane body. I love her — she is my icon."