As POPSUGAR editors, we independently select and write about stuff we love and think you'll like too. If you buy a product we have recommended, we may receive affiliate commission, which in turn supports our work.
Since 2012, Gabby Sabharwal has led a double life — fashion publicist by day, designer by night — taking her own eco-conscious, cool-girl collection of suits from small, NYC-based label to reputable fashion favorite. The proof is in the pudding, or, in the style world, in the collaborators and retailers that have backed Gabby's Giejo label. So far this Summer alone, that includes a capsule collection for Madewell and a Gwyneth Paltrow endorsement in GOOP's shop, plus a collaboration with Rebecca Taylor last year and retail presence in the likes of Shopbop and Barneys. Did we mention that Gabby is barely 30 years old? Still, the young designer is practically an industry vet, and while her success grows, she remains humble and enthusiastic — as excited about her collection and the Giejo customer as she was when we first met. Four years later, that's what makes Gabby one of our biggest girl crushes in the biz and a style setter we turn to on the regular for inspiration and advice.
With that in mind, we tapped the swimwear guru for the biggest trends of the season and how to get the most mileage out of the bathing suits you've got. Read on for all of Gabby's wisdom — and all the ways she's rocking her swimwear wardrobe right now.
POPSUGAR: What's the Giejo vibe/who is the Giejo girl?
Gabby Sabharwal: Giejo elevates the traditional swimwear market with a unique, personal style-focused approach to design utilizing surplus and reclaimed fabrics in our limited-edition styles. Offering swim separates and cover-ups featuring versatile prints, multifunctional details, and figure-flattering silhouettes, Giejo allows you to mix and match your swimwear for a personalized look.
We design for the modern woman, embrace individuality, and offer options to explore. Our girl is eclectic, effortless, entrepreneurial, social, and independent.
PS: What's the most flattering swimsuit?
GS: This is going to sound so cliche, but honestly, the one that you feel the most confident in!
PS: What's the swimsuit trend to look for this season?
GS: Definitely high necklines, as seen on the runway and now poolside! Gabby pictured wearing The Swimlette ($118)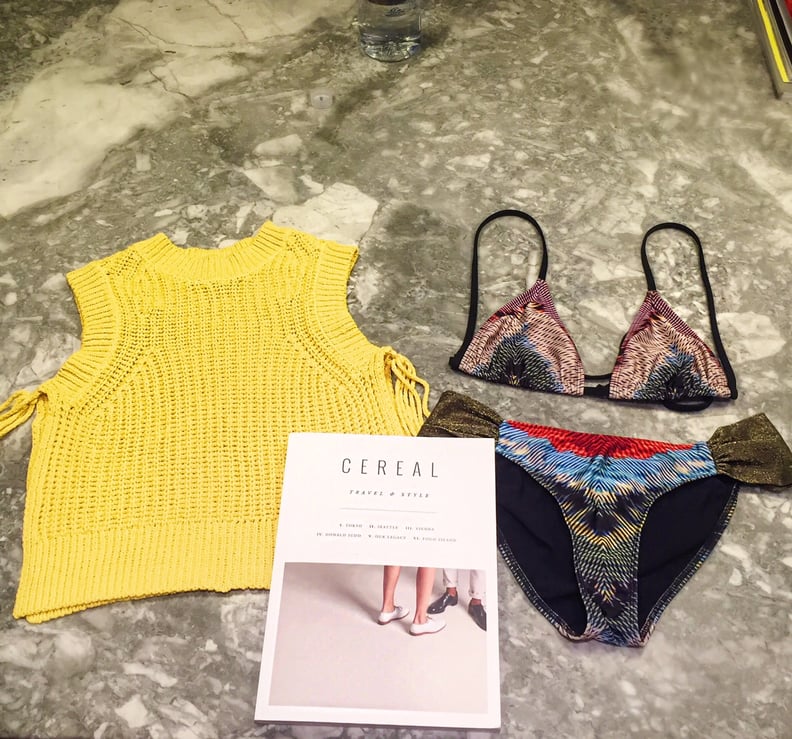 Gabby's Pool Essentials
"An interesting tank can totally top your swim look when worn with an elongating swim bottom. Our Mixed Side Ruche features seamless rushing on the sides, hiding those love handles I can't seem to get rid of, and can be worn high on the leg or stretched out for more of a brief look."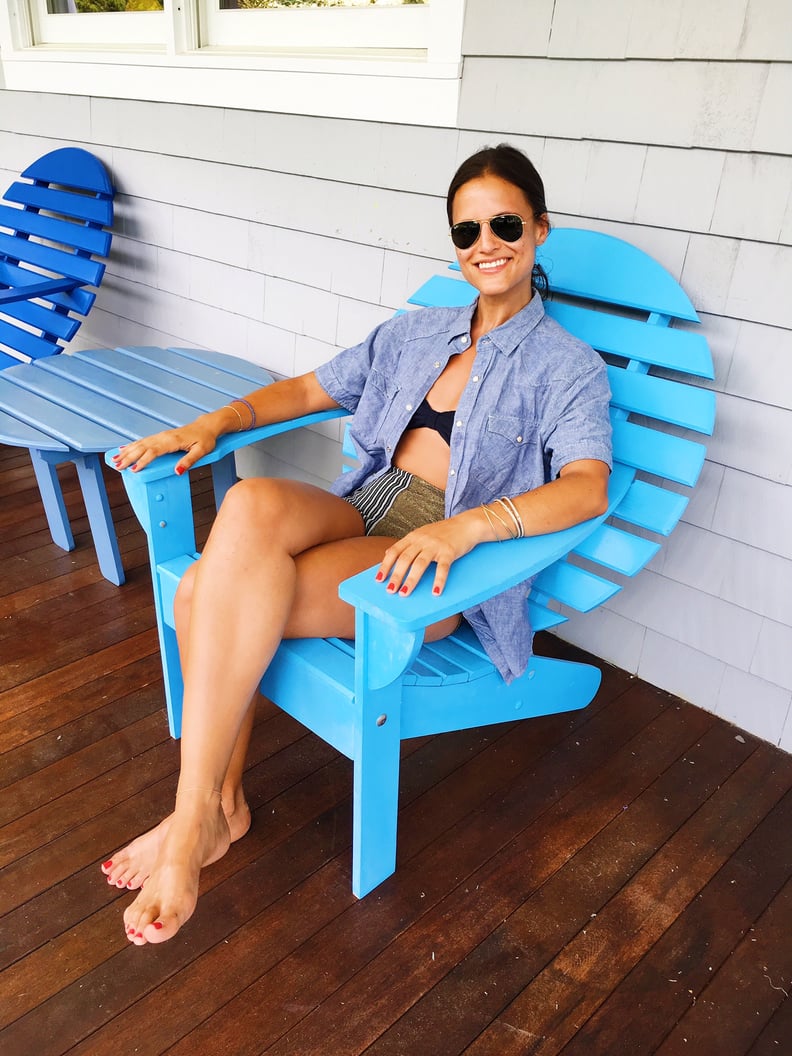 The Most Flattering Suit
"The Butterfly Bandeau ($118) has always been one of our core silhouettes. It fits a range of body types and is surprisingly 'supportive' — you can adjust the fit around the body using the three adjustable closures on the back. The straps are removable for sunbathing. It also doubles as a top when you wear it with high-waist bottoms, as seen here.
"The High-Waist Bottoms are probably what we are known for best. You might not think they are for you, but they are super flattering. I swear, try them on! It's become my favorite silhouette, especially when I opt for chicken fingers and fries at the beach. You also don't need to worry about tan lines and can flip down the waist when laying down."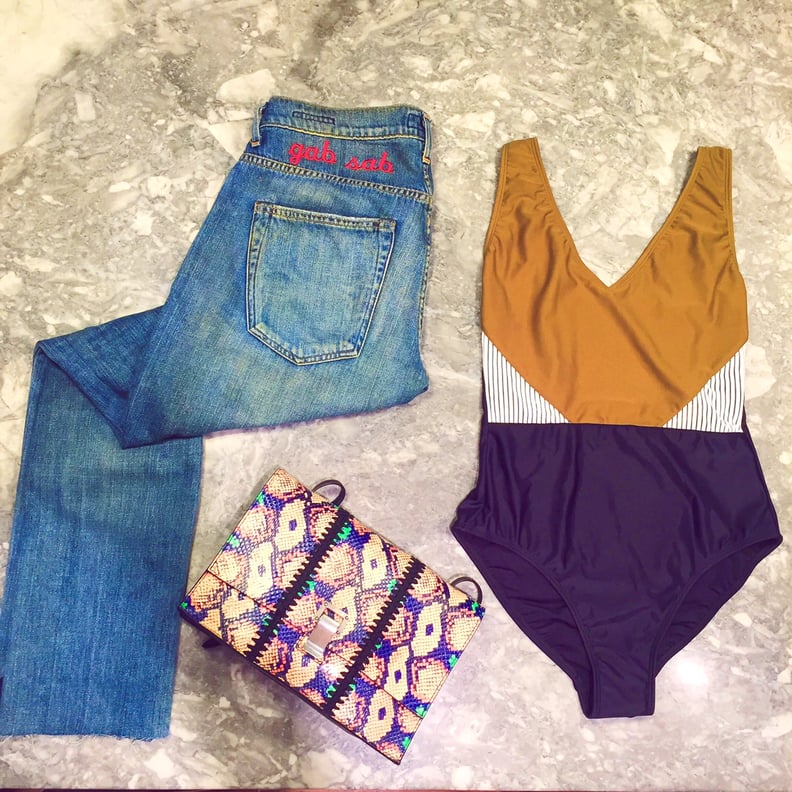 The Magic of a One-Piece
"My one-piece has become my travel essential and I wear it on and off the beach. Pair it with denim shorts for a bike ride or with jeans for a night on the town." Pictured: V Neck Swimsuit ($195)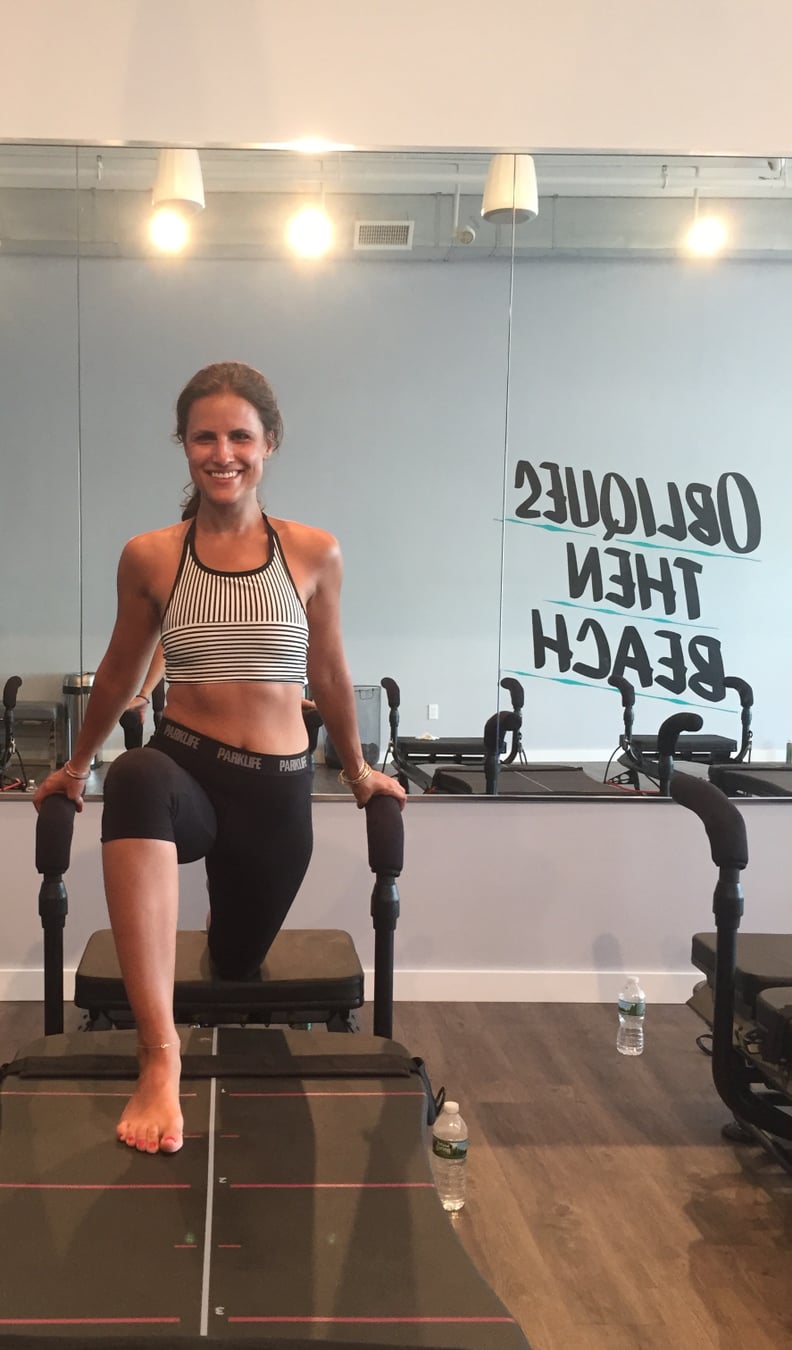 Swimsuits That Double as Workout Gear
"We recently introduced the Halter Tie Top ($118) and it has been one of our bestsellers. The best part about it is that the base is a bandeau, so you can flip down the halter when you are taking in the sun, and it's supportive enough to wear when working out."