Swimwear trends are more exciting than ever this year, with thongkinis and see-through suits dominating our social media feeds. But one particular look from the '80s is making a resurgence across every style, from bikinis to maillots. And that's the high-cut swimsuit trend. The hip-baring silhouette can be traced back to the '80s, when it first got its moment in the sun on "Baywatch" (and to commemorate, Pamela Anderson released an inspired Frankies Bikinis collaboration [1]). Today, the biggest ambassador for the style is Miley Cyrus [2], who promoted her eighth album, "Endless Summer Vacation [3]," in a series of high-cut swimsuits, picked in collaboration with her stylist Bradley Kenneth [4].
While some celebrities — Hailey Bieber and Kendall Jenner, to name a few — prefer a high-cut bikini, others are more keen on full stomach coverage. Vanessa Hudgens is one swimsuit connoisseur [5] who's been rocking the trend for years. SZA posed for Kim Kardashian [6]'s brand Skims in a range of minimalist styles with a high-rise fit. And most recently, Pink took an ice bath in a tiny pink swimsuit with an open back, high-cut leg, and the words "Vicious Bitches" printed across her chest.
Whether you're posing in your swimsuit [7] on Instagram or diving in the nearest pool, it's safe to say this trend will be as strong as the sun's rays all summer long.
Ahead, see some of our favorite takes on the high-cut swimsuit — both bikinis and one-pieces [8] — so far.
Pink Wearing a High-Cut Swimsuit
Pink took an ice bath in a pink swimsuit with a high-cut silhouette, an open back, thin straps, and "Vicious Bitches" inscribed across the front. She brought the look together with mirrored sunglasses [10] and a trucker hat.
Miley Cyrus Wearing a High-Cut Bikini
Cyrus promoted "Endless Summer Vacation" in a Tom Ford for Gucci red ombré bikini [11] that hailed from the 1997 archives.
Kendall Jenner Wearing a High-Cut Bikini
Jenner wore her custom string "knitkini" by Deparel [12] with reversible fabric and wooden beads in the Bahamas.
Hailey Bieber Wearing a High-Cut Bikini
Bieber styled a cheeky brown Alt Swim bikini bottom with a high-leg cut for her Rhode Passionfruit Jelly Peptide Lip Treatment photo shoot, released in April 2023. She also wore a Sicilia cycling shirt as a rashguard with chunky hoops and bangles.
Halle Bailey Wearing a High-Cut Bikini
The "The Little Mermaid" actor celebrated her birthday in Jamaica in a Montce bikini with a geometric print [13], tapping into the high-leg trend.
Simone Biles Wearing a High-Cut Bikini
Biles, who owns a bikini in virtually every color, showed off this mint two-piece with smocking that, from behind, was nearly connected thanks to the ultrahigh rise of the bottom.
Vanessa Hudgens Wearing a High-Cut Bikini
Hudgens spent time at the Four Seasons in Maui wearing this pastel-toned art deco bikini with a bottom pulled all the way up to her waistline.
Lizzo Wearing a High-Cut Bikini
Lizzo [14] turned to the side to reveal the exact placement of her white bikini's string ties. Leave it to the singer to seamlessly team the look with Prada moon boots while poolside.
Emily Ratajkowski Wearing a High-Cut Bikini
The Inamorata designer usually opts for minimalist colorways but almost always hikes her bikini bottoms as high as she can on her waistline. She decided to kick off 2023 in a brightly patterned bikini, however, which was even more of a nod to the '80s thanks to its graphic print.
SZA Wearing a High-Cut Swimsuit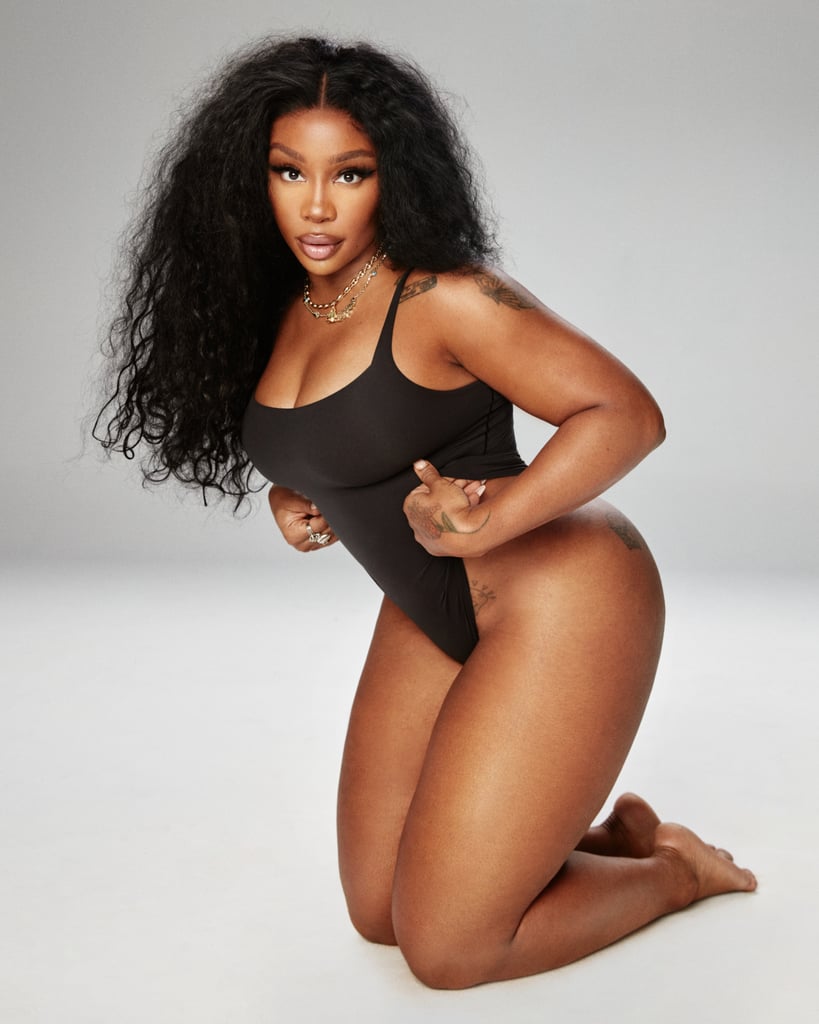 SZA posed for a Skims campaign, accentuating the power of a high-rise leg cut in her black one-piece.