Every season, you can count on a fresh crop of denim trends, but there's one category of jeans that's been a staple among the fashion-forward set for years: vintage. While the body benefits of vintage jeans are apparent (hello, instant butt lift), finding a pair that fits you like a glove isn't always so simple. Pretty much everything about vintage denim is different from new denim, from the sizing and fabric to the cuts available. That means having a primer on what to look for is essential.
Know Your Staple Styles
First things first: there are two key styles you should be aware of before jumping into vintage denim shopping, particularly if you've got your heart set on finding the perfect Levi's. "The most classic and popular style is the 501 button fly, which can be worn fitted to the body or a little loose to create a boyfriend look," explained Gerard Maione, creative director and cofounder of What Goes Around Comes Around NYC. This cut is a great option for those who are a little curvier, since the button fly provides more flexibility in fit. "The 505 zipper fly style is a tighter fit through the hips and legs — a good option for a slimmer body type," Maione said.
And while the 501 and 505 styles are the most commonly sought, there are a few others to keep an eye out for. "The 646 bell-bottom was a style Levi's produced in the 1970s and is fitted in the hips and thighs with a wide flare at the bottom, creating a fun fashion statement," Maione noted. "Of course, there's also the always-popular Levi's cutoff short with frayed edges, which can be worn as a fitted hot short or sized up for a relaxed fit, and possibly belted for a cool effect." Lastly, there's the 517, which is similar to the 505 except with a bootcut lower leg, and the 551, which was made in the '80s and '90s specifically for women, meaning it features a more tapered leg and shorter inseam.
To spot the style number of a pair of vintage Levi's when shopping, check the leather tag on the back of the jeans for a stamp or the inside tag.
How Pricing Works
If you've already taken a look at the vintage denim that's out there, you know that prices can range from $5 to over $300. What's most important to know is that generally, the older a pair of vintage jeans is and the more popular the style, the steeper the price tag. The takeaway here? Older 501s and 505s are going to likely run you the most money. "The things that make denim more valuable are the same as what makes anything else more valuable: age, desirability, quality, condition, size, and rarity," explained Maresa Ponitch, owner of Dusty Rose Vintage. "Older denim was made on different looms and with varying levels of automation, which is why it feels different. It's reflected in the price because it's really rare and the history of denim is something that some people feel very strongly about."
So how can you tell if the amount listed on the price tag is warranted? Well, Ponitch says there are two things to consider. First, feel the fabric. "If you're a fairly savvy shopper, you'll be able to feel the difference between a nice thick denim and a cheaper version," she said. Second, think about where you're shopping. If you're at a flea market, you might find a steal, but if you're searching in a vintage shop that has a curated selection of vintage denim pieces, chances are they've picked the best pairs they could find and have priced them to reflect their own time spent searching in addition to factors like age, cut, and popularity.
Spot Rare Pairs
"The rarest Levi's are the premium vintage ones that were made from the 1940s to 1960s," Maione said. There are a few simple ways to pick out those pairs. Check the tiny red tag on the back pocket. If the "e" in Levi's is capital, you've located an older style. If there is a rivet in the crotch or there are exposed rivets on the back pockets, it's also likely that you've located a super-hard-to-find pair. Finally, if you flip up the hem and see a selvedge inside that has one red line or two red lines, you're in luck. Of course, jeans with any of these telltale characteristics are much more likely to cost you several hundred bucks, as they're considered collectibles.
Look Beyond Levi's
Yes, Levi's are the quintessential vintage jeans, but if you're not married to the idea of them, you can hunt for something a little more unique. "For '70s styles, I really love Foxrun, Landlubber N'est C'est Pas, Faded Glory, and Brittania," Ponitch said. "For '80s, I love Calvin Klein, Jordache, Sergio Valente, Chic, and (please don't judge) Z Cavaricci." Janet Sung of Denim Refinery says that Wrangler and Lee are quite popular at the moment, as well. "A less-known brand is Rustler. I think it was a big rancher or cowboy brand because I find that they often have the best washes and wear," Sung added.
Don't Sweat Sizing
The number one thing denim experts want you to know before starting your search for the perfect vintage jeans? "Every cut is different," Ponitch said. "Even 501s are cut differently in different years, so patience is the most important thing you'll need to find the right pair." What's more, she points out that vintage denim doesn't have much stretch, so it will fit quite differently from your go-to J Brands.
If you're not sure where to start on sizing, the simplest thing to do is take your regular denim waist size and add two or three sizes, according to Tiffany Gifford, a celebrity wardrobe stylist who dresses Miranda Lambert. So if you're normally a 28, consider looking for sizes 30 and 31 as a starting point. If you're going for a boyfriend look, Gifford suggests adding four sizes.
There is, of course, a more precise approach, but it requires a bit more effort. "If you're shopping online, the only effective way to determine your size is to know the measurements of a pair of jeans you love the fit of," Ponitch said. So lay your favorite jeans flat and measure the waist, hip, and inseam. Most online vintage denim sellers — including boutiques, eBay, and Etsy shops — will list the measurements of each pair they have available along with the waist size listed on the label. Since some vintage jeans were shrink-to-fit, the actual measurements are often a better indication of how big they are than the size number.
And for those who are thinking about trying that waistband-around-your-neck measuring trick, Ponitch says skip it. "Unless you have almost zero curves, it doesn't work." Why? Well, "some of the most popular styles right now (like Wranglers and Levi's 501s) are men's jeans, so they weren't made for curves," she explained. This can make finding the right fit tricky. "This isn't always the case, but often you will see sizes like 5, 6, 7, 8 instead of waist measurements like 28, 29, 30," which indicates that the jeans were designed for women, Ponitch said. These styles are likely to fit better if you don't have a straight-up-and-down shape. "You should also be able to tell when you hold them up; they will curve in at the waist," she added.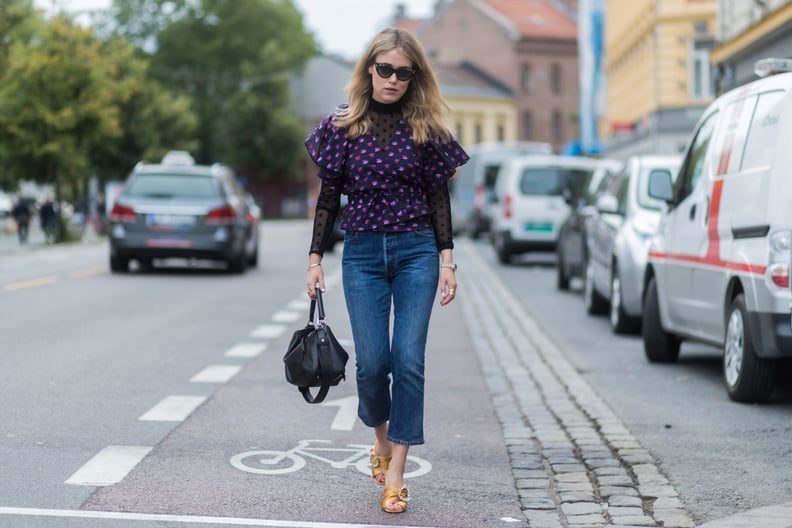 Tailoring Is Always an Option
One simple way to solve the men's jeans/woman's body conundrum is to have them altered. "Anything can be tailored to be a better fit, including denim," Gifford said. It's quite common to find vintage jeans that fit amazingly through the butt and thighs but have a huge gap at the waist. "Because most vintage denim is 100 percent cotton (and not stretchy), sometimes you'll need to get a larger-sized pair and get the waist taken in." It's also possible to have the legs tapered and hemmed for a more modern fit, but make sure you bring your jeans to a tailor who is experienced with denim so that they can preserve the original hem — especially if you sprung for a collectible pair!
Shopping Strategy
Armed with your approximate size, measurements, and knowledge of the various styles available, the only thing left to do is actually start your search. The best way to do this, according to Ponitch, depends on your shopping style. "If you're good at taking it all upon yourself, you can find better deals and better size runs online. You might find a great bargain, but you will need to be proactive about taking your measurements and comparing them to those given in the listings," she said.
If you're the type of person who needs to try things on in person to get the right fit, it's best to head to your local vintage shop. "You won't have the same range to choose from, but at least you'll know that you 100 percent love what you find," she said. And don't get discouraged if the first pair you try isn't quite right. "Be prepared to take a big stack of options to the dressing room," she said. "This is totally normal and necessary, and no one will judge you for it." Don't be afraid to ask for help, either, since the store employees likely have some knowledge about the specific pairs that are available in their stores.
Why Go Through All the Trouble?
By now it's clear that the interest in vintage among the style set isn't going anywhere. There's even a new three-times-a-year trade show dedicated to it, Vintage@Intermezzo. That means it's worth investing in the right pair. But more than anything, vintage jeans are a purchase you can feel good about. "I think there's a big trend toward vintage in general because it's very eco-friendly," Ponitch said. Plus, while finding the perfect pair of vintage jeans isn't always easy, it's so worth it. "So many brands are doing a great job at re-creating great vintage denim, but there's just nothing like the actual vintage jeans themselves," Gifford said. "They have a story to them, and that's super special. Each wear, scuff, and hole was made just by wearing them over time — not by some machine in a factory. There's just something cool about that."