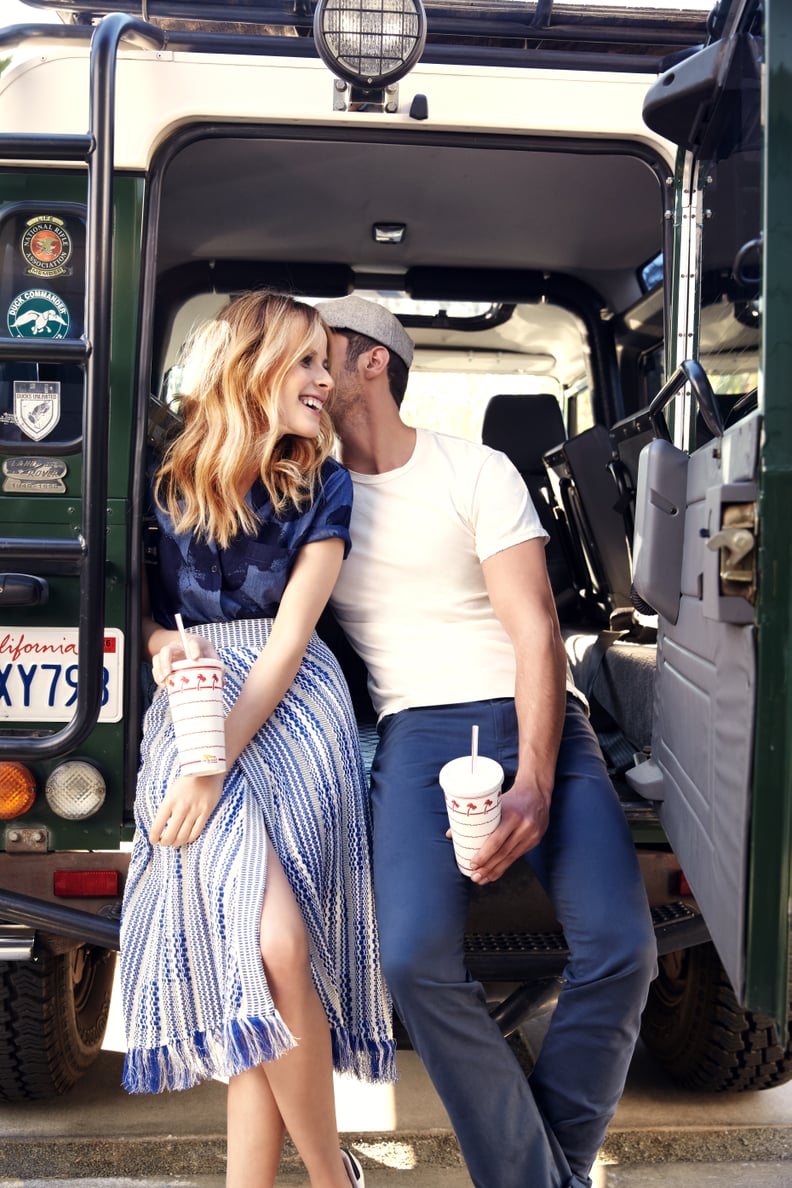 POPSUGAR Photography | Sisilia Piring
POPSUGAR Photography | Sisilia Piring
I used to be fashionable. I used to wear five-inch heels and silk shirts like it was no big deal, but that sort of all changed when I was in a relationship. My then-boyfriend liked it when I dressed comfy, and I grew accustomed to keeping things natural and lazy-girl. I replaced all my dressy clothes and flashy pumps with oversize sweaters and simple flats. When we broke up, I just kept up the same routine. I didn't feel particularly attractive or confident in those clothes — just comfortable.
About a year after my breakup, I did the KonMari Method and tossed out 80 percent of my closet, getting rid of pretty much anything I didn't feel cozy in. That left me a handful of skinny jeans, jersey dresses and shirts, and all of my baggy sweatshirts. It wasn't until I started online dating that I took a serious look at my closet and realized I had mistakenly defined "comfortable" and "joy" as synonyms. Beyond a few dresses and jackets, I was left with very few items that complement my body and make me feel confident, sexy, and grown-up when I put them on.
Dating was my wake-up call that my wardrobe needs an overhaul. It made me realize that I'm ready to put my early-20s style and laissez-faire fashion attitude to rest and present myself to the world (and gentleman callers) in a more mature way. Over the last decade, I've relied on pretty much one "store," and that's my mom's closet. My mom is crazy-stylish and definitely a trendsetter, but her hand-me-downs end up in a sad fashion purgatory when they reach my closet. I don't know how to style them, nor do I feel particularly inspired to. I haven't been risky when it comes to fashion, nor have I attempted to invest in clothes.
Armed with that epiphany, I decided to create a shopping to-do list, which is a first for me. As my jumping-off point, I'm consulting a checklist of clothes to own in your 30s and the list of clothes every woman should own. I'm ready to release the grungy four-year-old ballet flats that have served me well but aren't doing me any favors, confidence- or style-wise. I'm ready to replace them with the shapely pointed-toe loafers that I keep seeing all over my office. I'm ready to get rid of the two-sizes-too-big jeans that fit weird and make me feel sloppy. Instead, I plan to be properly fitted for a pair of jeans that make me feel like a million bucks. It's time to bag up all those oversize sweaters and not be afraid to show off my frame in formfitting apparel. For the first time in my life, I'm actually excited to go shopping, to invest in new clothes, to take risks with my style, and to push myself to dress up each day. I know that a good date — and more importantly, a good day — starts with leaving the house feeling confident, and the right outfit helps inspire that.