To put it simply, there's a lot of controversy over how to wash jeans. On the one hand, some people swear by leaving their jeans alone and refraining from washing them. On the other hand, some say washing is OK, but they prefer to do it as little as possible. Interesting. But what if they're really, truly dirty? Is it possible that you've been doing it wrong all these years by tossing your denim in the washer and dryer a couple of times per week?
To get to the bottom of it, we talked to denim experts to find out the real deal when it comes to washing your jeans, plus the best ways to care for them if they really do need a good cleaning. Scroll through to read tips from Catherine Ryu, creative director of Edwin USA (formerly of Citizens of Humanity); Jamie Mazur, cofounder of vintage denim brand Re/Done; and Paige Adams-Geller, creative director and cofounder of Paige.
How to Wash Jeans
Your options for washing jeans are aplenty, if and when you want to. You should always check out the product-care tag first, but most jeans can be hand-washed, steamed, or put in the washing machine. Adams-Geller also has a trick for if you don't want to give them the full wash, but they're starting to feel stretched out: "Put them in the dryer for a few minutes with a damp cloth to freshen them up."
How Often You Should Wash Your Jeans
While most people wash their jeans as needed, rather than after every wear, Ryu recommends washing every four to five wears, aiming to reduce frequency in order to preserve color and structure. Get more details on the nitty-gritty ahead.
— Additional reporting by Sarah Wasilak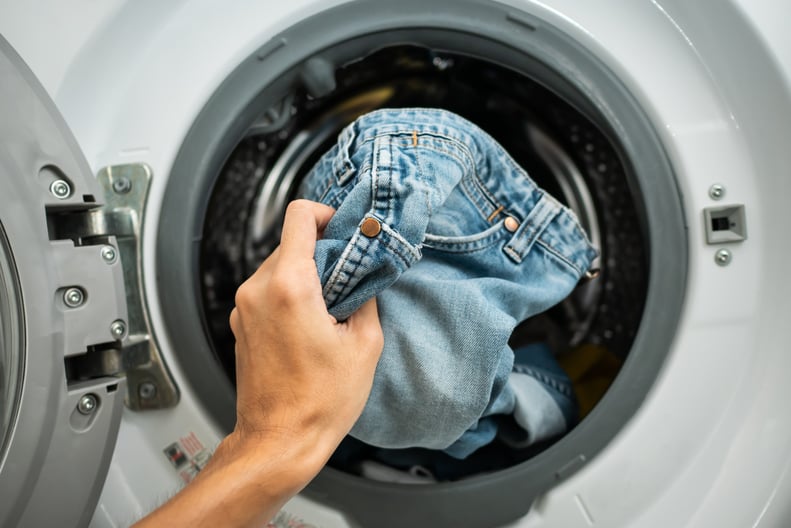 How to Wash Jeans: In the Washing Machine
If you're washing your jeans in the washing machine, you should use cold water to preserve elasticity and to keep your denim from bleeding. True indigo jeans in particular should be washed with like colors. Ryu recommends washing your denim inside out, so less friction occurs on the outside of the jeans and the fabric stays in its best condition.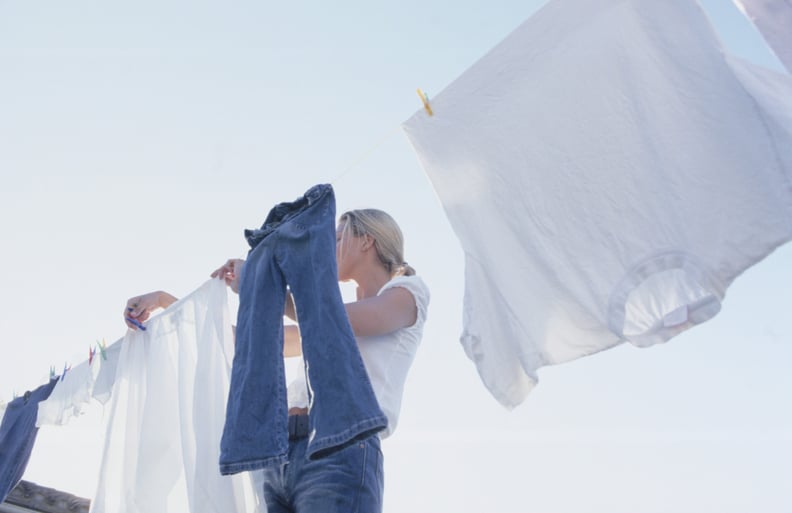 How to Wash Jeans: When to Use the Dryer
While throwing a pair of jeans in the dryer sounds fast and easy, it's not so great for your denim. Dryer heat can compromise the yarn and lycra, so your pants will likely be out of shape within three years' time. If you're pressed for time, you can tumble-dry your jeans — but only on the lowest heat setting. Another exception, according to Mazur, involves vintage denim. "Vintage jeans often get a bit stretched out with wear," he explains. "Throwing them in the dryer briefly can help them regain their shape."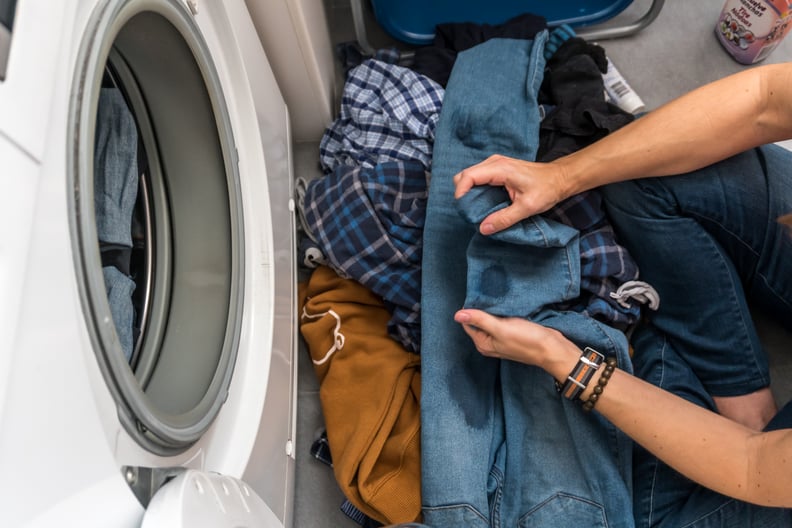 How to Wash Jeans: If They're Stained
It happens — you dripped some kind of food, toothpaste, or cocktail on your jeans. Instead of washing the entire pair, denim experts suggest you spot-treat just the stained area with vinegar. "I would avoid spot-cleaners that contain chlorine bleach," Ryu says. In place of a stain pen or wipe, she recommends opting for gentle soap or vinegar, which is a great alternative to harsh detergent.
How to Wash Jeans: To Prevent Fading
If you have a pair of dark-wash indigo jeans or black denim that you want to keep in like-new condition, wash your jeans inside out and add a splash of vinegar to help the dye from crocking too much. Think of it like dyeing Easter eggs — this helps lock in the dye. Adams-Geller also recommends using dark Woolite in cold water on a gentle cycle to prevent fading.