There's something so badass about styling a muscle T-shirt with denim. While some in the past have assumed that muscle tees are reserved for rock stars and bikers, we're here to tell you that this retro staple has gotten a fashion-forward makeover that's effortless. One NYC-based brand that has brought muscle tees back to the forefront is Frankie Shop. Its Eva T-shirt [1] has garnered a cult-like following; at the moment, I can't open Instagram without seeing someone wearing the favorite shoulder-padded muscle tee. The brand even expanded its color range and now has a limited edition yellow style with Camille Charriere [2] that's so bright, it will instantly cheer you up.
Whether you're a minimalist or a maximalist, there are plenty of ways this outfit combo can work [3] for you. You can go for a full white-out look with white jeans and a matching muscle tee or style a yellow version with tie-dye jeans for a pop of color. Keep reading to see how some of our style stars have outfitted theirs ahead. We've also shopped out some affordable muscle tees and denim pieces if you're feeling inspired to give this easy summer outfit combo a try.
Keep it simple with a white muscle tee, ripped jeans, and cool sunglasses.
Opt for a retro look by tucking your muscle tee into a pair of high-waisted jeans. Accessorize with a chain belt.
Opt for a yellow muscle tee, like this one from Frankie Shop, and style it with a pair of tie-dye jeans.
For a luxe look, style your muscle tee and jeans with heels, a belt, and a chain necklace.
For a skater girl look, style a colorful muscle tee with ripped jeans, Vans, and sunglasses.
Keep it classy in a simple white muscle tee tucked into cropped jeans.
For an edgy look, style your muscle tee with vintage jeans and black booties.
For the perfect summer look, style a colorful muscle tee with white jeans.
Go for a full white-out look in a white muscle tee, white jeans, and matching boots.
For a '70s look, wear a pair of flared white jeans with your muscle tee.
With off-white jeans and a couple of gold necklaces, this olive-green version looks fresh and elevated.
The padded shoulders liven up a gray and black outfit in a snap.
Styled with mom jeans and a thin black belt.
My Favorite Pieces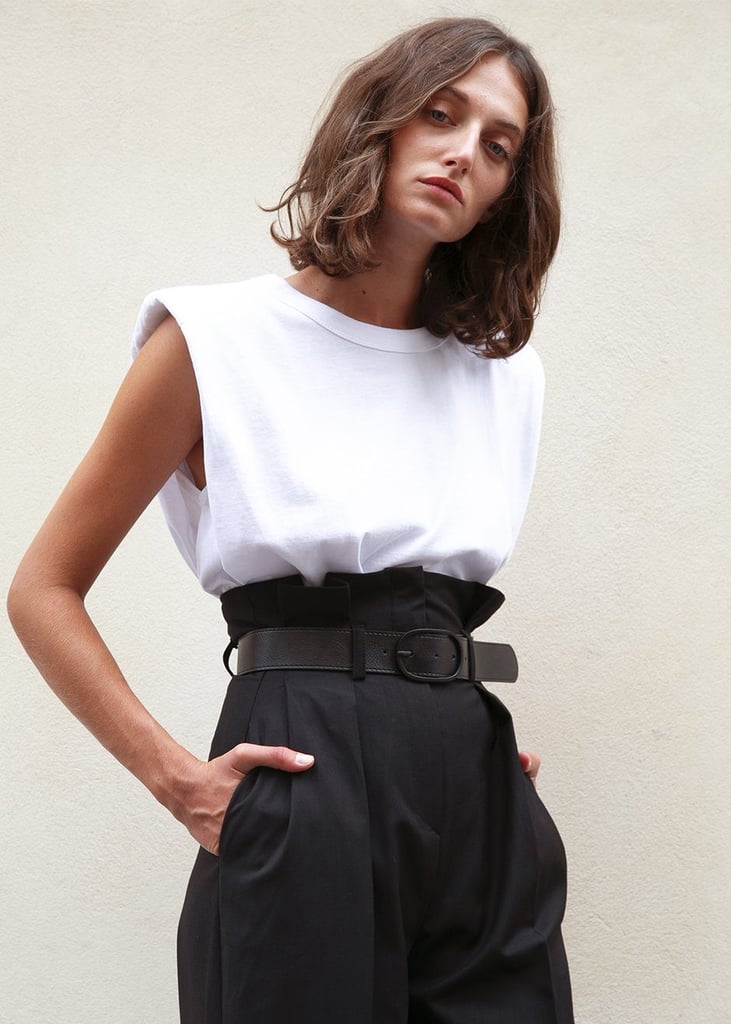 Frankie Shop Eva Padded Shoulder Muscle T-Shirt [5] ($75)
Frankie Shop Eva Padded Shoulder Muscle T-Shirt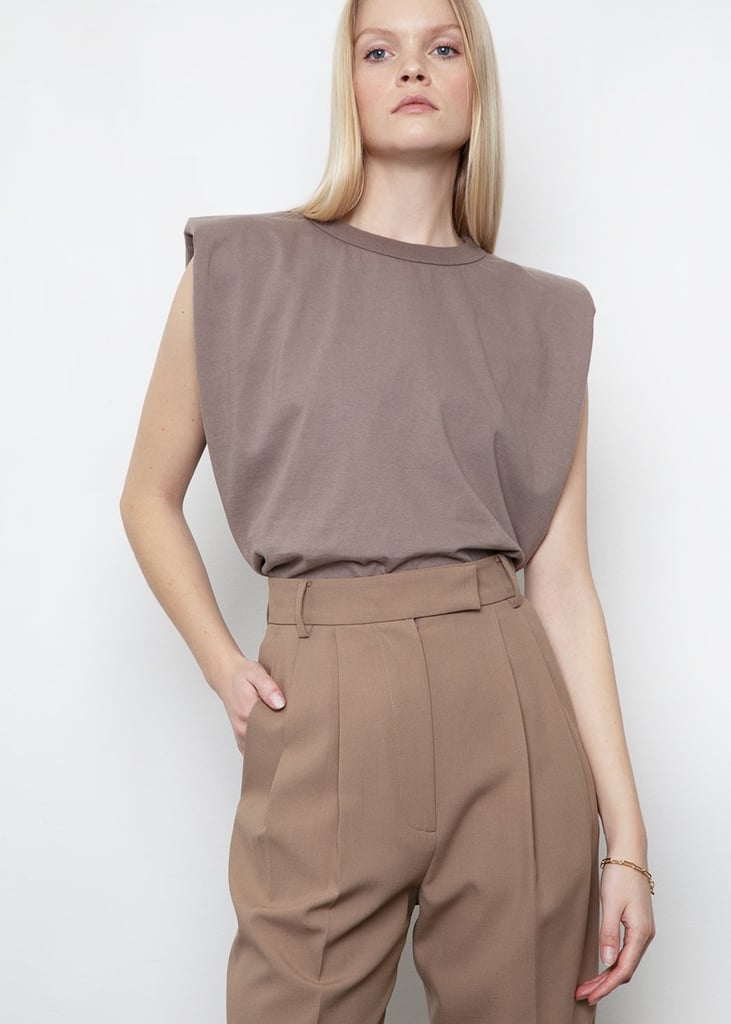 Frankie Shop Eva Padded Shoulder Muscle T-Shirt [6] ($75)
Bershka T-Shirt With Pleats Along the Shoulders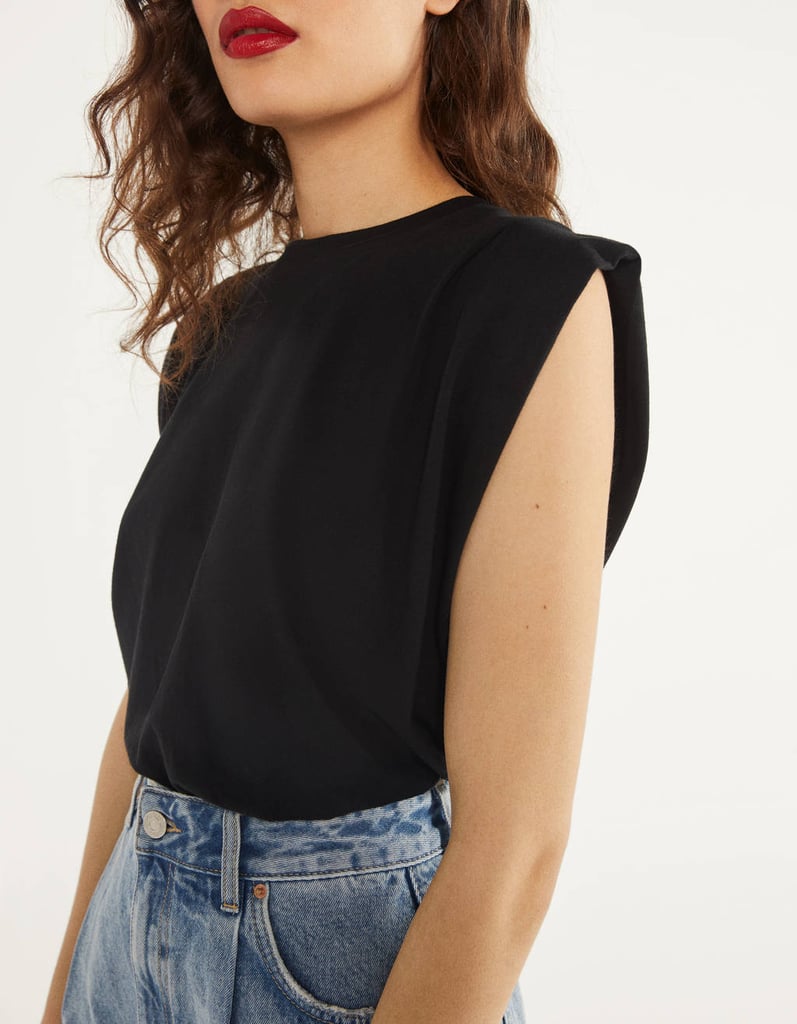 Bershka T-Shirt With Pleats Along the Shoulders [7] ($18)
Mango Shoulder Pad Cotton T-Shirt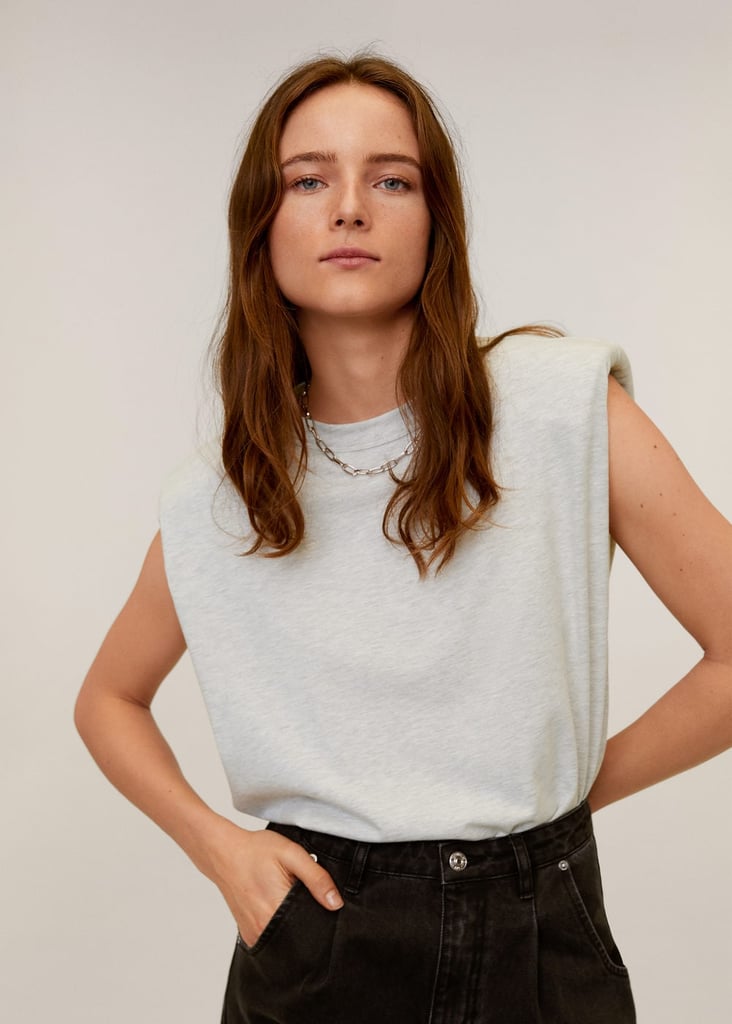 Mango Shoulder Pad Cotton T-Shirt [8] ($21, originally $30)
Bershka T-Shirt With Pleats Along the Shoulders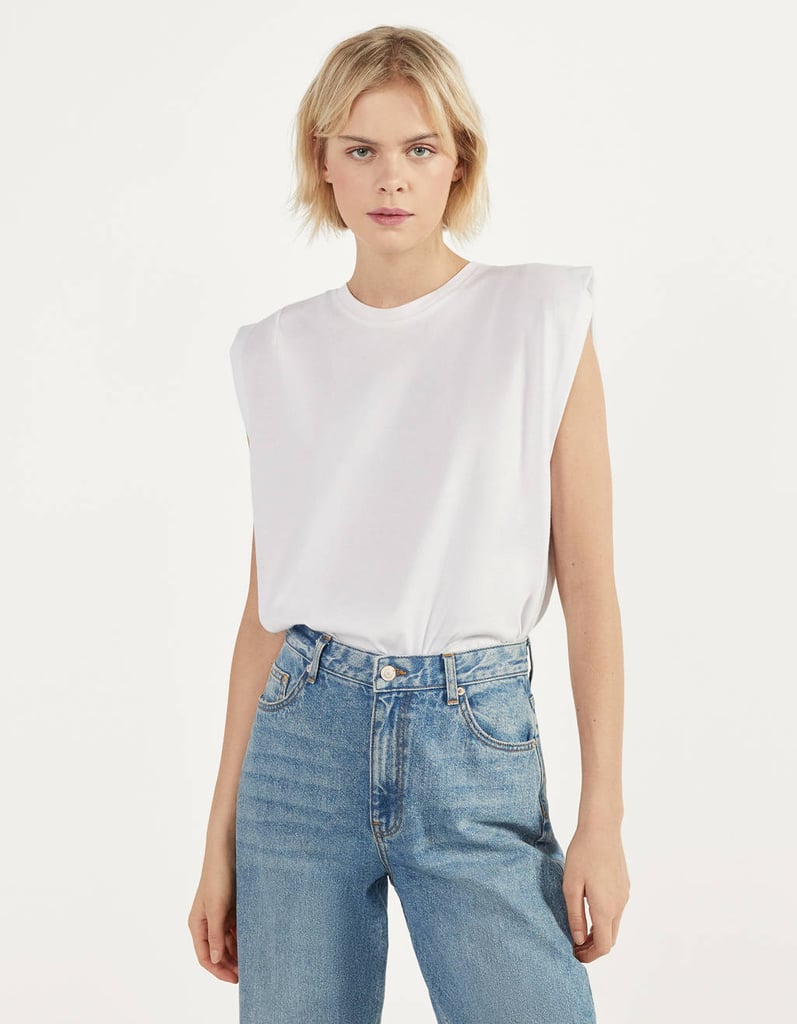 Bershka T-Shirt With Pleats Along the Shoulders [9] ($18)
Agolde 90's Mid Rise Loose Fit in Portal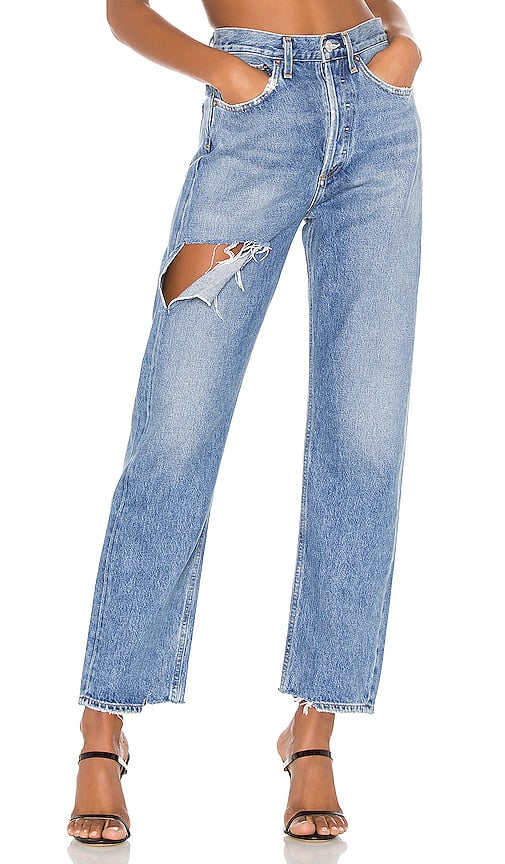 Agolde 90's Mid Rise Loose Fit in Portal [10] ($198)
Cotton Citizen High Split Jeans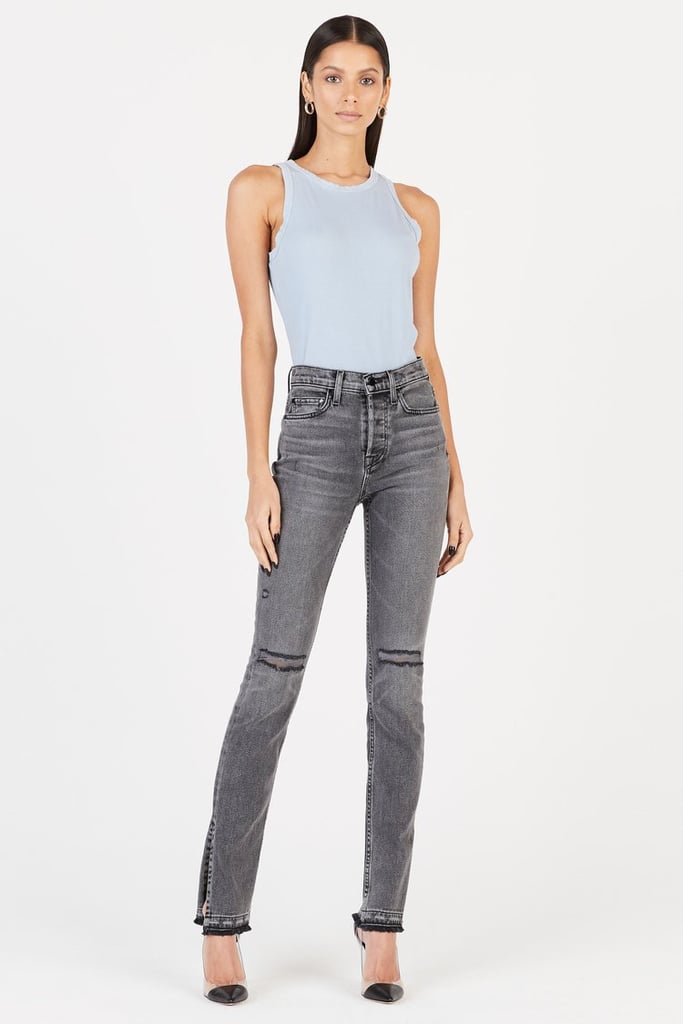 Cotton Citizen High Split Jeans [11] ($295)
Mother The Tripper Tie-Dye Kick Flare Jeans in Swirling Secrets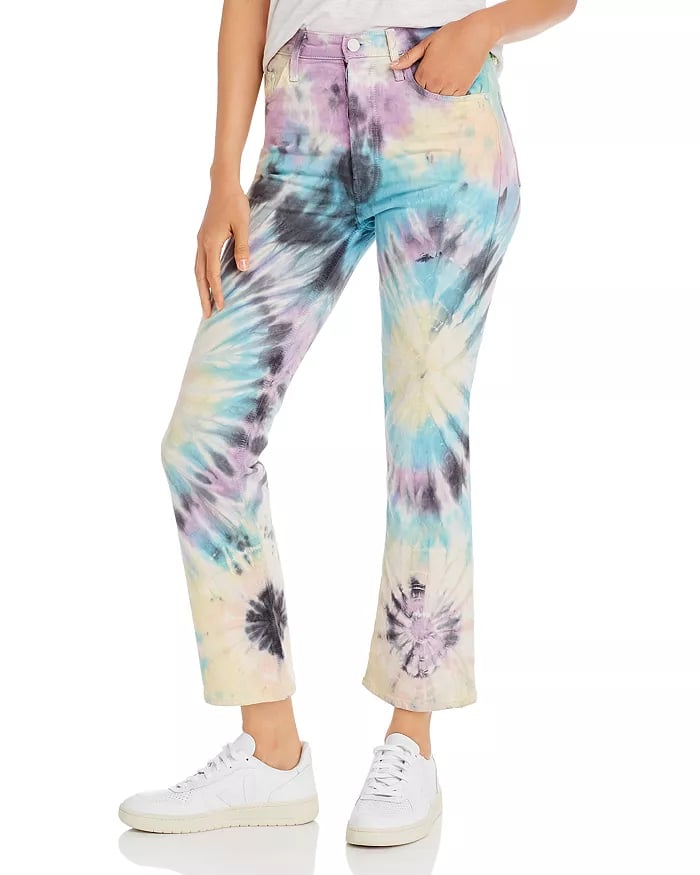 Mother The Tripper Tie-Dye Kick Flare Jeans in Swirling Secrets [12] ($119, originally $238)
7 For All Mankind High Waist Cropped Straight in Retro Ventura Blvd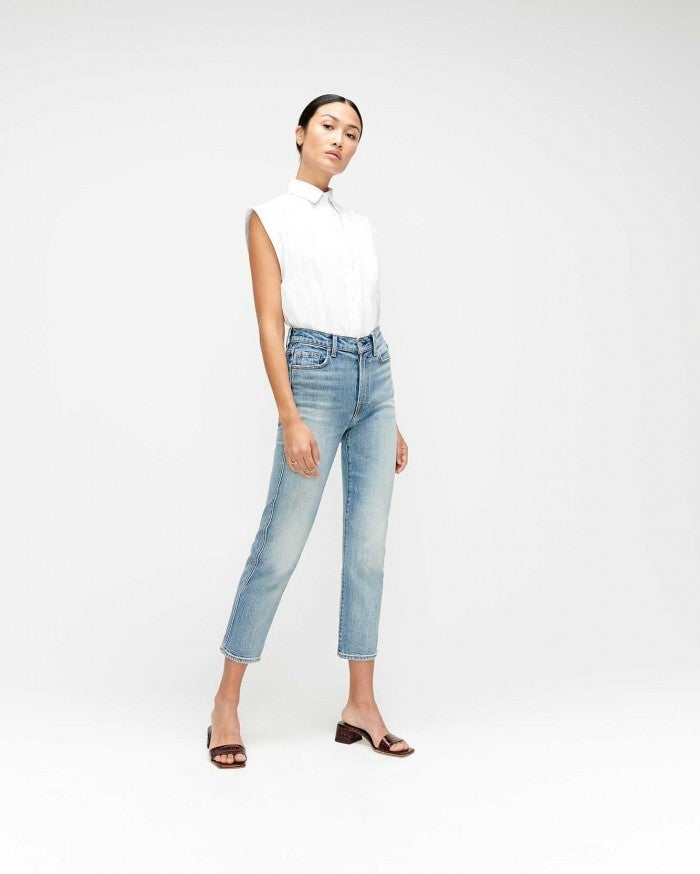 7 For All Mankind High Waist Cropped Straight in Retro Ventura Blvd [13] ($195)
Good American Good Legs
Good American Good Legs [14] ($99)
7 For All Mankind Slim Illusion Kimmie Straight in Luxe White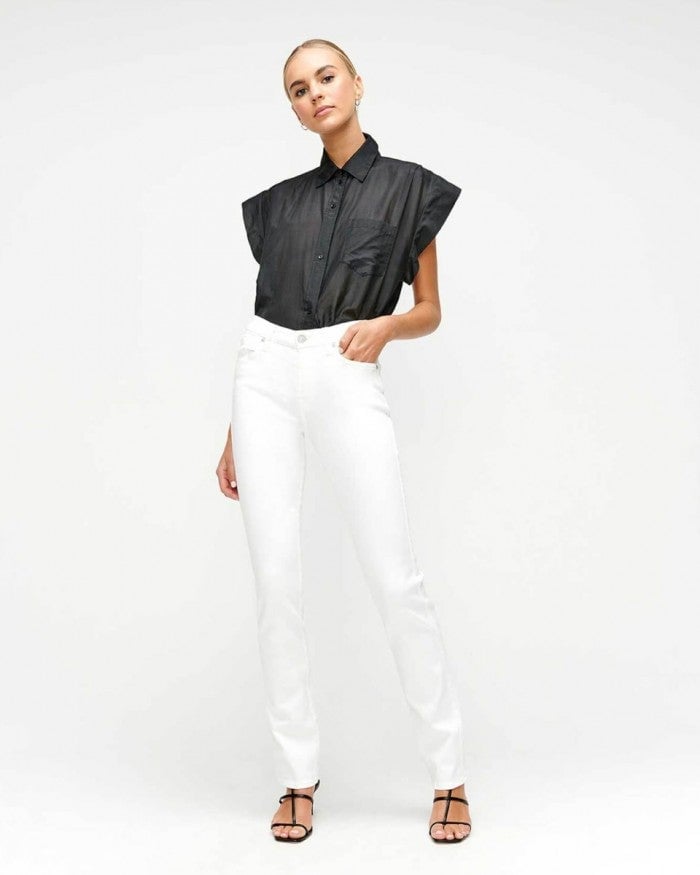 7 For All Mankind Slim Illusion Kimmie Straight in Luxe White [15] ($198)