I'm Emotional Seeing Kamala Harris's Nieces Match Her Meaningful All-White Victory Look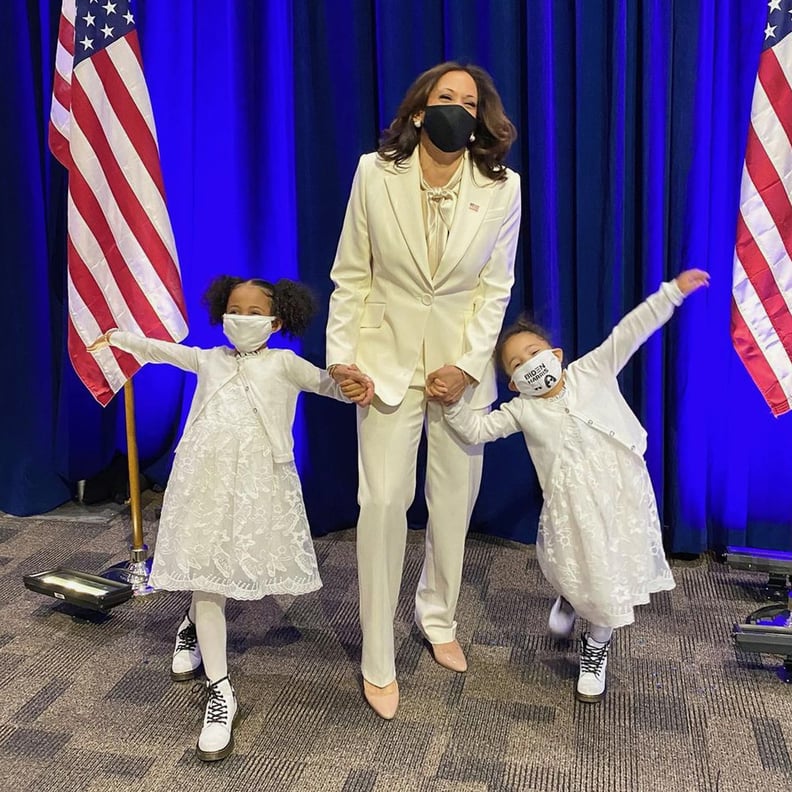 Kamala Harris made history with her vice president-elect win on Nov. 7, and her celebratory outfit paid tribute to the women who paved the way before her. After she and Joe Biden were declared the next projected leaders of the United States, the future madame vice president took the stage in Delaware to address her plans for the future and the impact her win has on other young girls across the country. In addition to her inspiring words, Kamala's all-white Carolina Herrera suit made an empowering statement as it appeared to be a nod to the suffragists who fought for a woman's right to vote.
White is widely perceived as the color representing suffragists since they wore the shade head to toe while organizing. Kamala's iconic monochrome moment was an echo of consistent fashion statements made by women politicians in recent years. In 2017 and 2018, many women wore all-white during their State of the Union speeches, and representatives like Alexandria Ocasio-Cortez honored the 100th anniversary of the 19th amendment with their own white outfits earlier this year.
For Kamala, this is likely an appreciation of the past as well as an acknowledgment of a brighter future. Since the women's right to vote was established, we still haven't had a woman vice president — until now. Her family joined in on the moment, with Kamala's grandnieces wearing their own all-white dresses to match "vice president auntie." How sweet! Get a closer look at Kamala's full ensemble ahead, including, of course, her signature pearls.