These days, where there's a buzzy music festival, there are models, swooping in to show off their free-spirited style. Glastonbury is no exception. Style stars like Alexa Chung, Suki Waterhouse, and Poppy Delevingne kicked off the 2015 weekend in layers of fringe, Hunter wellies on their feet, and bandanas tied around their necks.
But Kendall Jenner, Cara Delevingne, and Gigi Hadid followed closely behind, fresh off the stage from Taylor Swift's UK concert. The pack of BFFs showed off transitional dressing at its finest, keeping on their casual staples like leggings and boots and nixing their statement tops for matching graphic t-shirts.
Read on to reminisce about last year's standout Glastonbury looks, and gear up for plenty more standout outfits to come as the event kicks off in London.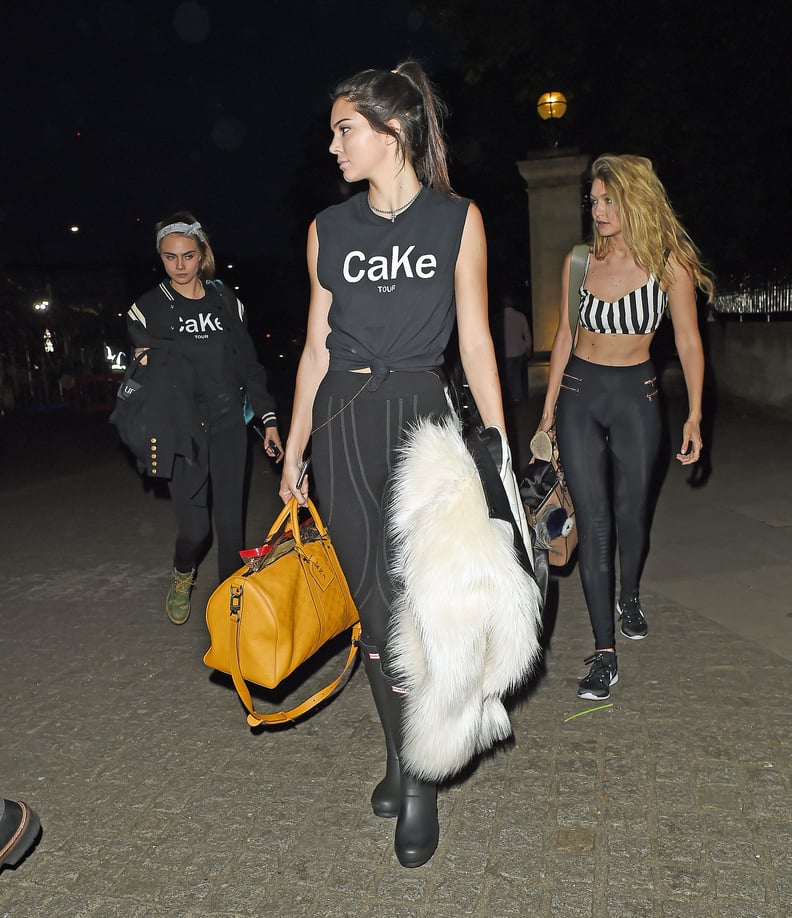 Cara Delevingne, Kendall Jenner, and Gigi Hadid
Cara, Kendall, and Gigi headed to Glastonbury in movable leggings, choosing function over high fashion, if just for the night.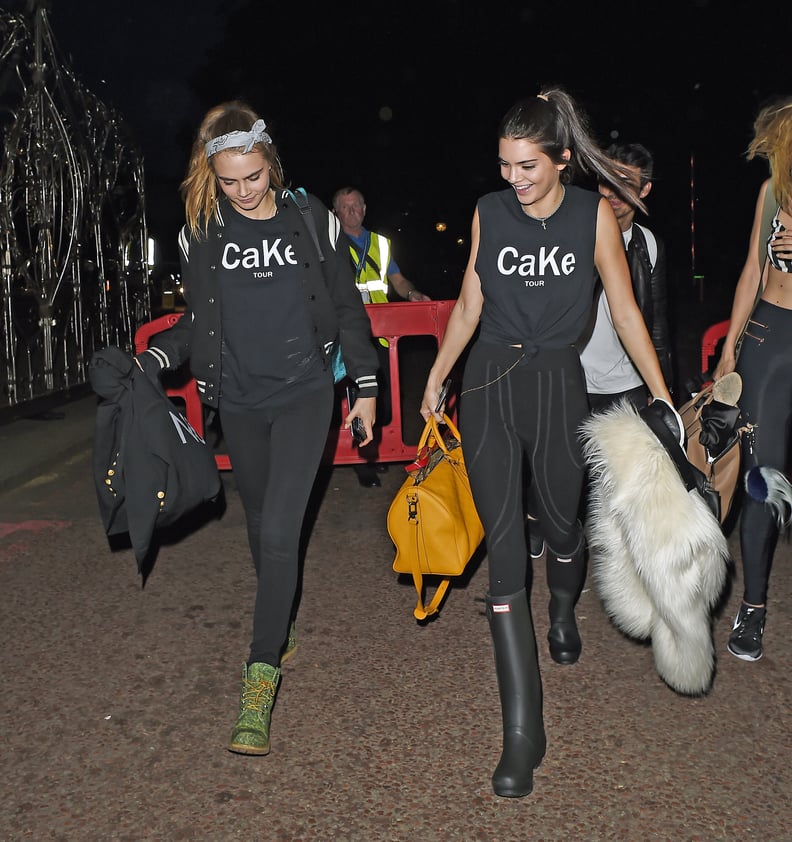 Cara Delevingne and Kendall Jenner
Cara Delevingne and Kendall Jenner showed off their matching CaKe graphic tees and selected bright accessories like Cara's green Bee Line x Timberland Grass boots and Kendall's mustard duffle bag.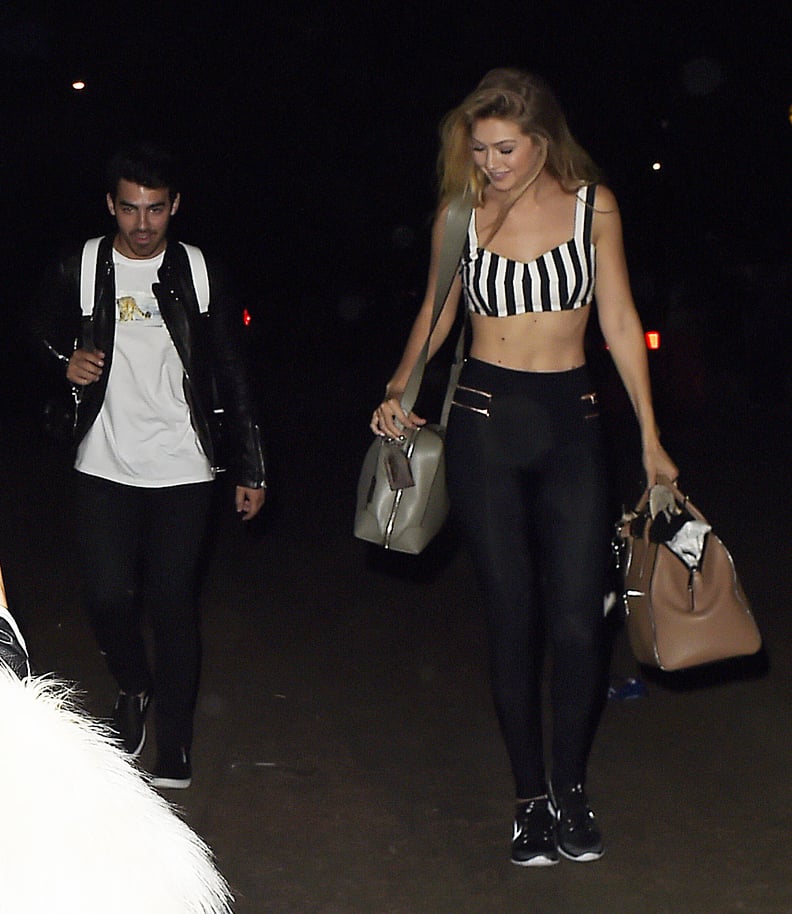 Gigi Hadid
Gigi Hadid kept on her black and white striped crop top from Taylor Swift's show and threw on her go-to double zipper leggings and trainers for the festival.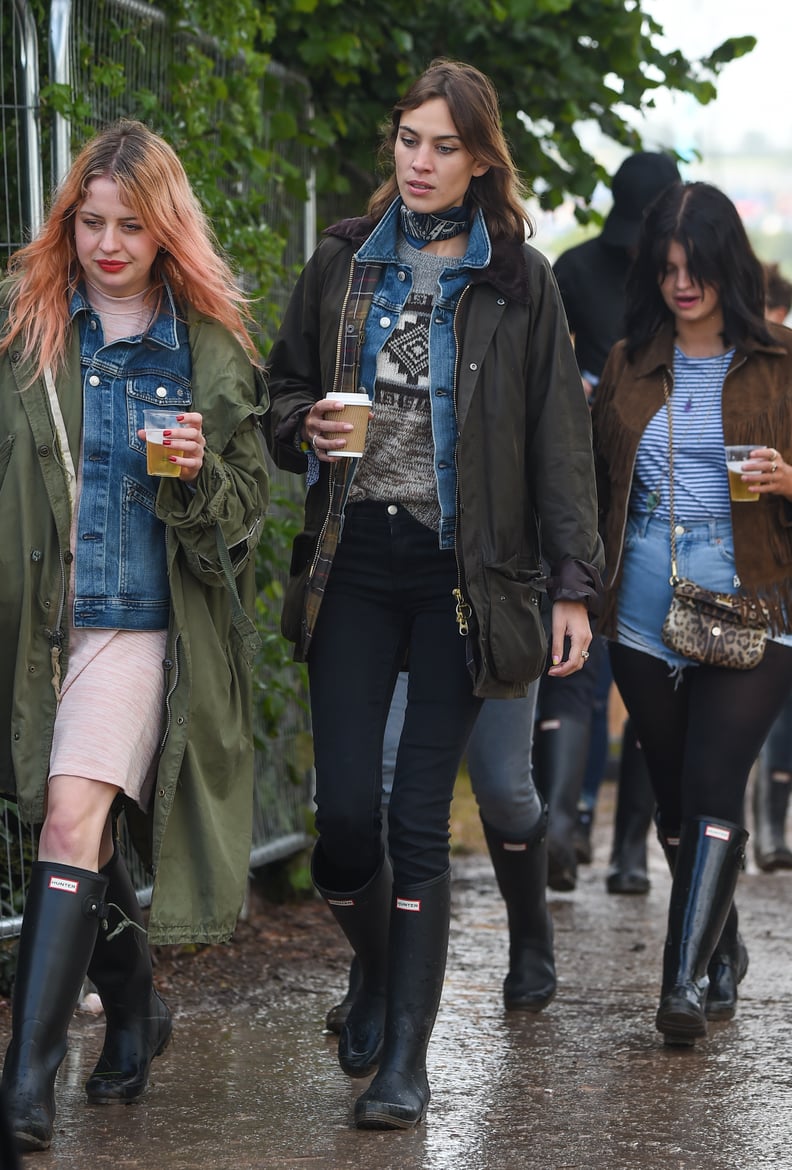 Alexa Chung
Alexa Chung stayed smart by layering lightweight jackets over a printed sweater and completing her black skinny jeans with Hunter boots.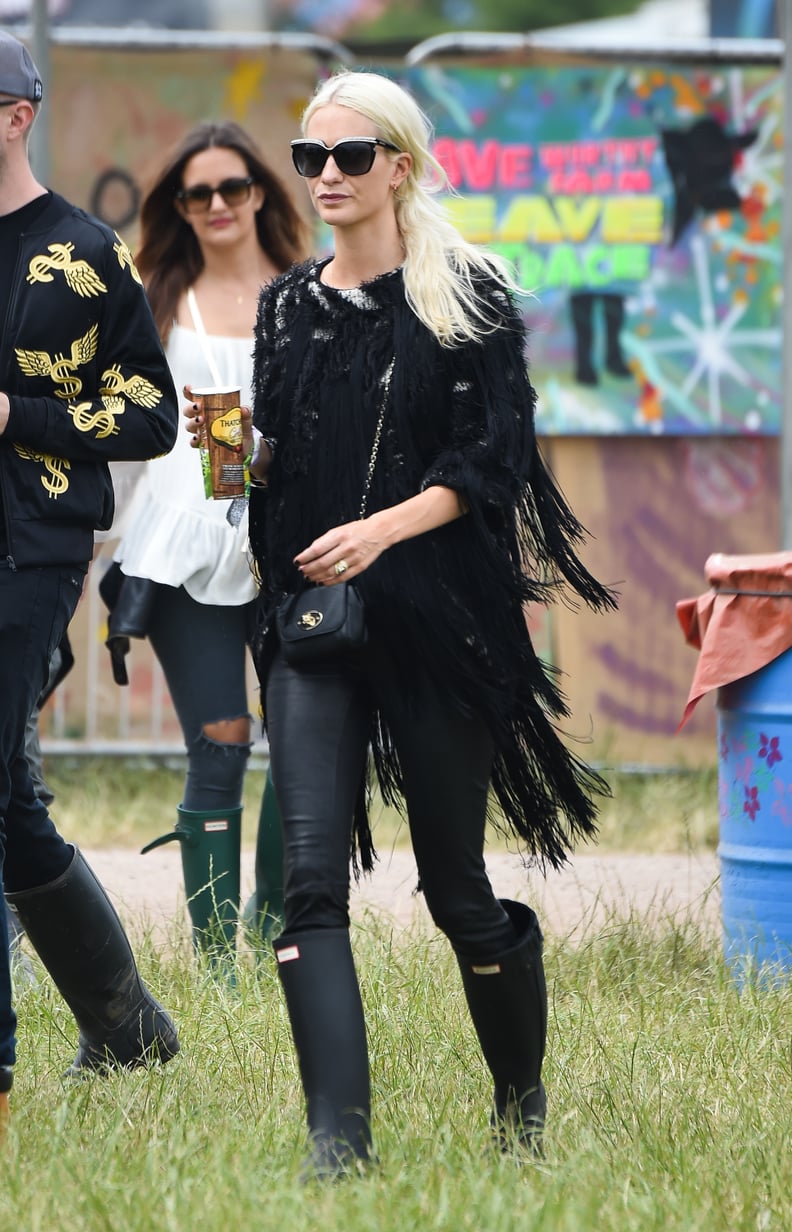 Poppy Delevingne
Poppy Delevingne threw a textured, fringe-adorned sweater over leather skinnies, completing her outfit with just the right accessories: statement sunglasses, an easy crossbody bag, and Hunter boots.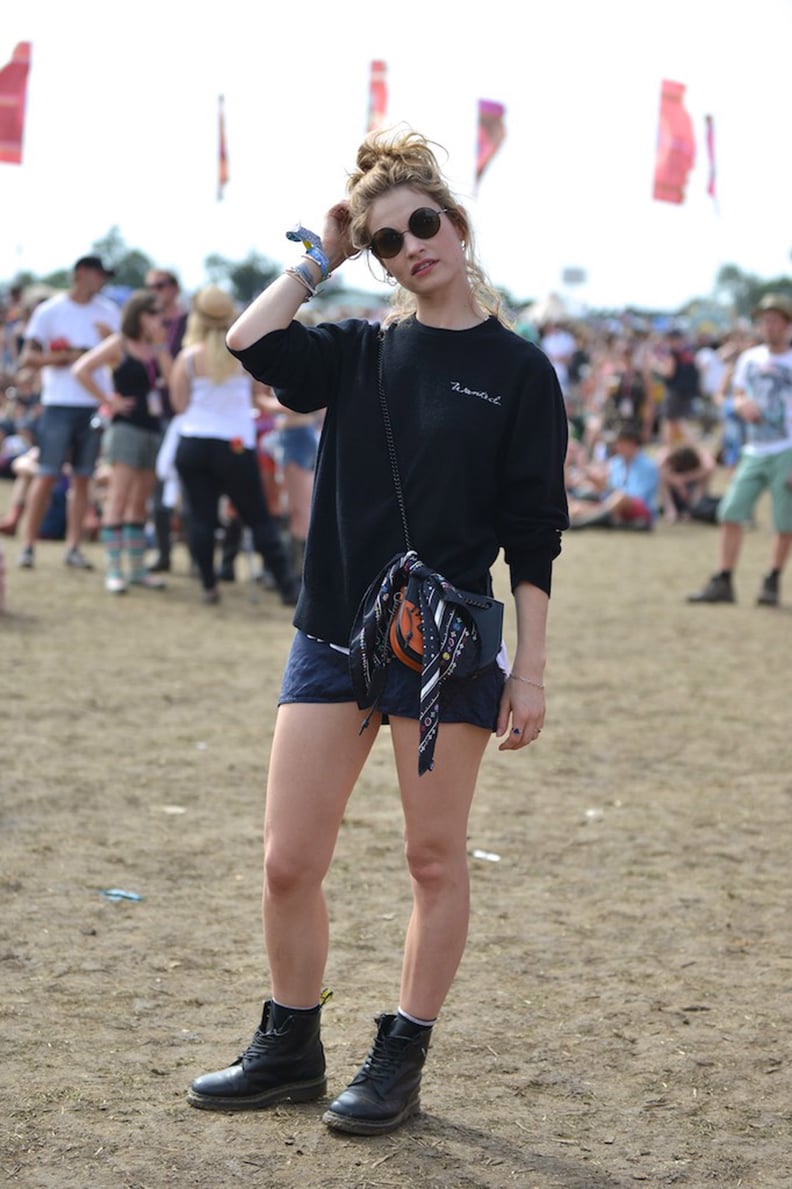 Lily James
Lily James chose casual separates like a sweatshirt and cozy shorts but played up her personality with her bag, which she completed with a printed scarf.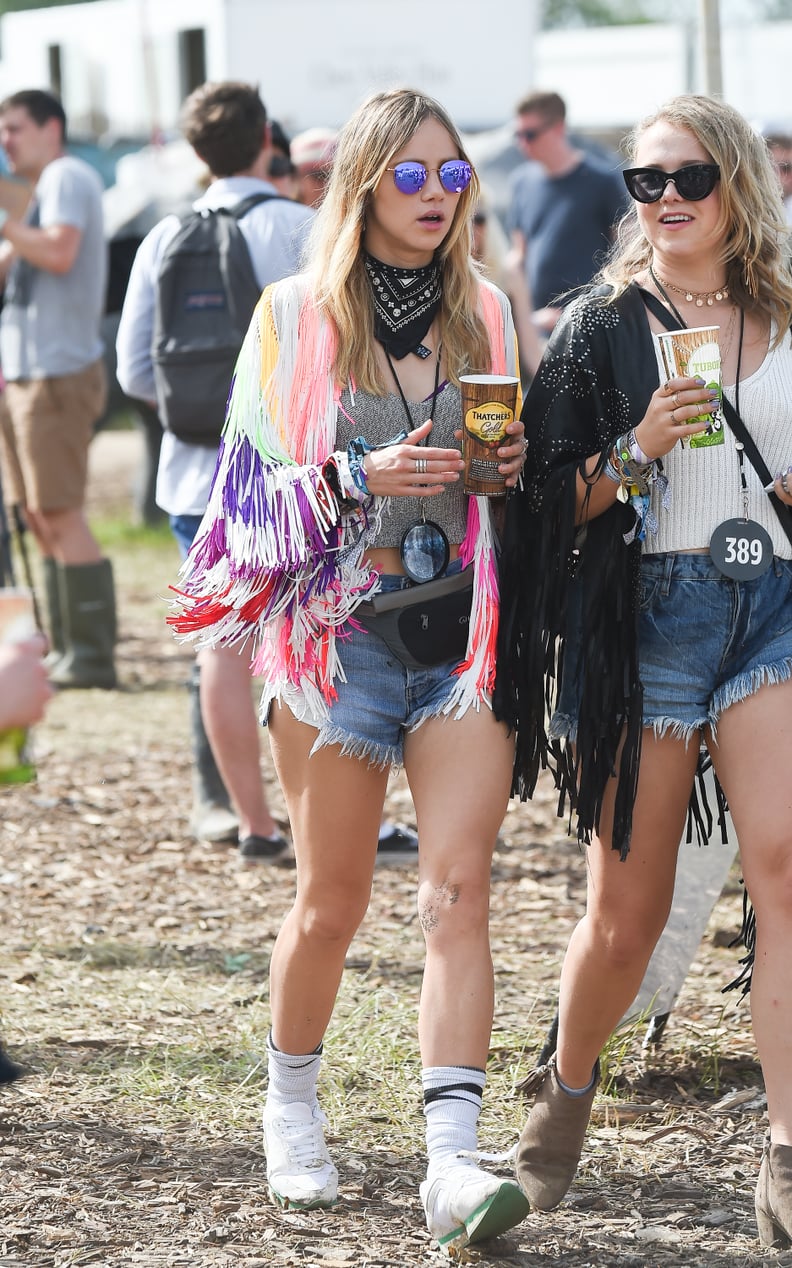 Suki Waterhouse
Suki's rainbow fringe topper spoke volumes. We love how she played up its detail with frayed cutoff shorts and rocked striped high socks with her white sneakers.
Alexa Chung
Alexa's metallic turtleneck minidress reflected the sunlight and attracted all eyes. Even if her boots were muddy, her outfit was sleek and clean.