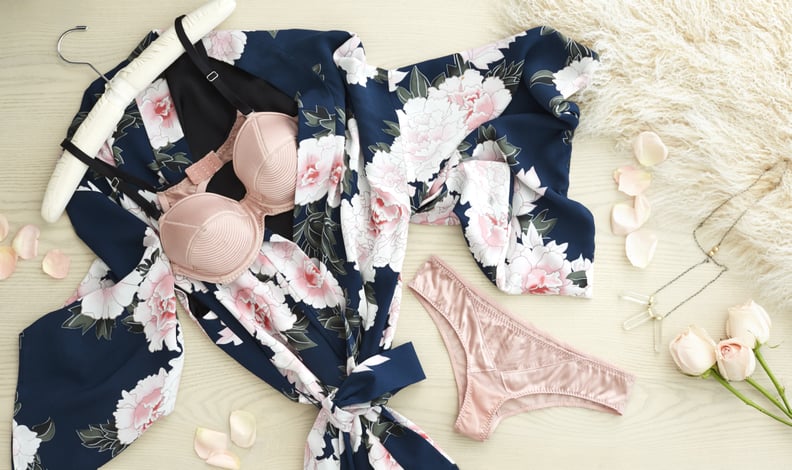 POPSUGAR Photography
POPSUGAR Photography
There's no shortage of pretty lingerie on the racks at this time of year, and many men like to treat the ladies in their lives to something special for Christmas. We know lots of guys have got it sorted; they know what size their woman wears, her favorite brands, and the colors and shapes that will fit and flatter her. But there are still a few clueless boyfriends, husbands, and partners out there who just don't know where to start. It's our aim to make sure no woman unwraps a tacky red lace and satin set, peekaboo bra, or side-tie thong unless she wants to. So step forward and take note of our handy guide to buying the right lingerie for a very lucky lady.
1. Find Out Her Size
You probably know your partner's dress size, which is a good start. But bra size is a whole other ball game. Firstly, let us be clear about this, if you don't know exactly what size you need, you really shouldn't buy a bra. There is nothing worse than a badly fitted bra, and guessing someone's size is almost impossible unless you're a trained fitter. One size does not fit all, and dress size often isn't much of an indication of bra size. If you don't know the right size, consider buying a negligee or camisole instead, where a perfect fit isn't as vital. Finding out the size is as simple as checking the label on two or three of your lady's favorite bras (check more than one just in case she's between sizes). Bra sizes have two components, and you'll need to remember both to get the right bra ("She's about a C cup" isn't enough). The number relates to the measurement around the body and rib cage directly under the bust and is required for a supportive fit. The letter relates to volume of the bust itself and the size of the cup in relation to the band. Thus the D in a 32D is very different from the D in a 38D!
2. Know Her Preference
We'll assume, if you're buying a woman underwear, that you've probably seen her wearing it at some point. Try to remember as much as you can about her preferences. Does she always wear black or prefer lighter colors or bright shades? Are her panties full briefs or shorts, or does she prefer a thong? Are her bras pretty and lacy or a little more modern and unusual? There's nothing to stop you buying her something different, but don't stray too far from her basic preferences. A woman who wears practical white cotton every day is unlikely to enjoy wearing a red satin strapless bra and matching thong . . . but perhaps she'd love a pretty lilac-colored set with a lace trim?
3. If in Doubt, Think Sophisticated
Unless you know that your lady enjoys playing dress-up, it's safest to steer clear of anything novelty. Sometimes silly is fun, but only if you're 100 percent sure your girl will get on board. It's much safer to err on the side of caution and look for sophisticated luxury, not cheap fun. Avoid anything with too many colors or too much fussy detail or anything that is overtly sexual (crotchless panties, half-cup bras, latex, and so on) unless you can be absolutely sure it's what your woman loves.
4. Pick the Right Shop
Department stores and big retailers offer the most choice and variation and often have good in-house ranges (like Rosie Huntington-Whiteley's M&S collection or Debenhams' many Designers at Debenhams offerings). If you want plenty of advice, head to a specialist retailer like Rigby & Peller or Agent Provocateur where trained staff will be on hand to help you find what you're looking for. Online, the big player is Figleaves, but most retailers have a surprisingly large lingerie offering online; ASOS is a favorite of ours. Its own brand range boasts some great bralets and nonwired styles for smaller busts, and it also stocks plenty of fuller bust lines too.
5. Pick Brands That Work For Her Shape
The average size offering for a mainstream lingerie line is S-XL and around 30A-38D (with some variation above and below — some size ranges are as small as 32B-36D). If you're looking for something in that kind of range, you should have plenty of choice by just walking into a lingerie shop or department. If you've checked the label and found that you need something in a different size, options may be slightly more limited, so look at the labels for indications of the brands she likes.
For DD+ cup sizes, try Freya, Curvy Kate, Miss Mandalay, Fantasie, Affinitas, Panache, and Pour Moi, for a start. There are also some styles from M&S, Myla, Mimi Holliday, Agent Provocateur, and Elle Macpherson Intimates in larger cup sizes. Lingerie shops like Boux Avenue offer some styles, while Bravissimo specializes only in fuller-bust brands.
On the other end of the scale, if you're shopping for a small-busted woman (AA or A cup) or one with a narrow back (30 inches or below), you may struggle to find much on offer that isn't designed for teenagers, so ask assistants for guidance where you can, or try websites like Little Women or The Little Bra Company. When shopping on larger retailers' websites, the "shop by size" tool is your friend!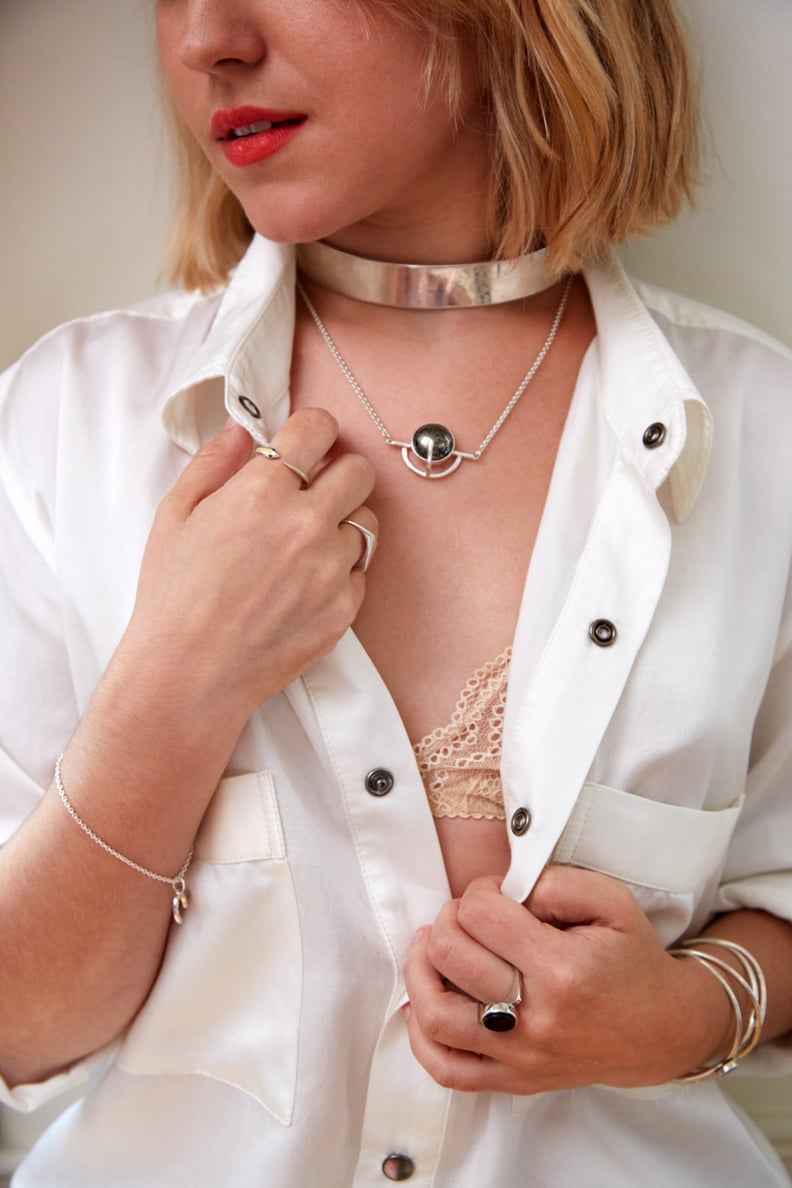 6. Work Out How Much You Want to Spend
Lingerie prices vary wildly from brand to brand. You can get sets from as little as $15, but expect to pay around $38-$53 for a midrange bra and about $23 for the matching panties. Fuller-bust brands can be a little more expensive. Luxury brands easily go into the hundreds. As it's Christmas, you probably want to splash out on something a bit special, so look for brands like Simone Perele and Chantal Thomass for luxury French lingerie. Myla and Agent Provocateur are two big players for high-end sexy styles, and we also really rate Aubade, Elle Macpherson Intimates, Huit, Passionata, Mimi Holliday, and Stella McCartney for treats.
7. Consider Something a Bit Unusual
If your loved one is willing to try something a bit different, look beyond the high street for some more directional designs. For something edgy and contemporary, Marlies Dekkers teams simple shapes with strapping detail for a sexy, sporty look. British label Made by Niki is also a great find for a girl who's after something modern and unusual, while Aussie label Hopeless puts a very chic (but still NSFW) spin on bondage. For fans of the vintage look, there are lots of beautiful brands that create looks inspired by the past. Try Kiss Me Deadly and What Katie Did to start off. Quirky girls will love the handmade treasures at Buttress and Snatch.
8. Play It Safe If You're Unsure
If you're unsure on exact size, that doesn't mean you can't buy something lingerie-related. As we've said, bras are probably not an option, but there are alternatives. Camisoles, negliges, robes, and luxury pajamas all invoke the same feeling of glamour and luxury, and most styles are versatile enough that being one size out won't matter too much (it goes without saying that if you're in doubt, buy the smaller size and keep the receipt). If you have lots to spend, try Jenny Packham's incredible intimates range or Carine Gilson's beautiful vintage-inspired styles. On a tighter budget, Rosie for M&S, Somerset by Temperley, and Boux Avenue get our vote.
9. Remember, You're Shopping For Her, Not For You
If all goes to plan, you'll both get something out of this purchase. She'll feel and look fabulous, and you'll get to see her wearing something special that you chose. But remember her comfort and confidence are the key. If you buy something she hates just because you'd like to see her body in it, she'll probably wear it once, then hide it in the bottom of her wardrobe. By showing you know her well enough to pick out something that both suits her style and looks fabulous on her, you'll get double the brownie points, and you'll probably see her in it far more often!
10. Keep the Receipt
Even if you're 100 percent sure you've got it right, keep the receipt just in case. Make sure you pay attention to the brand's returns policy, as they can be a bit funny about lingerie. Panties are often nonrefundable for hygiene reasons, so think twice before spending a fortune on something you're not sure about. The distance selling policy helps when buying online, so this is sometimes safer than going to a store. If in doubt, you could buy a gift voucher instead. It might not feel as romantic, but you can help by making it an experience — wrap the voucher in a luxurious box with tissue, some rose petals, and a bottle of Champagne or perfume (perfect if the brand has its own scent, like Agent Provocateur), and explain that her taste is highly superior to yours, and she should be able to choose her own gift!