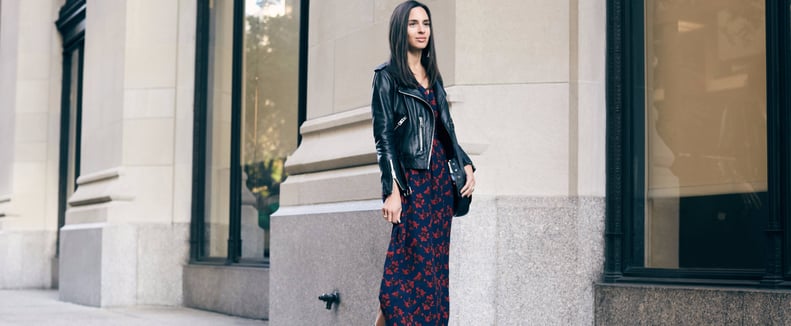 POPSUGAR Photography | Diggy Lloyd
Every editorial product is independently selected by our editors. If you buy something through our links, we may earn commission.
If I pop into a Madewell store telling myself, "I'm just here to browse or see what's new," I never leave empty-handed. So, I know I'm a goner just from previewing the brand's latest collaboration with NYC label No. 6. The brands teamed up to give Madewell's customers archival No. 6 prints splashed onto dresses and jumpsuits that, like Madewell's regular lineup, are easy to style day to day, from work to weekend (and thus justify my impulse buying, right?).
To my point, we enlisted both designers and fashion pros behind the line, Madewell's Joyce Lee and No. 6's Karin Bereson, to answer all of our styling questions — everything from how to switch up your denim to how to (successfully) wear clogs — as we head into a new season of Winter dressing. And because we had to see the collection in action, we put our style director, Dana Avidan Cohn, to work outfitting the looks her way. Ahead, read on to garner all the styling hacks you need from Joyce and Karin, then check out the collection and start shopping.
POPSUGAR: As we head into new seasons of dressing, it seems there's always an emphasis on what's new and what's next. What's the trick to balancing timeless pieces with the trends this Fall?
Joyce Lee: I love to mix in new silhouettes, colors, or prints with denim, as it always makes it feel grounded and keeps it casual. I also rely on layering to make things feel fresh and new.
Karin Bereson: I think the beauty of timeless pieces is that they work forever and with everything. Something that is truly timeless is usually something that is quiet, great quality, and is a go-to piece whenever you are stumped. I say never stop using them; they will work with everything.
PS: Clogs are such a core part of the No. 6 look. What's the best way to style them right now and take them into 2018?
JL: Paired with fun socks! We're loving the sparkly socks with the wood-bottom shoes; it changes them up, and it's fun to create new color and pattern combinations.
KB: For casual dressing, throw them on with thick socks, especially open-toe ones, and wear them with any Winter pants or jeans. You can also use the new heavy-tread ones we have with opaque tights and dresses for a true '90s vibe. Think old Robert Clergerie, Stephane Kélian, old Nine West.
PS: What are your must-have pieces for Fall/Winter?
JL: A great pair of jeans are at the core of my wardrobe. I'm loving the Cali Demi-Boot in a washed black. I also always love a fun piece of outerwear; our Sherpa-Lined Denim Duster keeps the denim-on-denim look going for me through the coldest months!
KB: My new piece for Fall is a men's classic khaki trench. I will wear it until I have to switch to a down coat. I want to wear it with huge sweaters — jacket sleeves pushed up so the thick sweater sleeves hang out.
PS: What's the coolest way to switch up your denim this season?
JL: I always loving mixing different tones of denim on denim together and layering a dress over a pair of jeans — it gives both your jeans and your dress a totally different look.
KB: I have been totally into high-waisted pleated jeans, tapered bottoms, and all tops — men's shirts, sweaters (both chunky and small-ribbed), sweatshirts — tucked in. Add a classic or skinny belt for a finishing touch.
PS: If you had to pick just one piece from the collaboration, what would you walk away with and how would you style it?
JL: I am obsessed with the Multi-Striped Jumpsuit — head-to-toe stripes feels so perfect this season.
KB: If I could "steal" one piece from the collection, it would probably be the Magical Dress. I love any piece that can be worn over and under other clothing. I would probably wear it over any jeans, army pants, or thick men's long underwear, a giant sweater over it, and then maybe a boot with high heel. And maybe even a too-tight menswear jacket over the whole thing. As many layers as possible for me. And if I could toss in a contrasting print scarf tucked into the neck of the sweater, even better!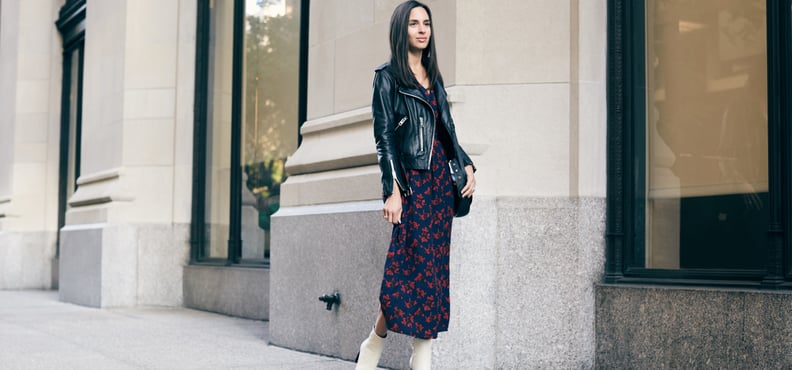 Dana styled a printed dress from the collab with a leather jacket and white boots for an easy, elevated take on day dressing that goes from the office to drinks after hours.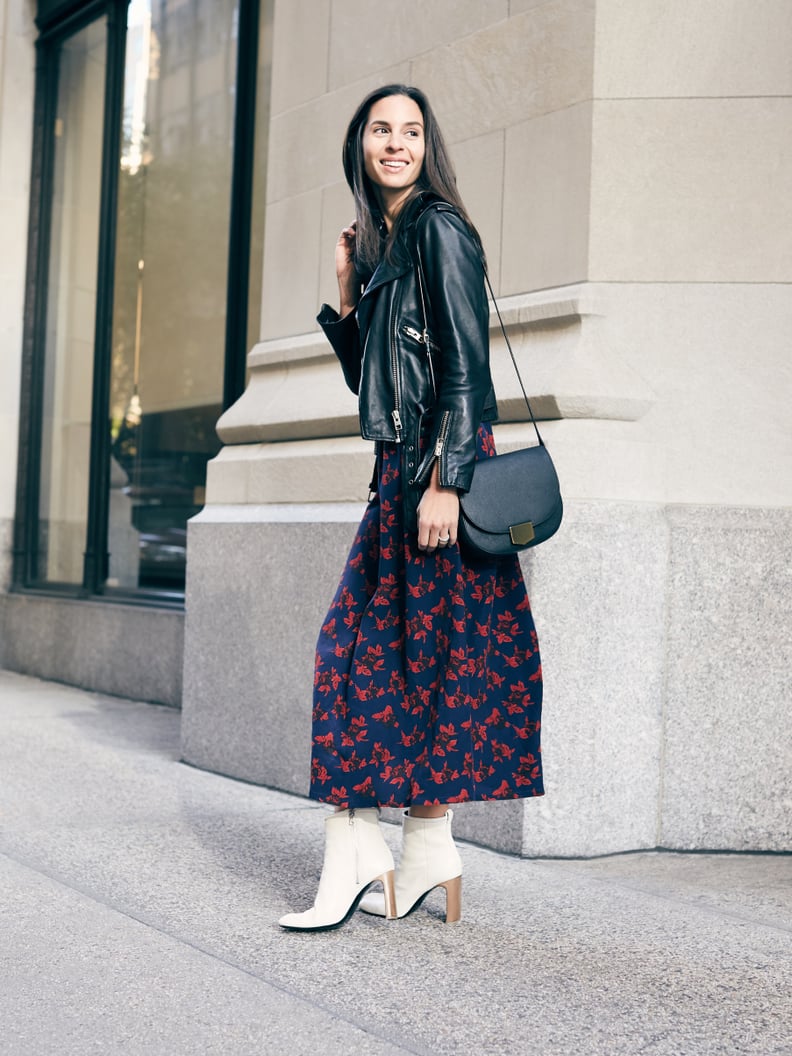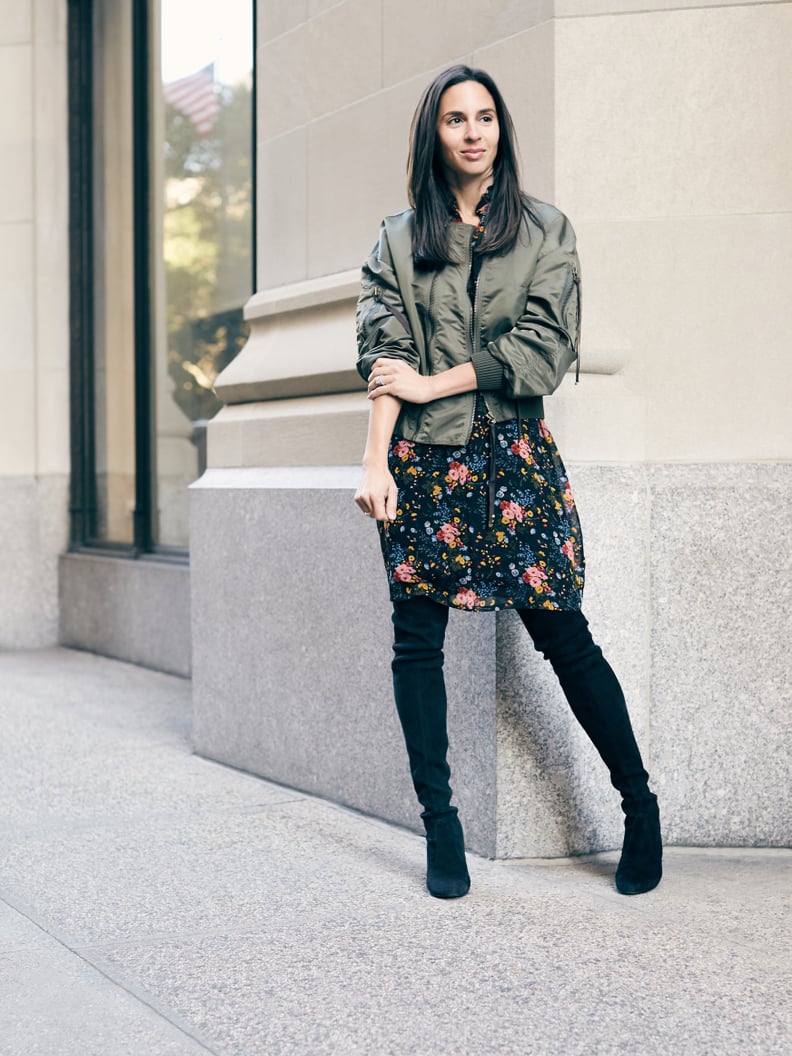 With a bomber jacket, this vintage-feeling print gets a new life. Dana added over-the-knee boots to further winterize the look.