Sarah Flint knows how to make well-crafted shoes for women. The proof is not only in the product (her shoes are seasonal and all handmade in Italy), but also in who wears them. Meghan Markle recently rocked the brand (there is currently a wait list for the Natalie flat, pictured above), as did Princess Beatrice for an event. Even Hollywood It ladies such as Cindy Crawford and Kate Bosworth have invested in Sarah Flint pieces.
So, it seems time that the rest of us should too. But before shopping for the perfect style, I wanted to tap Sarah for personal recommendations. The designer had plenty of wisdom to share, and she even revealed some information about an upcoming capsule collection that will be perfect for brides. (You heard it here first, Meghan.)
The Shoe You Should Buy If You're a First-Time Sarah Flint Shopper
"The Andrea flat is incredibly chic with any outfit that you put on, whether it's skinny jeans or a dress [with] tights. It's got this really cool wire detail on the front that can give it a little bit more personality, and it's a very signature shoe for me. It's [also] one of our bestsellers. Our Abigail slide is a new favorite, and our Natalie flat [is popular with celebrities too]."
Shop the Andrea ($275) and Abigail ($375) styles. Then, put yourself on the wait list for the Natalie flat ($345). (FYI: this is the one Meghan Markle wore to the 2017 Invictus Games with Prince Harry.)
The Most "Regal" Shoe to Exist
"One that I really love that's new for us is the 24/7 mule. It's a really great day-to-evening type shoe. We did it in a cool lamé fabric, so when it hits the light, it can look either silver or gold. And then we did it, of course, in more basic black nappa and some velvet, but it's a really elegant, versatile shoe."
Shop the 24/7 mule ($425).
The Perfect Heel Height For Your Feet
"It definitely depends on the person, just because people have different shoe preferences. If you have flat feet, you're a lot more comfortable in higher heels. If you have a high arch, it's sometimes more challenging. But I feel like the universal heel height that's really great for everybody is 50 millimeters [1.9 inches]. I'm definitely more of a flats type of gal. I really like anything under 85 millimeters as kind of my sweet spot."
The Ultimate Bridal Shoe
"I would say, again, I think the 24/7 mule in gold and silver is a really great option. We also have some special styles that are coming out in about a month that are going to be amazing for brides. They come in versions that work well for bridal and then for more casual [events]. I designed them with the idea [of] Summer and outdoor weddings and events on grass. We [also] do custom bridal. We have a style called Luisa that we custom [create] for people. It's got this beautiful hand detail and crystals on the front. We have some requests for the Kara too, which is this beautiful satin shoe with the bow in the back. We do that in custom colors for brides as well."
Customize your own Kara shoe ($425).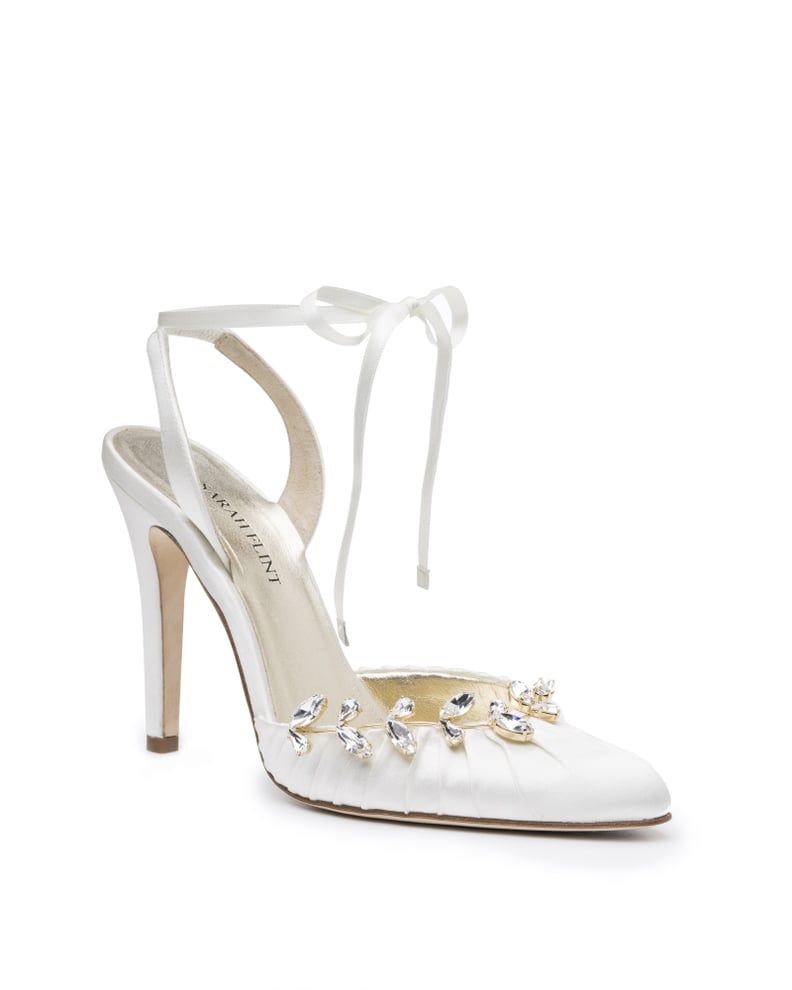 The Shoe All Women Should Have in Their Closets
"I think the one shoe all women should have is a sexy lower heel. So, for us, it's the Emma pump. It's a block-heel pump that is cut down super low in the front. You've got that sort of v-shape with a little bit of toe cleavage. It's really super chic and elegant."
Shop the Emma pump ($345).
The Flat to Wear With Skinny Jeans 24/7
"I love the way a pointed-toe skimmer looks with a skinny jean or a slide. We have a really cute little Mary Jane flat called the Stephanie, which I love and I always wear with skinny jeans. It's that mix of cute and edgy."
Shop the Stephanie flat ($345).
The Celebrity Sarah Would Love to See Her Designs On
"Emma Watson. I think both her career and what she's done for women's rights and for sustainability is really impressive. All of our shoes are seasonal and handmade in small batches in factories in Italy. I think she would really appreciate the quality and all of the work that goes into it. And, I love her style."