Keep Your Eyes Peeled Because These Are the New Models You're About to See Everywhere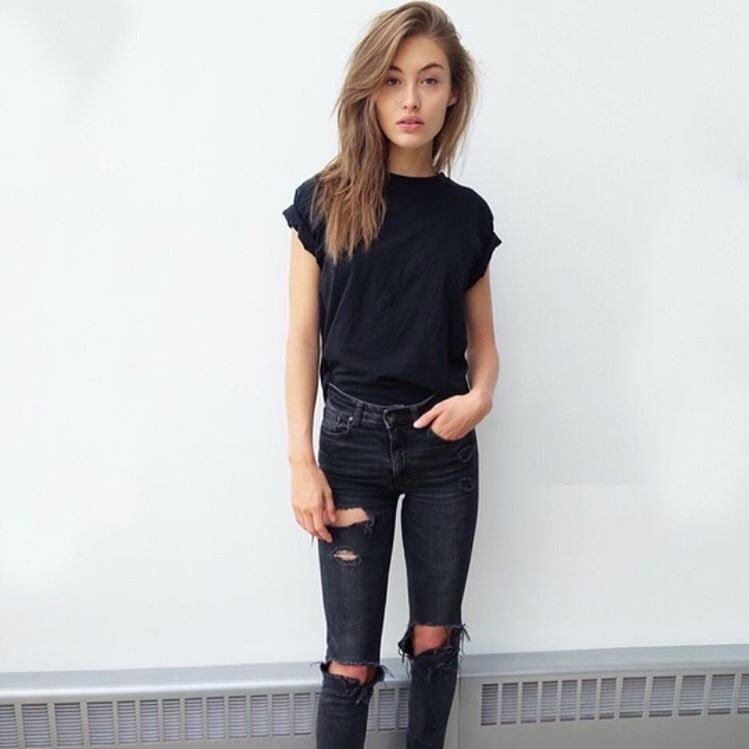 Last year was the year the supermodel made a comeback. Kendall Jenner and Gigi Hadid are now on a first-name basis with the majority of the world, and you'll be hard-pressed to find a fashion show or major campaign these ladies aren't cast in. But while the fierce duo definitely reign supreme, there are lesser-known models waiting for their time to shine (and no, we aren't talking Bella Hadid or Hailey Baldwin). Just like those It girls, they, too, have the look, the covetable wardrobe, and even the impressive résumé. Now all they need is your support. Look through for some fresh faces you'll want to follow this Fashion Week, and learn their names before they rise to the top.
01
Roosmarijn de Kok
Prepare to see a whole lot more of this Dutch model, because Roosmarijn just landed a pair of Victoria's Secret Angel wings.
02
Aiden Curtiss
Another Victoria's Secret newbie? Aiden Curtiss. She's also landed a bunch of major campaigns, including one for Hugo Boss Orange.
03
Romy Schonberger
Chanel, Valentino, Tory Burch — Romy's walked in it all, and that's only a fraction of her résumé. This model's got the look that makes you wonder why she not an It girl already, with dark hair and bold brows being her most striking features.
04
Elizabeth Davison
Does Elizabeth look familiar to you? Perhaps you've seen her on Zara's website or Coach's website or walking in shows like Chanel. This girl is totally on the rise, and while she's typically linked to her sister Tyg, this could be the year she breaks out on her own.
05
Zuri Tibby
Zuri Tibby is best known as one of VS Pink's newest models, and while we expect her to steal the spotlight with that as her main gig, perhaps she'll pull a move like Gigi Hadid or Taylor Hill and rule the runways as well.
06
Grace Elizabeth
Grace also appeared on the Victoria's Secret catwalk, but that's far from her first fashion job. You've likely seen her face while flipping through Vogue, and before VS, she strut her stuff for Stella McCartney, Dolce & Gabbana, and Giambattista Valli (to name a few).
07
Leaf Zhang
Over the past year, Leaf has added plenty of shows her résumé, including Jenny Packham, Vera Wang, and Rebecca Minkoff. It's possible her big breakout moment is on the horizon — only time will tell!
08
Mackinley Hill
Perhaps you know Mackinley's sister, Taylor Hill? Yep, this family is full of models, and Tay's younger sister might soon have her moment to shine — she recently posted a behind-the-scenes shot with Vogue and has previously modeled for Zara Home.
09
Diana Silvers
Those brows. Her pouty lips. One look at model-on-the-rise Diana Silvers, and you know her future is bright. While she's been photographed by ex-Disney star Cole Sprouse, she most recently appeared in Paper magazine, which is when she captured this behind-the-scenes pic.
10
Faretta
Faretta's got one name, so she's easy to remember. And if not? Just remind yourself of all that she's done: walking in Alexander McQueen, Givenchy, Miu Miu, and a ton more.
11
Ellen Rosa
Ellen was the name we heard over and over again around Spring 2017's shows since the model had quite the busy Fashion Month. Chanel, Céline, Dior, Versace, Marc Jacobs, and more couldn't wait to work with this light-eyed beauty.
12
Mariana Zaragoza
Mariana made her runway debut for Spring '17, and that was just the beginning for this girl. Some shows she's already walked in? Saint Laurent, Prada, and Proenza Schouler.
13
Yasmin Wijnaldum
If Yasmin seems like someone you know, it's because she's popped up on plenty of major runways over the past few years. The model is even ending 2016 on a high note, walking in pre-Fall '17 shows for Coach and Chanel.
14
Lauren de Graaf
Lauren's delicate features have landed her gigs with Chanel, Elie Saab, and Lanvin, but she's also starred in Vogue editorials and a variety of brand lookbooks. We're expecting her résumé to continue to grow in 2017.
15
Karly Loyce
Karly's career has been growing since 2015, but she really made her mark more recently, doing her thing in Kenzo, Givenchy, and Dolce & Gabbana's Spring shows. Chanel is also a fan of this fresh-faced beauty, casting her in its pre-Fall '17 show in Paris.
16
Line Brems
It was Line's resemblance to Cara Delevingne that first caught our eye, but with shows like Louis Vuitton, Rodarte, and Jonathan Simkhai under her belt, we're sure the world will know this model's name soon enough.
17
Tarah Rodgers
Tarah is another lady who hit the fashion scene with full force. Just for Spring '17 alone, she racked up credits like Diane von Furstenberg, Topshop Unique, and Temperley London, then went on to appear in Self magazine's November 2017 issue.
18
Georgia Fowler
After a few successful years in the biz, modeling for Gap, Diesel, and even L'Agent by Agent Provocateur, Georgia landed a spot on the Victoria's Secret runway, which could very well make her a household name next year.
19
Camille Hurel
Fifty-two shows in a single season may seem like a lot, but not for a powerhouse like Camille Hurel. That's how many times she showed off her walk during Spring '17 Fashion Month, and this too-cool French girl is just getting started.
20
Alanna Arrington
Alanna has one of those looks you want to see more of, which is likely why she has already been cast in a bunch of shows and campaigns. From Chanel to Victoria's Secret, she's nailed it all, and we're waiting to see what the future has in store for this curly haired lady.