Consider Us Positively Green-Eyed Over Moira's Impeccable Style on Schitt's Creek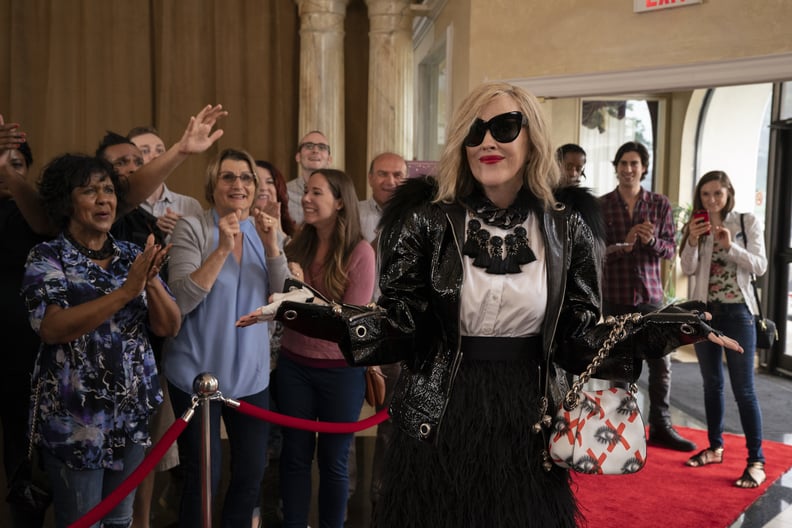 Pop TV
Pop TV
Television has been starving for a fashion girl as iconic as the Carrie Bradshaws and Serena Van der Woodsens of yesterday, and costume designer Debra Hansen and co-creator Dan Levy have given us an all-you-can-eat buffet in Schitt's Creek.
Perhaps the only thing more hyperbolic than Moira's colorful vocabulary and Sunrise Bay plot lines is her wardrobe. Queen of the macabre and theatrical, Moira's outfits are a character unto themselves. "[Moira's wardrobe is] strong and it's armor, which is perfect when you've had your life ripped out from under you," Catherine told The New Yorker. The fashion is also a constant reminder of the wealth this family once had. With designer names attached to it from Alexander McQueen to Givenchy, there's no need to beat the initial premise into the ground. As Levy said in an interview with Vogue, "When you're wearing archival Balenciaga, people get the point."
For Moira in particular, the inspiration came from heiress Daphne Guinness, whose style exudes confidence. Much like Ms. Guinness, the team adopted a grayscale palette for Moira's own aesthetic, and added more costume jewelry than a spine should be able to handle, and a pair of fun stockings to every look. The finished product is a wild sartorial adventure every episode invites us to join. The former soap star's designer threads demand the viewer's attention whenever she walks on screen. Want a piece of the drama? Read on to enjoy her marvelous style.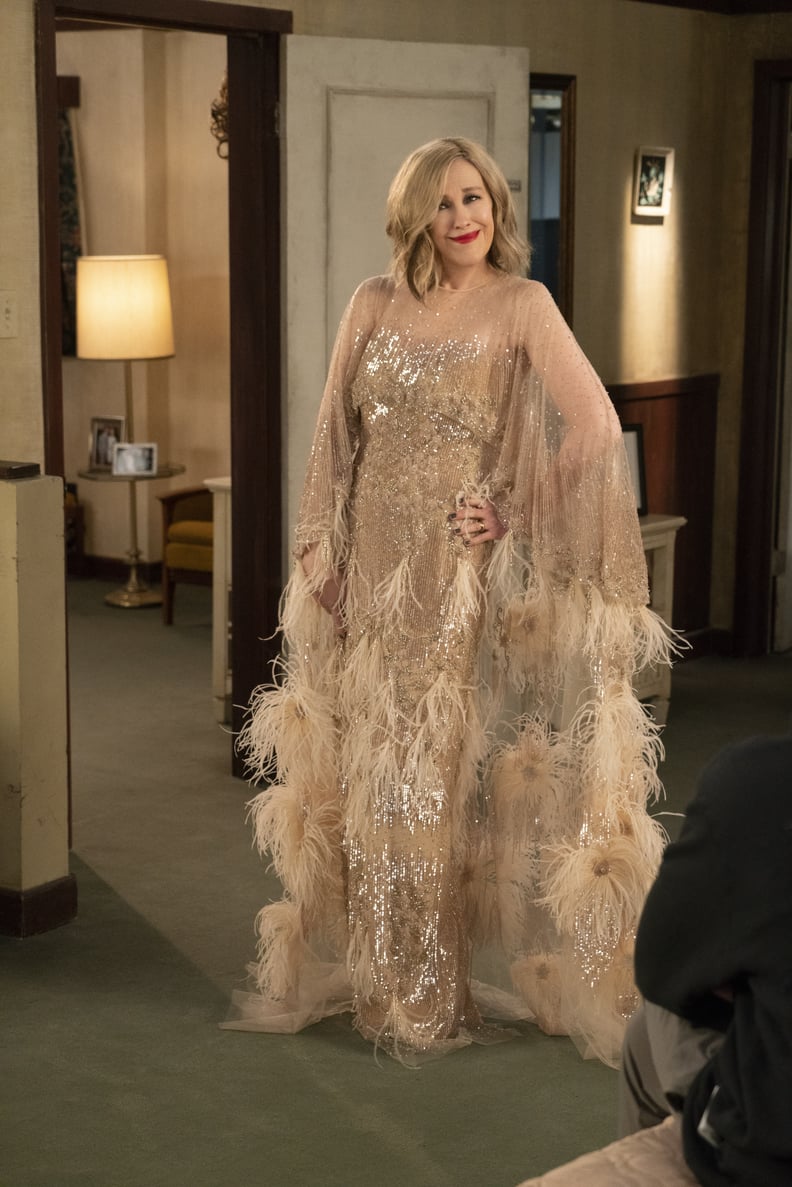 Moira's Movie Premiere Gown
This ostrich feather gown by Pamella Roland left Moira's family and everyone watching in awe.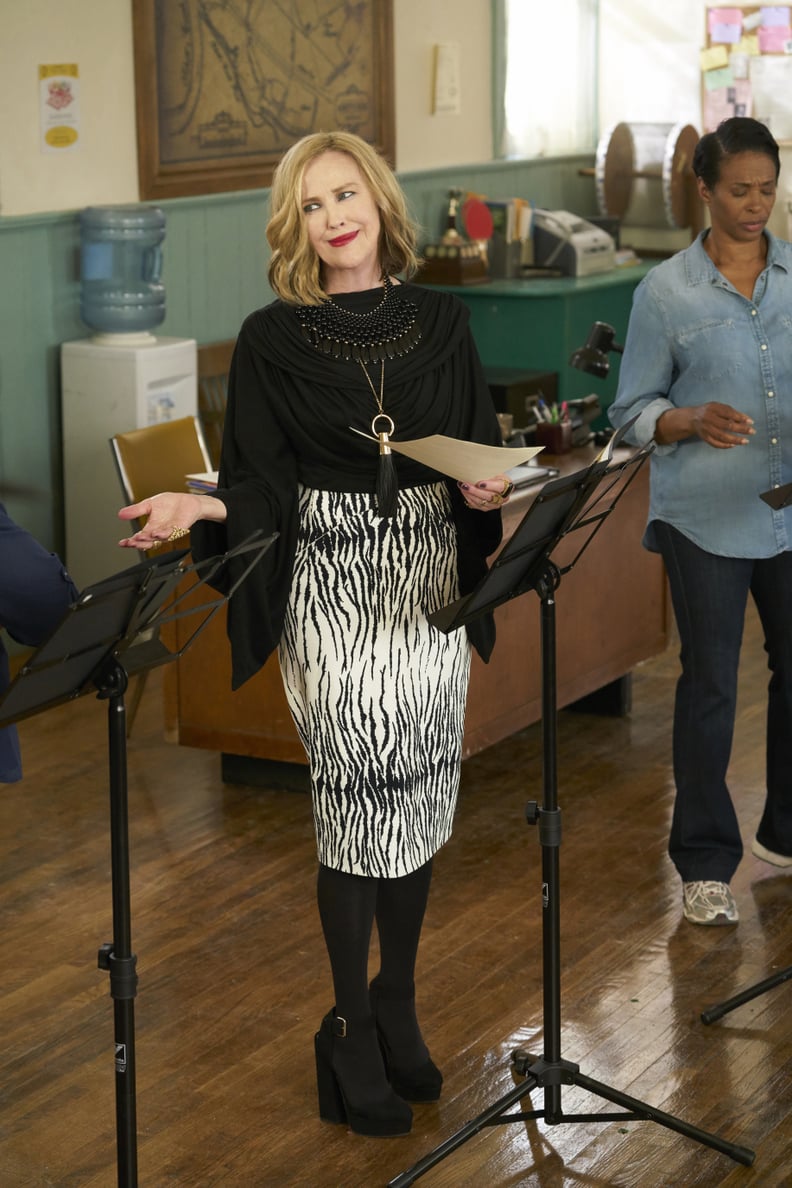 Moira at Jazzagals Rehearsals
Why wear one statement necklace when you could wear two?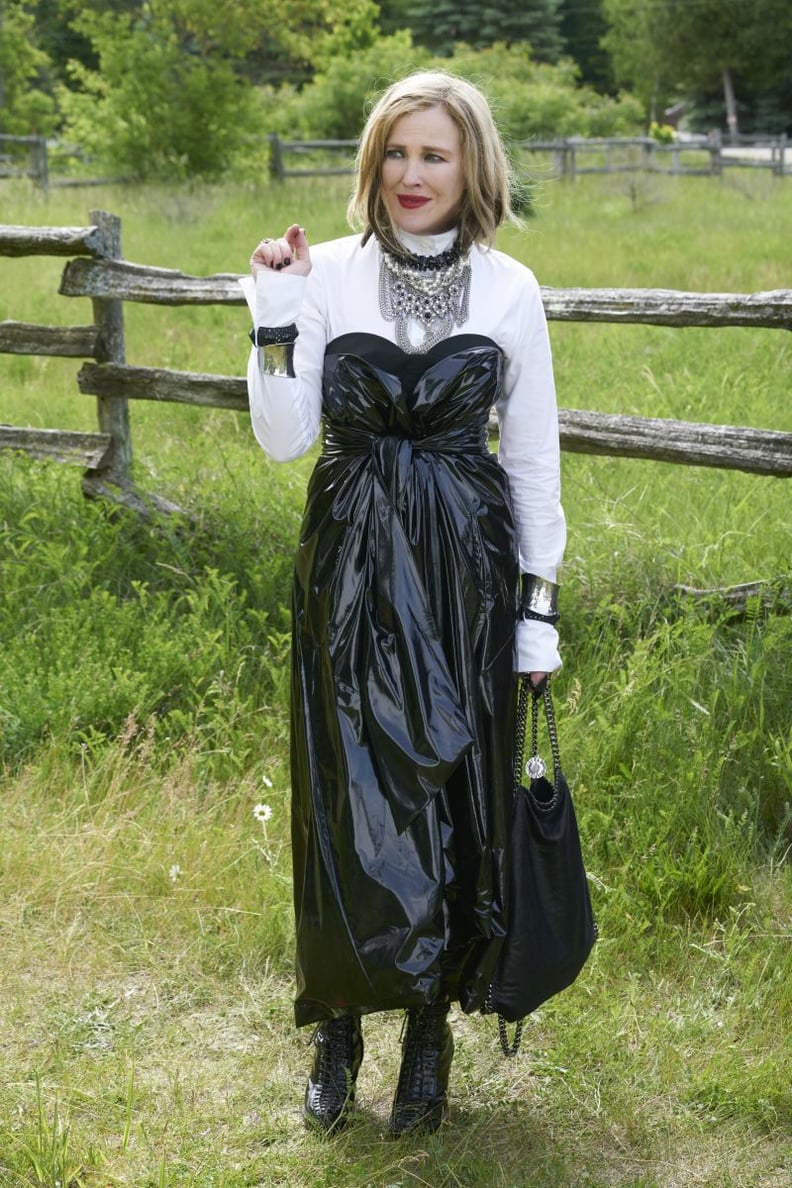 Moira's "Talk Now, Shoot Later" Look
This Raf Simons for Jil Sander PVC dress took over an hour to put on, according to Dan Levy. Totally worth it.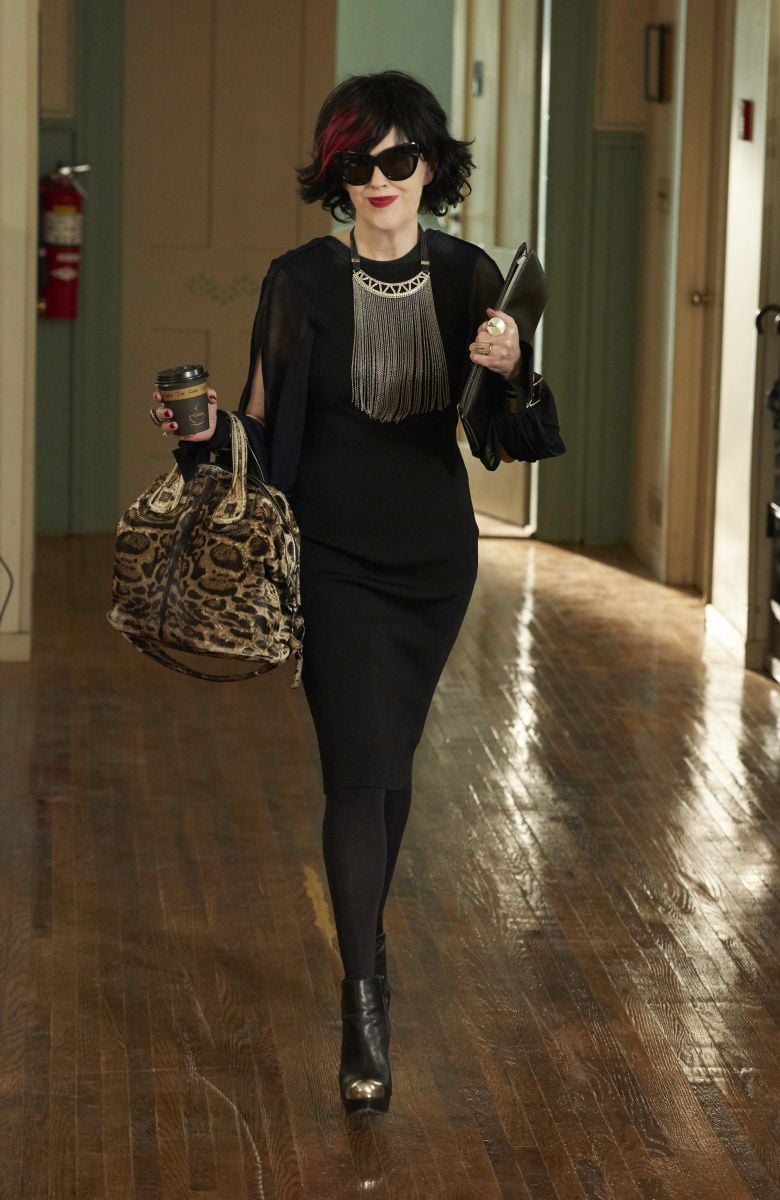 Moira the Councilwoman
That red hair and leopard bag say, "Watch out, townies, Moira is coming to shake council up."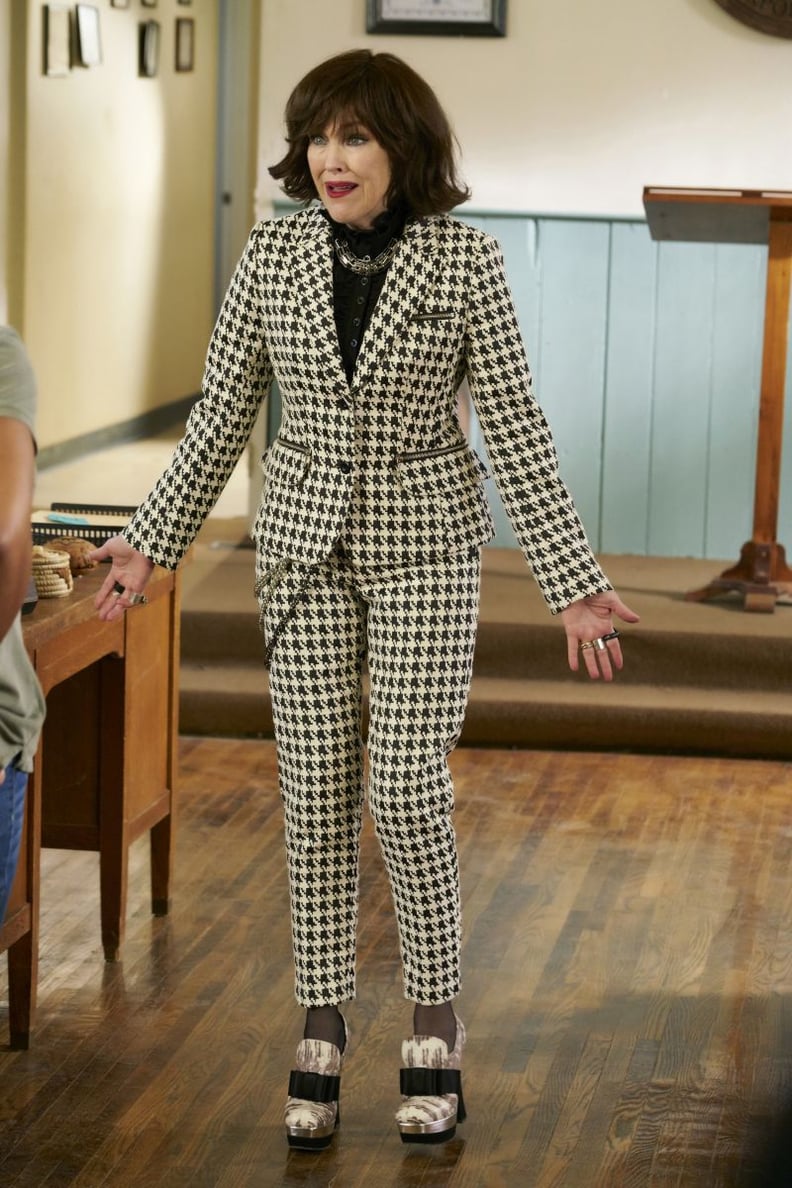 Moira the Councilwoman 2.0
The head-to-toe houndstooth. The teetering loafers. The punk chains.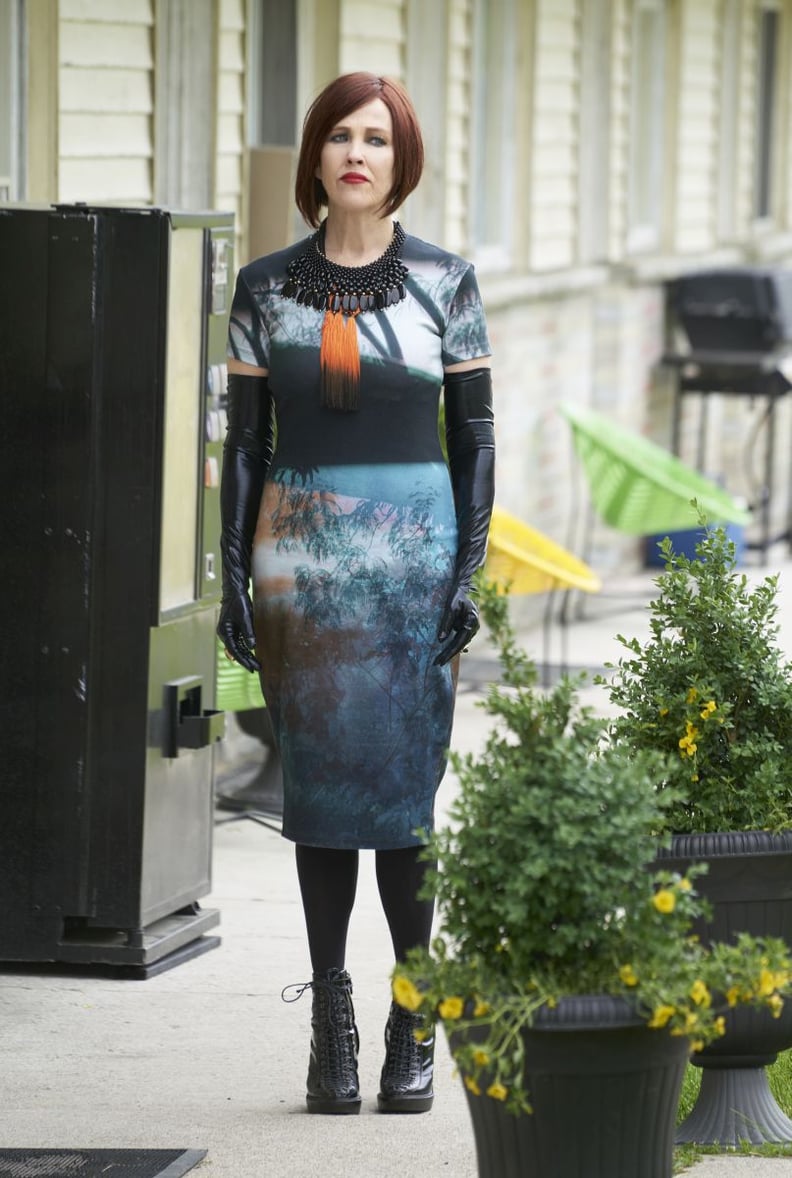 Moira Taking Back Her Dignity
This rare moment of color is paired with an asymmetrical red bob and long, black leather gloves (perhaps the Tom Ford ones referenced while she and Johnny babysit Roland Jr.?).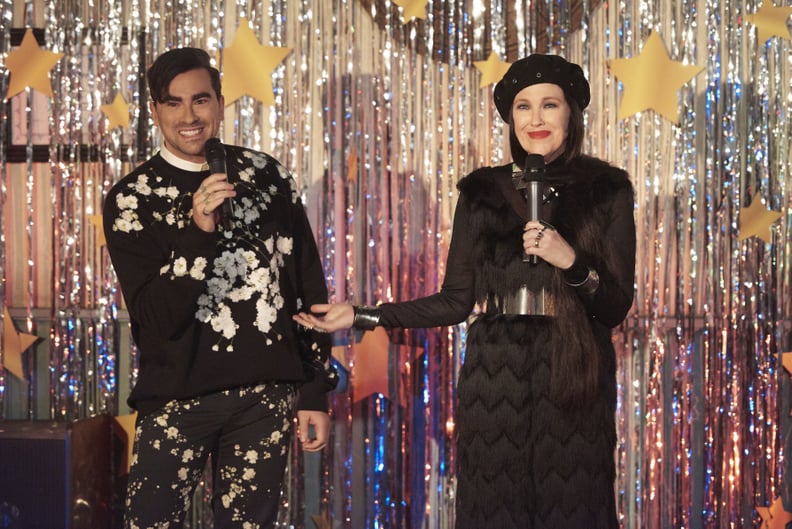 Moira at Asbestos Fest
The '70s called, and they're loving this Cher-inspired look. I mean, just look at that chevron faux-fur!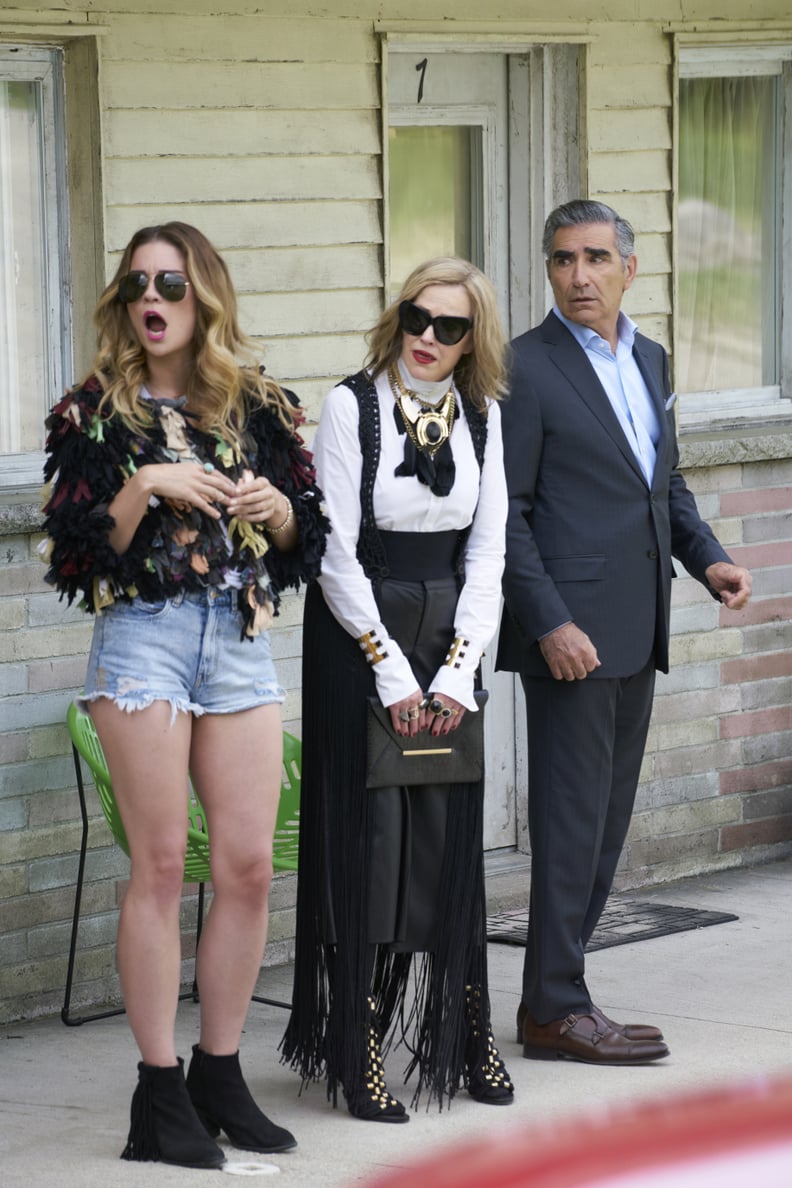 Moira Going to Breakfast
The knit-fringe-elastic belt combo going on here is Moira's definition of a perfect family brunch outfit.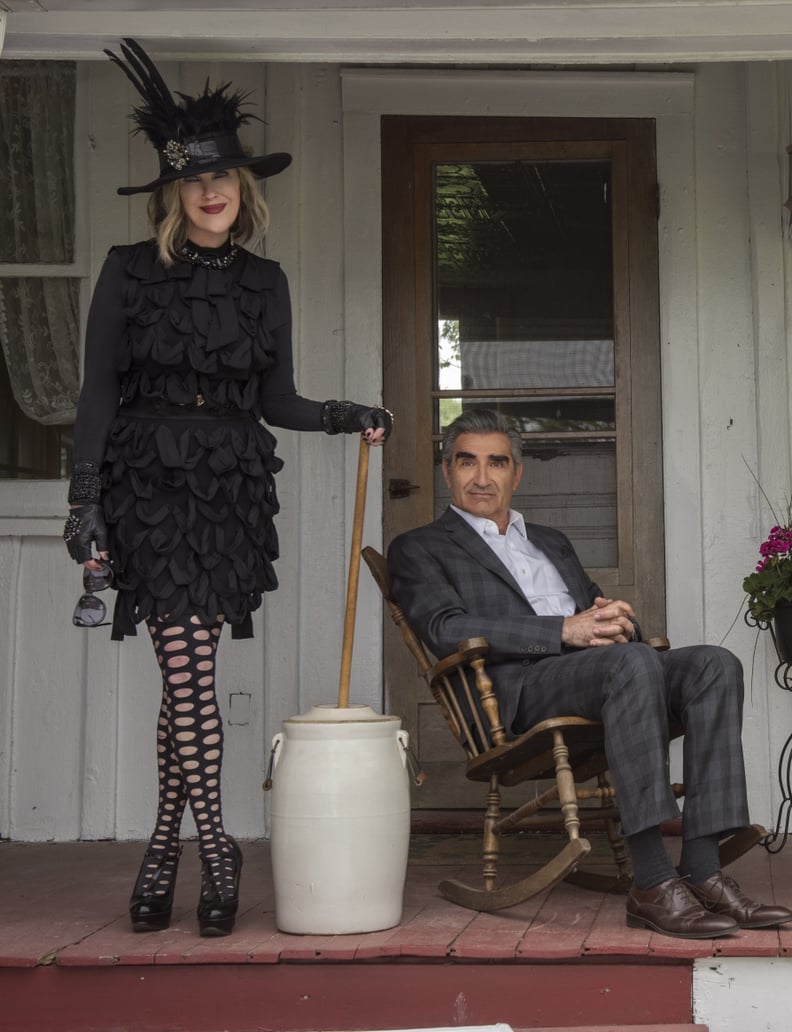 Moira in Amish Country
Who wouldn't wear a feathered hat and 6 inch stilettos to churn butter? Amateurs.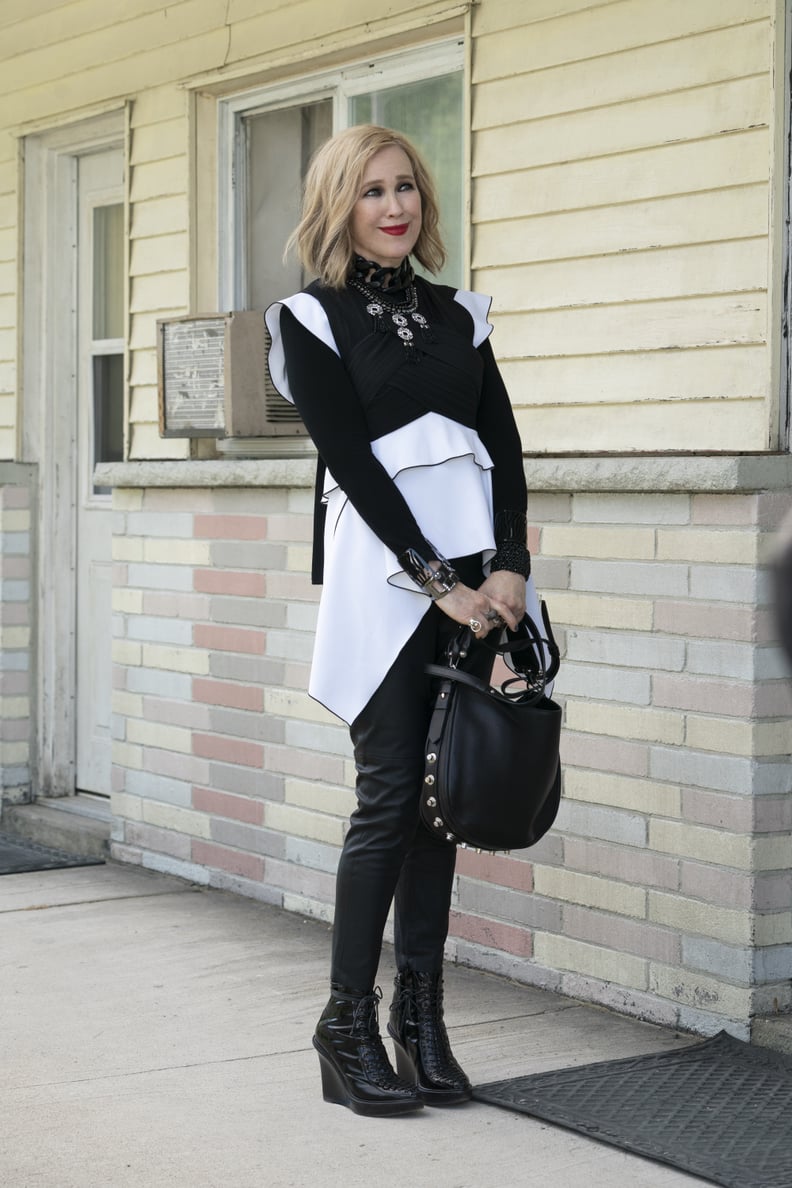 Moira in Her Signature Colors
The four bangles, two necklaces, and five rings really bring an otherwise-understated look to life. I take that back, nothing could make this understated.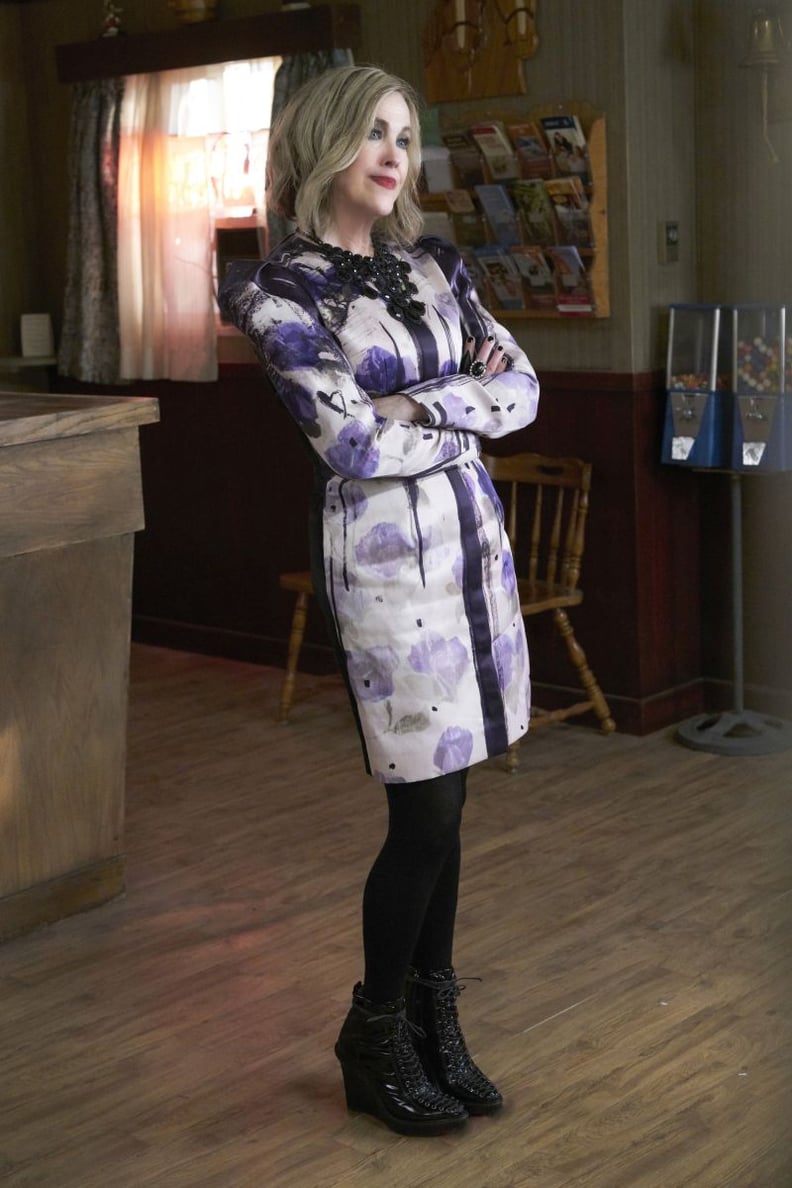 Moira in Color?!
This watercolor print is so feminine, Moira had to add some noir accents with a gothic necklace and lace-up booties.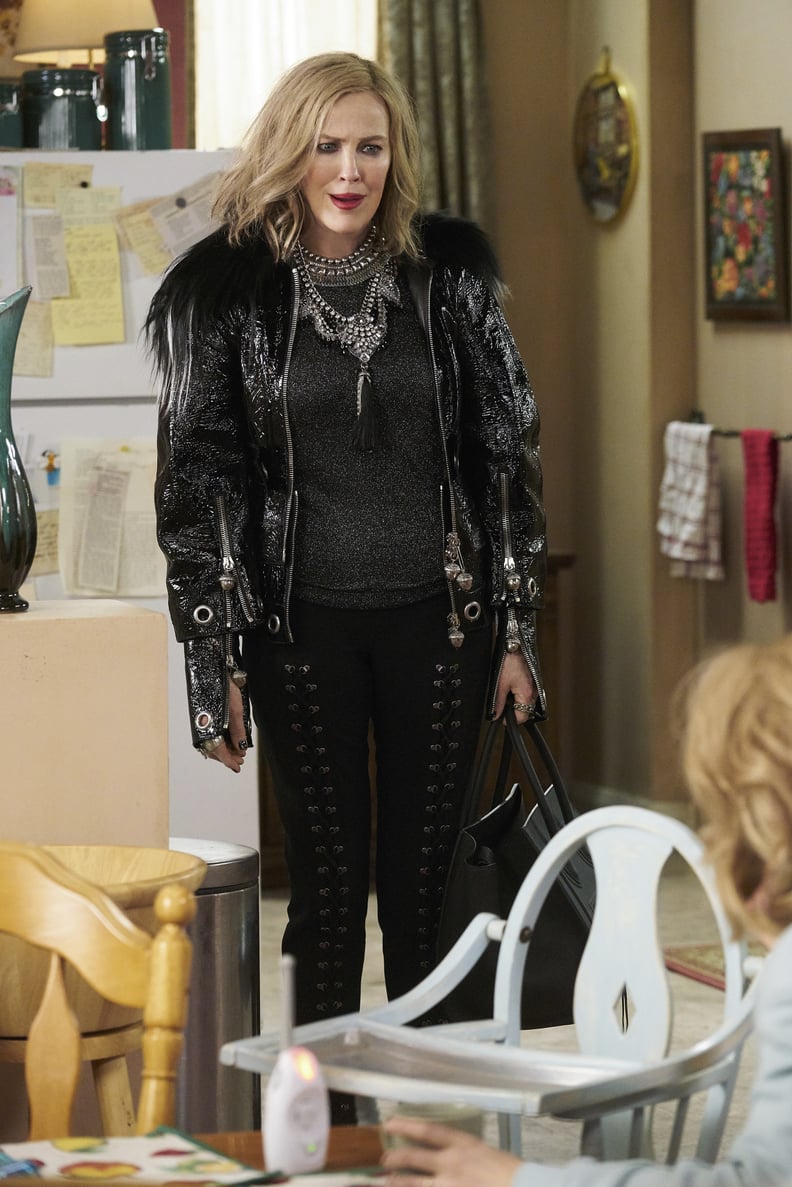 Badass Moira
Have you ever seen a more fabulous leather jacket? And the lace-up pants? Rock on, Moira, rock on!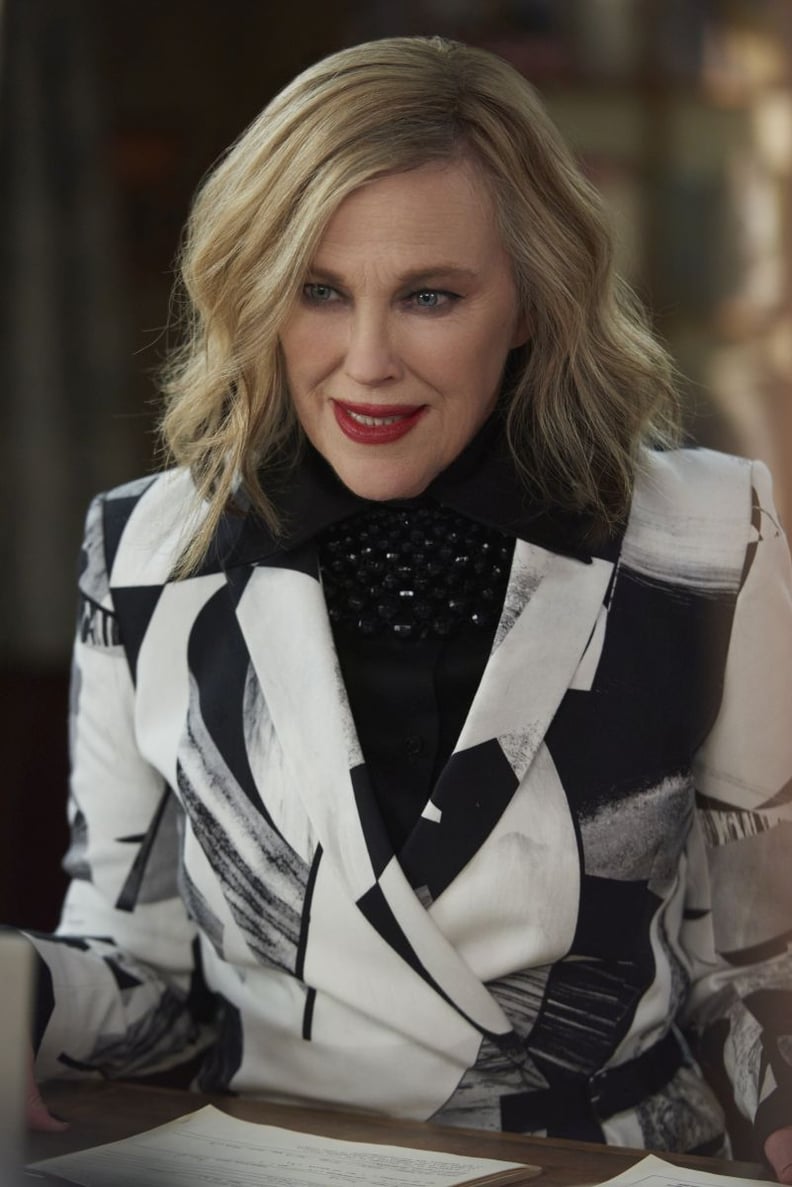 Moira in the Motel Lobby
That graphic blazer and red lip combo is classic Mrs. Rose.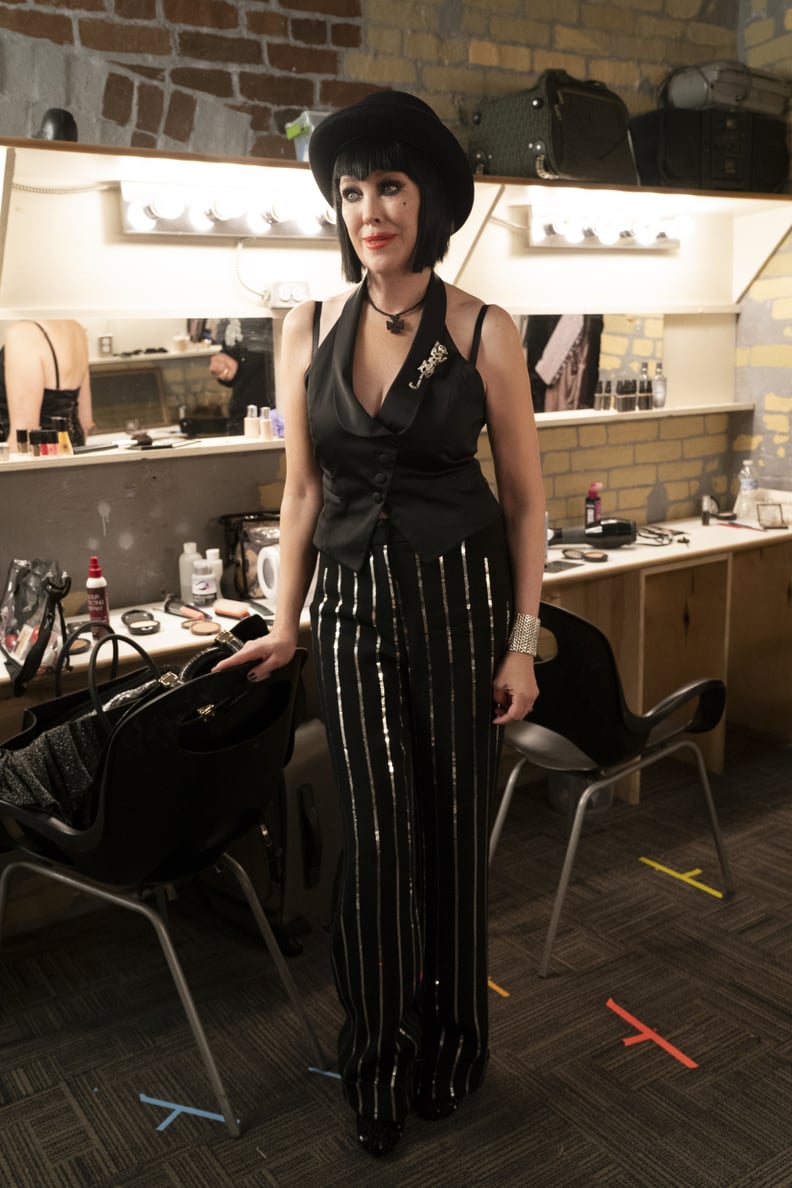 Moira as Sally Bowles
Cabaret looks good on Moira. The sequin pinstripe pants alone make the show worth watching.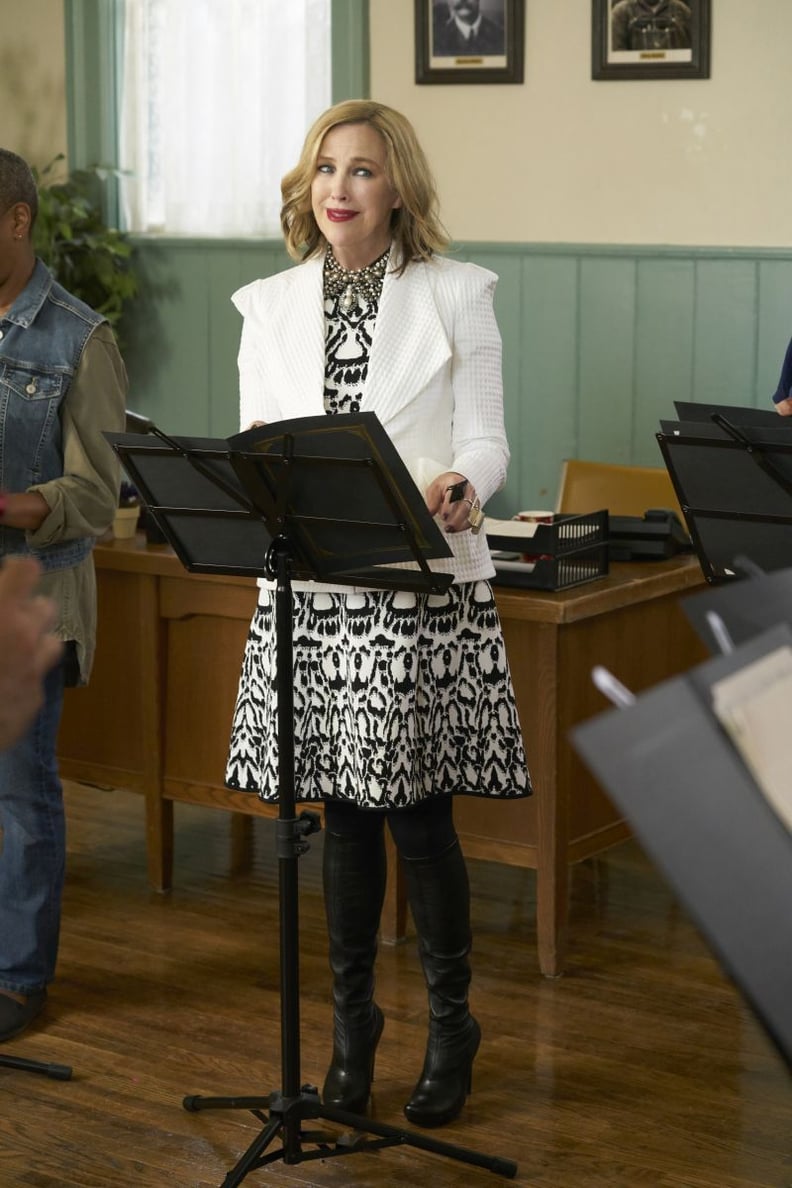 Moira's Office-to-Happy-Hour Look
Yes, Moira is wearing knee-high leather boots next to someone in a denim vest. Your point?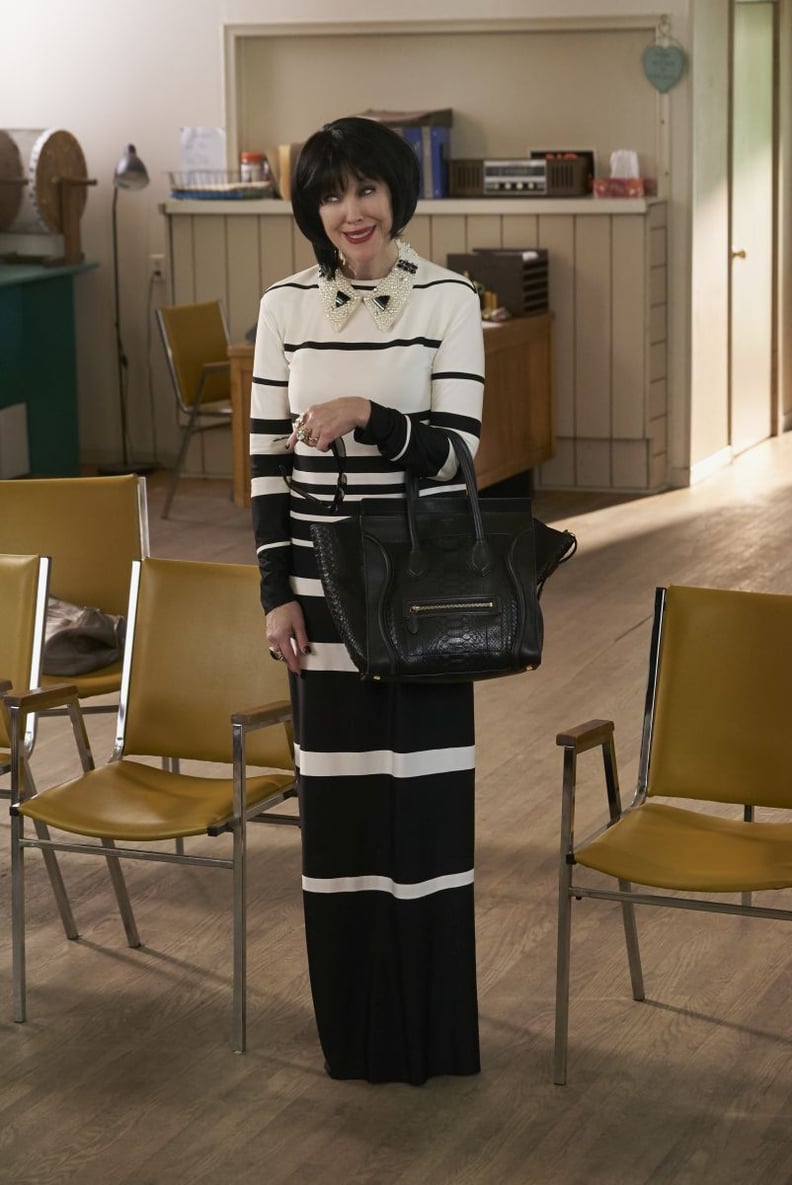 Moira at Her Jazzagals Audition
The perfectly tailored maxi dresses is really only a vehicle for the pearl collar necklace that brings the attention right where Moira wants it: on her.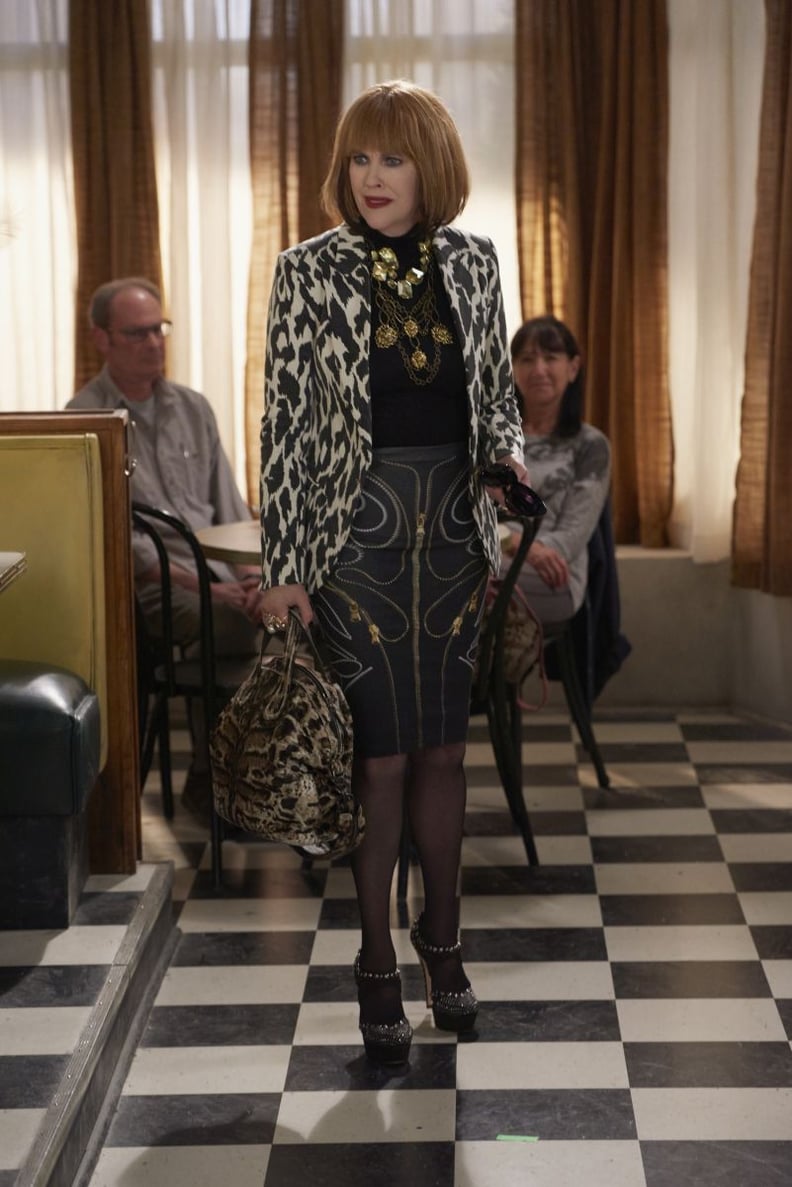 Moira at the Cafe
This outfit needs no introduction.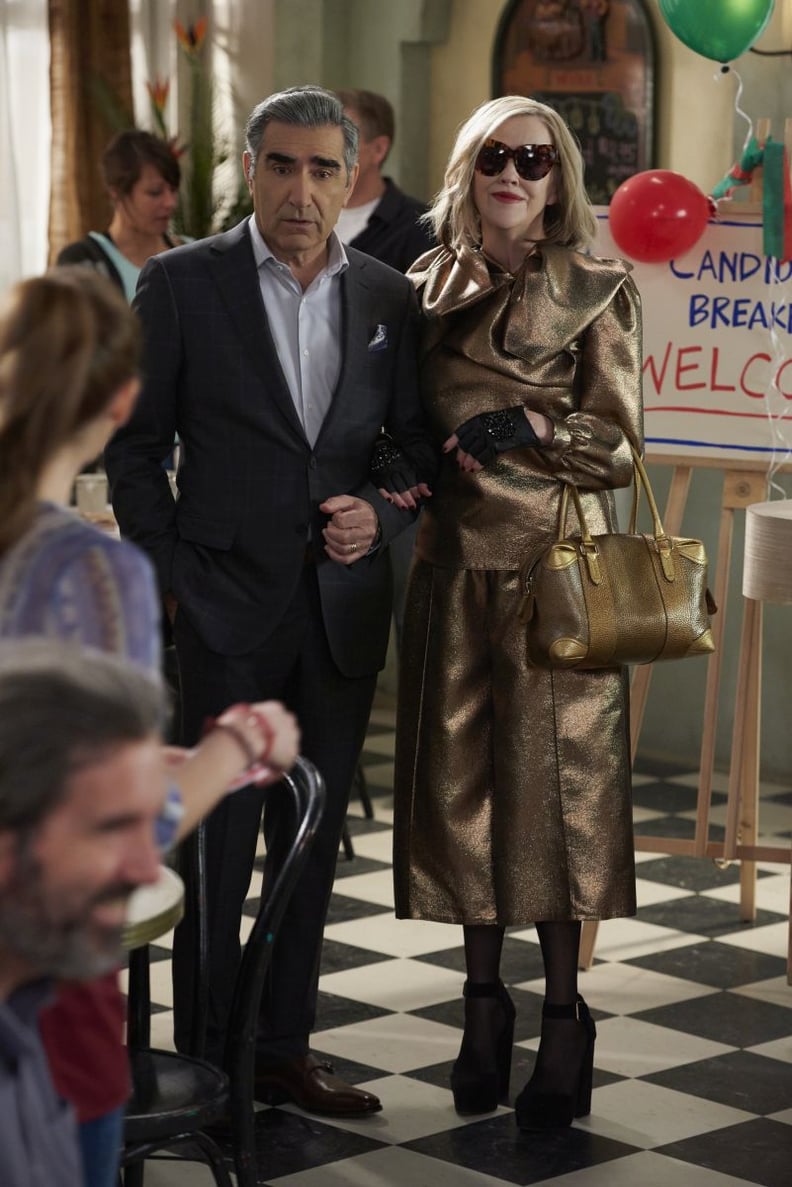 Moira's Campaign Breakfast Look
The fact that Moira was going to wear a Mohawk, but then settled on this brings me endless joy.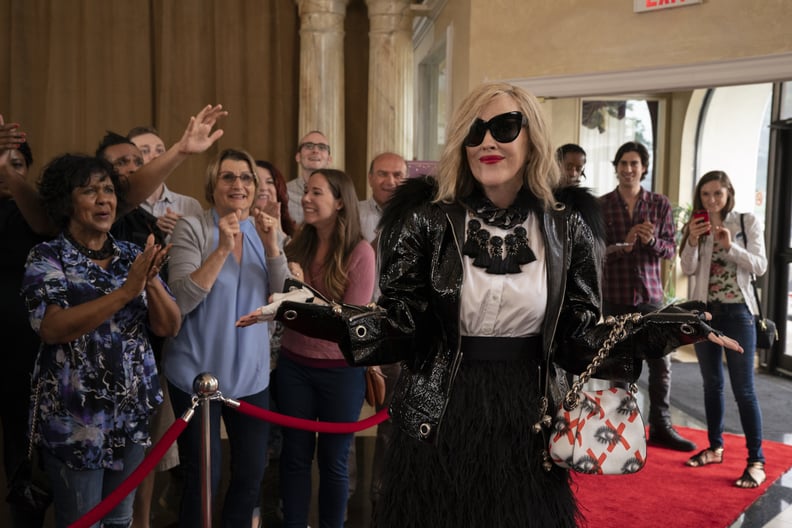 Moira in Front of Her Adoring Fans
The Prada handbag. The cat-eye sunglasses indoors. And the pièce de résistance: that patent leather jacket. Mark my words: It'll be in a museum one day.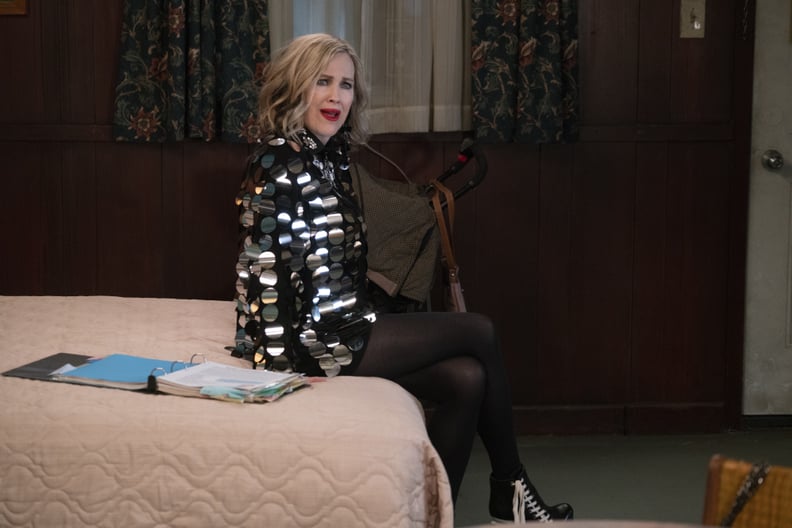 Moira Bebe-sitting
Moira may be "dressed to the nines in choking hazards," but damn does it work for her. Those legs!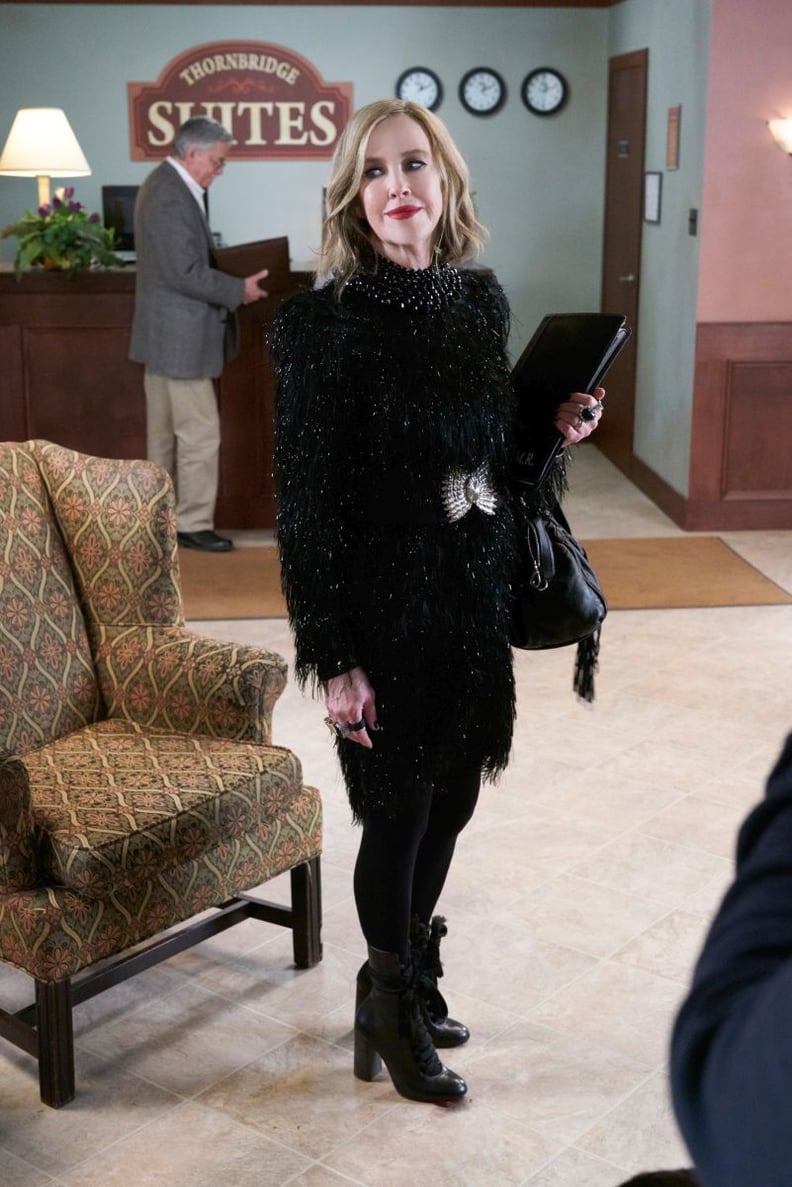 Moira at RAMC
The dress and belt combo is something only Moira could pull off at a local government conference where the height of fashion is a well-tailored pair of khakis.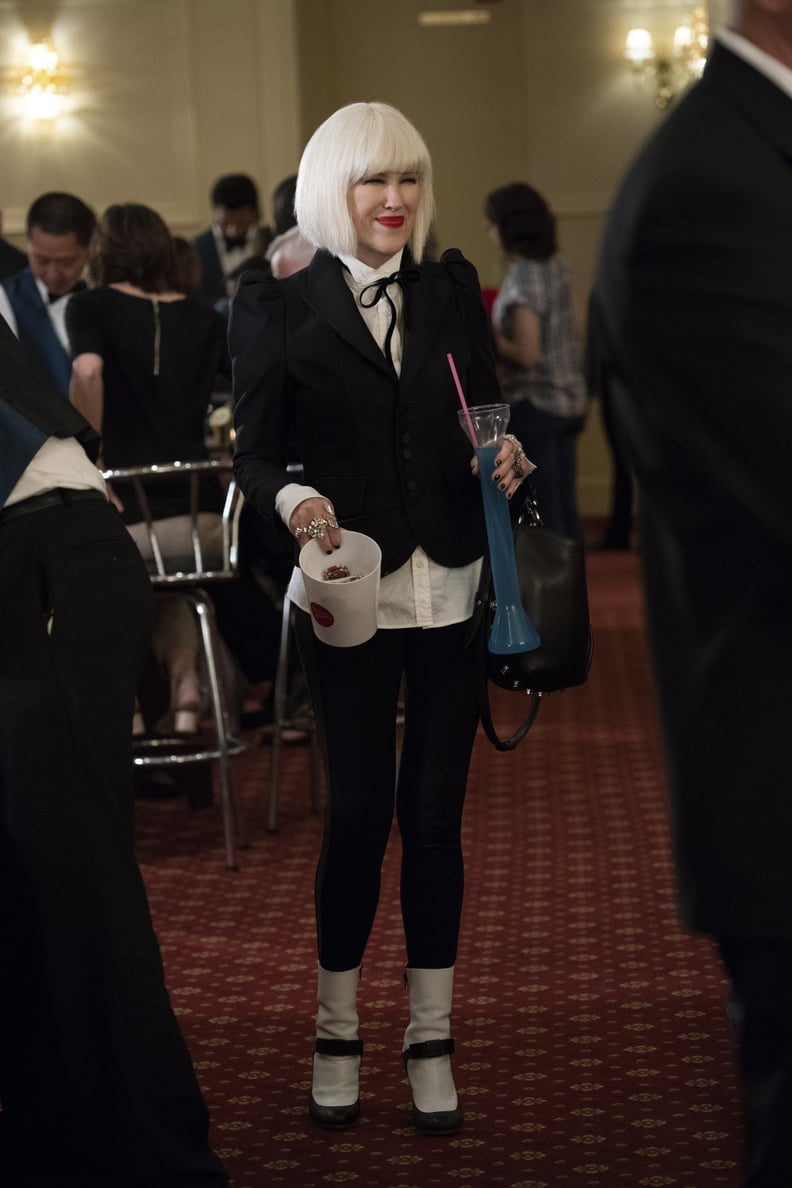 Moira at the Casino
I'm not entirely sure how she walked around the whole night in those shoes, but this look is all about that wig and those rings! Feel free to zoom in.
Moira and Johnny at their Anniversary Dinner
I love how she styles bracelets over her sleeves, and this is one of those moments. But let's be real, we're all looking at the fur-tongue boots. I want to go shopping with Moira.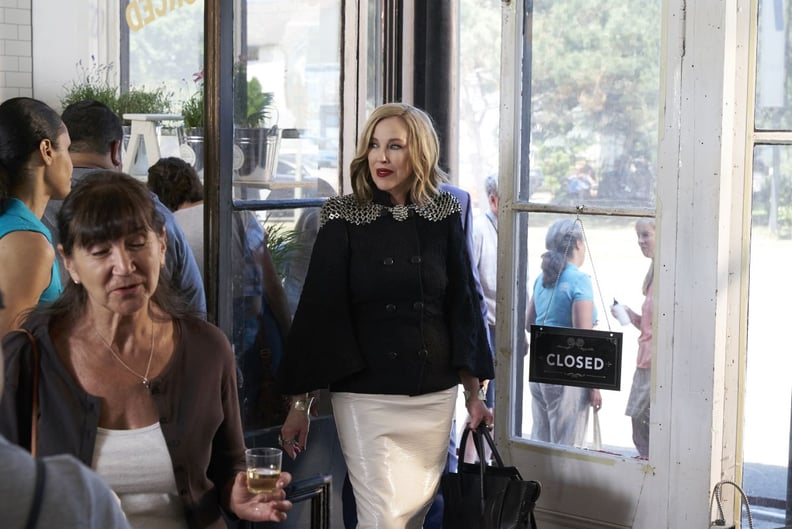 Moira at Rose Apothecary's Soft Launch
Unsure how she figured out how to make a chainmail cape not look like she was on her way to a medieval convention, but she did it.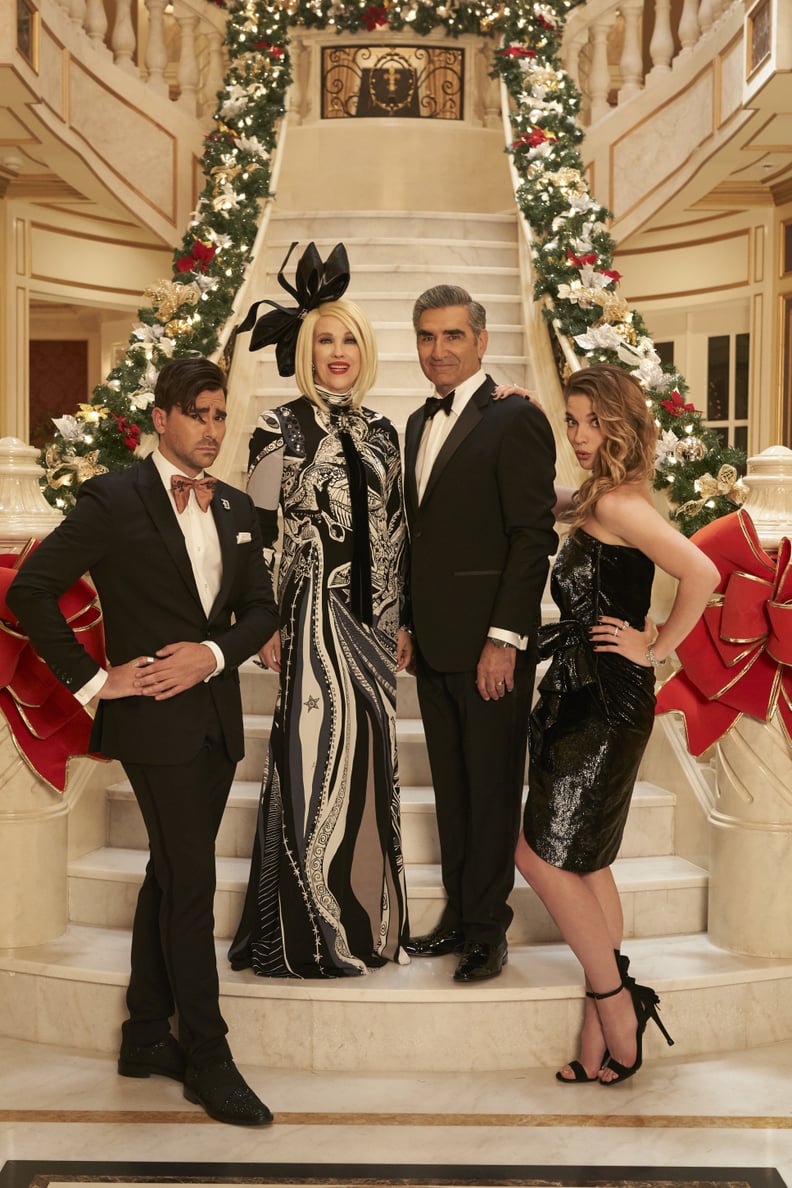 Honorable Mention: The Rose Family Chrismukkah Aesthetic
The entire Rose crew slayed in the holiday episode. Alexis looking like an early '00s it-girl in Etoile Isabel Marant; David looking spiffy AF in Rick Owens and Helmut Lang; and, the star on top of the tree, the flame on the menorah: Moira in Alexander McQueen and Balenciaga.