The 1 Wedding Dress Shape That Flatters Every Body Type — According to a Celebrity Stylist
When it comes to your wedding day, finding the right dress is typically more of a process than a quick trip to the store. You pick out what you like, go ahead and try it on, but narrowing things down can seem somewhat impossible, especially when there are so many options. Perhaps what you need is a tip from celebrity stylist Micaela Erlanger — who dresses stars like Lupita Nyong'o, Jennifer Hudson, and Michelle Dockery — to point you in the right direction. Or, at the very least, the most flattering shape to look for.
"I think an A-line is always going to be universally flattering," she told us when we met up with her at a Pronovias bridal event, where she shared styling advice with brides-to-be and editors alike. "If you're super petite, it's going to be nipped at the waist and give you curves. If you are fuller figured, it's going to nip you at the waist and hide anything that maybe you're self-conscious about. So I think that's the way to go."
Another important shopping tip for petites in particular? Make sure the dress doesn't wear you. "Don't choose something that's overly voluminous," she told us. "Otherwise, it will swallow you. It's always important to keep in mind proportion."
Scroll through to shop a few A-line dress options, but first, read Michaela's advice for brides on a budget.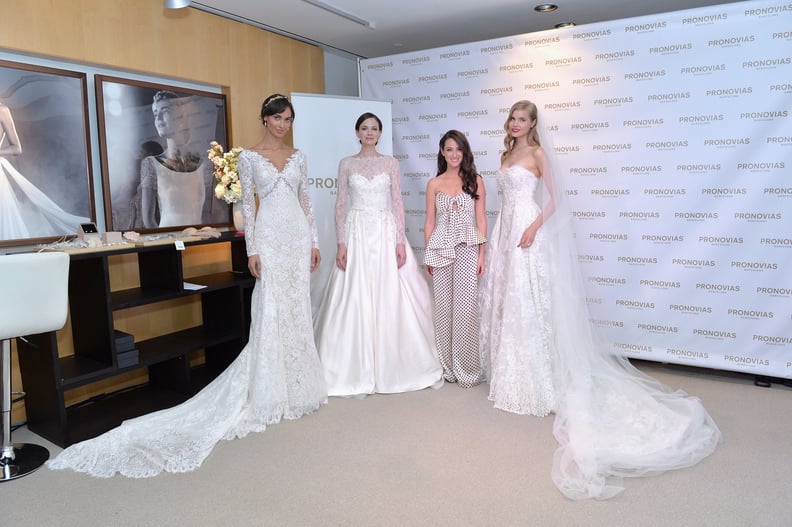 How to Save Money on Your Wedding Look
"For me, I think you should invest in your gown, and accessories are supplemental," Micaela said. "You're not going to see the shoe — wear flip-flops for all I care! Not really, but you know what I mean? A ballet flat, a slipper. I've had friends who have worn platform wedges, I even had a friend who wore sneakers under her wedding gown. You're not going to see it, so I wouldn't be that concerned. Something borrowed? Borrow your fine jewelry, borrow something from your mom, or your grandmother, or something from the mother of the groom. Think about these things. Really it's your gown that's the investment and is the most important part."