This Actress's Wedding Gown Is Dreamy, But Her Cutout Party Dress Is a Whole Different Story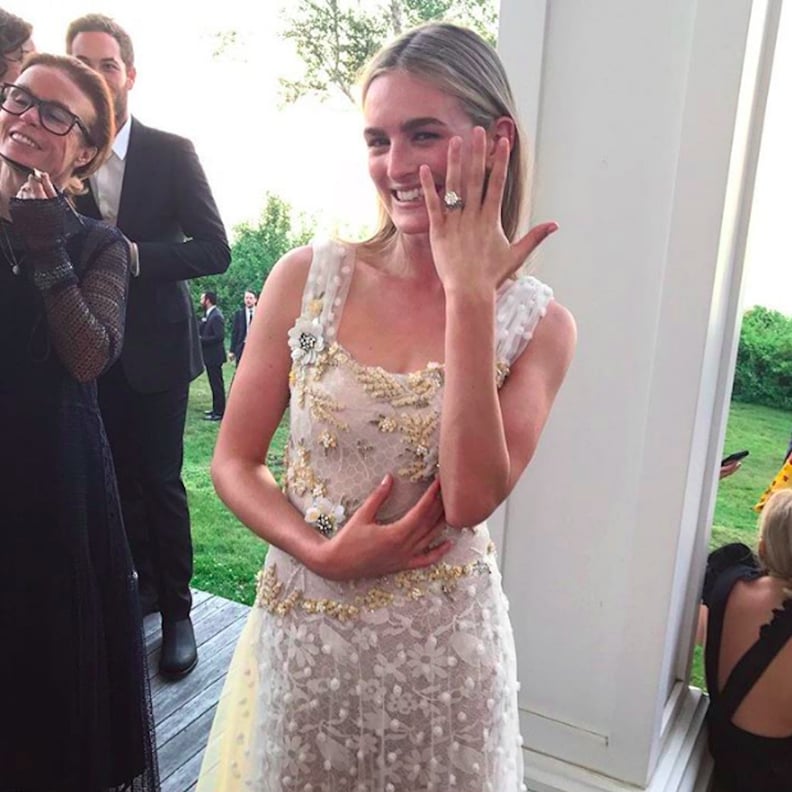 Actress and cofounder of We the Women Nathalie Love tapped three of our dream wedding dress designers: Rodarte for her gown, Proenza Schouler for her party look, and Edun for her rehearsal dinner jumpsuit. Of course, all of the outfits were stunning. Nathalie wed Daniel Pappas in Islesboro, ME, where she walked down the aisle in a tulle number embroidered with beads that came complete with a floor-sweeping veil.
Later, the bride showed off her Proenza cutout midi, which reminds us of a similar dress from the label that Selena Gomez wore down the street. It might have been a touch sexy, but Nathalie styled it with ease, tying up her hair and completing it with simple white heels. With guests like Harley Viera-Newton in attendance, you can imagine the ceremony was quite a stylish affair. Just read on to see all the snaps.
Nathalie Began Her Wedding Weekend in an Edun Jumpsuit
She finished the piece with gorgeous chandelier earrings by LFrank.
Her Off-White Rodarte Wedding Dress Was Super Romantic
Zoom In on That Gorgeous Ring and Wedding Band Set
Her ring is another unique design from LFrank.
Her Rodarte Dress Came Equipped With a Long Tulle Train
Her Sister, Laura Love, Was Her Maid of Honor
Nathalie Had Her First Dance in Her Rodarte Dress
And Wore It to Take Her First Bite at the Dinner Table
She Later Changed Into Her Proenza Schouler Number
Up Close, You Can See the Midi Dress Was Swathed in Sequins
Stylish Guests Like Designer and DJ Harley Viera-Newton Were in Attendance
Most Wore Flashy Dresses and Accessories
And Stylish, Bright Pieces With Beadwork
The Whole Crew Was Glamorous Enough For a Photo Shoot
Yes, Even Furry Stoles Were Involved at This Wedding in Maine