What's in Our Editors' Bags: Summer Friday Edition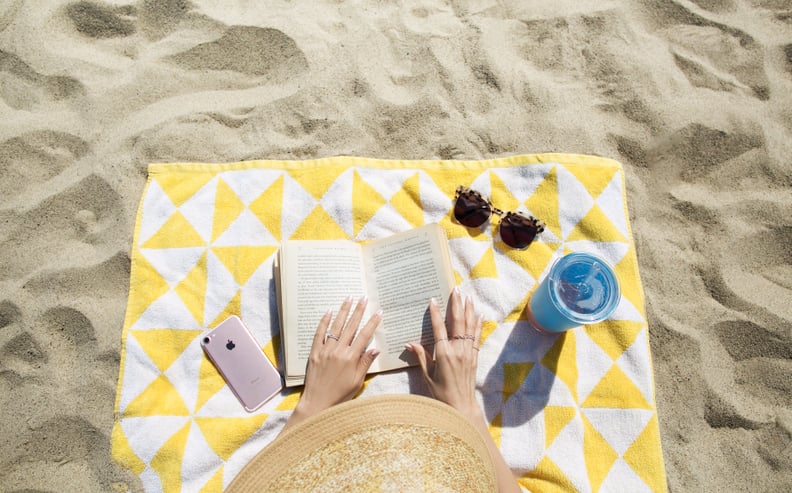 POPSUGAR Photography | Sheila Gim
POPSUGAR Photography | Sheila Gim
On any given day, the POPSUGAR offices are filled with creative and infectious energy that practically bounces off the walls. But there's nothing that sends more excitement flowing through our hardworking staffers than a Summer Friday. As 2 p.m. hits, our editors on the East and West Coasts are gearing up call it a day and kick off a long weekend with a few extra hours in the sun.
If you've ever been curious to know what items fill their bags, three editors with different styles are revealing the travel-friendly products they keep within reach every weekend. Between busy mom favorites and sun-protecting must haves, you may find new staples to accompany your next trip.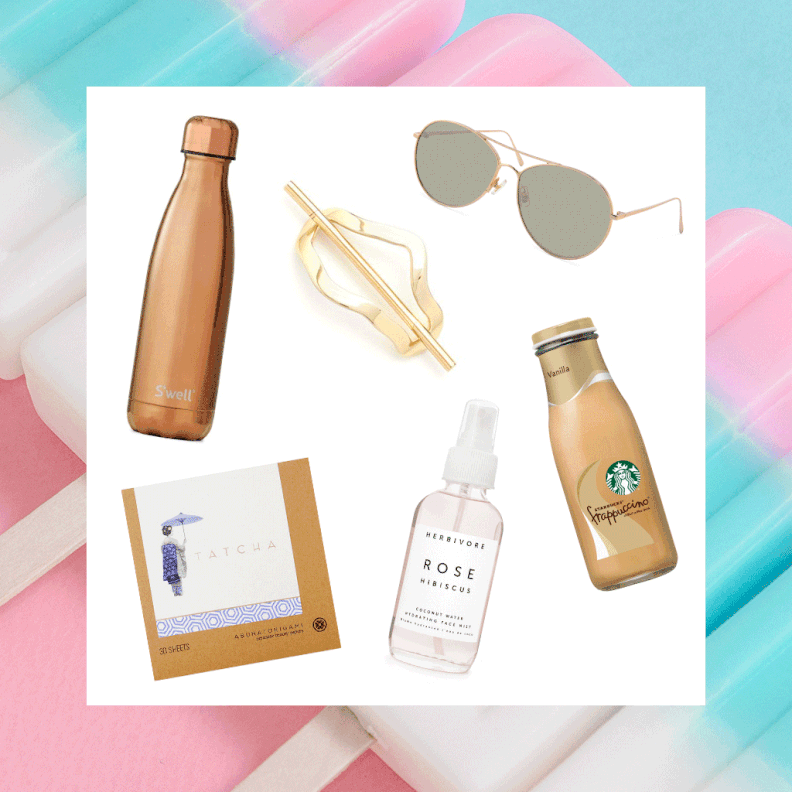 Minimalist pieces Stephanie keeps on hand
Stephanie Nguyen, associate native editor, has big plans to spend her next Summer Friday chasing thrills at a nostalgia-inducing amusement park. Since spending hours on her feet will be a given, she's lightening her usual load and choosing items that put an ultra-stylish spin on combating the California sun.
True to her minimalist aesthetic, Stephanie is opting for a gold hair pin for effortless top knots to pull back her hair while making a statement, a rose hibiscus face mist and handy oil blotting sheets to refresh her skin, and a go-to pair of shades. Rounding out her must-have list is an insulated water bottle to keep her hydrated and a Starbucks® Frappuccino® chilled coffee drink that's just as tasty as her usual latte order, but keeps spillages at bay.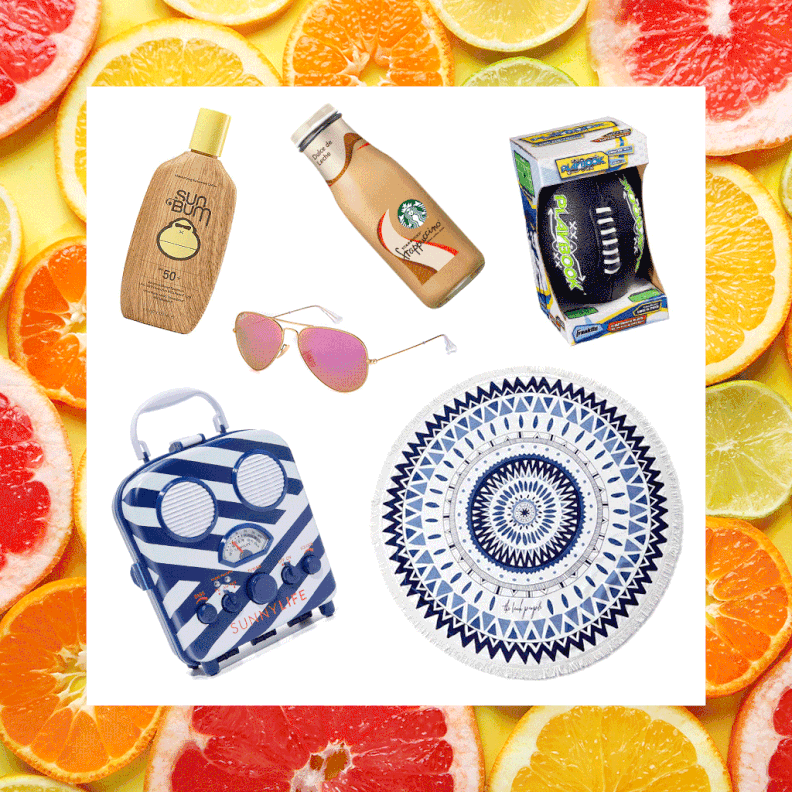 Mom-approved essentials Rebecca loves
When you're the mom of two active sons like Rebecca Gruber, VP of editorial partnerships, keeping everyone busy is a summertime must. To take full advantage of an early start to the weekend, she's loading up the car with family-friendly pieces perfect for a beach trip outside of New York for a change of scenery.
Because her oceanside adventure is all about bringing the family together, Rebecca doesn't leave home without an eye-catching round towel for relaxing on, a portable speaker to crank up her kids' favorite tunes, and a trusty football that's guaranteed to get a pick-up game started in no time. And to fight the sun's warm rays, she also chooses a no-fuss sunscreen, polarized aviator sunglasses, and a creamy caffeinated drink to simultaneously cool off and satisfy her sweet tooth.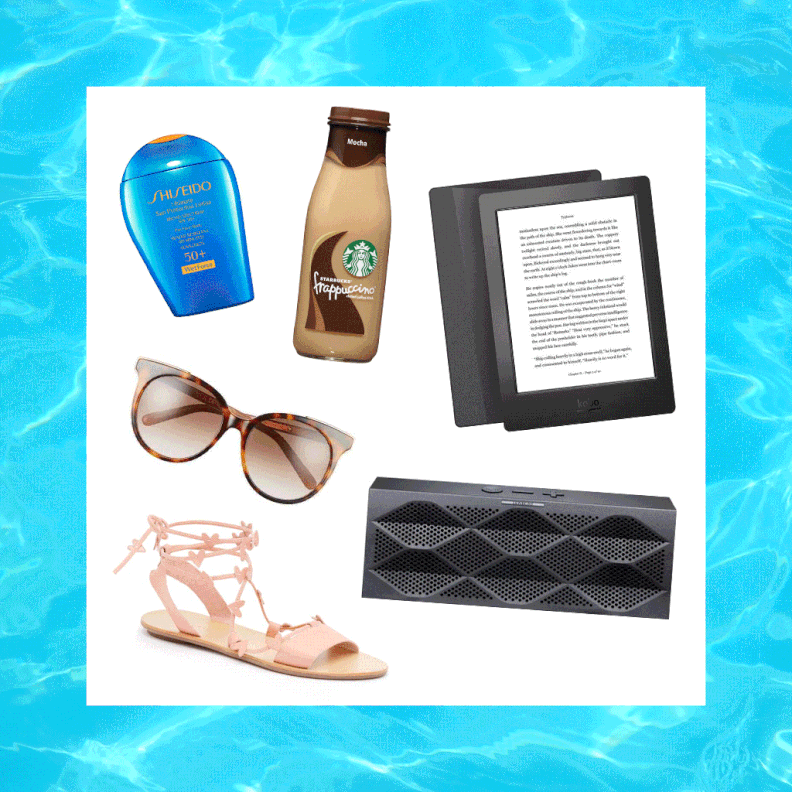 Vacation staples Joanna swears by
When Joanna Douglas, senior native editorial director, heads out of the New York office at 2 p.m., she's jumping on a train for a weekend trip home with her boyfriend. An early dismissal means she'll beat afternoon rush-hour crowds and make it there in time to grab a bite at her favorite seafood shack.
When traveling, Joanna always keeps two things top of mind: comfort and entertainment. True to this philosophy, she's stocking her Summer Friday bag with embellished sandals that'll hold up for hours and look cute with any outfit, wide-brimmed sunglasses and sunscreen to avoid painful sunburns, and a sweet bottled drink whenever she needs a caffeine boost. To pass time on the train or anywhere she goes, she opts for a waterproof e-reader, and stows portable speakers that are ready to use at the beach, park, or even in her backyard as soon as she reaches her hometown.