Every editorial product is independently selected by our editors. If you buy something through our links, we may earn commission.
They don't call it "America, the Beautiful" for nothing. We love drawing inspiration from the country's flag. Not only will it make you feel patriotic, but the colors are also very versatile. You don't have to wear red, white, and blue sneakers on the Fourth of July only. These classic options will look great all year long. Take a look at our favorite choices, then invest in a pair. You'll want to wear them for years to come, we promise.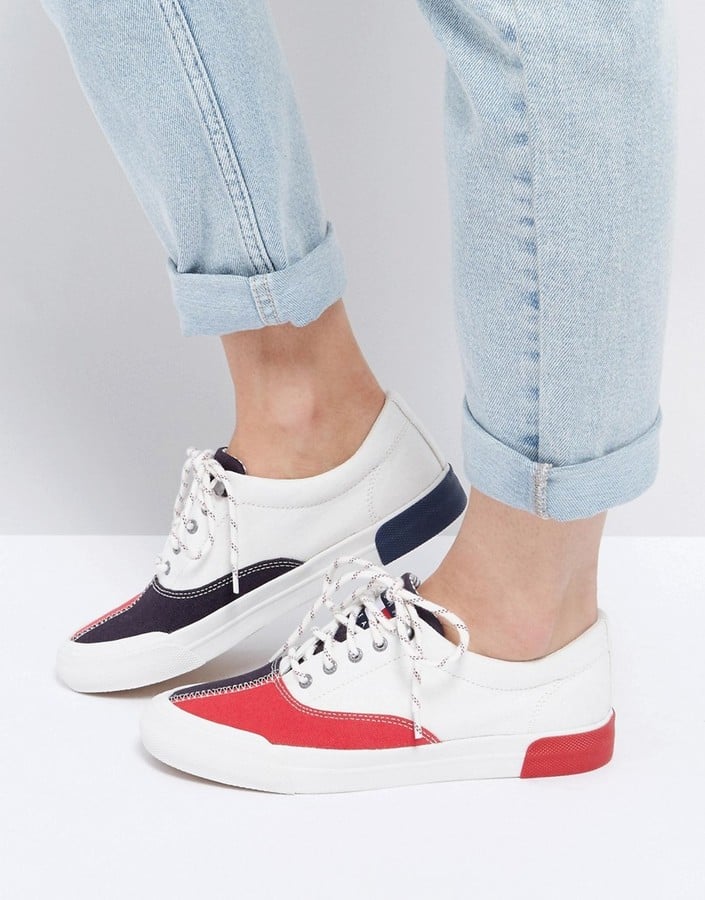 Tommy Jeans Classic Canvas Sneaker
These canvas sneakers ($103) are padded for extra comfort. Make sure to check out the cute shoelaces; they look like little ropes. Wear these with a pair of light-wash jeans and your favorite tee. It's a dependable look when you have nothing else to wear.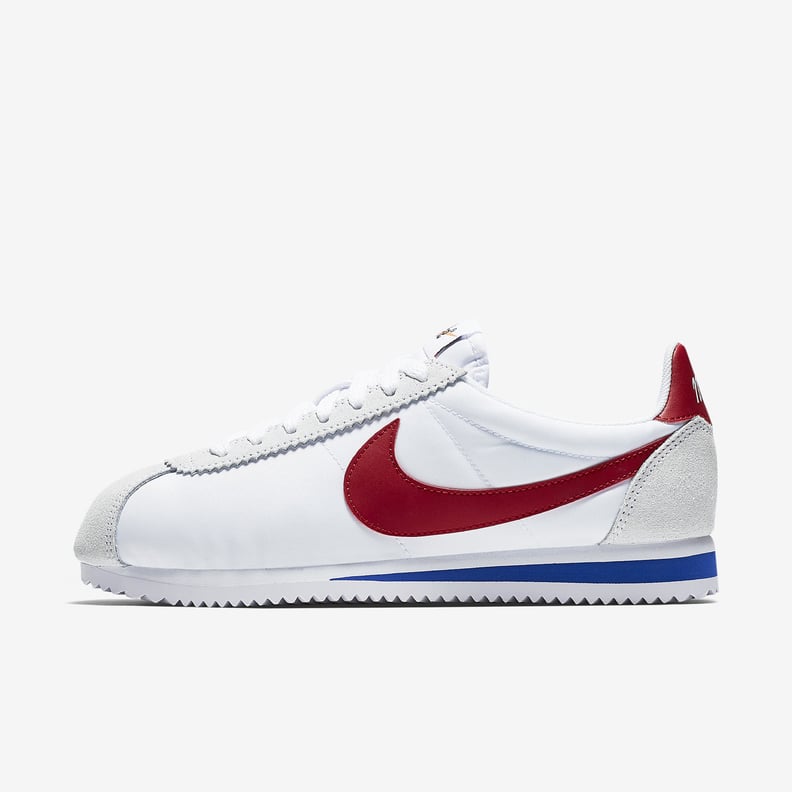 Nike Classic Cortez
This Nike sneaker ($80) is an updated version of the original 1972 Cortez design. During that time, it became one of the most popular training shoes in the country for big-time athletes. Nowadays, we wear these to elevate our street style. Fashion influencers adore this sneaker.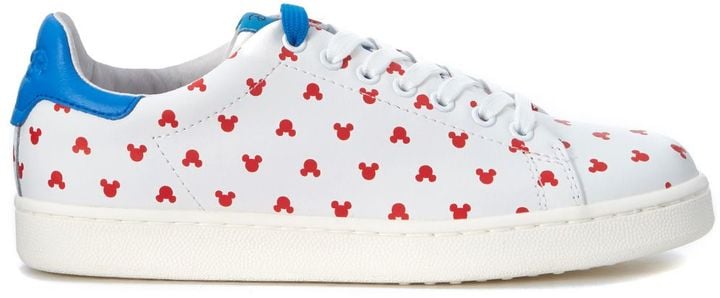 MOA Mini Mickey Mouse White Leather Sneaker
If you're a Mickey Mouse fan, you'll like these leather sneakers ($138). The print is understated enough that it doesn't look gaudy. Wear this pair with a simple denim dress. You'll look adorable.
Tommy Hilfiger x Gigi Hadid White Patch Lace-Up High-Top Sneakers
Gigi Hadid and Tommy Hilfiger collaborated on these playful high-top sneakers ($182). Look closely to see all the fun patches. There's lipstick, an ice cream cone, lips, and a heart. These are great for all of Summer.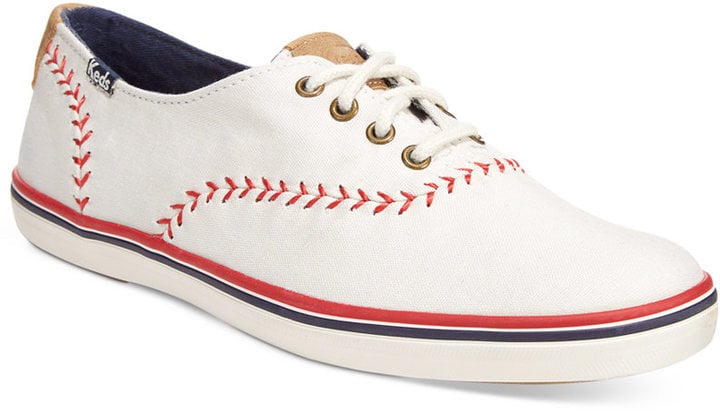 Keds Champion Pennant Sneakers
These sneakers ($55) are clearly inspired by baseballs. We love the classic American reference. These would go great with a jersey and cap. Sometimes you just have to commit to the theme.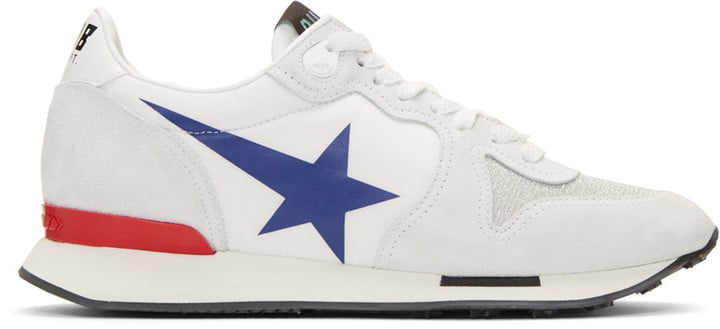 Golden Goose Deluxe Brand White Blue Star Running Sneakers
We love the minimal star shooting across these sneakers ($480). Take a look at the upper mesh paneling — it's metallic silver. It's nice to have a hint of shine. You can go for a run in these or wear them to give a neutral outfit a bit of color.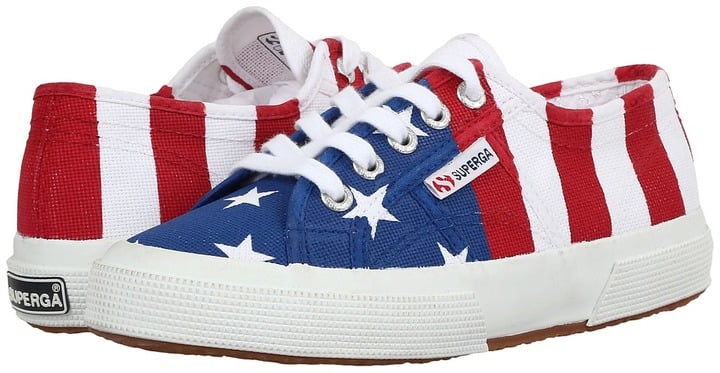 Superga 2750 Cotu Flag Sneakers
These sneakers ($48, originally $95) have a more literal interpretation of the flag. Put on solid colors with these shoes so they can really be shown off. The Superga soles are cushioned, so you can wear these all day long.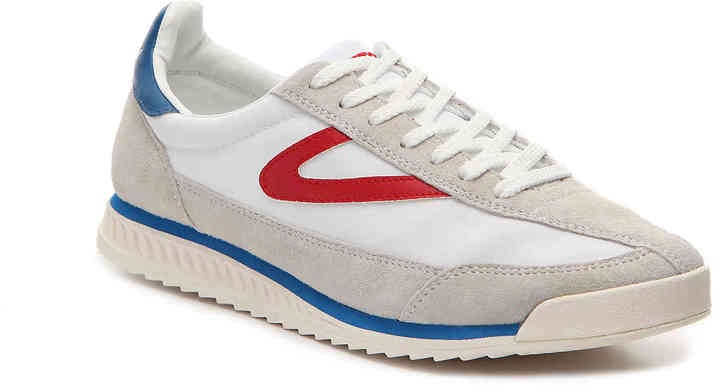 Tretorn Rawlins 3 Sneaker
These casual sneakers ($75) have a suede and nylon upper with leather trim. Put these on with skinny jeans and a cream crewneck sweatshirt. You'll instantly have a sporty yet stylish ensemble. It's a great look for breezy evening strolls.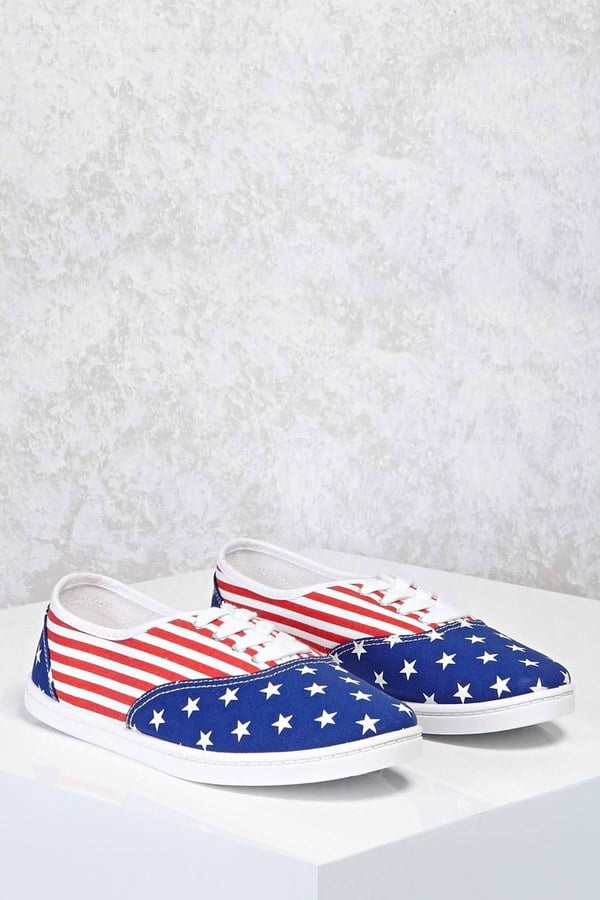 Forever 21 American Flag Print Sneakers
We think Taylor Swift would totally rock these printed sneakers ($15). The red and blue on these shoes is particularly bright, so they will pop well — such a festive Fourth of July look. The affordable price tag makes this purchase even better.
Gucci Ace Studded Low-Top Sneakers
These low-top sneakers ($980) are next level; we're freaking out about how cool they are. The pearl stud details on the sole are downright drool-worthy. Buy these and get your Instagram photo on. The "likes" will flow in for days.