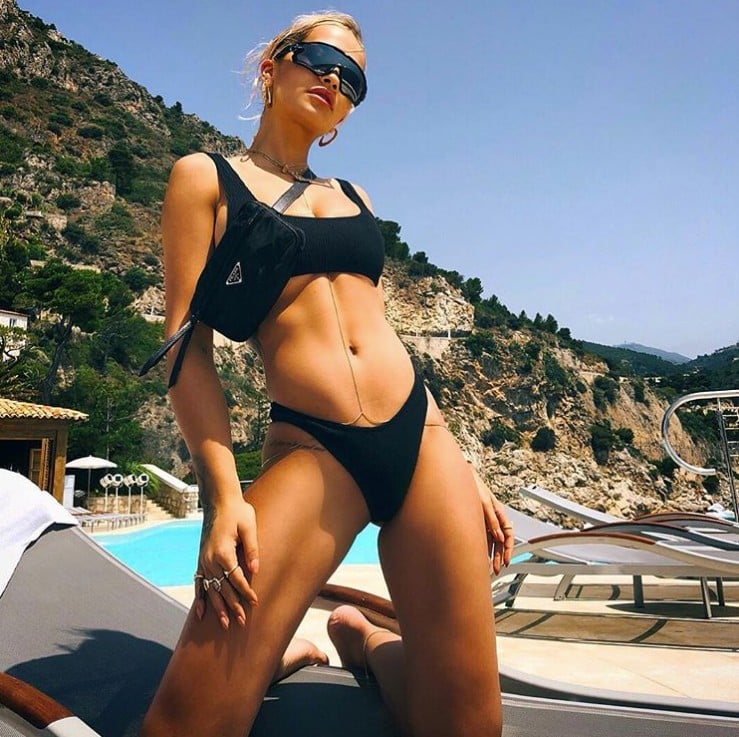 It should come as no surprise that Rita Ora sizzles when in swimwear, but we thought we'd provide you with a warning anyway — her selection of snaps are that hot. Don't stress though, we'll ease you into it.
Let's start with the time she wore a teeny-weeny yellow bikini that had us investing in the exact hue, then take a few minutes for her bold hair-matching swimwear. And if you're feeling ready, inhale deeply, and eye up her high-cut striped one-piece.
Great news: you've passed the test! Now, throw a few ice cubes in that water, because you're going to be breaking a sweat — then read on for all the times Miss Ora slipped into swimwear.
Yachting in Metallic Green
Rita modeled a metallic green swimsuit by Oséree Swimwear.
Making a Case For Orange Foil
Showcasing her love of swimwear brand Oséree, Rita styled a metallic orange two-piece with a selection of necklaces and a pair of futuristic sunglasses.
Making a Moment For Matching
Sporting a Bold Yellow Bikini
Keeping It Cool in Black
Rita wore a Prada bag with a high-cut black swimsuit.
Rocking a Tan in a Zigzag Bikini
Matching Her Hair to Her Swimwear
Opting for a Bandeau Striped Suit
Taking it Easy in a Flesh-Colored Bikini
Kicking back in Big Sur, CA, Rita chose a sexy beige bikini by Tezenis.
Playfully Posing in Chevron Print
Heating Things Up in Bright Red
Kicking Back in a Patch Bikini
Rita snapped her toned body in a white Tezenis bikini, complete with a selection of cute patches.
Wearing a String Polka-Dot Bikini