When it comes to wedding sparkle, these are the lucky ladies who have worn some of the most beautiful, impressive, and historic items around. The centuries-old pearls and jewel-encrusted headpieces are something to behold, but whether it's a broken tiara, mystery diamonds, or precious gems with hidden meanings, there's usually also a tale to tell when it comes to royal wedding jewelry . . .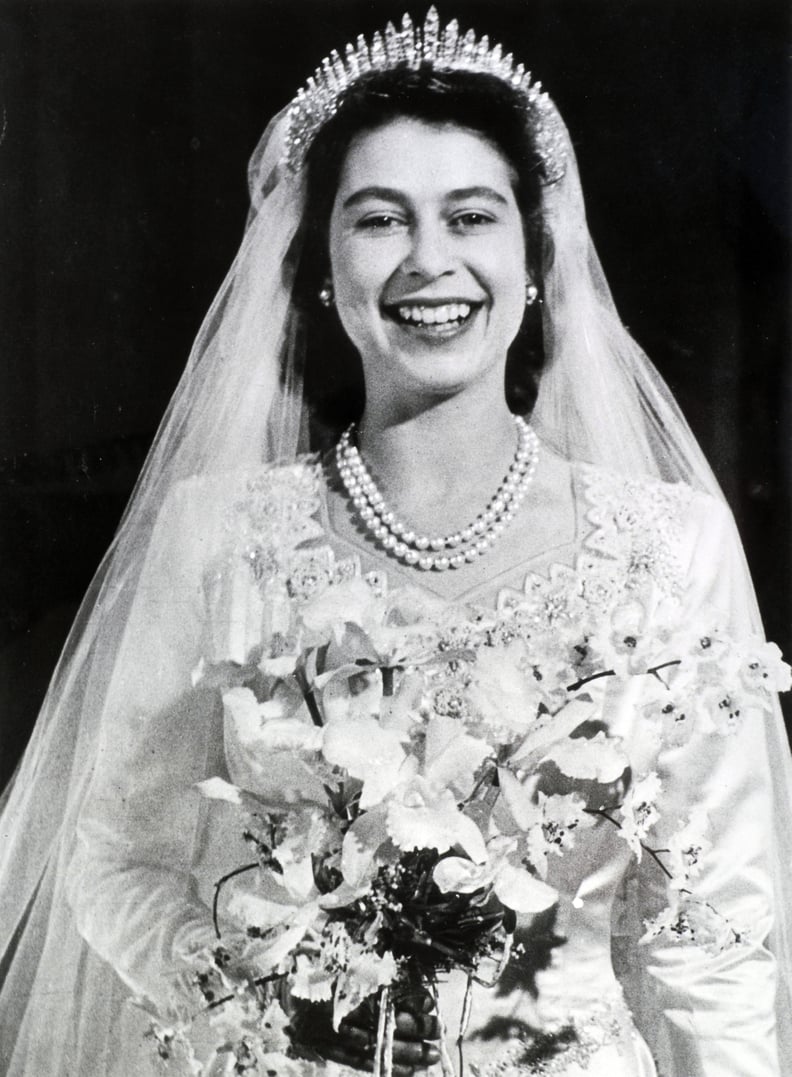 The Queen, 1947
Look closely to the left of the central diamond spike on the tiara, and you'll see that the gap is bigger than the one on the right . . . This is because the tiara broke on the then-Princess Elizabeth's wedding day and was raced across London with a police escort to be mended by the royal jeweler. Queen Mary's Fringe Tiara was originally made from a necklace that Queen Victoria gave to her granddaughter-in-law Mary on her wedding day. Mary then passed it on to her daughter-in-law the Queen Mother who lent it to her daughter Elizabeth as her 'something borrowed.' The diamond and pearl cluster earrings had also belonged to Queen Mary, and originally featured detachable pearl and diamond drops. However Mary made the separation permanent when she gave the top clusters to her granddaughter Elizabeth when she was 19, keeping the drops for herself to be made into another pair of earrings.
The tiara-tastrophe wasn't the only jewelry drama on the future queen's wedding day. The pearls were a wedding present from her parents and had been displayed along with the rest of her gifts at St James's Palace, so an aide had to borrow the King of Norway's limousine to fetch them. The two separate necklaces are among the oldest in the royal collection. The shorter is made of 46 pearls and was worn by Queen Anne in the early 18th century, and the longer is made of 50 pearls and belonged to George II's wife Queen Caroline in the late 18th century.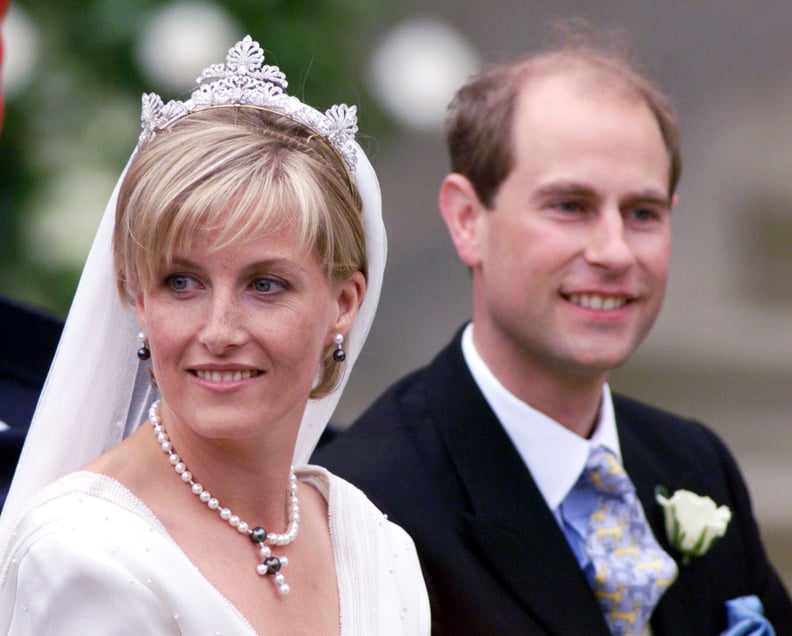 Sophie Rhys-Jones, 1999
Mystery surrounds Sophie's wedding tiara, but it's thought to be made up of four pieces from a diamond circlet belonging to Queen Victoria. It seems to have been a wedding gift from the queen, as Sophie has worn it many times since.
The white and black pearl necklace and matching earrings were designed by her new husband Prince Edward.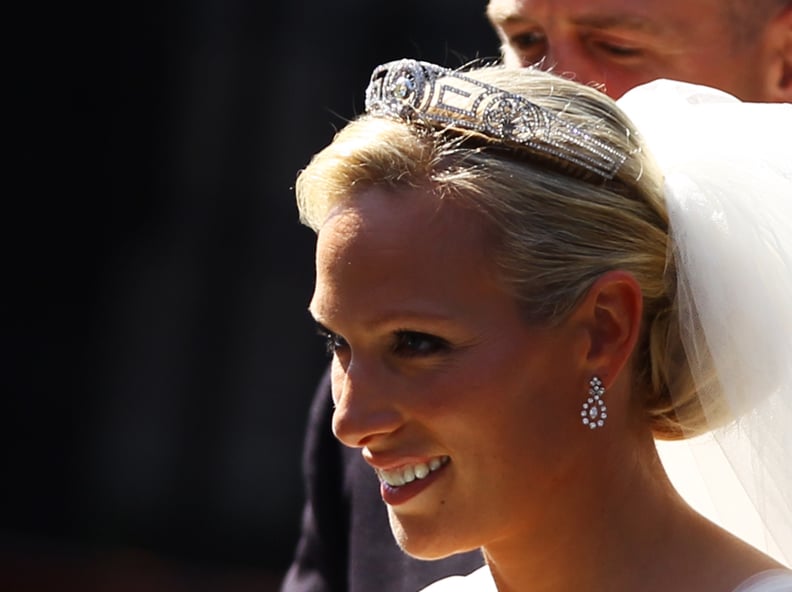 Zara Phillips, 2011
The Princess Andrew of Greece Meander Tiara was a wedding gift to the queen from her new mother-in-law, and she later passed it on to her daughter Princess Anne. The traditional Greek key pattern is set with diamonds, and there is a large diamond in the center.
The tiara wasn't the only 'something borrowed' that Zara wore from her mother's jewelry box. The diamond earrings have long been a favorite of Princess Anne, and she wore them when she posed for the cover of Vogue in 1971.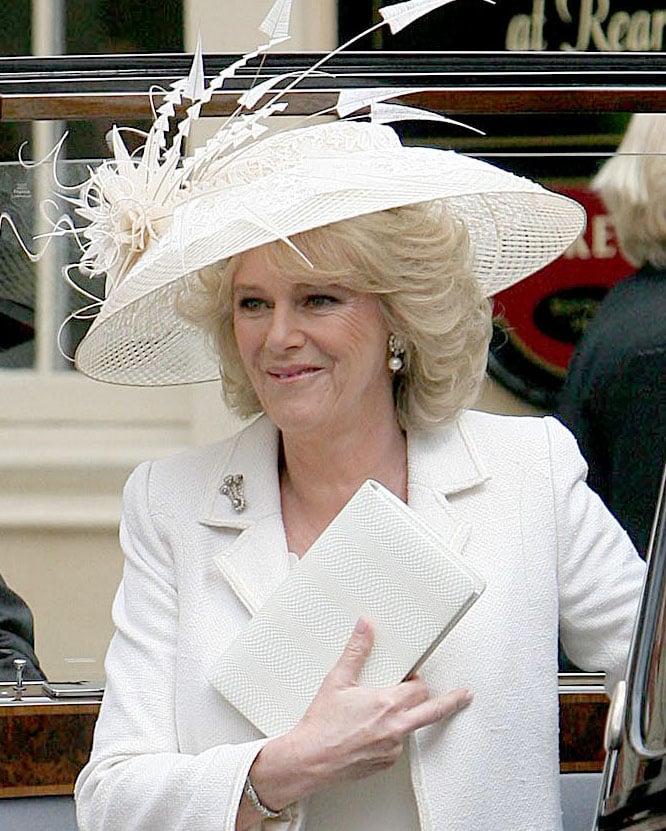 Camilla Parker-Bowles, 2005
For the civil service part of her wedding to Prince Charles, Camilla was decked in meaningful jewels. The diamond and gray pearl brooch features her husband's emblem, The Prince of Wales Feathers, and was apparently a gift from him when they first went public with their relationship.
The pearl and diamond earrings had belonged to the Queen Mother and were therefore another gift from her new husband.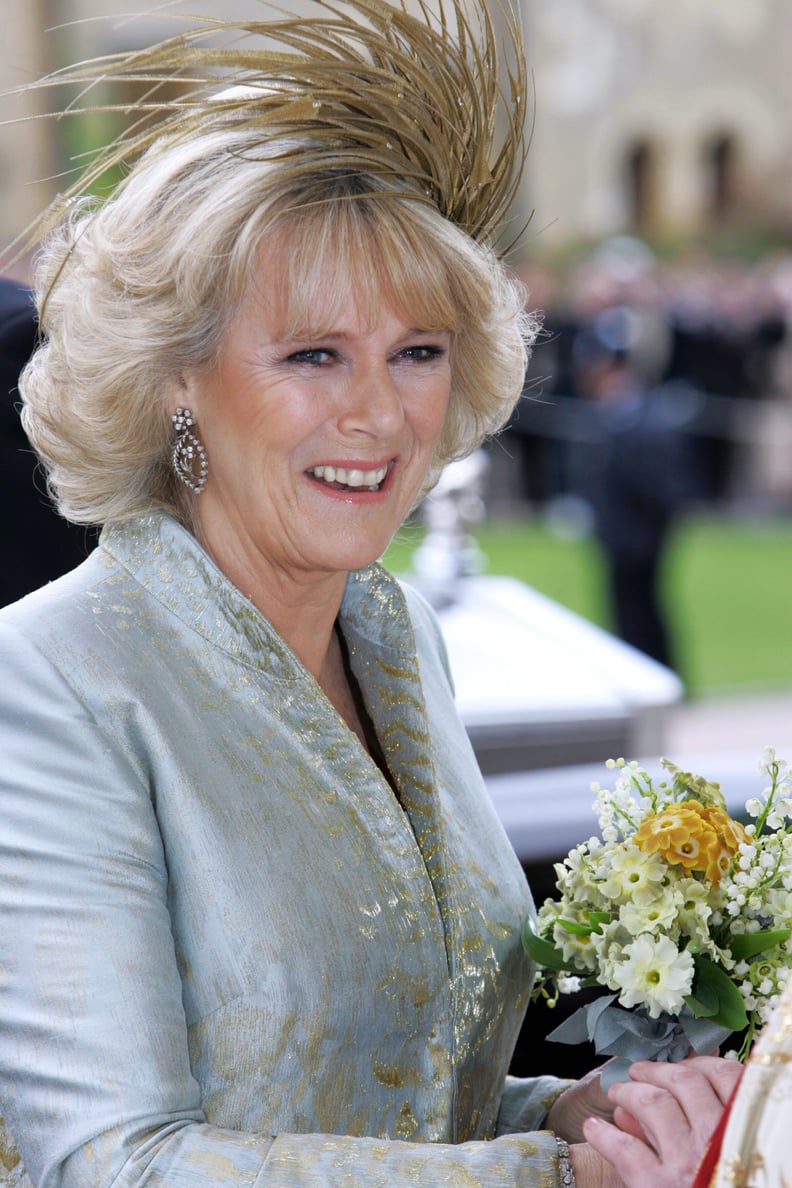 Camilla Parker-Bowles, 2005
For the church blessing part of her wedding day, Camilla wore a pair of diamond flower pendant earrings, which she then lent to her daughter Laura on her own wedding day the following year.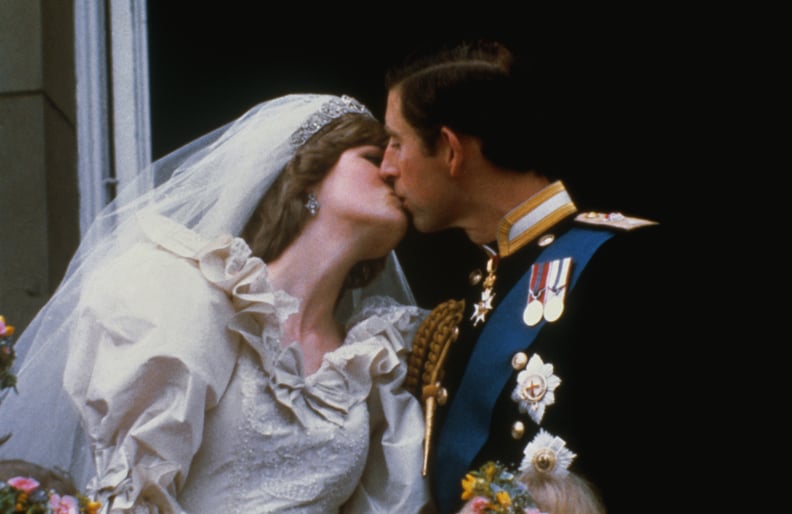 Lady Diana Spencer, 1981
Although one of the queen's weddings gifts to Diana was the Cambridge Lover's Knot Tiara, the new princess decided to wear the Spencer family tiara instead. Decorated with delicate diamond tulips, foliage and star shaped flowers, the origins of the tiara are unknown, but it is thought to be made from a mixture of old jewelry and was worn by her two sisters and sister-in-law on their weddings days.
The diamond earrings were Diana's 'something borrowed' from her her mother Frances Shand Kydd.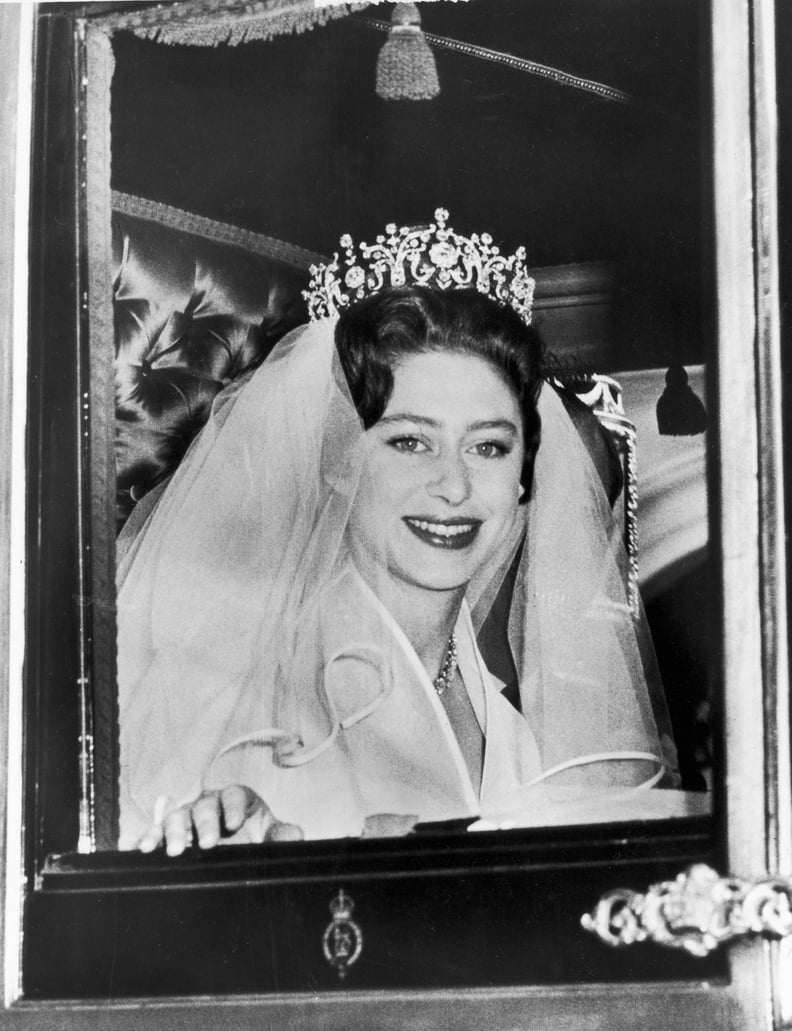 Princess Margaret, 1960
Who needs other jewelry when you've got this crowning glory on your head? Princess Margaret had bought the Victorian Poltimore Tiara for herself, and it was the perfect accompaniment for her towering wedding day beehive. Elaborate and whopping, the tiara can be broken down into a necklace and 11 brooches.
Margaret also wore a substantial diamond collet necklace, which had belonged to her grandmother Queen Mary.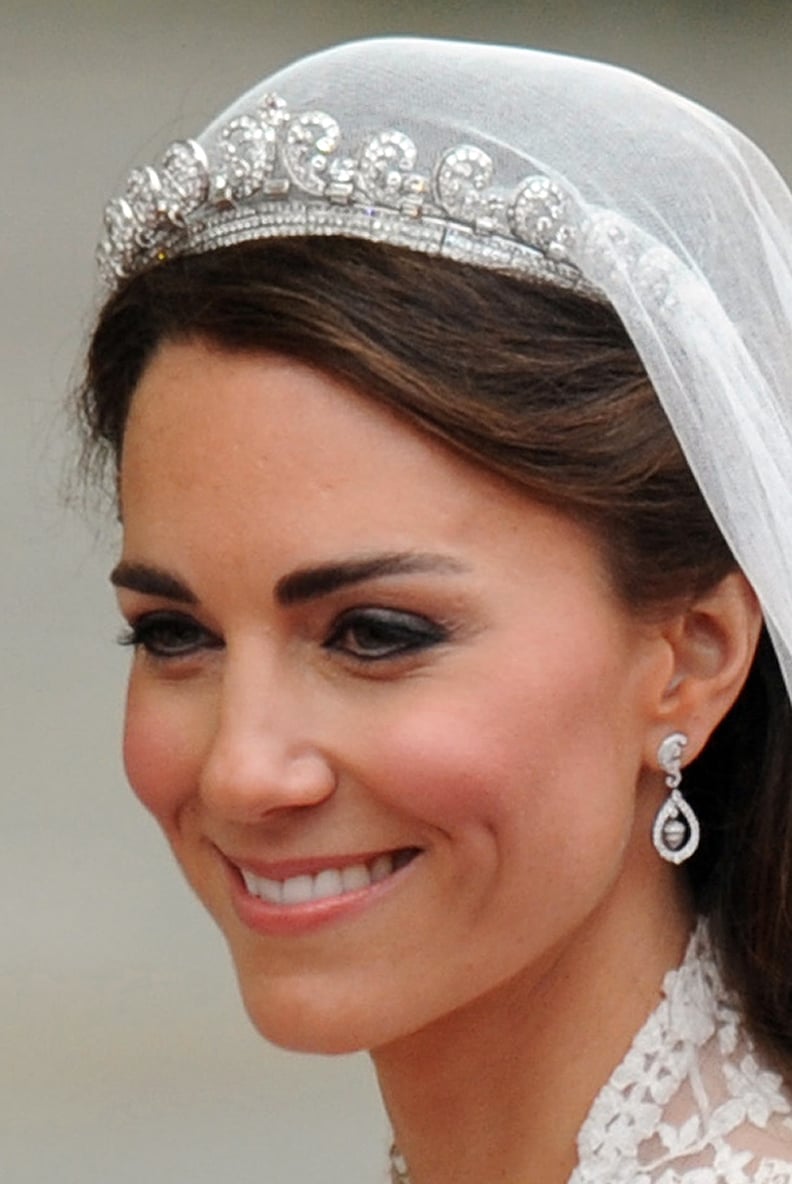 Kate Middleton, 2011
It was the first time Kate has worn a tiara, and she chose the Cartier Halo as her 'something borrowed' from the queen. Made up of diamond scrolls, the piece was a gift from George VI to his wife (the Queen Mother), who then passed it onto their daughter Elizabeth for her 18th birthday.
The diamond earrings by Robinson Pelham were Kate's 'something new' and a gift from her parents. Inspiration was taken from the tiara's scroll design, and they also feature diamond oak leaves and acorns in a nod to the famous oak trees of her home county Berkshire.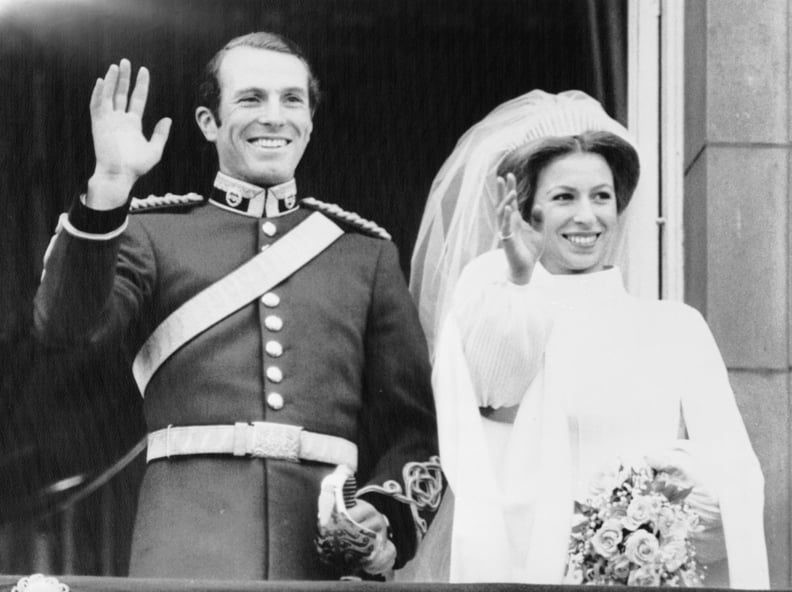 Princess Anne, 1973
The famously understated princess kept her wedding day jewelry simple, but she did follow family tradition and wore a tiara with her veil. And it wasn't just any tiara. Her 'something borrowed' was Queen Mary's Fringe Tiara, which her mother the queen had worn on her own wedding day — although it had been properly mended by then.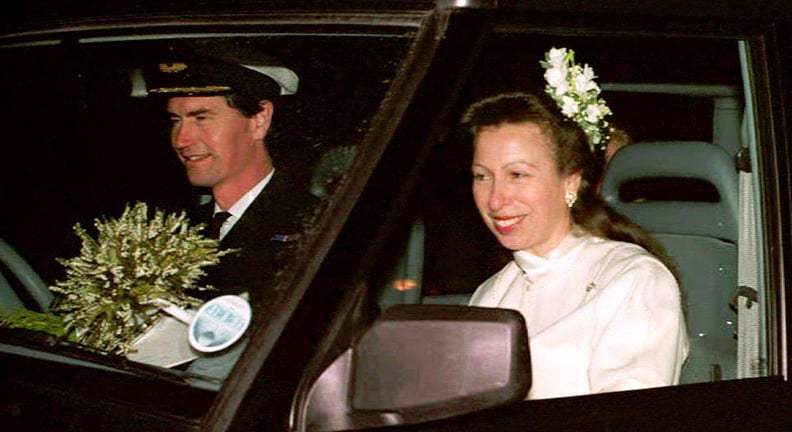 Princess Anne, 1992
For her second wedding the princess wore flowers in her hair and her favorite pair of earrings. The jewels had been a gift from a shipping company when she launched one of their vessels and swiftly became her go-to dress earrings. They feature pearls surrounded by gold and diamonds, and were made by royal favorite Andrew Grima.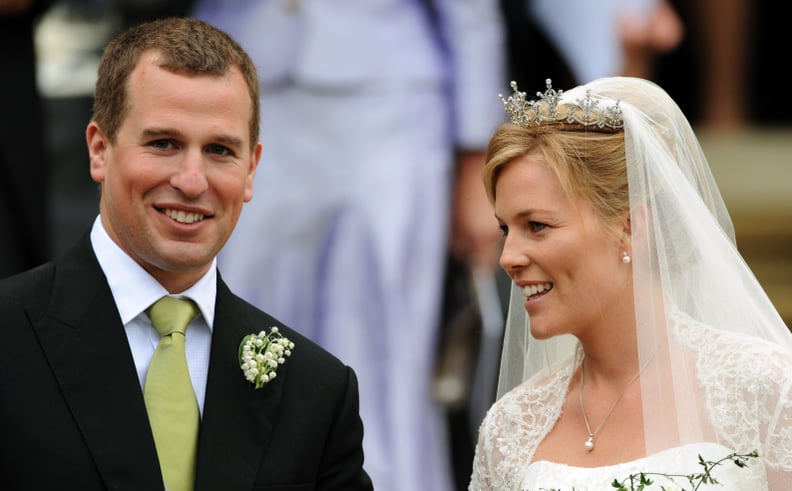 Autumn Kelly, 2008
For her wedding to the queen's eldest grandson Peter Phillips, Autumn's 'something borrowed' came courtesy of her new mother-in-law Princess Anne. The Diamond Festoon Tiara was given to Anne in the 1970s, when it was common practice for shipping companies to lavish their royal patrons with gifts when they launched one of their vessels.
Autumn's 'something new' was from her groom. Peter gifted his bride with a pearl drop pendant and matching earrings.