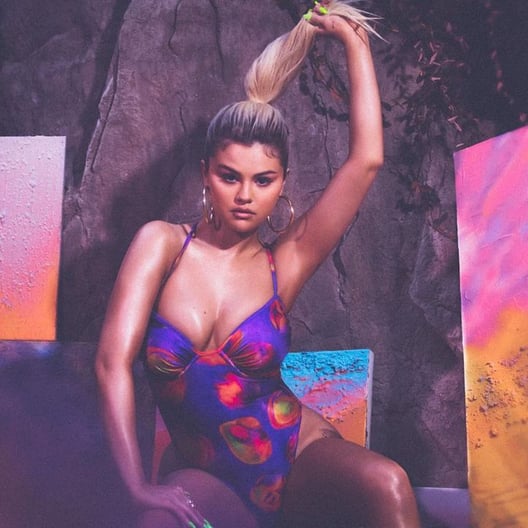 If there's one thing we love about Selena Gomez, it's that she's always game to show off her stylish swimsuits, from her more casual poolside looks to her La'Mariette collaborations. After all, she's hot and she knows it. In fact, when the star called the TJ Show and was asked to rate her hotness on a scale from one to 10, she said, "On a good day, I would say — like a premiere day — I would be a good nine. And then, on my every day, I feel like a six. Gosh, that sounds so bad! I feel like a six or a seven." But from the look of Selena's confident, sun-kissed bikinigrams, for which she changes her style based on the prints, colors, and cuts of her suit, we'd say she's a definite 10 at all times. Scroll to find 21 times Selena proved she can work a swimsuit like it's nobody's business.
01
Selena Herself Inspired the Print on This Suit
The "Aura" design is part of a collaboration she worked on with her friend Theresa of La'Mariette.
02
She Went For a Sporty Look in Blue
Also from La'Mariette, this one-piece was named after Selena and helped celebrate the brand ethos that all bodies are beautiful.
03
Selena Wore This Ribbed White Design
04
Selena Worked a Two-Toned One-Piece
05
She Untied Her Halter Suit to Stay Carefree
06
Selena's Black Roped Bikini Was Actually From a Photo Shoot
07
She Played Up Her Printed Halter With a Delicate Necklace
08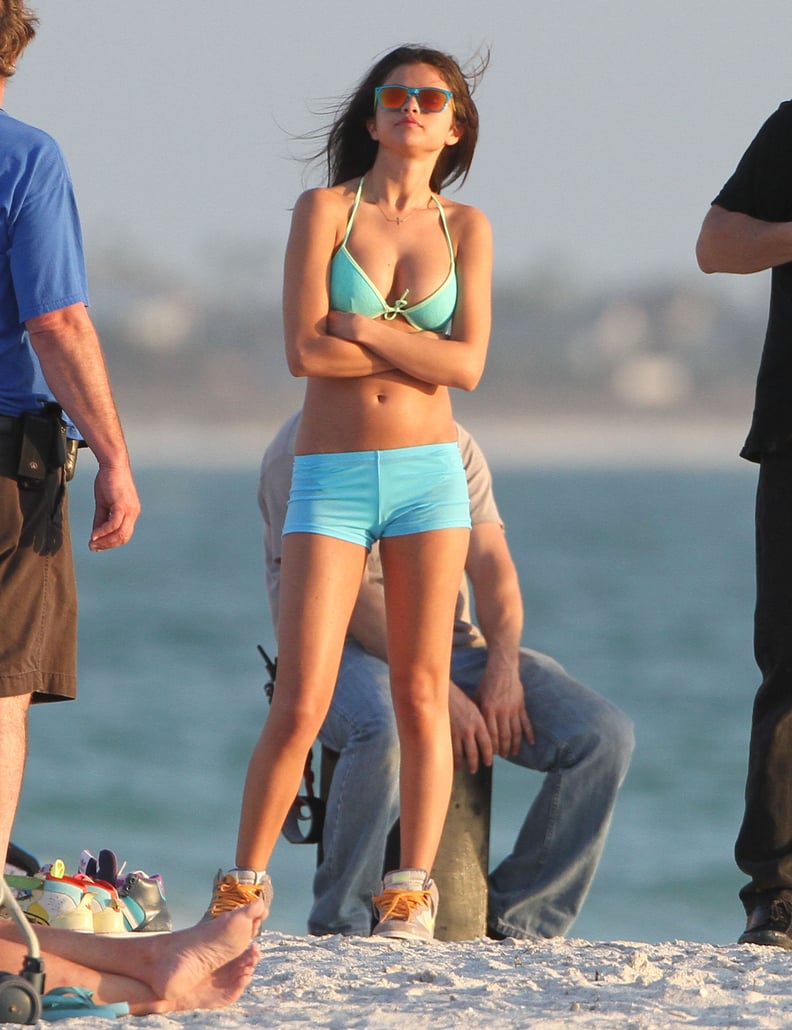 Selena Made a Statement in Electric Blue on the Beach
Her 2012 look from Spring Breakers was complete with high-top sneakers and mirrored sunglasses.
09
What Bikini Is Complete Without a Stylish Pair of Sunglasses?
Selena loves her Ray-Bans.
10
There Was That Time She Sparked Our Obsession With Off-the-Shoulder Suits
11
She Showed Off Her Orange Two-Piece in Braids
We're getting '70s vibes from those round sunglasses, too.
12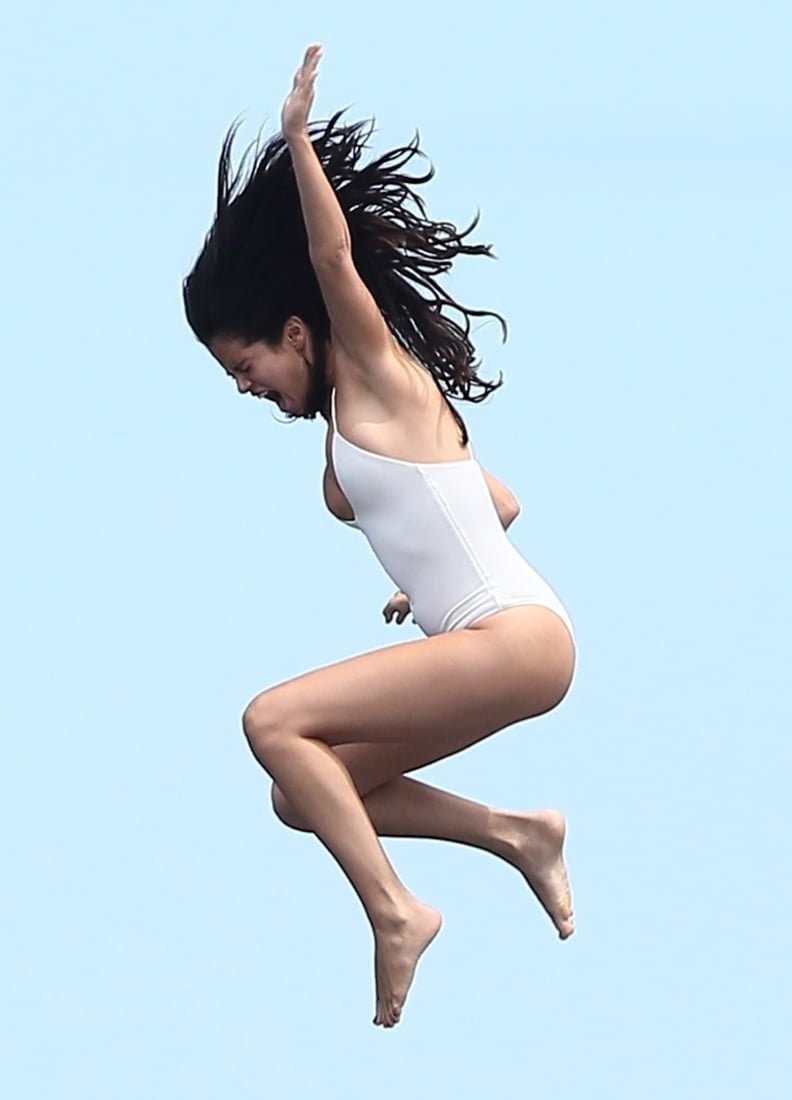 Selena Took the Plunge in an All-White Suit
13
And Soaked Up the Waves in a Bright Ruffled Bikini
14
She Went Full-On Boho Goddess With the Help of Some Florals
15
And Flaunted Her #OffDuty Look in Strappy Zebra Print
16
Of Course, Selena Hit the Beach With a Stylish BFF by Her Side
17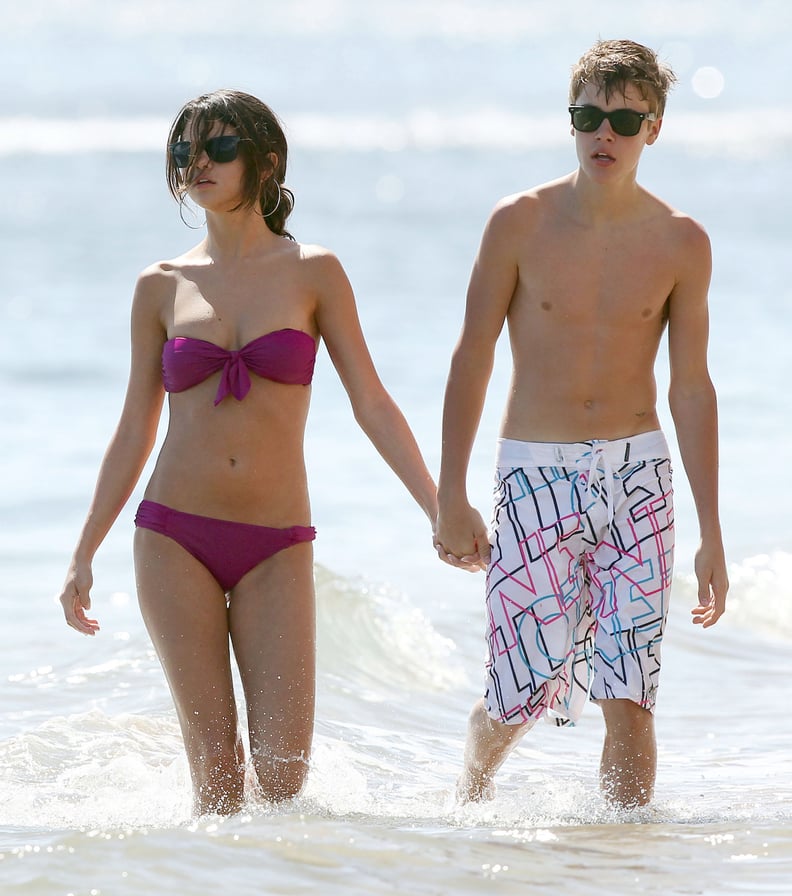 Justin Bieber's Suit Played Up Selena's Hot-Pink Set Way Back When
18
If You're Going to Wear a Bikini in an Elevator, It Might as Well Make a Statement
19
She Knows When to Cover Up — Right Before Sunset
20
Selena Took a Selfie in Her Romantic Rose-Covered Bustier
21
And When It Comes to a High-Waisted Design, She'll Show You Who's Boss
She totally rocked this print in the hot tub.