Why This Supershort Fashion Editor Will Never Wear Heels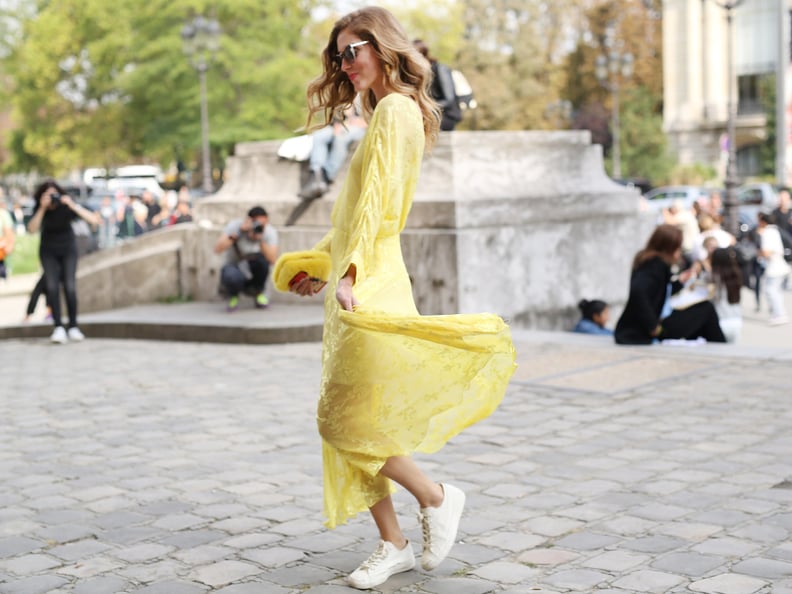 There's nothing I love more than the look of a sleek, strappy stiletto with a formfitting midi dress. I just bought — and don't plan on taking off — my flared jeans, and I know how good they'd look with suede platform wedges. And get this: I have the perfect excuse to slip into heels. I'm 5' 2" (on a good day). I'm a short fashion editor, surrounded by reasons to shop for footwear all day long. So what's the problem? I hate wearing heels.
There are plenty of reasons why my taller shoes collect dust in the back of my closet, and it pretty much boils down to comfort. Every time I have broken out my heels — whether it be for a night out with friends or a workday morning I felt particularly determined to stand tall — I've been disappointed.
Since my feet aren't used to being so elevated, I've collected blisters, which have only affected my comfort while running, something I do every morning. What's more, wearing heels has become a mental issue for me. Once I slip them on, the same thought runs through my head until I take them off: "Is it time to sit down yet?"
I don't have particularly wide or narrow feet. I have an average arch, and I can fit into most shoe styles. So yes, it does frustrate me that the pairs I love so much are the ones that will ultimately cause me so much misery.
And let's get one thing straight: I'm not talking exclusively about superhigh heels or stilettos. I barely feel relaxed when I'm wearing booties. In fact, I even carry those to the office with me, opting for my Nike trainers for the 20-minute trek to and from the train station.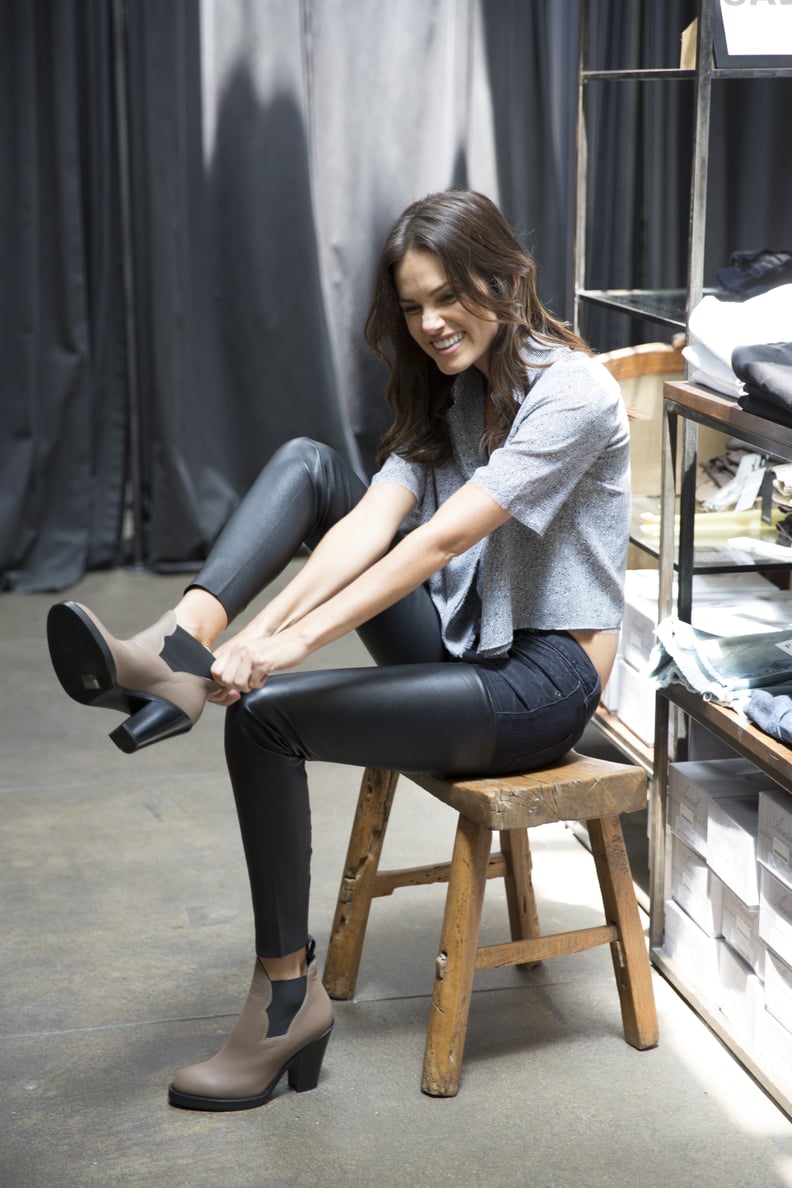 So, you may ask, how do I feel when I go out with my best friend, who towers over me at 5' 10", and she's wearing the patent leather Christian Louboutin pumps she finally splurged on? I'm totally jealous. Her legs look superslim and toned, and I feel as though mine appear stocky when I'm standing by her side in my Chelsea ankle boots.
And how does my boyfriend (who's the same height as she is) feel about all this? Well, I'm pretty sure he's glad I'm not trying to reach his level with some seven-inch stunners. So at least my go-to pony-hair leopard loafers that I regularly pair with my cropped trousers make him happy.
While there are plenty of moments I indulge in shoe porn — whether it be on Pinterest, when I'm online shopping, or during Fashion Month, when I'm obsessing over a flawless street style look that starts with the foundation of really great two-tone peep-toe mules — at the end of the day, I'm not willing to change.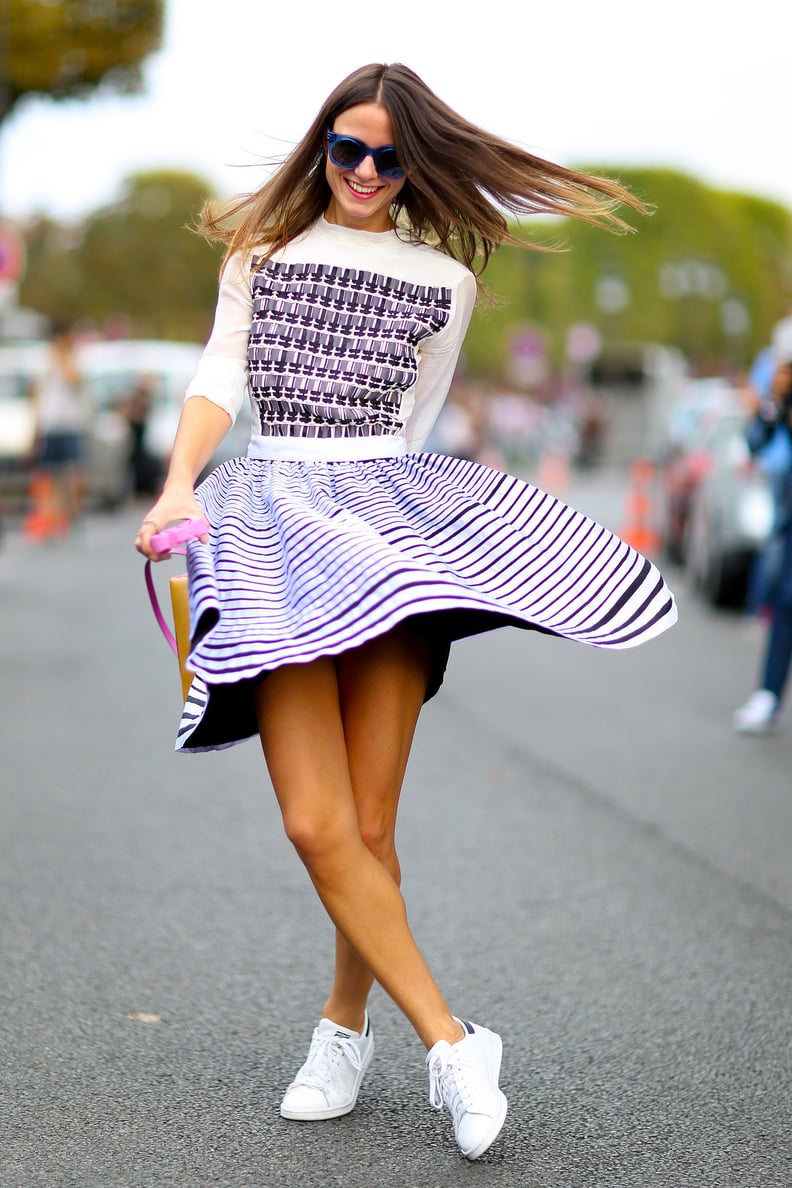 As much as I love the undeniable power high that comes with pulling on some serious heels, the painful comedown just isn't worth it. I'd rather rock my Adidas Stan Smiths with a quirky printed dress and catch the eye of fellow fashion girls with easy, effortless styling tricks.
I'd rather indulge in the dream bag that I've always wanted or superchic sunglasses that don't slip down my nose than spend my latest paycheck on those snakeskin Aquazzura heels that — OK, I'll admit — I love to stare at and often pair with the imaginary outfits I plan out in my head as I fall asleep.
Listen, even though I'm a short girl in a ridiculously tall fashion world, I'm still confident. I still do a lot of the same things that all stylish women do every day, even if I'm doing them in flats. And when I'm riding the subway and it unexpectedly jolts to a quick stop, the girl wearing heels to my left will struggle, jostling the passengers around her. But I bet you I'll still be standing up straight. Source: Tim Regas / @wheresmydriver, POPSUGAR Photography, IMAXTREE