Why It's the Year to Wear What You Like — Not Dress For Your Type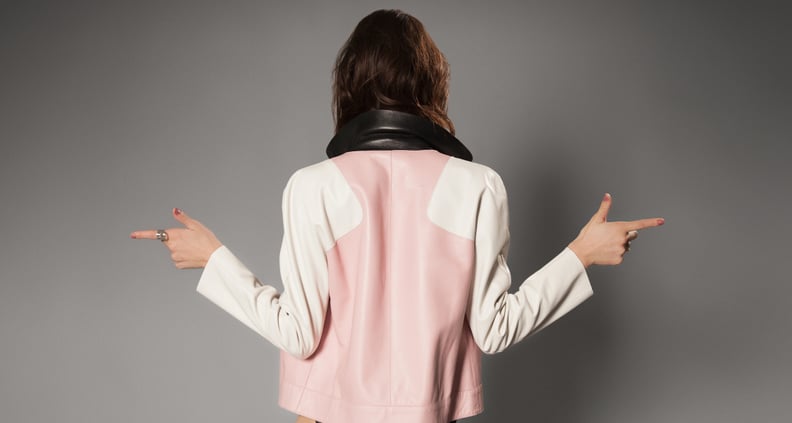 I was going to a company party where the dress code was Casino Royale, and my mind immediately flashed to the emerald-green Calvin Klein gown Kendall Jenner wore to the Met Gala.
"Well, what dress did Eva Green wear in the James Bond movie?" I asked my parents, my boyfriend, whoever was sitting in the room.
"All the girls are going to be wearing dresses, Sarah. Why don't you show up in a tux?" my dad asked. Wait, why the hell didn't I show up in a tux?
A few weeks later, my co-workers discussed the extreme lengths they were going to to find a dress for the party. Plenty of them planned to rent floor-sweeping designs, but I stood there smiling to myself, picturing the trousers and black silk blazer I had paired up at home. I asked my guy friend Ryan for a bow tie. I was going to feel totally comfortable in a look that — my dad was right — was so totally me. Not because I don't love Kendall Jenner's Met Gala dress, or because I don't appreciate a princess gown. Simply because I like pants. Why shouldn't I wear them, even if it's still considered "conventional" for a woman to show up to a gala in a dress?
As it turned out, there wasn't one little cocktail number at the party that I liked more than my slacks. And frankly, I was surprised there weren't more ladies all dressed up like Bond. I know plenty of women who prefer pants and flats over slinky maxis. It forced me to wonder when we'll all just start wearing what we like. When will we leave those preconceived notions — that boys wear suits and ties while girls wear skirts — in the dust? Well, I guess the industry has to first, and it's happening gradually. Image Source, above: POPSUGAR Photography / Sisilia Piring. Product Credits: Only Hearts onesie, Longchamp jacket, Gabriela Artigas ring, Common Muse ring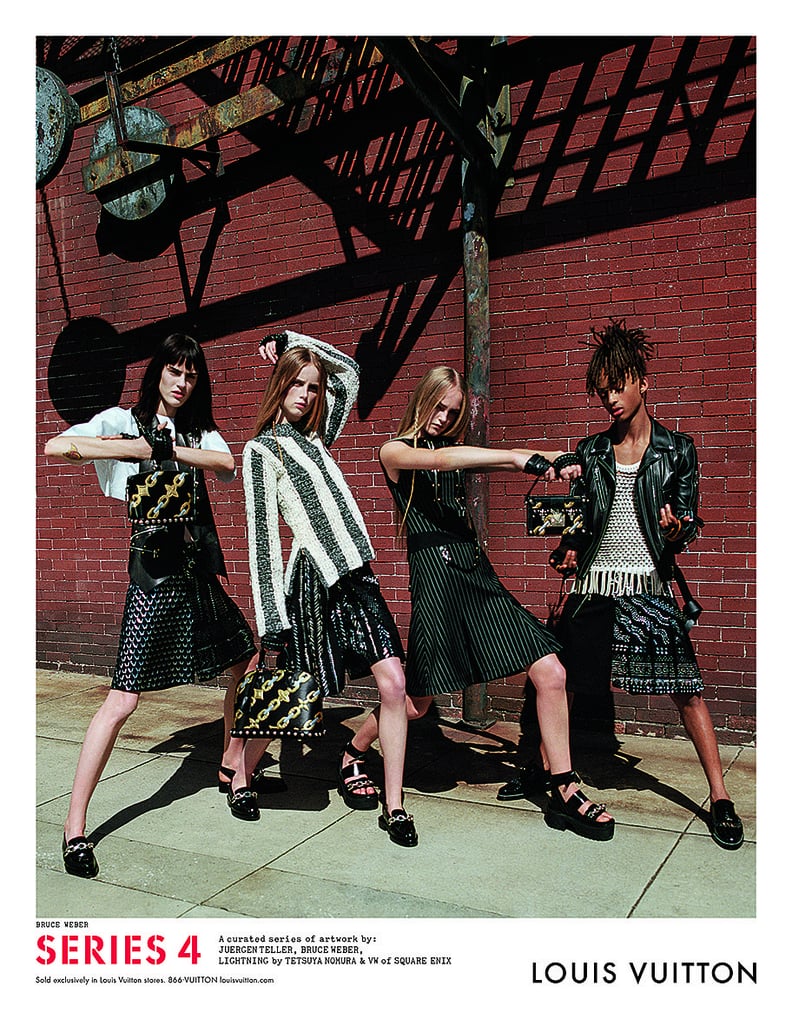 Louis Vuitton's Spring '16 womenswear ads featured a lineup of models in edgy dresses and skirts against a brick wall. Jaden Smith was one of them. "Thank you so much @louisvuitton and @nicolasghesquiere For The Opportunity To Impact This World," the 17-year-old son of actors Will Smith and Jada Pinkett Smith wrote on Instagram, with a shot from the campaign.
"[Jaden Smith] 'represents a generation that has assimilated the codes of true freedom, one that is free of manifestoes and questions about gender. Wearing a skirt comes as naturally to him as it would to a woman who, long ago, granted herself permission to wear a man's trench or a tuxedo,'" Louis Vuitton Creative Director Nicolas Ghesquiere told the New York Times in a feature that spotlighted the image.
The author, Vanessa Friedman, writes, "[Jaden] is a man who happens to be wearing obviously female clothes. And while he doesn't look like a girl in them, he actually looks pretty good." That's right. Jaden looks damn good in a skirt, and it's not the first time he's worn one.
The young style icon posed for Vogue Korea in a black wrapped mini, and he bought a striped sweater dress from Topshop back in August 2015, clarifying on social media that he was wearing clothes, not girl clothes.
He wore his long blazer with a crisp cream skirt on prom night, and when standing next to his date, Amandla Stenberg, their colorblocked looks complemented one another perfectly. And yeah, the two-tone effect played up his Pumas quite nicely.
So why Jaden's willingness to wear whatever he likes, completely unabashedly and despite gender "norms?" Maybe because he's a member of Generation Z. While he has been placed in the "gender neutral category," included in this NY Times breakdown chart, I would argue that his fashion moves reflect the "you do you" mentality of today's current teenagers, described by Rob Callender, a director at the Futures Company who is quoted in the accompanying article.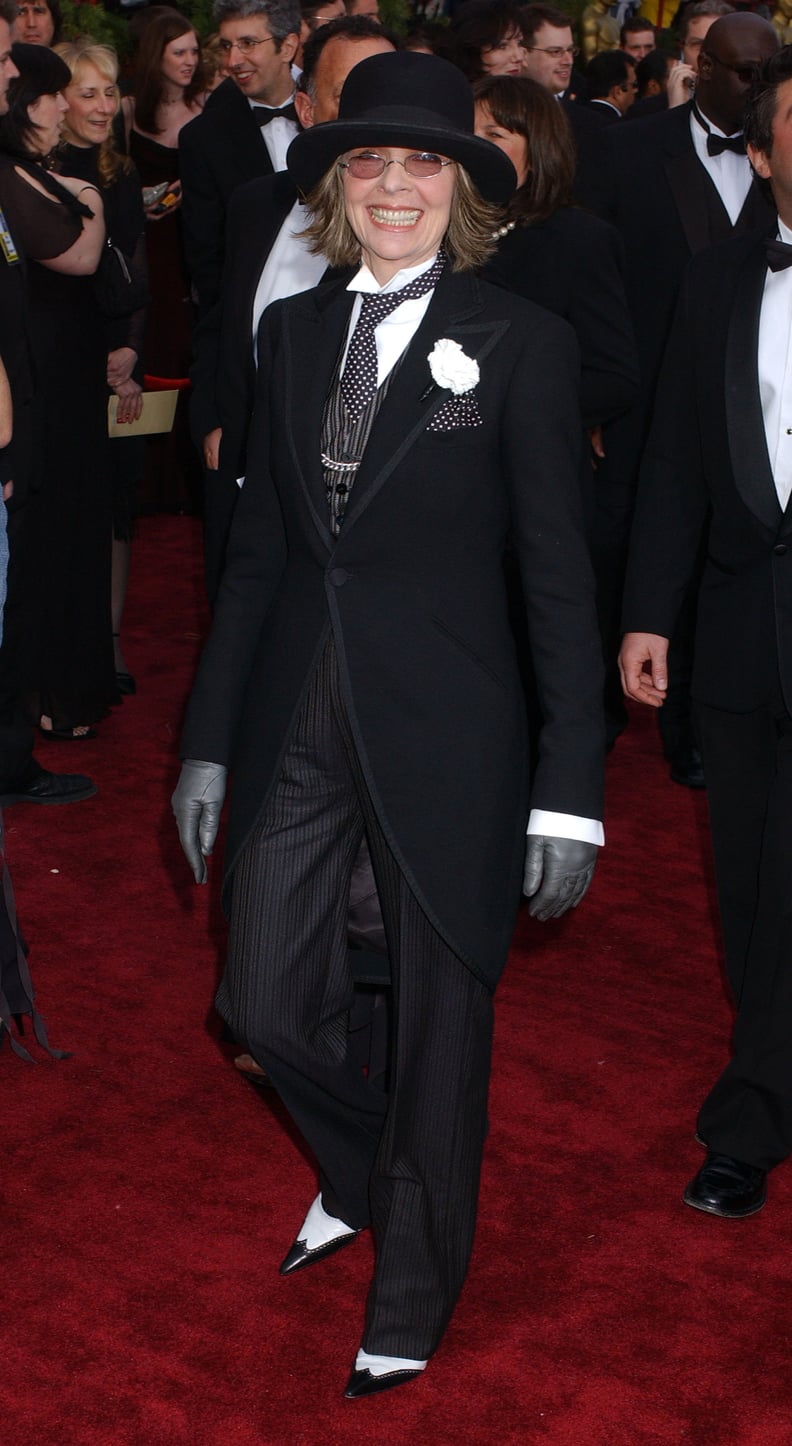 Diane Keaton wearing a suit at the 76th Annual Academy Awards.
A young person like Jaden might be surrounded by a whole group of friends that do not directly equate clothing with gender. But those in the public eye who came before him — like Diane Keaton, who has worn suits on the red carpet since her rise to fame in the '70s — made waves. With time, Diane became an icon because she never seemed to be dressing in any manner because she "should be" and instead did so simply because she liked it. To us, her fashion-forward thinking remains influential, but now I don't look twice when I see a photo of Jaden in a skirt. He's just staying true to his signature style.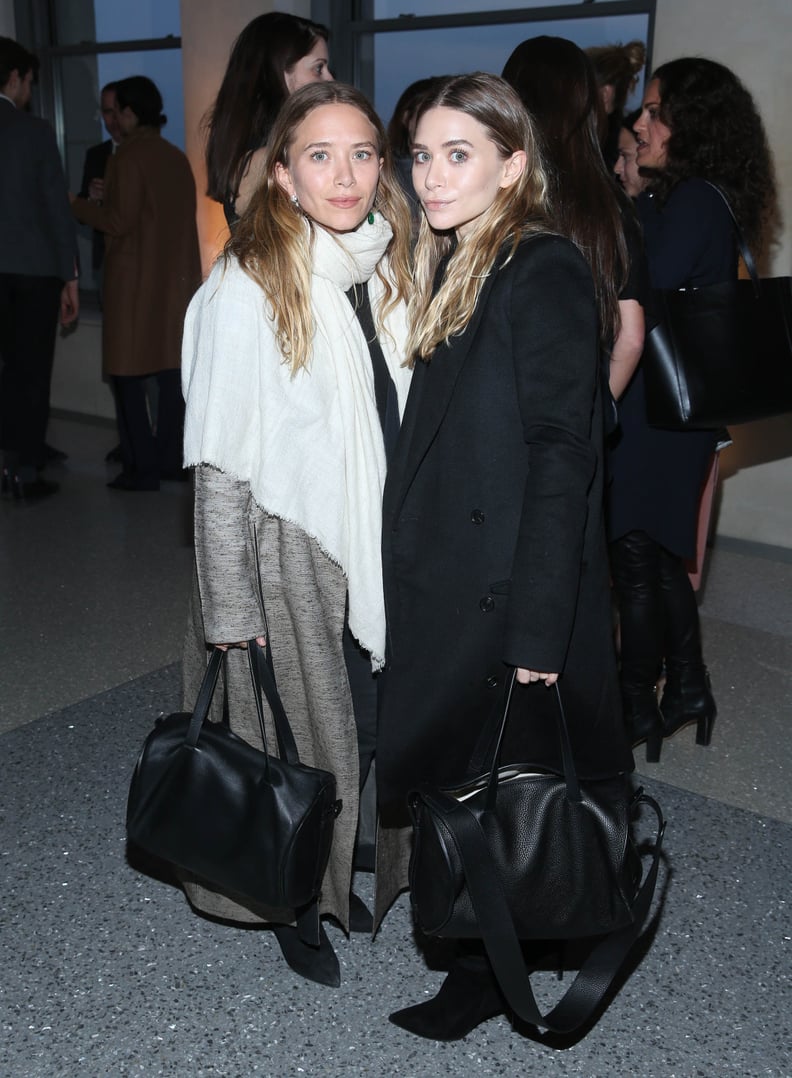 Take the Olsen twins, for example. As the duo graduated from their movie stardom and became designers, they embraced sophistication with smart tailoring instead of shorter hemlines. (There's nothing wrong with a sexy mini; they're just not for Ashley and Mary-Kate.) Whether they are on the street or at the Met Gala, the Olsens dress for comfort and for themselves — quality coats, roomy leather satchels, flats, and oversize scarves that are cozy, yes, but also draped with aesthetic in mind. That same look is reflected in their collections for The Row. Mary-Kate and Ashley design and wear clothes that they love. Maybe we're used to their image. Maybe they'll never fully surprise us. But that's because they're just wearing what they like. In my opinion, that's a real treat.
So was seeing both male and female models cast in runway shows this past Fashion Week. Both Rag & Bone and Tibi showed unisex clothing that I could really get behind, from bright separates to pants that pooled to the ankles, so you could just make out a slip of shoe. Even before women's Fashion Month began, ladies stomped the catwalk at Men's Fashion Week in Europe. Noah Johnson refers to these mixed collections as "inclusive fashion" in New York magazine, writing:
"The effect was that [female models] served as punctuation for the menswear, proof that a well-cut trouser . . . or the silhouette of a double-breasted overcoat has universal appeal. It wasn't so much about sharing clothes with your girlfriend as it was about how satisfying and simple good style can be."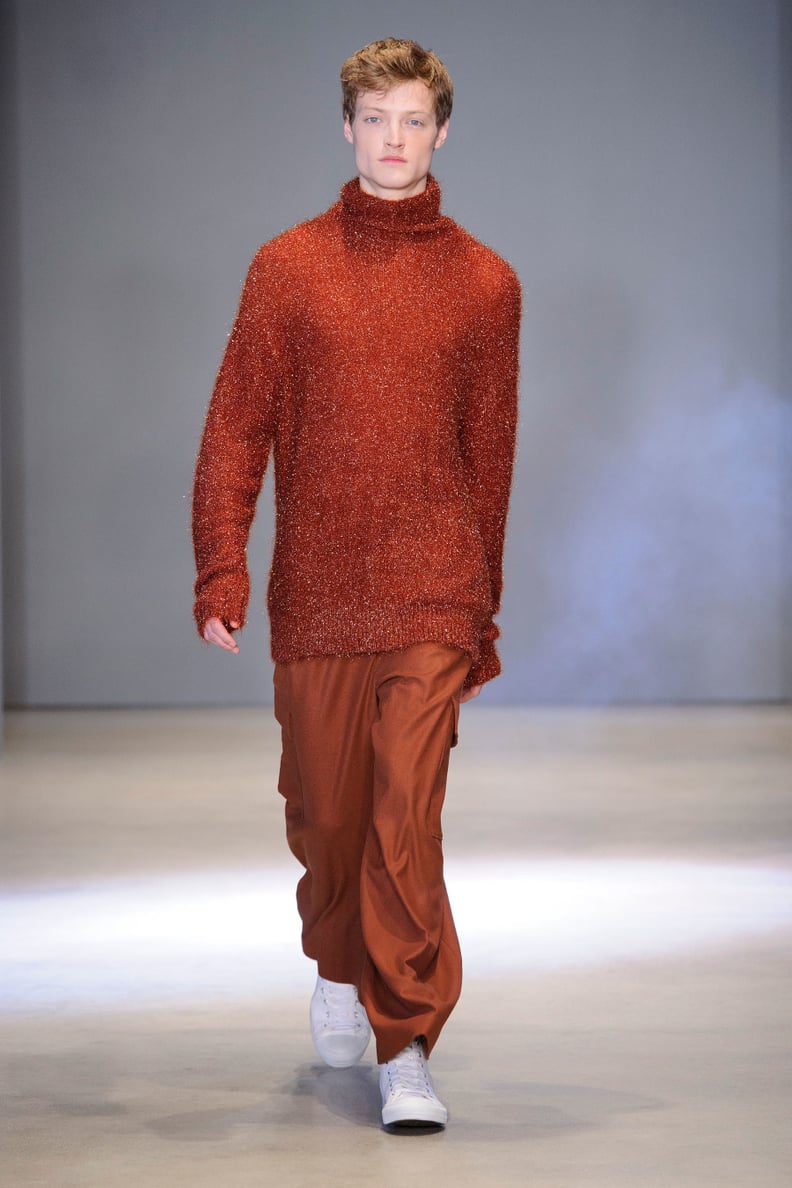 A look from Tibi's Fall 2016 Collection.
Isn't that a lovely notion, that when we think of styling tricks, quality tailoring, and smart looks, our ideas don't have to be limited by gender? That's what I thought as I sat at this season's Tibi show, admiring a collection full of simple yet sophisticated looks gliding by. Both men and women wore sparkly, fuzzy turtlenecks and trousers, velvet sweaters, and suits with sneakers. I didn't differentiate between menswear and womenswear. I just sat there, choosing my favorite colors, my favorite materials, my favorite looks. "Our dressing choices help communicate who we are, ideally in a way that makes us feel confident and natural," read the notes of inspiration. That's how the runway show appeared to me: fluid, natural.
It's how Zara's new "ungendered" section looks as you scroll down the product page. Crisp, neutral tees and sweats are placed two-by-two against an all-white interface. I can't help but appreciate the way the tops tuck so cleanly into the true-blue jeans the models are wearing. The outfit combination doesn't look better on the man; it doesn't look better on the woman. It's just an image of good style.
Of course, I wish Zara offered even more "ungendered" options. When I think of pieces that can be considered staples for everybody, I think of accessories, too — ties, striped socks, graphic prints, cropped khakis. But I imagine it won't be long before more items fill the page.
On Valentine's Day — which happens to fall during Fashion Week — my boyfriend Joey dropped me at the train. Usually I'm not one to post selfies, but I hadn't loved an outfit like the one I was wearing in a while. "You have to take a picture of me before I go," I told him when I got in the car, my long black coat covering the outfit I was wearing underneath.
When I got out of the car, quickly shrugging off my jacket, Joey didn't just start laughing; he was cracking up. "You look like a boy," he finally managed, but with a note of love in his voice, I promise. "Like a leprechaun boy." Maybe I did look a little like a leprechaun, thanks to the kelly-green plaid, but I didn't feel like a boy. I just felt comfortable. I felt like myself.
"Make sure you can see my starfish pin," I warned my personal photographer as I straightened the golden brooch that my dad gave to me years ago. He never told me so, but I knew he was excited to see me pull it out of my jewelry box. I imagine that when he gave it to me, he pictured me wearing it just like this . . . with a really great pair of pants.