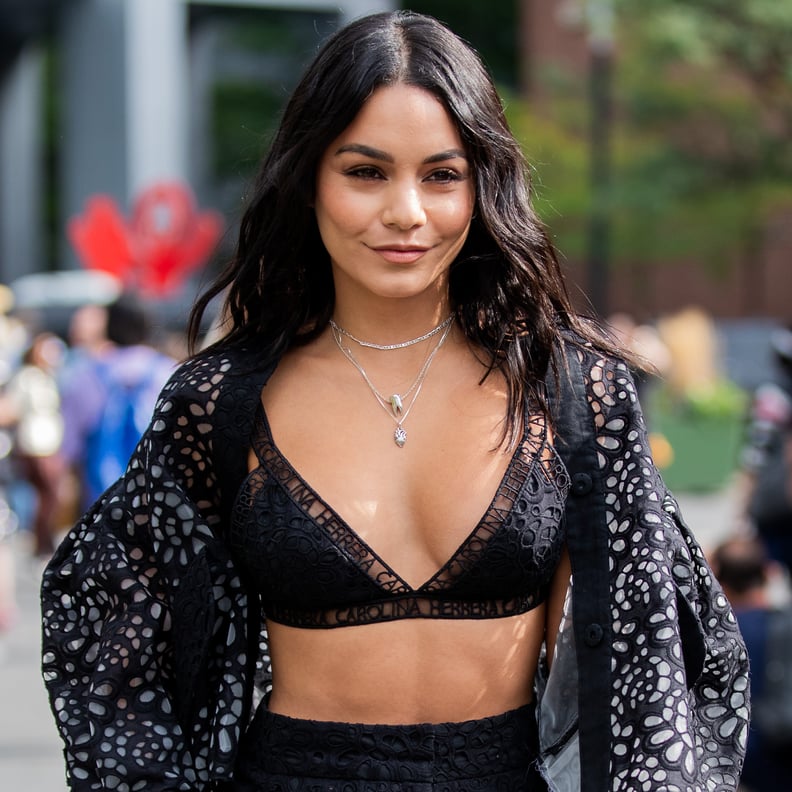 Vanessa Hudgens has been collecting thongkinis, summer 2022's most prominent swim trend, for years. The 33-year-old "High School Musical" actor is, in essence, the queen of swimsuits, as one of the celebrities who most often induces beach envy on Instagram. Hudgens typically reaches for the thongkini style, which involves an ultra-high-leg bottom, pulled up above the hip to the waist line, and a thin, triangular strip of fabric at the back. She shops many fashion-favorite resort-wear labels for her beach-ready looks, including 437, Hunza G and Naked Wolfe.
But it's the way Hudgens expertly styles her suits that fans admire, making the thongkini all her own. Whether it's a three-piece set that includes a matching headscarf or layers upon layers of body chains and retro sunglasses, she never strays from her signature bohemian aesthetic.
In 2022 alone, she's rocked a turtleneck two-piece for a photo shoot, worn a vibrant watercolor print in Italy, and perfected Barbiecore in hot pink while on a boat. But she's also carried out even more themes through the years, beyond the aforementioned few.
Ahead, backtrack on some of Hudgens's best poolside moments through the years.
Vanessa Hudgens's Animal-Print Bikini
Vanessa Hudgens is the picture of bliss in an animal-print bikini while on vacation in the Philippines. Her tiny brown swimsuit features an eclectic leopard pattern. And she revs up the glamour quotient with a gold bracelet, black sunglasses, and layered necklaces.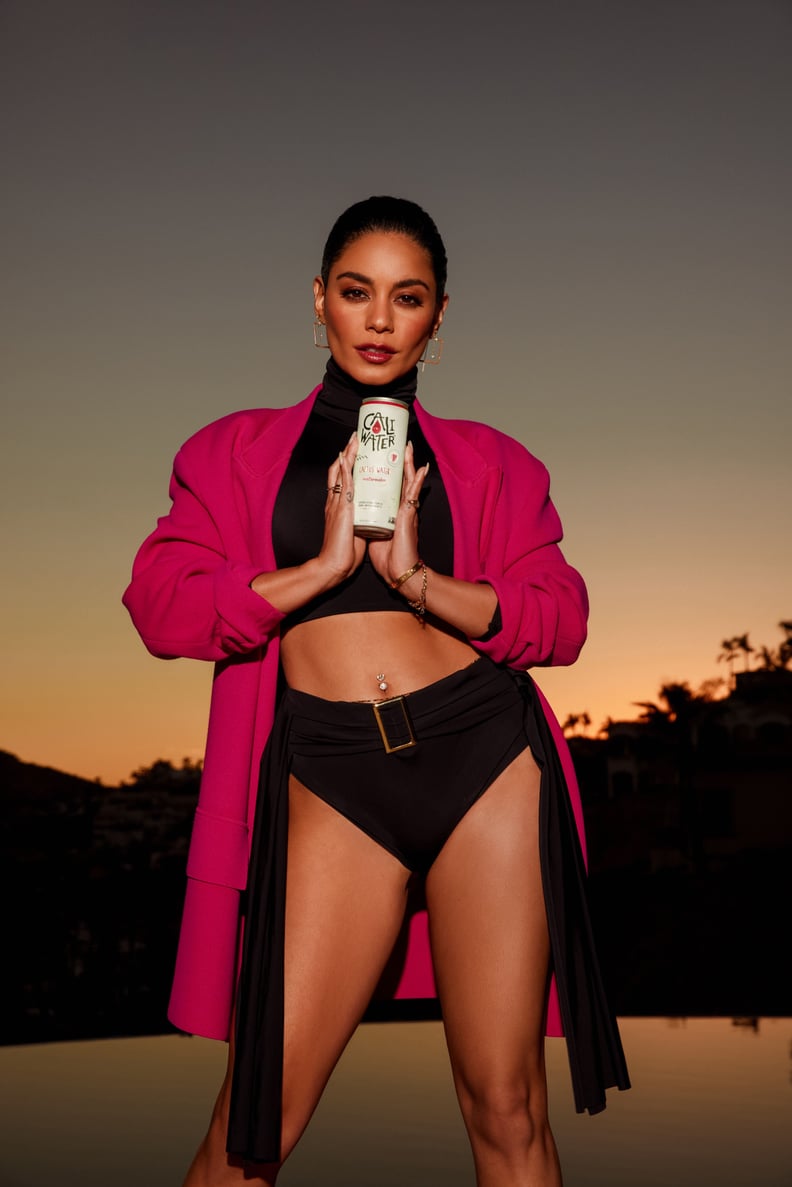 Vanessa Hudgens's Antoninias Thongkini
Hudgens showed off the black turtleneck two-piece that she wore on location in Cabo for a photo shoot for her beverage brand Caliwater. Styled by Rachel Haas, the look was complete with a pink RVN boyfriend jacket and Belladaar jewels.
Vanessa Hudgens's Watercolor Thongkini
Hudgens styled the colorful two-piece with an oversize teal button-down shirt, rectangular black sunglasses, and Naked Wolfe slides while in Italy.
Vanessa Hudgens's Hunza G Thongkini
Hudgens styled a hot-pink Xandra bikini from iconic swim label Hunza G for a boat day in Italy. She finished the look with retro oversize square aviators, an anklet, chunky chainlink necklace, and hoop earrings.
Vanessa Hudgens's Naked Wolfe Thongkini
Hudgens styled the cherry-red designer two-piece for a day at the beach, finishing the look with Givenchy sunglasses, a gold Cartier Love bracelet, several rings, an anklet, and a silver belly-button ring.
Vanessa Hudgens's Fabletics Thongkini
Hudgens's classic tan triangle two-piece, complete with strappy ties and splashes of neon, was part of her collection for Fabletics, which she showed off on Instagram in early April 2022. She accessorized for her photo shoot with thin, oversize silver hoops, a belly-button ring, and bracelet.
Vanessa Hudgens's Mint-Green Thongkini
Hudgens paid ode to the '60s on the beach in this retro look. Her triangle suit, complete with a tie-front top, was accessorized with a printed silk headscarf, hoops, two-tone cat-eye sunglasses, a choker necklace, and belly-button ring.
Vanessa Hudgens's Zebra Thongkini
Hudgens celebrated the weekend poolside in August 2021, showing off her ruched lime thongkini bottom with a zebra-print balconette top. She opted for kitschy accessories, including Marc Jacobs rainbow-logo sunglasses, a peach beaded choker, pendant necklace, chunky ring, Cartier love bracelet, and belly-button ring.
Vanessa Hudgens's Diamond-Print Thongkini
Hudgens visited Forte Village Resort in Santa Margherita di Pula, Sardinia, Italy, in July 2021, styling a brown, mustard, and blue diamond-print bikini with both a headscarf and bucket hat along with a breezy blue cover-up for a beach shoot.
Vanessa Hudgens's Flower-Print Thongkini
Hudgens wore a colorful three-piece set with a vibrant flower print for a mirror selfie in July 2021. Her yellow-toned thongkini bottoms featured knots on each side and a high-rise silhouette pulled over the hips. She accessorized with oval-shape sunglasses, layered necklaces, chunky rings, and her Cartier Love bracelet.
Vanessa Hudgens's 437 Swim Thongkini
Hudgens styled this fuchsia 437 Swim three-piece set over delicate body chains for David Grutman and Pharrell's Miami Beach hotel opening in April 2021, even accessorizing with a tangerine drink to complement the peachy color palette.
Vanessa Hudgens's Neon-Yellow Thongkini
Hudgens was poolside again in this neon-yellow thongkini that she styled with a matching bucket hat, body chains, two beaded choker necklaces, bracelets, and dainty rings.
Vanessa Hudgens's Red-Striped Thongkini
Hudgens showed off every angle of this striking two-piece she wore on vacation, featuring red-and-white stripes beneath a rose-print splashed onto ruched thong bottoms and a triangle tie top. She wore multiple gold body chains, black sunglasses, chunky hoop earrings, and several thin rings.
Vanessa Hudgens's Leopard Thongkini
Hudgens's ultra-high-leg thongkini bottom was met with a sporty top that dipped low at the neckline in August 2020. She finished the leopard-print set with a gold body chain, straw cowboy hat, tortoise sunglasses, rings, and anklet.
Vanessa Hudgens's Powder-Blue Thongkini
Hudgens's strappy pastel bikini was coordinated with chunky hoops, chainlink chokers, body chains, bracelets, rings, and, more notably, round, blue-tinted sunglasses and a zebra bucket hat for a splash in the crystal-clear waters of Turks & Caicos in 2020.
Vanessa Hudgens's Pink Metallic Thongkini
Hudgens also wore a pink metallic thongkini on her trip to Turks & Caicos in 2020, this one styled with a wide-brim visor sun hat and her usual abundance of gold jewelry.